Almonds are a great way of improving inner as well as outer health. They are a rich source of energy, protein and fiber. While you can get all these benefits from them upon consumption, you can also make your skin go radiant by using them directly on the skin. Plus, almonds are rich in vitamin A, and have moisturizing and emollient properties. All these wondrous benefits can give your skin natural healthy look with a radiant aura. Check out below two versions of homemade almond face scrubs that I have been using lately.
Pure Almond Scrub
Take 6 and 7 almonds, soak them overnight. Peel off the outer skin, then ground them using an electric mixer or a hand grinder. Make sure not to grind them too smooth as we need the paste in granular form for scrubbing. Once the granular paste is ready, add few drop of either an essential oil (of your choice) or almond oil. Now, give a good mix to the ingredients. To use the scrub, take a small amount about the size of a quarter and gently rub it on your face in circular motions. As there is no gel in this scrub so some of the paste will fall off your face, to prevent them from happening make sure to lean over the sink. After you have gently rubbed your entire face, wash the scrub off with luke-warm water.
You will instantly notice the suppleness in your skin. You can use this scrub once or twice a week. This scrub should be suitable for all skin types.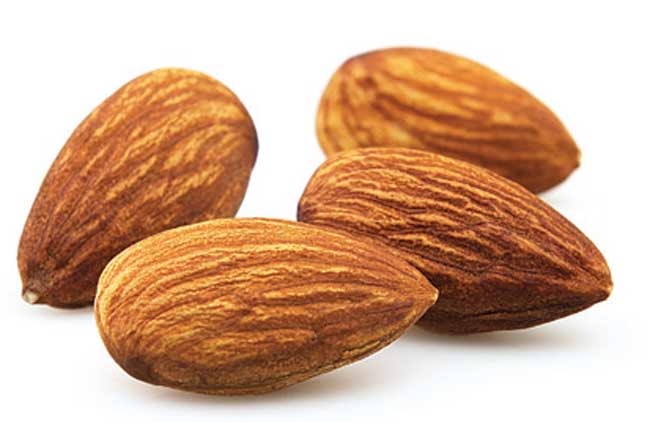 Honey Almond Face Scrub
Finely chop the almonds; you can use a mixer grinder for that purpose. This helps in gentle scrubbing. Add 1 teaspoon of organic honey and mix the ingredients well. Make sure the consistency is thick enough to let the concoction stay on your face. Keep it on for 15-20 minutes and rinse off with luke-warm water. If needed, you can also add some lemon juice to this scrub.
If you have dry skin, you can skip adding lemon as it makes the skin drier. As far as the benefits are concerned, in addition to almond benefits this scrub makes the skin moisturized and healthy looking. Honey is an antibacterial, and antimicrobial with healing properties. It is an excellent skin softener and moisturizer that also help to prevent wrinkles and acne outbreaks. Plus, lemon is a natural bleaching agent that helps in removing tan and fading pimple scars. You can use this face pack once a week for better results.
Eating soaked almonds in the morning has been one ritual I have been following for years. Now, I have included almonds in my skin care regimen as well. I have used these scrubs numerous times first because of the magical almond benefits and second because I prefer going for homemade skin care remedies. You can prepare freshly prepare these packs/scrubs when you actually need them. Just like eating fresh fruits and veggies, treating skin with fresh homemade remedies has outstanding benefits. If you want to go through homemade remedies benefits, click on this link.
You may also like reading these related topics
5 Homemade Besan Face Packs For Soft Glowing Skin
5 Aloe Vera Homemade Face Packs For Hydrated Flawless Skin
5 Instant Homemade Face Packs Using Orange Peel Dry Powder
5 Tips For Skin Care
5 Natural beauty benefits of lemon juice
5 'Instant Glow' Skin Care Tips From Kitchen
DIY- Homemade fuller's earth and honey face pack for soft and glowing skin
Revise daily skin care routine
How Watermelon and Cucumber Face Pack Helps Getting Clear Glowing Skin
Papaya face pack for glowing and blemish free skin
Image Courtesy: Google