When it comes to lining the upper eyelid, liquid eyeliner is what I prefer. In over last one year, I have used numerous liquid eyeliners so I believe I pretty much know now what I want in my favorite eyeliner. Today, I am reviewing Be A Bombshell Liquid Eyeliner in shade blacklisted. I got this eyeliner in June fabbag, and was excited to try it out and that's the reason you are seeing its review so early. Without blabbering, let's see how I find this product.
What the product says:
Formula: Bold liquid metallic eyeliner for a defined eye or pop of color.
Bombshell Tip: Create dramatic looks with one of these amazing colors.
Use like a marker, drawing with the tip closest to your lash line for precise definition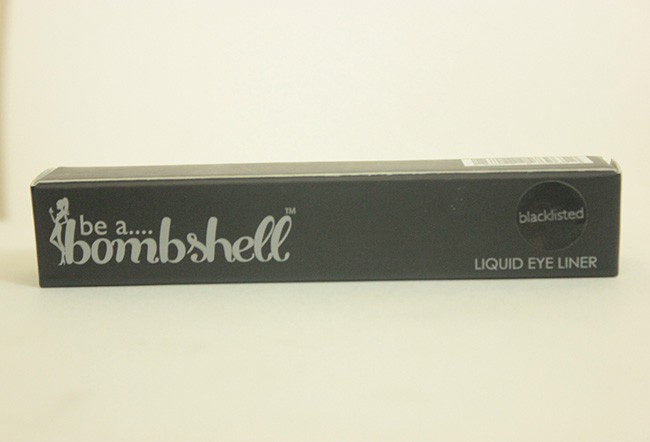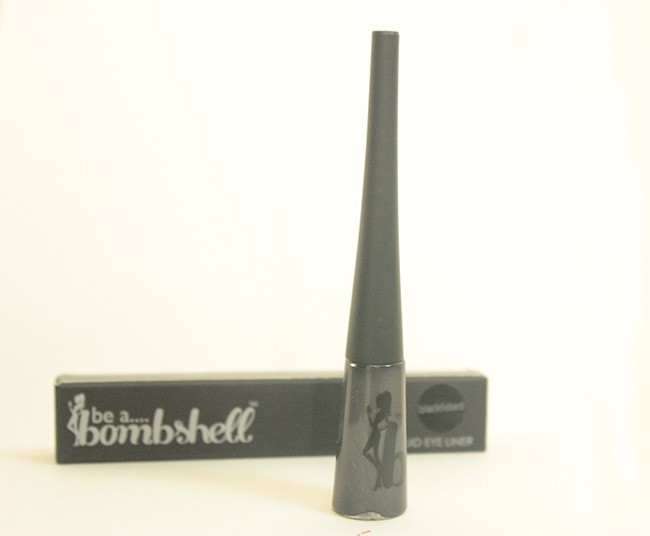 My take on 'Be A Bombshell Liquid Eyeliner Blacklisted'
This liquid liner comes in a black matte carton box that has the shade name and ingredient list mentioned on it. The product itself is housed in a small black colored ink-shaped bottle. It is an opaque bottle so there is no chance of keeping a watch on the contents left. The base is small and mounted with a long cap, which contains the eye-liner applicator. The packaging is cute and compact. Though it is felt-tip eyeliner but I am not very impressed with the tip. It is made of the same plastic as that of holder, and this does not let it become flexible. Especially when I have to do a winged liner I find the applicator very inconvenient to use. But at the same time, this flaw can be overcome by using the applicator of old eyeliner.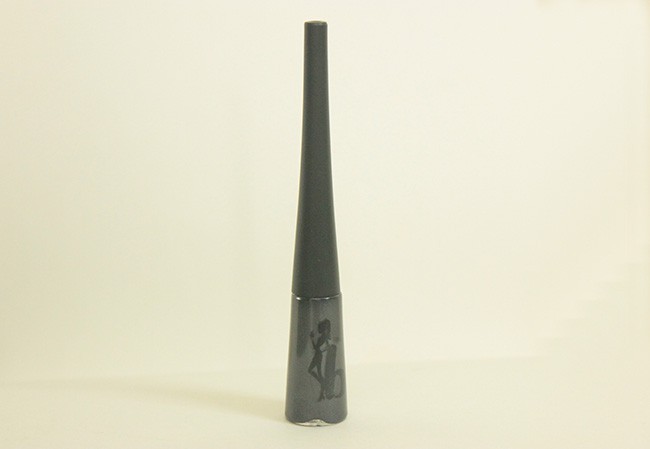 It is liquid eyeliner with no fragrance and no irritating feel. It is slightly more viscous as compared to other liquid eyeliner I have used. This obstructs fine application, and sometimes I feel it gives a patchy look as the hard tip makes it difficult to spread it evenly. However, once applied it dries within few seconds and this is the best part I like about it as it does not make me keep my eyes static for long.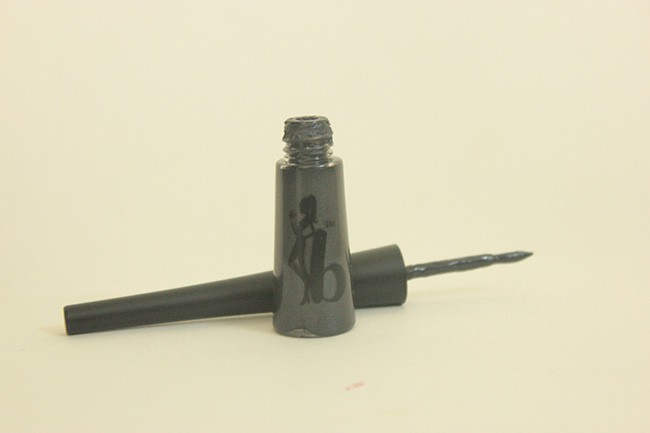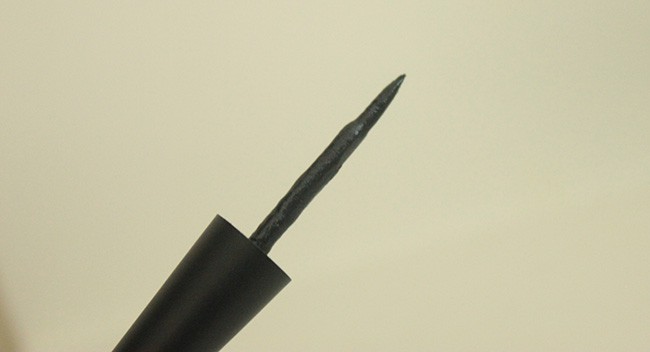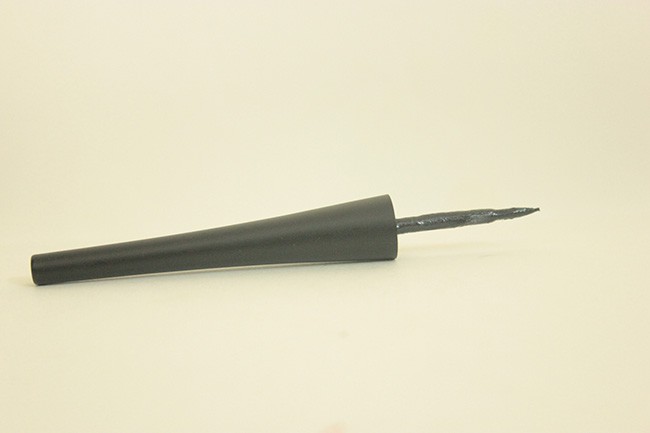 It is grey eyeliner (ash shade) with shimmer. Under white light the shimmer becomes visible and gives a blue reflection but somehow it was not picked by the camera. I like this finish and shade as it is quite different from my regular eyeliner. It can be easily worn on daily basis as well as on special occasions. The pigmentation is fine but the only concern is with uneven spread. If it is spread well it provides quite good intensity of grey shade. Also, it does not cause any irritation or stinging sensation in my eyes. My eyes feel comfortable and at ease when I apply this eye liner on upper eye lids.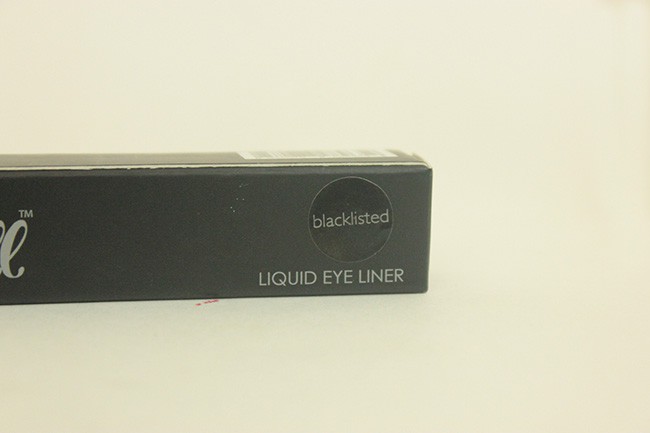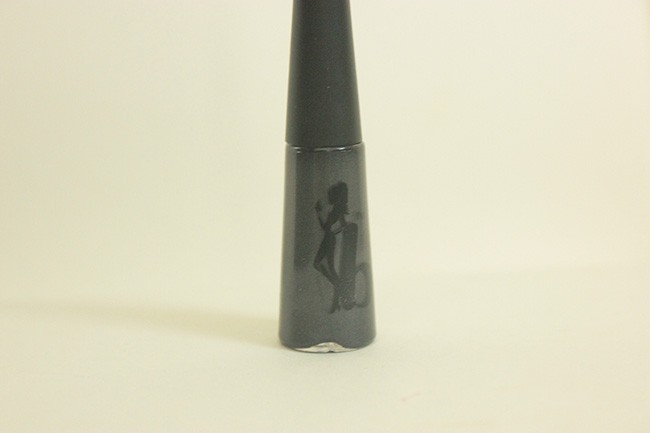 For the longevity, I am quite impressed with its staying power. Even in this hot weather it does not just run down when my skin sweats and neither does it easily come out when it comes in contact with water. A splash of water on face does not move it a bit. However, it is easier to remove and can be taken off with water as well after slight rubbing. I do not necessarily need to use a makeup remover to get it off my eyes.
What I like about 'Be A Bombshell Liquid Eyeliner Blacklisted'
– Different shade from usual black eyeliners.
– Dries instantly.
– Does not smudge easily.
– Light-weight, spill-proof packaging, which is easy to carry around.
– Long brush holder that is convenient to use.
– Water resistant.
– Nicely pigmented
What I do not like about 'Be A Bombshell Liquid Eyeliner Blacklisted'
– Stiff tip makes the application difficult.
– It does not evenly deposit the color, requires pulling along.
Price of 'Be A Bombshell Liquid Eyeliner Blacklisted': Rs 1000 for 4.8 ml
Shelf life of 'Be A Bombshell Liquid Eyeliner Blacklisted': Not mentioned
Ingredients of 'Be A Bombshell Liquid Eyeliner Blacklisted'

BABE Rating: 3/5
Final Word: Blacklisted shade is a nice grey shade with shimmer, and it has got excellent staying power. Its ability to stay intact even after coming in contact with water is what I liked the most. However, my only disappointed is with the material used to create the applicator. In my opinion, getting this tip quality in 1000 bucks is not what I would like to do. So, unless you are very much in love with this finish and shade I will suggest to give this a pass.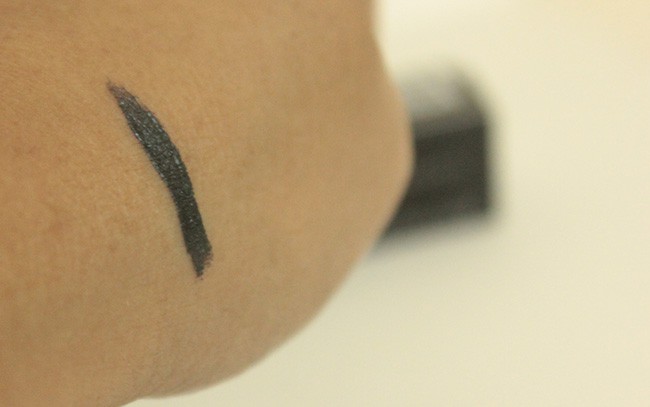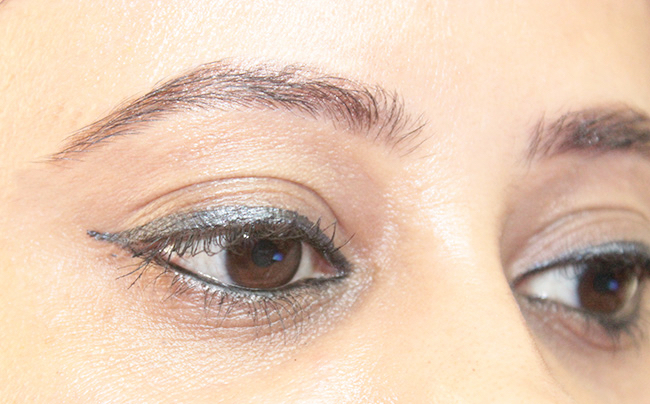 You might also like reading the related topics:
Innisfree Eco Lasting Eyeliner Review
Lakme Insta Liner Water Resistant Eyeliner Review
Wet n Wild H2O Proof Liquid Eyeliner Review
Oriflame The ONE Eye Liner Stylo Black Review Swatch
Sugar Eye Told You So Waterproof Eyeliner Black Swan Review