Whenever I am doing my eyes I always leave sufficient time to apply eyeliner because if I apply it in haste I end up spoiling the eyeshadows. Especially, when it comes to winged look I have to spend all the time in the world in just creating the equal angled wings. Since I have started using different eyeliners, I realized it's not only my expertise that matter in creating the desired shape of wings but also the quality of the eyeliner. Hence, I always try to ensure that I invest in the correct eyeliners. Today, I am going to review Innisfree Eco Lasting Eyeliner, which is a new addition to my collection. Let's see if it is a hit or miss.
What the product says:
A fast-drying, deep black liquid eye liner with a sponge brush
1. Sponge tip brush. A thin sponge tip eyeliner that can be easily used by beginners without causing split ends or irritation
2. Fast-drying liquid liner. The fast-drying liner creates clear eye lines without smudges.
3. Green tea extracts. It contains green tea extract that reduces irritation caused by eye makeup for more convenient makeup.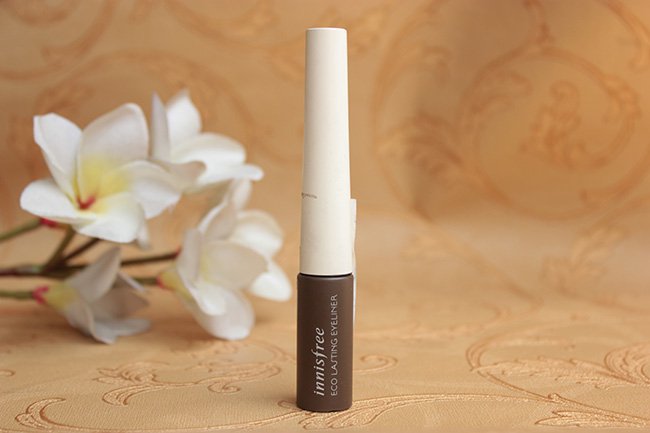 My Take on 'Innisfree Eco Lasting Eyeliner'
Innisfree eco lasting eyeliner comes in a sleek packaging. The base that houses the liquid eyeliner is made of hard plastic and the same goes for the brush holder. Base is of brownish earthy color and brush holder is all off-white. The contrasting colors give it a decent air, making it look eco-friendly just as its title sounds. It is lightweight and spill proof, hence, can be easily carried in a handbag. The tube does not have the shade name or number mentioned on it. It has something written on it in Korean language but I could not decipher that. For the lack of shade name people can easily misinterpret it as brown eyeliner, so ensure that you use the tester before making the final purchase.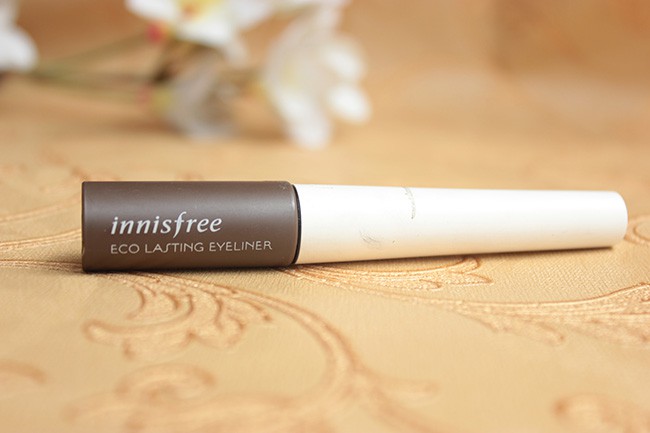 It is liquid eyeliner; you can easily feel the sound when you shake the bottle. It is a black color liner with excellent pigmentation. Just in one stroke it gives intense black line, since I have started using it I have never applied a double layer. I would say a single swipe gives beyond satisfactory results. As the consistency is apt for lining the eyelids it neither runs down into the eyes nor requires any dragging. It dries in seconds. That being said, it gets dry while I am still working on giving the finishing touch. I like quick drying eyeliners as they do not create mess on the eyelids especially when applied after doing the eye makeup. Numerous times I had to redo the eyes just because the eyeliner smeared all over the eyeshadows. With fast-drying eyeliners there is less probability that you will have to redo the eye makeup.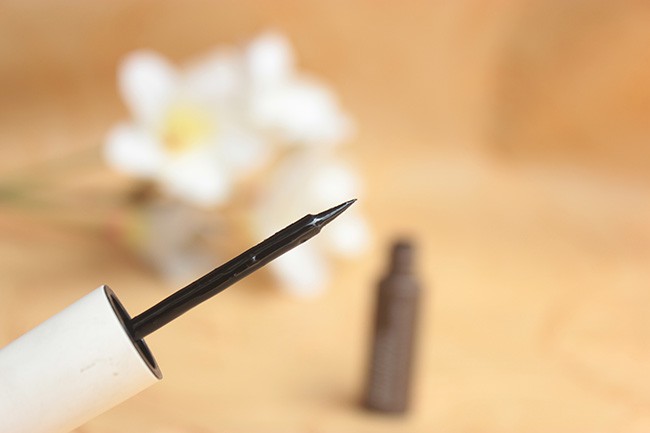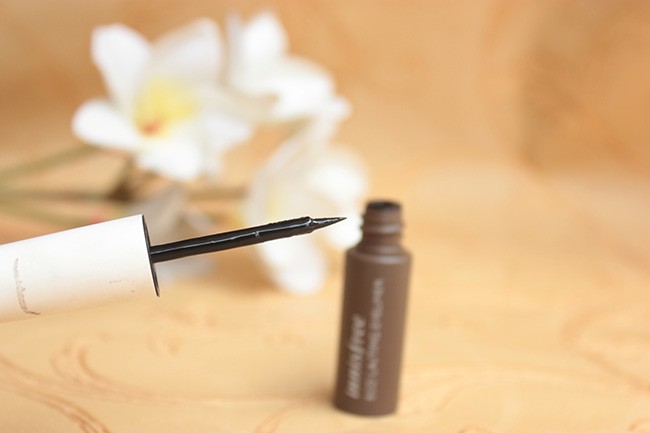 Now, coming to the most important part, which is ease-of-application. No matter how pigmented an eyeliner is, if the applicator is not at par with convenience the color-intensity cannot be put into much use. Innsifree eco lasting eyeliner has a sponge tip that is about half an inch long. It is neither too much stiff nor soft. I would say it has the apt strength that is required to work on delicate eye area without getting poky, and at the same time provides enough grip to line eyes the desired way. The tip is sharp and thus helps in creating the winged and catty eye look.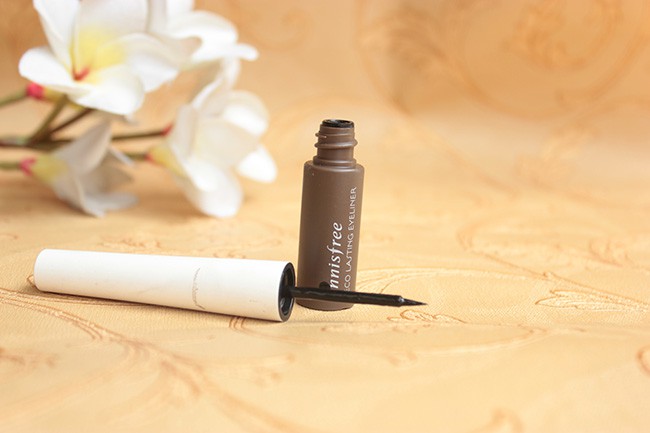 For the longevity, even one swipe stays for good 6-7 hours. Even when I accidently rub my eyes it does not take off the eyeliner. I am not sure if this is a waterproof liner or not as it is not mentioned either on the packaging or on the website but going by experience I would say it stays put against water. I cannot just remove it using water; I have to use cleansing oil or makeup remover to take it off the eyelids. Plus, as mentioned on the website, this eyeliner has green tea extract that reduces irritation. That claim seems true as so far I have not experienced any tingling sensation or any other sort of irritation.
What I like about 'Innisfree Eco Lasting Eyeliner'
– Jet black color.
– Intense pigmentation in just one stroke.
– Convenient to use.
– Sponge tip does not poke into the eyelids.
– Lasts for long – almost 6-7 hours.
– Length and apt stiffness of the tip ensures good grip.
– Smudge-proof and water-proof.
– Does not cause burning sensation or irritation.
– Subtle glossy finish.
What I do not like about 'Innisfree Eco Lasting Eyeliner'
– Price is slightly on the higher side.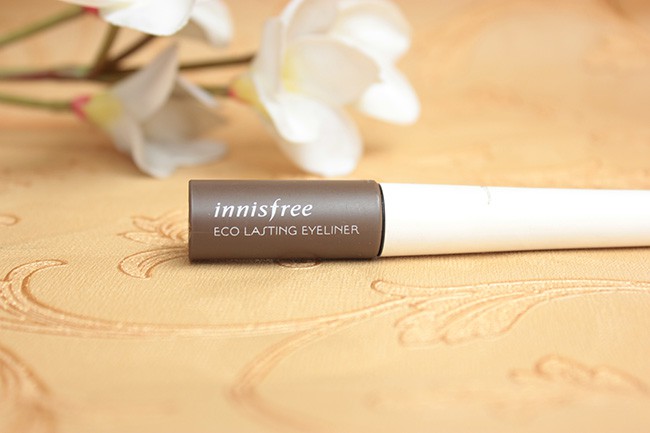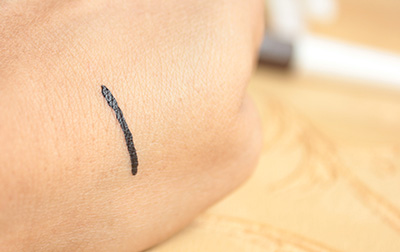 Price of 'Innisfree Eco Lasting Eyeliner': Rs 700 for 4g
Shelf life of 'Innisfree Eco Lasting Eyeliner': 3 years from date of manufacturing.
Ingredients of 'Innisfree Eco Lasting Eyeliner'
WATER, ACRYLATES COPOLYMER, GLYCERIN, BUTYLENE GLYCOL, ISOPROPYL ALCOHOL, ALCOHOL, ETHYL HEXANEDIOL, PENTYLENE GLYCOL, ACETYL TRIBUTYL CITRATE, BENTONITE, PHENOXYETHANOL, LAURETH- 21, SODIUM MAGNESIUM SILICATE, VP/VA COPOLYMER, XANTHAN GUM, PEG-40 HYDROGENATED CASTOR OIL, SODIUM DEHYDROACETATE, SODIUM METAPHOSPHATE, DISODIUM EDTA, PANTHENOL, CAMELLIA SINENSIS LEAF EXTRACT [+/- (MAY CONTAIN) IRON OXIDES (CI 77499, CI 77492, CI 77491), BLACK 2 (CI 77266), MICA]
BABE Rating: 4.75/5
Final Word: Formulated with green tea extracts, Innisfree eco lasting eyeliner has excellent pigmentation. The length and stiffness of sponge tip aid towards convenient application. It is long lasting eyeliner that dries quickly and stays intact for good 7 hours. Considering ease-of-application, staying power and color intensity, this will be a good pick for not only makeup beginners but experts as well.
You might also like reading these related topics:
Lakme Insta Liner Water Resistant Eyeliner Review
Wet n Wild H2O Proof Liquid Eyeliner Review
Oriflame The ONE Eye Liner Stylo Black Review Swatch
Sugar Eye Told You So Waterproof Eyeliner Black Swan Review