Hello my beautiful friends.
This year I tried a lot of new brands and also discovered some awesome products. I really like DIY face packs but market products also have their own efficacy levels that cannot be denied. Well, recently I have gone all herbal in field of skin care. I got Biotique Bio Milk Protein Whitening & Rejuvenating Face Pack. As we all know summers pulls out all the moisture from our skin and leave it dehydrated, which eventually makes the skin dark and flaky. To compensate for the loss of radiance, I have bought this protein whitening mask. Let's see if it is up to the mark or not.
What the product says:
Milk protein has been nature's moisture booster and lightening elixir since Cleopatra's legendary bath. This whitening and nourishing pack is blended with pure extracts of milk, protein, wheat germ, almond oil, honey and seaweed to moisture and revitalize the skin. Eases away wrinkles and lightens for a visibly fairer, smoother, rejuvenated complexion.
Directions to Use:
Apply evenly over cleansed face, neck and around eyes. Leave on for 15-20 minutes. Rinse with water or damp washcloth. Use daily or as needed.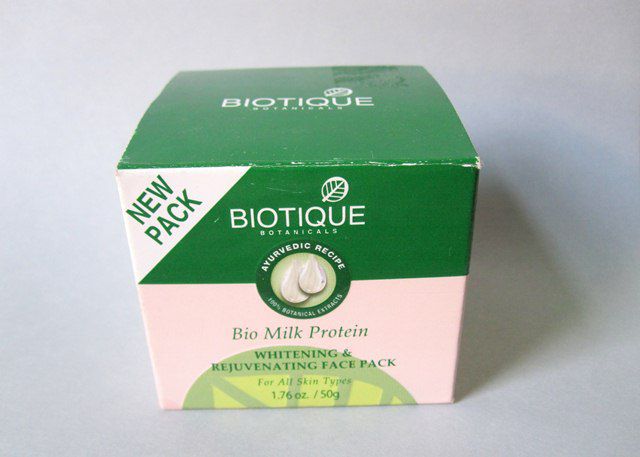 My take on 'Biotique Bio Milk Protein Whitening &Rejuvenating Face Pack'
I got this face pack as one of my birthday gifts from my sister. This is the first time I am using this brand and I already love it and made few more purchases from this brand. For today, I will focus on the protein whitening & rejuvenating face pack only. The product is housed in a tub that comes packed in cardboard packaging. It is a compact sized product and can be carried around easily. The white colored tub has bottled green cap that give a simple look to the overall packaging. It is a screw cap, which fits tightly and saves the contents from spilling. The one drawback is the tub packaging. To get hold of the product I have to dip fingers in the tub which is not at all hygienic. I really wish it start coming in a tube form. Squeezable tubes are much convenient to use, and do not cause hygienic issues.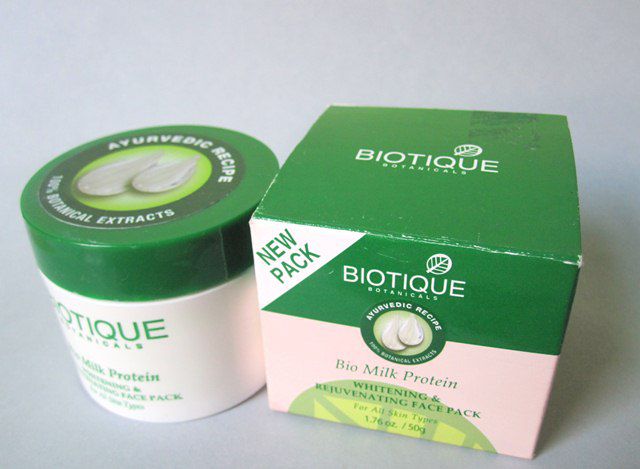 It has herbal fragrance that does not bother my nostrils but people with sensitive noses might find it annoying. The good thing is the fragrance stays only till the time the pack is on, once I remove the face pack the fragrance also fades away. It has nice smooth texture, which feels similar to fluffy whisked cream. Because of the texture, it is easy and quick to apply. I do not need to drag it; the pack spreads very smoothly on skin, and a very little of it is required to cover whole face.
The cream is white in color; I apply its thick even layer on the skin for 20 minutes. While it dries out, it starts becoming translucent and that is a cue for me to rinse it off with cold water. The mask comes out easily leaving fresh and bright skin behind. While it is on the skin it gives cooling sensation that relaxes mind, and feels heavenly in this hot weather. I use it once or twice a week depending upon the skin pampering tie I get.
We all know chemical based masks should not be applied on under eye area so the best thing about this product is that it can be applied on dark circles around the eyes. As mentioned on the packaging this face pack is suitable for all skin types. And touchwood, even on the oily skin it has not caused any breakouts.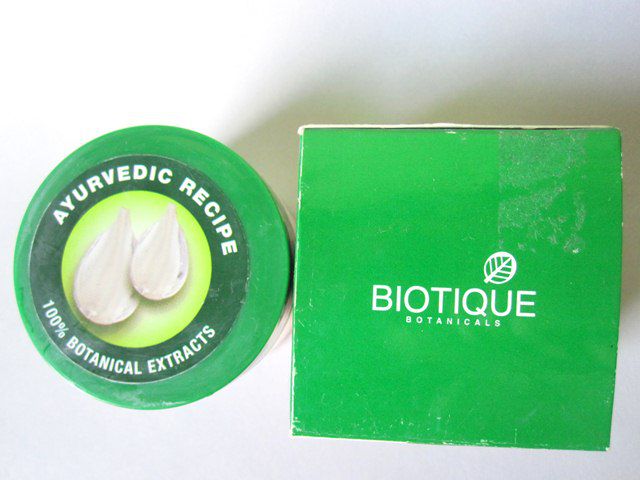 For efficacy, it works as an eye cream on under eye area. It reduces dark circles and evens out the skin tone. It hydrates the skin well, and that was top most expectation from this face pack. It also removes sun tan but not quite considerably; if I talk about stubborn sun tan I did not see any reduction at all. Keeping that aside I found that this face pack adds glow to the skin and makes it bright and vibrant. It also keeps a check on sebum (keeps my skin oil free for 4 to 5 hours) but that does not mean normal to dry skin beauties cannot try it. The only thing that needs to be followed is consistency- it does not work like a magic overnight, I had to be consistent with the application to see results.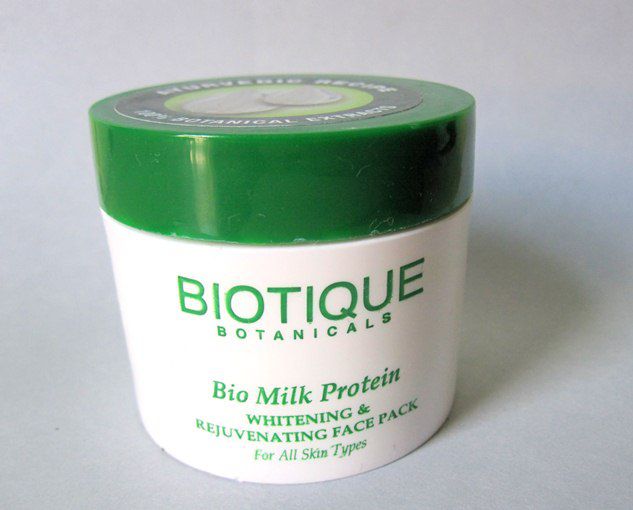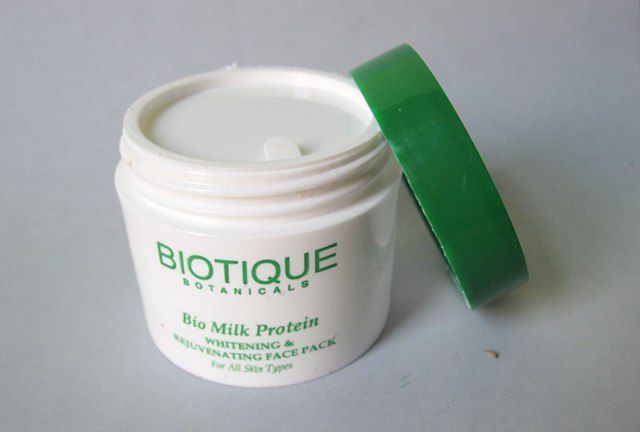 What I like about 'Biotique Bio Milk Protein Whitening &Rejuvenating Face Pack'
– It is easily available.
– It adds moisture and hydration to skin.
– It is travel friendly.
– It removes tan and lightens kin tone.
– It nourishes skin.
– Very little amount is required per usage.
– It can be applied on under eye region.
– It reduces dark circles.
– It makes skin healthy and bright.
What I do not like about 'Biotique Bio Milk Protein Whitening & Rejuvenating Face Pack'
– It comes in tub packaging which is unhygienic.
– It gives only temporary glow.
Price of 'Biotique Bio Milk Protein Whitening & Rejuvenating Face Pack': Rs 199 for 50 gm
Shelf life of 'Biotique Bio Milk Protein Whitening & Rejuvenating Face Pack': 3 years
BABE Rating: 3.75/5
Final Word: This is the first time ever I tried a product from Biotique, and I am not regretting it. I recommend 'Biotique Bio Milk Protein Whitening & Rejuvenating Face Pack' to those who want to use an herbal and affordable face pack. And, as it suitable for all skin type so there is no hassle in selection as well. Overall this face pack gives hydration to skin for which is must in summers. It adds glow and keeps the skin healthy and fresh. I am happy using this face pack once or twice a week for the radiance it adds. This mask has other variants as well that are already on my wish list and I am eager to buy them.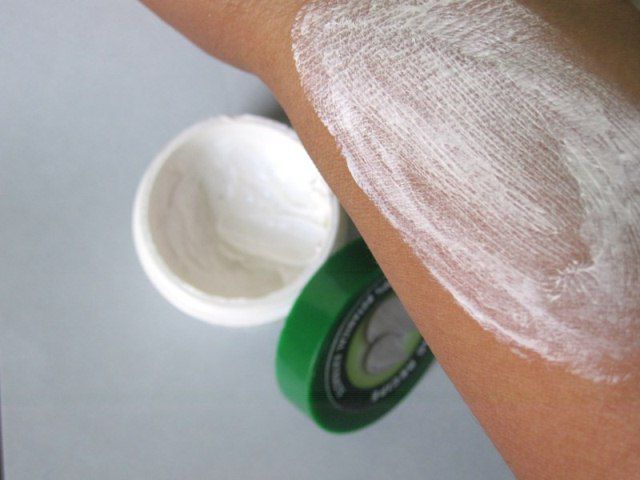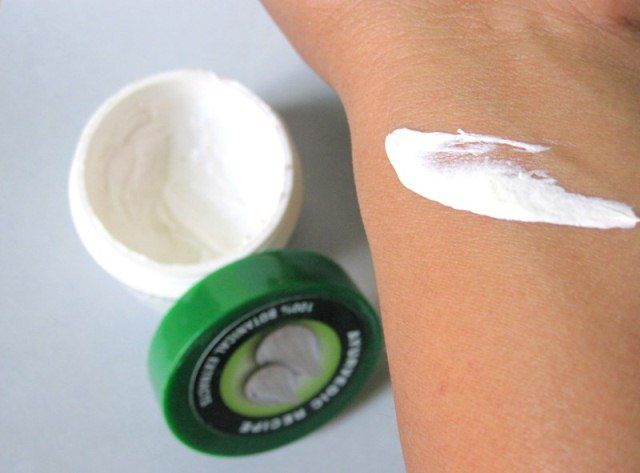 You might also like reading these related topics:
Lakme Clean Up Clear Pores Face Mask Review
Spawake Moisturising Deep Purity Mask Review
Blossom Kochhar Aroma Magic Anti Pigmentation Glossy Pack Review
Blossom Kochhar Aroma Magic Hydrating Seaweed Pack Review
Himalaya Herbals Fairness Kesar Face Pack Review