APSU makes luxurious bathing brands, which are categorized into three ranges: Funaya, Tarabya & Varanasi. I am trying few products from their Varanasi range and today I will be sharing my experience with APSU Varanasi Golden Goddess Body Bar. I have already reviewed the APSU Varanasi Golden Goddess Body Lotion. If you like you can check that review by clicking on the hyperlink provided else let me walk you through my experience with the golden goddess body bar.
What the product says:
A beautiful natural glycerin soap containing Argan and Silk extracts to moisturize and protect. Gold is said to assist the body in the absorption of all vitamins and minerals and assists in the balance of left and right brain activity whilst attracting honour, wealth and happiness.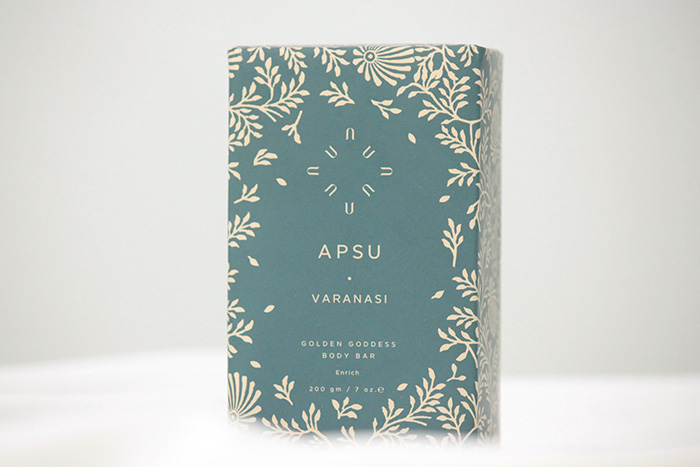 My take on 'APSU Varanasi Golden Goddess Body Bar'
Like all other products of Varanasi range, the soap comes packed in a bottle green colored hardcover that has exquisite golden detailing on it. The packaging bears the soap details such as ingredients, usage instructions, and expectations. Once I tore open the hardcover, there was this translucent golden colored body bar tightly covered with a thin sheet of transparent polyethylene. As the outer hardcover was not water-proof so I was wondering how the soap would be saved from getting spoiled if packed product comes in contact with water. But gladly once I opened the packaging my only worry was subsided too.
It is a golden colored rectangular shaped body bar with the brand name engraved at the center. The fragrance of the bar resembles that of the lotion but the intensity is quite toned down. The fragrance does not stick to the skin for a long time. The longest duration I noticed it on my skin was only for a couple of minutes after bathing. I prefer my bath & body products to be lightly scented as I do not like them to overpower the fragrance of my favorite perfumes.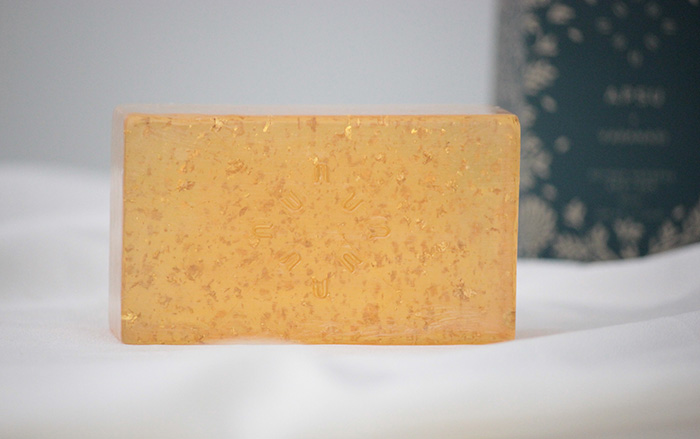 I have used this soap with wet loofah & exfoliating gloves, and it creates abundant lather with both of them. I love lather rich body bars and body washes as they give the immense satisfaction of cleaning. The very first day I used this body bar, I was happy to see the amount of lather it produces which is more than what many body washes produce. Since it lathers more it dissolves more as well, and that's why I am expecting it to last little less long than usual body bars.
As far as the efficacy is concerned, it cleans the skin thoroughly and does not leave it dry or stretchy. I would not say that it omits the need of a body moisturizer but definitely, it does not feel harsh on the skin. It is easy to rinse off and does not leave any soapy residue behind. The presence of natural glycerin helps in keeping up skin's hydration level and keeps it soft. For those who love using lather generating body bars, this will be a nice option.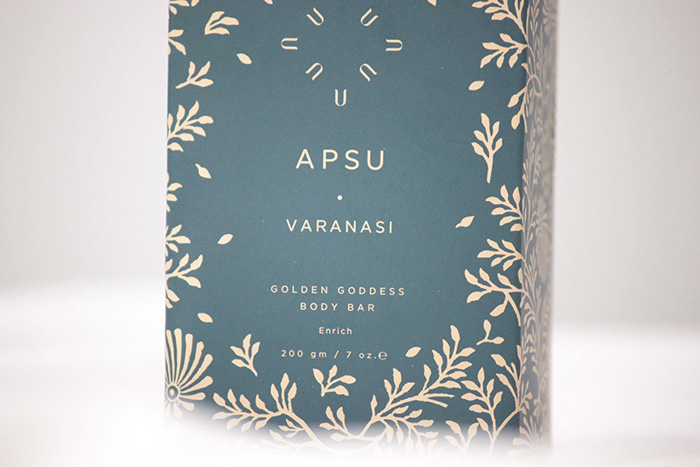 Things I like about 'APSU Varanasi Golden Goddess Body Bar'
– It does not slip from the hands
– Creates abundant lather.
– Mildly fragrant.
– Does not leave the skin dry or stretchy.
– Does not leave a soapy residue behind.
– Easy to rinse off.
– Leaves the skin soft and clean.
Things I do not like about 'APSU Varanasi Golden Goddess Body Bar'
– When it comes in contact with water, it dissolves little more than expected .
– Expensive for a body bar.
Price of 'APSU Varanasi Golden Goddess Body Bar'- AUD 24
Ingredients of 'APSU Varanasi Golden Goddess Body Bar'
Sodium Palmate, Sodium Cocoate, Sodium Palmitate, Glycerin, Aqua, Sorbitol, Propylene Glycol, Sodium Cocoyl Isethionate, Argania Spinosa (Argan) Fruit Extract, Sericin, Juniperus Virginiana (Cedarwood) Oil, Styrax Benzoin (Benzoin) Resin, Jasminum Grandiflorum (Jasmine) Oil, Citrus Aurantium (Petitgrain) Leaf Oil, Citrus Nobilis (Mandarin) Peel Oil, Vetiveria Zizanioides (Vetiver) Oil, Rosa Damascena (Rose Damascene) Oil, Piper Nigrum (Black Pepper) Oil, Sodium Benzoate, Colloidal Gold, Gold Leaf.
BABE Rating: 3.75/5
Final Word: Formulated with natural glycerin, APSU Varanasi Golden Goddess Body Bar cleans the skin thoroughly and leaves it soft. The presence of Argan and Silk extracts helps in maintaining skin's moisture level and thus makes the product suitable for the harsh cold season as well. For lather-loving people, this body bar would be a real treat as it creates ABUNDANT lather, which leads to a pleasant bathing experience. The exorbitant price might be a concern for some but if you do not mind spending extra bucks on a body bar you should give it a try.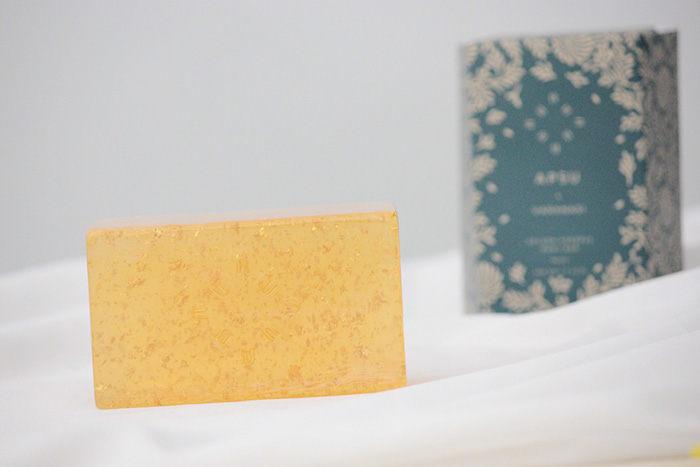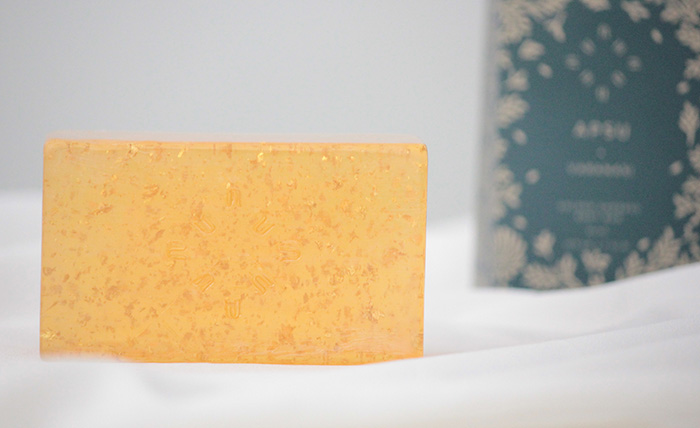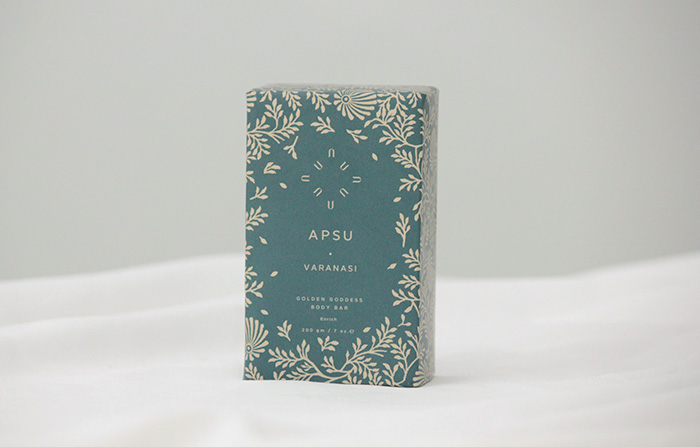 Disclaimer: This is an editorial review. The product is sent by the brand for consideration. However, my review is genuine and I am not being paid for publishing my experience with this product.
You might also like reading these related topics:
Herbs & More Vitamin Therapy Moisturizing Soap Review
The Body Shop Olive Soap Review
Go Natural-Medimix Ayurvedic Natural Glycerine Soap Review