Votre Deep Pore Cleansing Clay Masque Review
Hi Everyone,
For oily skin people, clay masques work wonder. I prefer to go for these clay masques in summer season as in winter they can be little drying. In summers, they provide the skin with the required mattifying effect, which is very much required to make the makeup last long on oily skin. Of lately, I am using Votre clay masque that is made for deep pore cleansing. I have already used couple of Votre products earlier so had high expectations from this one too. Read on to know if it has really lived up to my expectations or not.
My Skin Type: Oily to combination
My Take on 'Votre Deep Pore Cleansing Clay Masque'
Votre deep pore cleansing clay masques comes in a small jar packaging that is very light weight and made up of semi-sturdy plastic. This 40g jar does not occupy that much space so you can easily fit it into your hand or luggage bag. Plus, the product has thick consistency so you do not even need to fret about any spillage.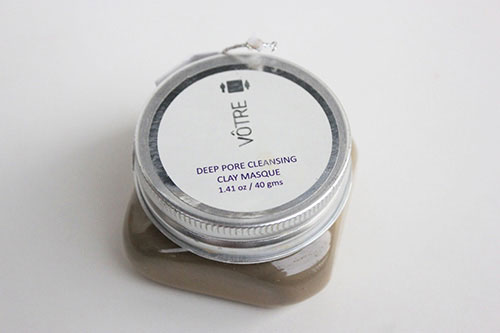 Like most of the clay masques, this one is earthy in color and has semi-thick consistency. It is in moist form that makes the application easier. The fragrance is sort of medicated but not bothersome. On the contrary, it makes me feel that it is doing something for my skin. In fact, the ingredient list is impressive too. It contains all the good ingredients right from tea tree to rosehip oil. If you know how beneficial these oils can be for your skin, you would go for it looking at this list.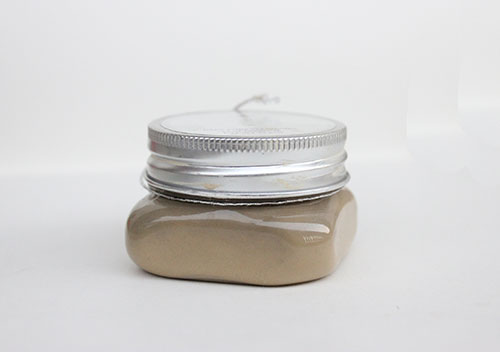 As far as the application is concerned, you need to take sufficient quantity of masque in a bowl. You should use a spatula or a spoon for taking it out as doing so maintains the hygiene of the product. Mix it with "filter water" till it becomes a smooth paste. Apply it evenly on face and neck, leave it on for 15 minutes and then clean with water or moist cotton. If you have applied a thin layer then you should not wait for 15 minutes, rather rinse it of the moment your skin starts stretching. Plus, do not apply this pack on under eye area.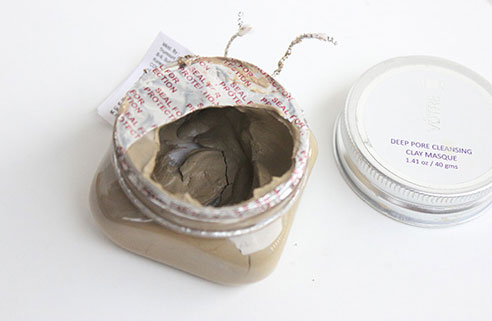 For efficacy, every time I use this pack I see a visible improvement in my complexion. Because of the oils, it does not make the skin feel stretchy so I do not really need to back it up with a moisturizer. In fact, after this pack I like leaving my skin bare (without any moisturizer) for couple of minutes to let it breathe. It makes my skin look clear, healthy and glowing without any oily effect. I really think that its consistent usage can bring remarkable difference to one's skin tone.
What I like about 'Votre Deep Pore Cleansing Clay Masque'
– It thoroughly cleanses pores.
– Its ingredient list is quite impressive.
– It has medicated fragrance that makes me feel it is doing something for me skin.
– It instantly makes the skin clear and matte without the stretching part.
– The matte effect stays on for good 3-4 hours.
What I do not like about 'Votre Deep Pore Cleansing Clay Masque'
– Wee bit expensive.
– The jar packaging is hygienic only till you are using a spoon or spatula to take out the product.
Price of 'Votre Deep Pore Cleansing Clay Masque': INR 510 for 40g
Shelf life of 'Votre Deep Pore Cleansing Clay Masque': Around 18 months from date of manufacturing.
Ingredients of 'Votre Deep Pore Cleansing Clay Masque'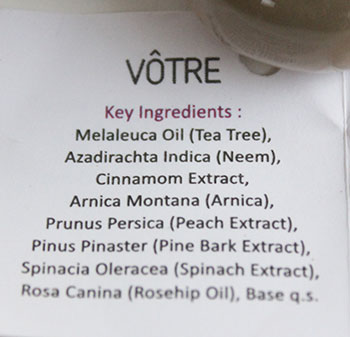 BABE Rating: 4.5/5
Final Word: Formulated with ingredients such as tea tree, rosehip oil, etc, this Votre Deep Pore Cleansing Clay Masque makes skin clear and healthy. Its efficacy to cleanse pores thoroughly provides a matte effect, which is very much required for oily skin- especially in humid and summer seasons. On the whole, this is a good clay masque that fares well on my oily to combination skin.
You may also like reading these related topics
Blossom Kochhar Aroma Magic Anti Pigmentation Glossy Pack Review
Blossom Kochhar Aroma Magic Hydrating Seaweed Pack Review
Blossom Kochhar Aroma Magic Hand cream review
VLCC Sun Defense Clear Tan Fruit Face Pack Review
Lotus Herbals claywhite black clay skin whitening face pack review
Himalaya Herbals Fairness Kesar Face Pack Review
Lotus Herbals claywhite black clay skin whitening face pack review
Lotus Herbals Natural Glow Skin Radiance Facial Kit Review