Summer Essentials-Protect Your Hair From Sun Damage
Hi Everyone,
We take precautions to save our skin from sun burns and sun tan but we seldom make any efforts to save our hair from sun damage. You may have healthy, lively hair for all year around, but come summer and your hair becomes floppy and lifeless. To add to the woes, owing to the fizziness it becomes difficult to tame hair. All this happens:
a) Firstly, because the high humidity content in the atmosphere settles on your hair and weighs it down, resulting in lifeless hair.
b) Secondly, because sun rips off all the moisture level from your scalp leaving manes dull and dry.
To protect hair from these damages, here are some tips that will also keep the bounciness in your hair alive thereby maintaining a healthy look.
1) While stepping out of the house, either take shield under an umbrella or wear wide brim hats. Sun rays are most intense between noon and 3 pm, thus to protect hair from direct run rays it is always beneficial to cover your head. You can also wear scarf in a manner that your hair and head are covered, and saved from detrimental rays.
2) Give a break to heating elements such as curling rods and straighteners. In peak summer season, you hair is already suffering from sun heat damage so by using the electrical styling tools you are making your hair go through worse.
3) Applying hair packs that have cooling ingredients such as curd. You can go through the recipes of some curd hair packs here. Moreover, henna is also good for hair in summers, you can apply henna hair pack once a month for conditioning and damage repair.
4) Drink tons of fluids such as water, lemon juice, etc, and juicy fruits such as water melon, melon, etc. They will keep your head cool and help in recovering the body water lost through sweating.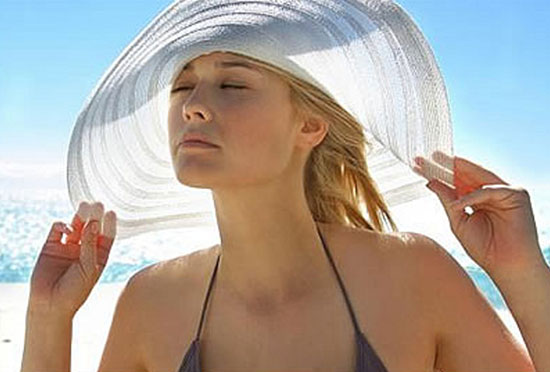 5) Switch to mild shampoo; if possible choose those that have organic ingredients. Wash hair every alternate day. Doing so will keep your scalp and hair clean, and clear off deposits of dust, pollutants and sweat.
6) Remember to apply conditioner after every wash. While the sun is drying out your hair, make sure to restore some moisture by using external conditioner.
7) When you have some time, you can also go for deep conditioning treatments. Invest in some good hair masks or prepare your own using kitchen ingredients. Even if you do deep conditioning once a week you will see major difference in hair health.
8) Summer is the time when the tips of your hair become dry or you start seeing split ends. This gives an unhealthy look, so go for either a trimming or a new haircut.
9) Resort to head massage, at least twice a week. To satiate the thirst of parched scalp, mix some essential oils in coconut oil and give your scalp a good massage. Afterwards, cover you hair with a cloth and leave it like this whole night, before shampooing next day.
10) Plan your outings at least an hour earlier so as to go slow on the blow dryer. Wash your half an hour earlier so that it gets ample time to air-dry.
Now you know all the tricks to protect your hair from sun damage in summers. Go flaunt your hair, and have some fun !!
Image Courtesy: google
You may also like reading these related topics
How to color hair naturally with Henna or Mehandi and its other benefits !
How To Curl Hair At Home Without Heat – flaunt your soft curls the natural way!
How to straighten hair naturally using Banana Hair Mask
10 Home remedies to treat rough hair and control hair fall naturally
Healthy and Strong Hair – How To Take Care of Your Hair
Reader's Query: What are the best shampoo and conditioner for regular use?
Vitamin E benefits for Skin and Hair – A wonder nutrient