I love expanding my nail polish collection, and since I have moved to Canada the well-organized nail polish racks at drugstores allure towards them. I can't yet buy a lot of them because I am in the saving phase. If you have migrated to a new country you might now the struggle involved in setting up everything from scratch. Well, that's a short phase and I am hoping it will be over soon. Any ways, Walmart was running an offer of 2 for $5 for Sally Hansen Hard As Nails Xtreme Wear Nail Polish. I bought two shades from this range that I want to share with you all. Let's have a look at the swatches and the quality of these nail polishes.
What the product says
Sally Hansen Hard as Nails Xtreme Wear offers extreme strength and shine. Match your manicure to your mood with fun, trendy shades. Easy grip, easy glide brush designed for complete control. Match your manicure to your mood. Fun, trendy shades-collect them all and changes your nail polish as often as you like. Available in 30 of the hottest, most wanted shades. Long-lasting color is chip-resistant, fade-resistant and waterproof.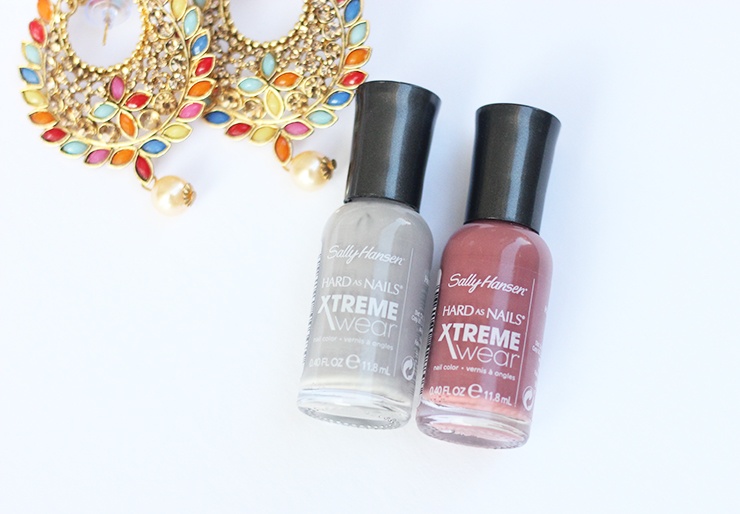 My take on 'Sally Hansen Hard As Nails Xtreme Wear Nail Polish'
These nail polishes come in transparent glass bottles. The shade name is mentioned on a label on the top of the cap. They are sturdy bottles which can survive minor accidental falls. The applicator has medium density of bristles and good length that provide firm grip. On wide nail nails, you can get full coverage in just 2-3 swipes.
I recently noticed I have a liking towards mauve color that's why I keep collection mauve lipsticks and nail polishes. It's probably because this shade looks well on my medium skin tone. Well, why not! If you know a particular color suits you would love to have majority of clothes in that color.
Now, talking about "Mauve Over (189)", it is a dusty pink color and as I said before flatters my skin tone. It is a nice daily wear option for both office and parties. Heavy Metal (624) is a steel grey shade. Again a very subtle shade that is suitable for all skin tones. I love seeing my nails painted in these two shades.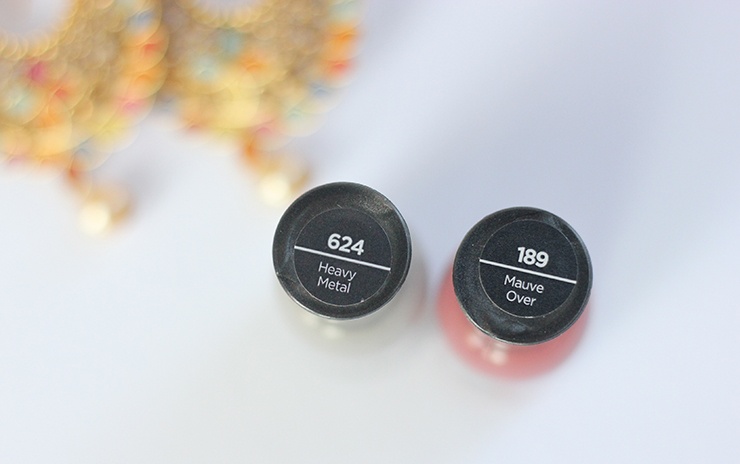 I like the quality of these nail polishes. They give non-streaky, semi-glossy finish with 100% opaque coverage. The pigmentation is quite nice as two strokes are what you need for an opaque look. The only thing to keep in mind while layering it up is to give a good gap of at least 2-3 minutes before applying the next coat or else you won't get a smooth finish.
Now talking about the main marketing USP of these nail polishes i.e. longevity. Just as the brand claims these polishes last longer. They have chip-proof formula that makes them stay longer on the nails even if you do dishes or wash clothes. While I was testing these nail polishes I did all household chores involving water or no-water without gloves and I was surprised to see it lasted for 4 days with minimum chipping from the tips. The shine decreased gradually but still looked nice.
Removing these polishes is easier too. I was able to remove them easily using a regular nail polish remover. They do not even stain the nails through the pigmentation is quite nice.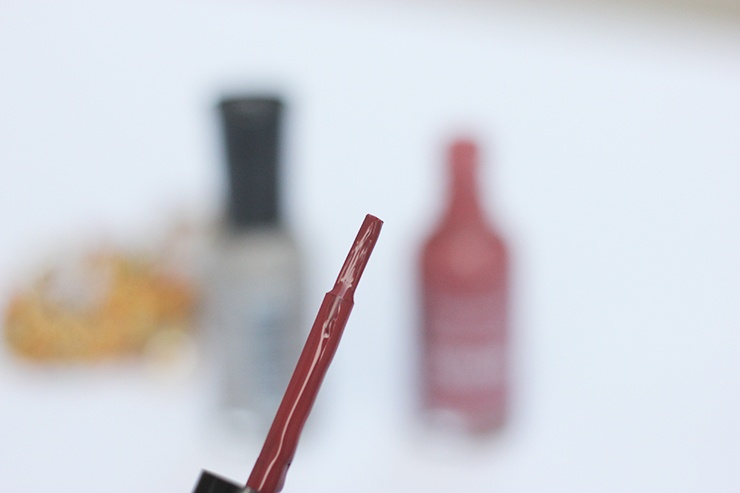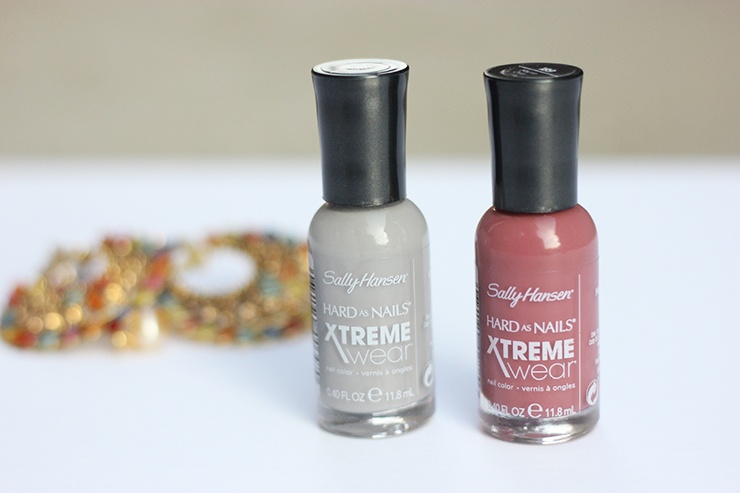 Things I like about 'Sally Hansen Hard As Nails Xtreme Wear Nail Polish'
– Long lasting and chip proof formula.
– Smooth, non-streaky finish.
– Semi-glossy look.
– Nice shade collection- 30 gorgeous shades.
– Easy to remove without any staining.
– 100% opaque coverage in two coats.
– Affordable price.
Things I do not like about 'Sally Hansen Hard As Nails Xtreme Wear Nail Polish'
– Takes some time in drying.
Price of 'Sally Hansen Hard As Nails Xtreme Wear Nail Polish'- $ 2.77 CA
BABE Rating: 4.75/5
Final Word: I love the finish, quality and price of Sally Hansen Hard As Nails Xtreme Wear Nail Polish. They gorgeous collection of 30 shades is just amazing. There is a shade for every skin tone, and if you are into household chores you would absolutely like the chip-proof formula. I would give these a huge "GREEN" signal.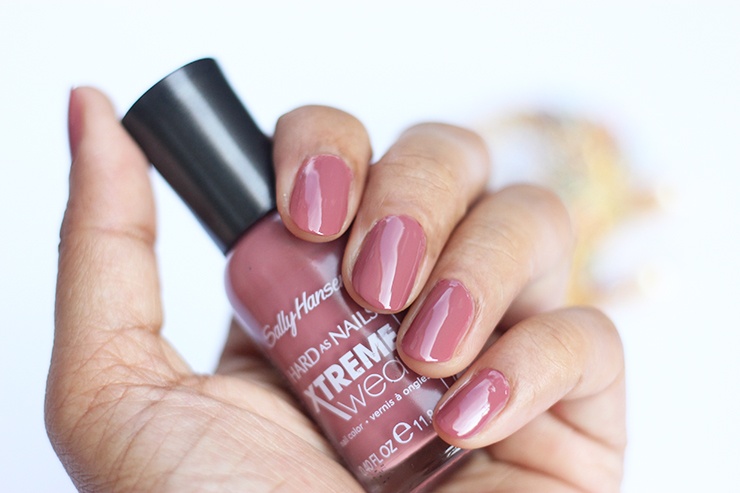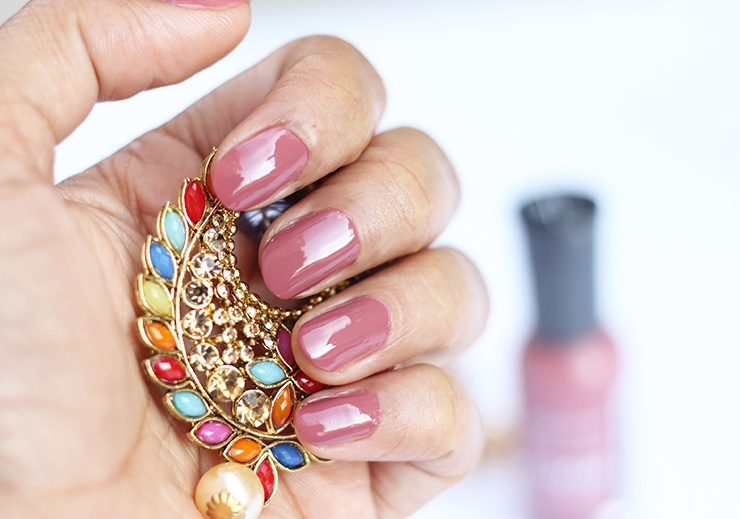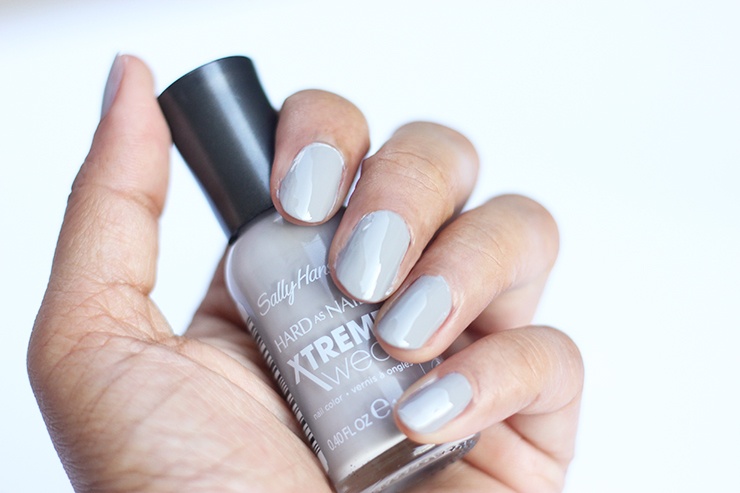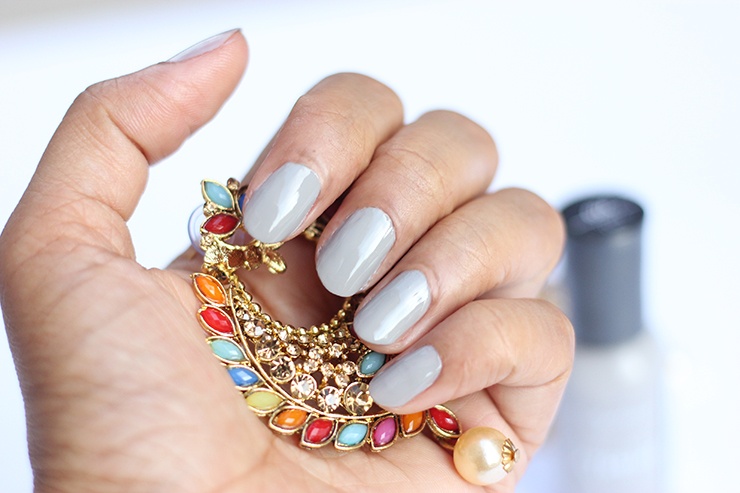 You might also like reading these related topics
Sally Hansen Diamond Strength No Chip Nail Color Rosy Future Review Swatches
Sally Hansen Satin Glam Nail Color In Shade Teal Tulle Review Swatch