Hectic lifestyle and lack of sleep take a toll on health resulting in Panda-like eyes. Whenever my eyes get those unwanted dark circles, I look exhausted and since I have to deal with the clients this is not the look I want to carry every day or even a single day. That's why I am into eye creams that are specifically formulated to treat under eye problems and make me look presentable. The latest one I have been using is from one of my favorite Korean brands- Purito Centella Green Level Eye Cream. I have used it for long enough to observe the performance and share it with you all. Without further delay, let's get started with the review.
What the product says
There are many ways to increase moisturizing easily and quickly artificially. Artificial materials are much cheaper than natural ingredients. However, our skins are from nature so they can distinguish between artificial and natural. We tried to mix various ingredients, failed, studied repeatedly and chose the right way rather than the quick way. We brought out the maximum moisturizing power only from the oil of flowers and fruits obtained from nature. Feel comfortable skin throughout four seasons.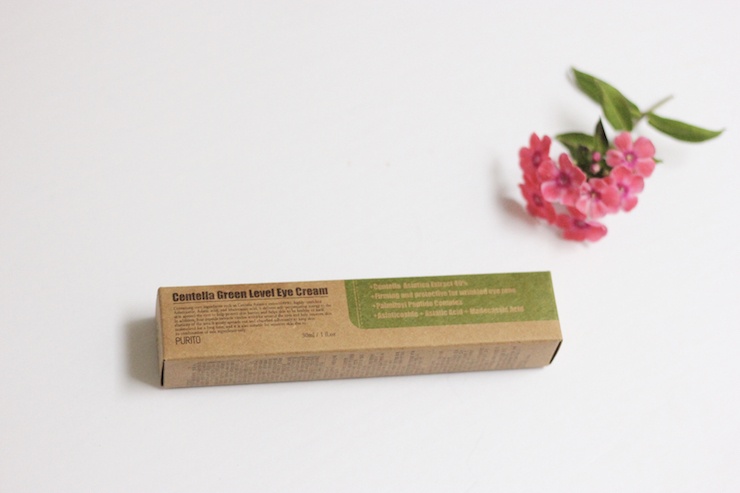 My take on 'Purito Centella Green Level Eye Cream'
A sleek tube thoughtfully shaped to slide in not only the handbag but even the pocket, it is beautifully designed on a white base with bright green text and silver cap. It is one of a kind that would never go unnoticed from the eyes of a skincare freak. Since the quantity is lesser than 100g it's a good choice for air travel. It has a screw open cap that keeps the content secure and uncontaminated. The tiny piercing oozes out the exact quantity required for every single use and put the cream to the best usage.
The cream is white in color with semi-runny consistency, which is perfect to apply on the delicate under eye area. It is fragrance-free and feels gentle on under eyes. I take a small quantity of the cream and dab it on under eye area using ring finger until it spreads well. It quickly penetrates into the skin, which is my first expectation from an eye cream since I do not want to exert too much pressure while massaging. I apply it twice a day- morning and night on clean skin.
As the name says, the key ingredient in this eye cream is Centella. Centella Asiatica (or Gotu Kola) is an Ayurvedic herb that boosts microcirculation and collagen, thus helping the skin to repair fast. It is a wonder ingredient when it comes to firming the sagging skin and fights skin ageing. Since under eye area is the first place ageing starts with, it is essential to treat this area with utmost care. And believe me; Purito Centella Green Level Eye Cream does that job for me.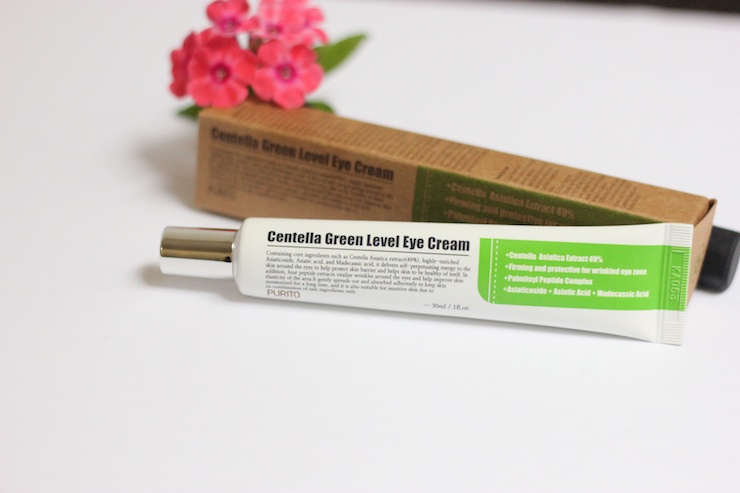 I have been using this eye cream for over a month now. I see considerable improvement in how the under eye area looks now. The dark circles have significantly reduced and the skin looks healthier. I no-more look like a sleep-deprived under-stress human. Of course, as we cannot just rely on external measure so along with applying this cream, I also improved my diet in terms of introducing more water and protein-based diet. All this worked in collaboration to give me a fresh look that does not require any effort every day to look presentable. I can just apply my moisturizer & sunscreen and be ready for another day at work… no more concealers now.
The regular usage of this eye cream would help in deferring the formation of crow's feet, which are again the first signs of ageing and start with the eyes. Proper hydration and anti-ageing ingredients are what we need to stay young today and forever.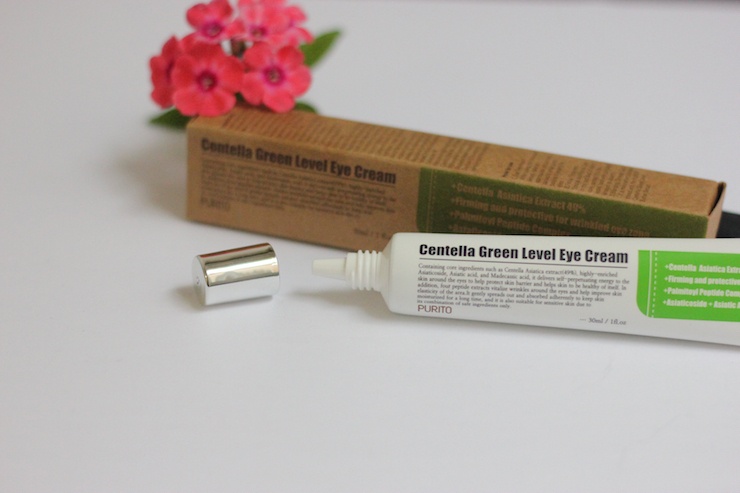 Things I like about 'Purito Centella Green Level Eye Cream'
– Helps in reducing dark circles.
– Provides long-lasting hydration.
– Helps tightening the sagging skin and deferring ageing.
– Contains Ayurvedic ingredients.
– Quickly penetrates into the skin.
– Gentle and fragrance-free.
– Non-greasy and lightweight.
Things I do not like about 'Purito Centella Green Level Eye Cream'
– Absolutely nothing.
Price of 'Purito Centella Green Level Eye Cream'- $17
BABE Rating: 5/5
Final Word: Formulated with Centella Asiatica herb, Purito Centella Green Level Eye Cream helps in reducing dark circles and fighting the first signs of ageing. It is gentle on the eye-areas and does not cause any tingling sensation. Also, since it quickly absorbs into the skin leaving the skin healthy and hydrated unnecessary pressure does not need to be exerted. Overall, I find it decent in treating under-eyes concerns & suiting all skin types.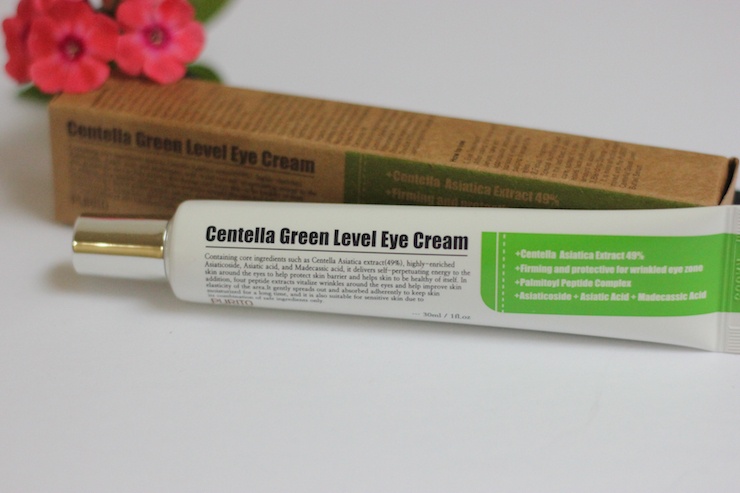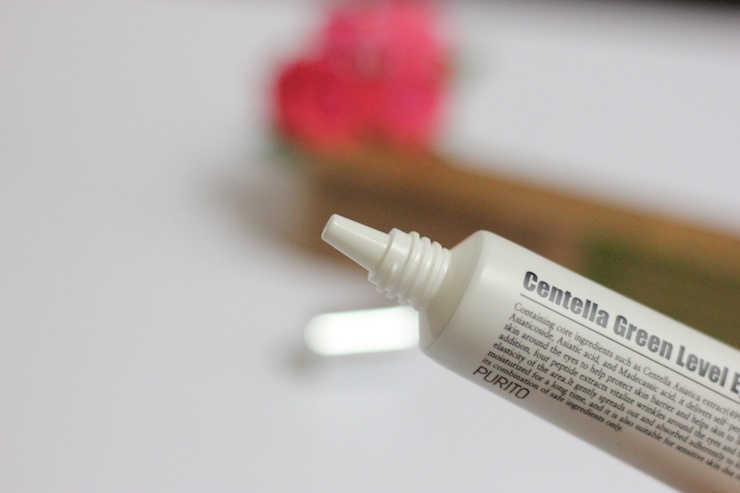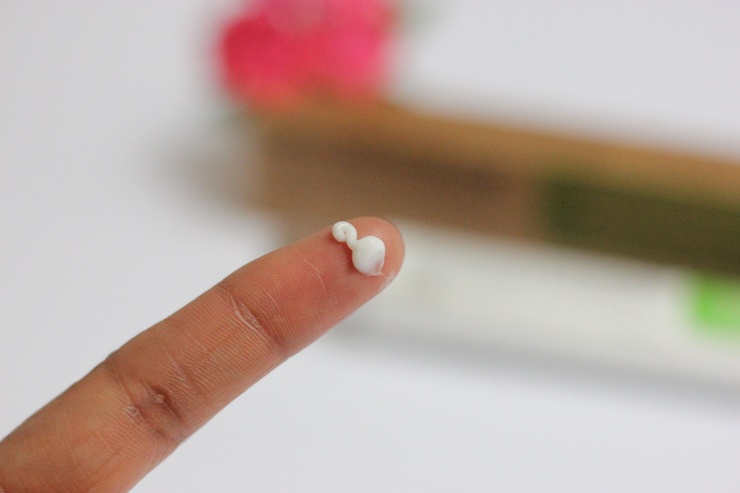 You might also like reading these related topics
Innisfree Orchid Eye Cream Review
Forest Essentials Intensive Eye Cream With Anise Works Well On Under Eye Area
Olay total effects 7-in-1 anti ageing eye cream review
The Body Shop Vitamin E eye cream Review
The Natures Co White Rose Under Eye Gel Review