"Mission Accomplished" was the phrase I screamed off when I got rid off of my unwanted bodily hair post giving birth to the birth. I was extremely worried about how I would remove that long rough hair and scared too – of the pain, it would cause. Fortunately, I had Philips Satinelle Advanced Wet And Dry Epilator at my disposal and it made that hard job a lot easier for me. Keep reading to know my story of epilation.
What the product says
The S-shaped handle helps steer all over the body. The widest head with ceramic discs epilates close to the skin to grab even fine hairs for quick and long lasting results. Wet & Dry use with 8 accessories for personalized beauty routine.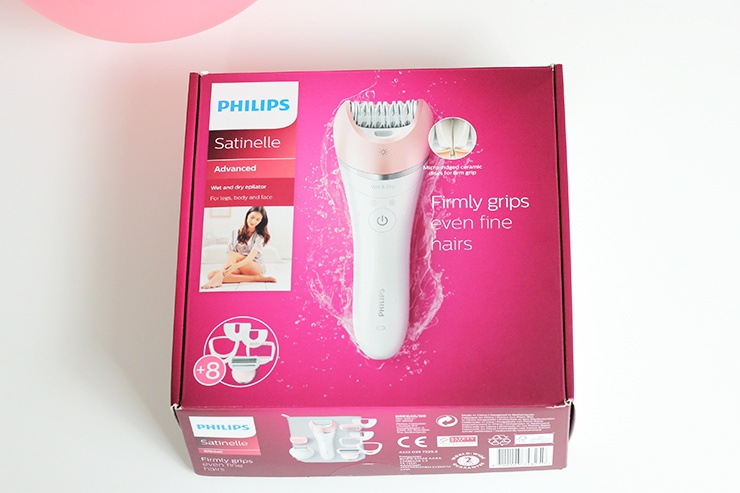 My take on 'Philips Satinelle Advanced Wet And Dry Epilator'
When it comes to removing bodily hair I prefer waxing over any other hair removal method. But during pregnancy, I could not wax my legs and upper thighs or I would have to ask someone to do it for me. As I moved to the third trimester I completely skipped of waxing my legs and that resulted in long (read looooooong) hair. So after birth, I really wanted to get rid of that hair and but was very scared of the pain I had to bear. If I had to remove that hair via waxing I could have gone into a coma but fortunately, I had the Philips epilator with me. After a long of pondering, I decided to give it a shot. This was the first time I used epilator or say any other hair removal method. And, I am happy that I chose that option. Now, let me start with the packaging of Philips Satinelle Advanced Wet And Dry Epilator.
It comes in a cardboard box that contains the epilator, 8 different accessories for different body & face areas, a pouch to carry the epilator & its accessories, an electric charger, a small brush to clean the heads and a descriptive user manual. Since the 8 accessories are enough to confuse anybody, I first decided to go through the user manual in order to know what to use and when. If you decide to go buy this epilator I would highly recommend reading the user manual before actually starting to use this product. You would get a lot of information that would amaze you about the functions of this epilator. In brief, let me first let you the salient features and the tips to get best results from Philips Advanced Epilator.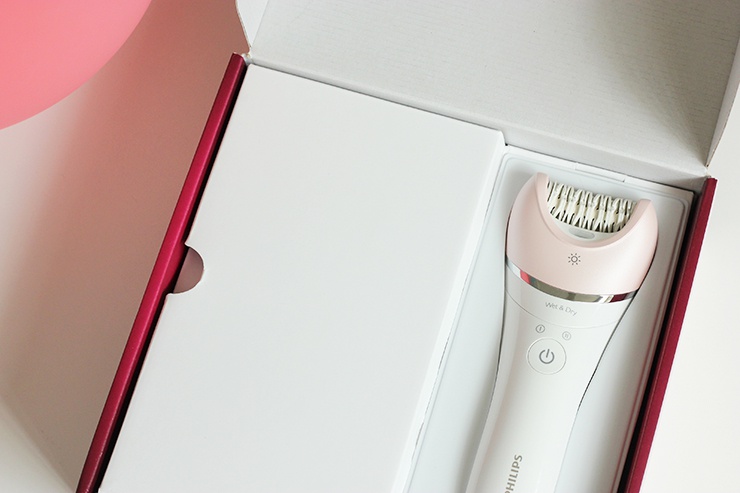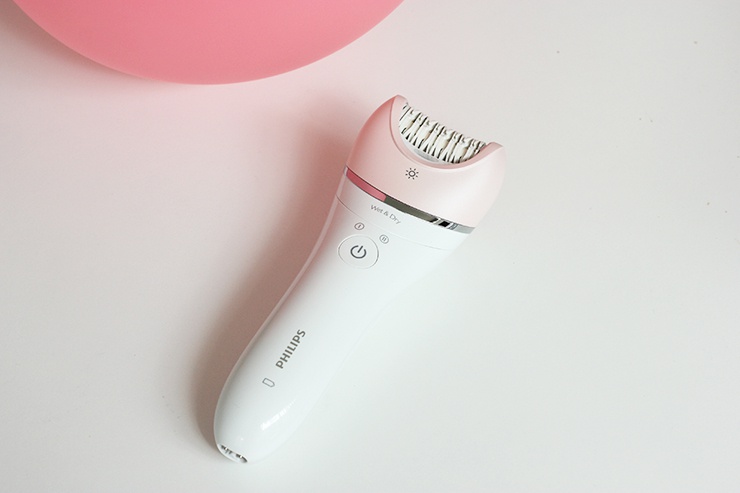 1) The basic one is, of course, pulling off the hair from the roots. And, to get the best results you need to keep it at a 90-degree angle and move it in the opposite direction of hair growth. If the hair is long and hard, try putting pressure while you move the epilator. In my case, it reduced the pain to an extent.
2) If you are not used to waxing or epilator, target small areas as it will give you more control and lessen the pain.
3) This epilator can also be used for shaving and trimming. It includes a trimming head and bikini comb to trim and shape delicate areas for more convenience. If you like to shave the V-area or bikini line you just need to change the head and it will provide a close shave with more gentleness.
4) For more gentleness in all different body areas, it includes a facial area cap which removes unwanted facial hairs and a delicate area cap for hair from underarm and bikini.
5) On areas where you have loose skin like inner thighs, calves, etc stretch the skin with one hand and use the epilator with the other. Though one of the 8 accessories is to stretch the skin but I prefer using the massaging accessory over the epilator as I can stretch the skin on my own.
6) It has an inbuilt light that ensures that not even single hair missed from uprooting.
7) It has 2-speed setting levels so depending upon the time you have for hair-removing and on your tolerance power you can choose the setting. By default when you turn on the epilator it will be set on setting 2. If you have to choose setting one press the on-off button again.
8) The other amazing feature is that it works equally well on wet hair. I do not need to take out special time to remove the hair as I can do the same while taking a shower.
9) Unlike waxing it does not break the hair. Even if it does I move the epilator again on the broken hair and it uproots them. It gives smooth hair-free skin without any bumps or redness.
10) The epilator once charged easily can be easily used to remove the full legs and arms hair twice. Plus, as it charges really quickly so I do not need to wait for long for it be charged up and ready.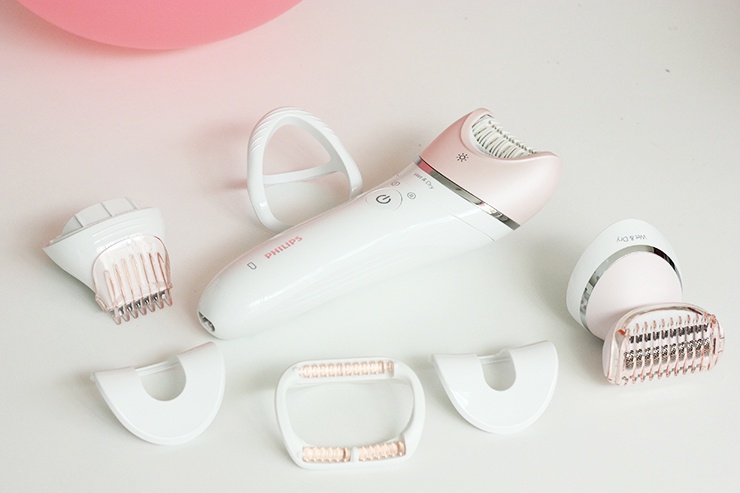 Things I like about ' Philips Satinelle Advanced Wet And Dry Epilator '
– One time investment that further becomes an inexpensive way to remove unwanted hair from the comfort of home.
– 8 heads for different body parts for convenient removal of hair.
– Includes a massaging cap that eases the epilation sensation.
– Unlike waxing, it gives you control and increases the willpower to bear the pain.
– 2-speed settings to choose from.
– An inbuilt light that ensures you do not miss the fine hair.
– Non-messy way to remove hair.
– Can be used while traveling.
– Works well on wet hair as well.
– Gives smooth hair-free skin without bumps, inflammation or redness.
– It can be used to remove facial hair.
– Charges up quickly.
– Got amazing looks and quality.
Things I do not like about ' Philips Satinelle Advanced Wet And Dry Epilator '
– The trimming head does not have any settings to target the hair length that needs to be trimmed.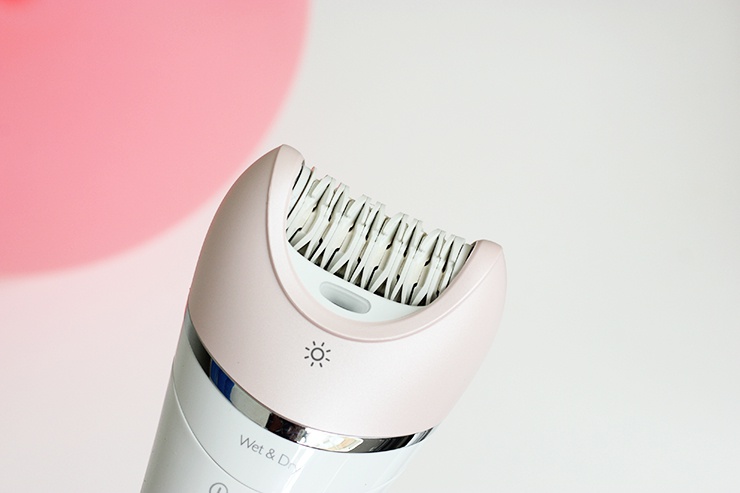 Price of 'Philips Satinelle Advanced Wet And Dry Epilator'- Around AUD 199
BABE Rating- 4.75/5
Final Word- Since the epilator has come into my life, hair removal has become a lot easier. Now, I can remove the unwanted hair anytime anywhere. I do not need to have a trip to the salon and pay them huge bucks to get something off my skin :). The results are also better than waxing as it does not cause hair breakage, inflammation or redness. In fact, this epilator is a multi-purpose tool that trims and shaves as well. Now, I do not need to carry a separate shaver as just a small head of this epilator does that job for me and that too very effectively. The best thing about this product is that it charges in a few minutes and lasts long. If you are into waxing or shaving, I would highly recommend trying Philips Satinelle Advanced Wet And Dry Epilator as it is an easy, non-messy and inexpensive way to remove unwanted hair. Of course, you have to make that one-time investment but it is worth the benefits you will get. You can buy this epilator from Philips website.
Disclaimer-This is an editorial review. The product is sent by the brand for consideration. However, my review is genuine and I am not being paid for publishing my experience with this product.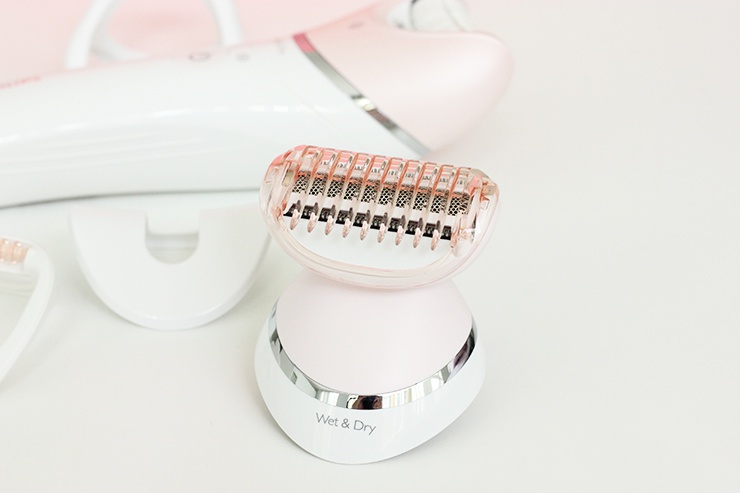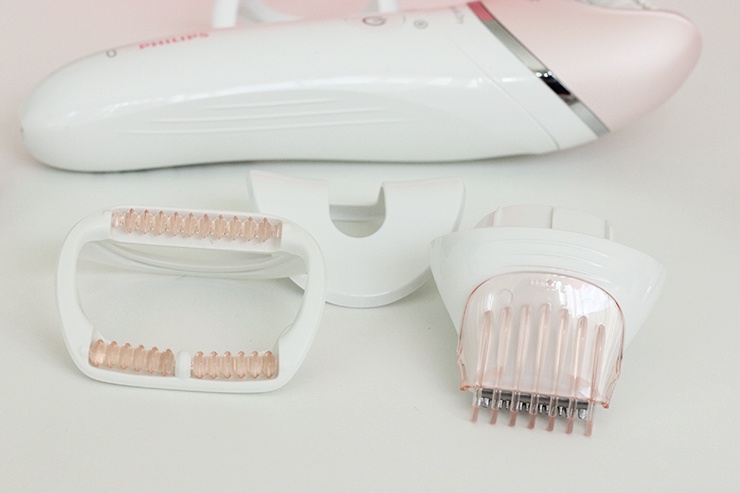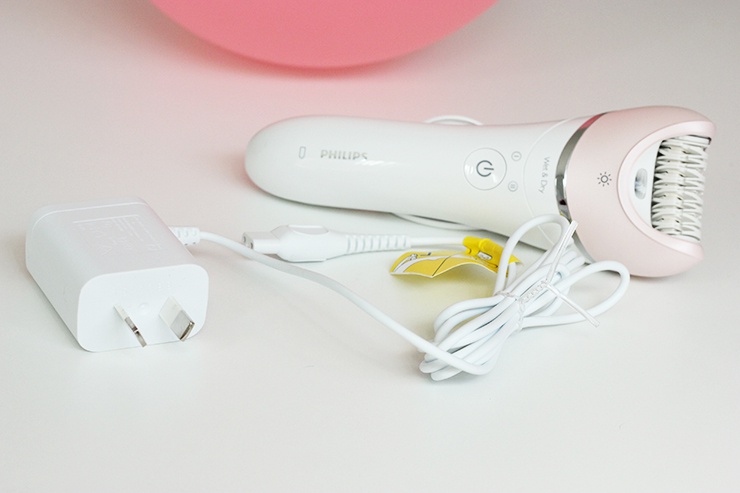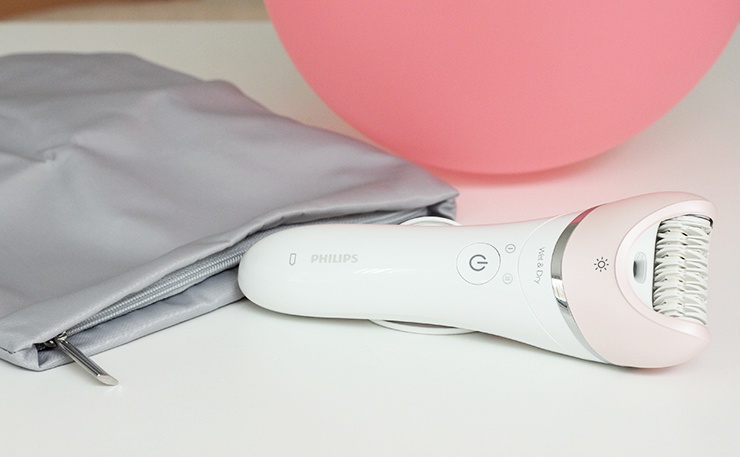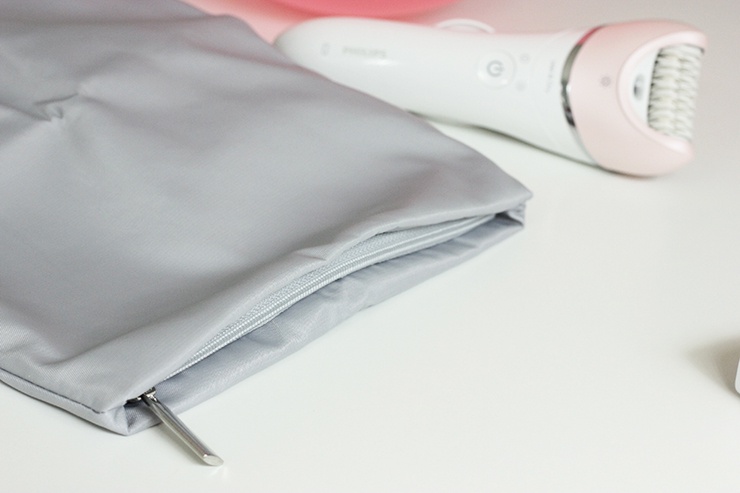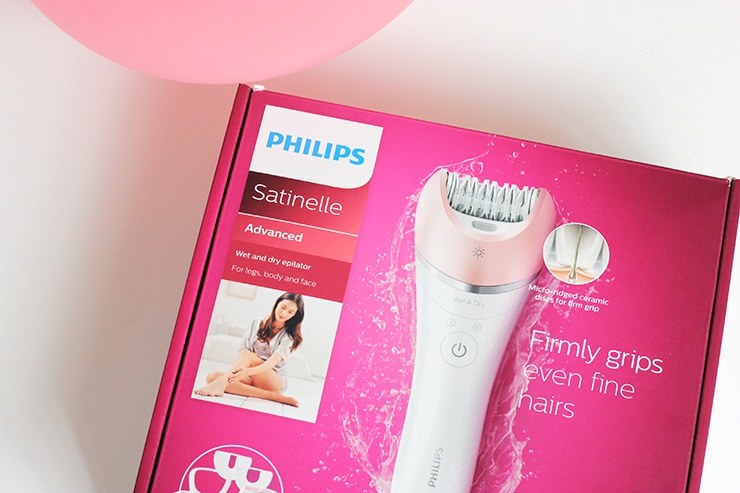 You might also like reading these related topics
Everteen Bikini Line Hair Removal Cream Review
Barever Natural Hair Inhibitor Restricts Hair Growth
Are You Choosing The Right Hair Removal Wax To Get Rid Of Body Hair?
5 Reasons Why I Prefer Waxing to Shaving