My Night Skin Care Routine For Summers-Oily Skin
Hi Everyone,
Although, I should be taking care of my oily skin all year round, summer is the season when I take special care of it. Varied reasons such as sitting in AC rooms all day long, sweltering weather, pollutants, etc., drive me to stick to my skin care routine in order to avoid unwelcomed skin problems. No matter how tired I am I religiously try to follow this routine. Of course, misses happen sometime but I attempt my level best to at least stick to the first and last step, and what those step are, you will get to know when you read through end.
My Skin Type: Oily to combination with super oily T-zone.
Step 1: Cleaning : After a long day, by the time I come back home my face has already become a dancing park for external impurities such as pollution, bacteria, accumulated sweat, dust particles and who knows what is present in the polluted atmosphere. Since these bad layers can aggravate the skin and cause problems as acne, inflammation, rashes, etc., getting rid of them becomes even more important. In fact I would say, cleaning face before going to bed is as important as brushing teeth. For my cleaning routine, I am using H2O plus sea mineral scrub that has minute scrub particles. It does not only provide a refreshing and soft skin but also unclogs any clogged pores, and makes my skin breathe. You can check its review here. For that matter, you can use any face wash as long as it has the ability to remove all the impurities.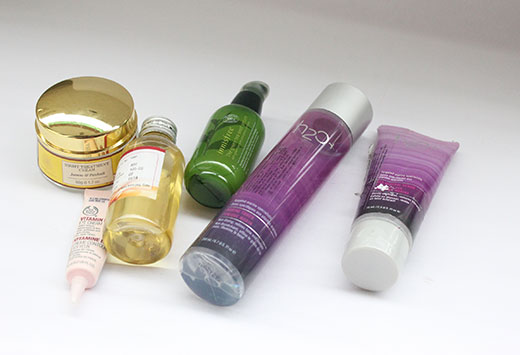 Step 2: Toning: As I have oily skin I ensure that I use a toner in summers because this is the season when my skin becomes even oilier. Applying toner takes care of the open pore problem, which is quite common in oily skin people. Besides that, it helps in maintaining skin's pH level. Our skin should have a ph level between 5 and 6 that can get disturbed owing to the products we use on our face or atmospheric conditions. Toner helps in restoring this balance. The one that I am using these days is from H2o plus marine toner; you can check its review here. It removes all the left over impurities and keeps my skin hydrated.
Step 3: Face Serum: Face serums are highly concentrated so they provide better nourishment and elasticity, in addition to keeping a check on oil secretion. Plus, they tend to make our complexion more even and brighten. Applying this wonder product would provide an added advantage to our skin, but it is unlikely that our skin cannot get better without it. The one that I am using is 'The green tea seed serum' from Innisfree. I am still testing this product so its review will take another couple of weeks before becoming live. As far as the usage is concerned, after 30 seconds of toner application I just take one pump of this serum on my palm, dot it all over my face and slightly spread it. And that's all I do – no rubbing or massaging. This is not a mandatory step so I do skip it sometimes but only because I religiously follow the next step.
Step 4: Night Cream: After going through a long tiring day our skin needs some restoration at night, in order to be prepared to combat the next morning. Night cream takes care of our skin when it is at rest. Depending upon skin problems, we can invest in specific night creams that target problematic concerns such as acne, ageing, dehydration and dullness. However, you can also find generic night creams that take care of skin's overall wellbeing. I am using Forest Essentials night treatment cream jasmine and patchouli. Since, I have started using this cream every day I wake up to a hydrated and refreshing skin.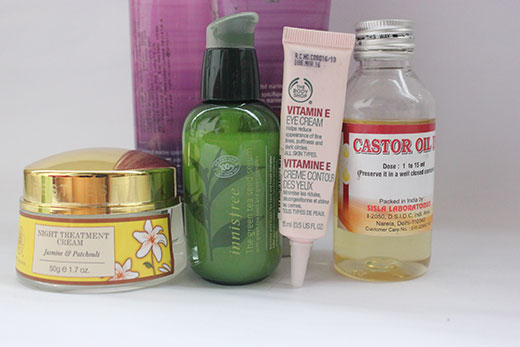 Step 5: Castor Oil: Well, this is not something I have been following for ages but just couple of months. I do not have thick brows so I have started using castor oil, which helps in encouraging hair growth. There has not been any remarkable difference in hair thickness but I do see brow gaps narrowing. I will get to know a better validated outcome in another couple of months so will update this post or write a new one on castor oil around that time. I got this oil from Apollo pharamacy so I am assuming it would be easily available at any drugstore. For the application, I swipe it on my brows using an ear-bud making sure it reaches to the roots of every hair.
Step 6: Eye Cream: Lastly, I dab my The Body Shop Vitamin E eye cream on under eye area. Honestly, I do not even remember how many tube I have finished of this efficient under eye cream. Since I have started using it, my under eye area have improved a lot in terms of texture and dark circles. Nevertheless, if you do not have an eye cream you can apply almond oil or milk cream. It is better to moisture under eye area with at least something rather than nothing.
So that is all I do before hitting my bed. I know it sounds too much but these steps are not at all time consuming so when I start doing them they do not even take 15 minutes. After all, "no pain no gain". I can happily invest this much of time to get beautiful glowing skin.
You may also like reading these related topics
5 Aloe Vera Homemade Face Packs For Hydrated Flawless Skin
5 Instant Homemade Face Packs Using Orange Peel Dry Powder
5 Tips For Skin Care
5 Natural beauty benefits of lemon juice
5 'Instant Glow' Skin Care Tips From Kitchen
DIY- Homemade fuller's earth and honey face pack for soft and glowing skin
Revise daily skin care routine
How Watermelon and Cucumber Face Pack Helps Getting Clear Glowing Skin
Papaya face pack for glowing and blemish free skin