Today, I am featuring a new brand on my blog "Miss Dior". Well, it is not new in the market but on my blog
. I always like to experiment with moisturizers, and when I got this one I was on cloud 9. I did not use it for first few days as I was scared of making the classy looking bottle dirty. I know that's crazy of me, but you will have to see the bottle to experience this kind of emotion. I am sure when you see it you will instantly fall in love with this elegant silhouette. Read on, to know other aspects which make me so fond of this product.
What the product says
Enriched in nasturtium and silk protein extracts, Miss Dior moisturizing body milk hydrates and enhances the skin, leaving it instantly soft and supple. Its refined scent envelopes the body in the fragrant notes of 'Miss Dior'.
My Take on 'Miss Dior Moisturizing Body Milk'
Miss Dior moisturizing body milk comes in a rectangular bottle that is classy white in color. The bottle is secured with a square shaped cap that is based on the screw-open mechanism. The product outlet is through a small hole which is completely protected by the cap in order to avoid spillage. Front of the bottle bears name of the brand and product in silver and the sides have carved design in white, enhancing the beauty of this bottle. Overall the packaging is chic and elegant, and looks lovely resting on my dressing drawer. Since I have placed it on my dressing corner, I am spending even more time in finishing my daily skincare/makeup rituals… all thanks to Miss Dior.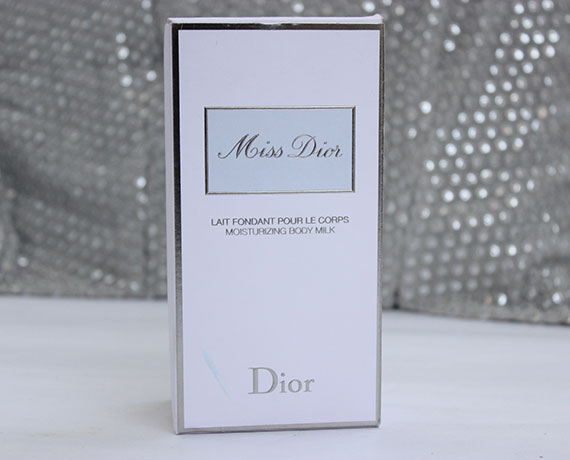 This body milk is white in color and has perfect consistency which is neither too runny nor too thick. Also, the opening is not too wide to let all of it out at one go. Still, you would need to be slightly careful while pouring it out as very little quantity is required for one time use. You may not want to unnecessarily use this luxurious product.
Its texture is very light and water based. Because of the consistency it is also easy to spread. You do not have to keep rubbing to make it seep into the skin; rather it penetrates in no time. You know how some body milks feel sticky or too heavy? Well, I have that experience and if I compare Miss Dior body milk with those ones I would say it is not even a bit close to the term 'stickiness'. In fact, it feels feather light as if nothing is applied on to the skin. And is not it what we always expect from our moisturizers? We want them to moisturize and hydrate the skin from backend without leaving any mark on the front. But wait 'Miss Dior body milk' does not just disappear. It leaves its divine trait behind – fragrance.
It has the following notes:
Italian Mandarin Essence, Damascus Rose Absolute, Indonesian Patchouli Essence.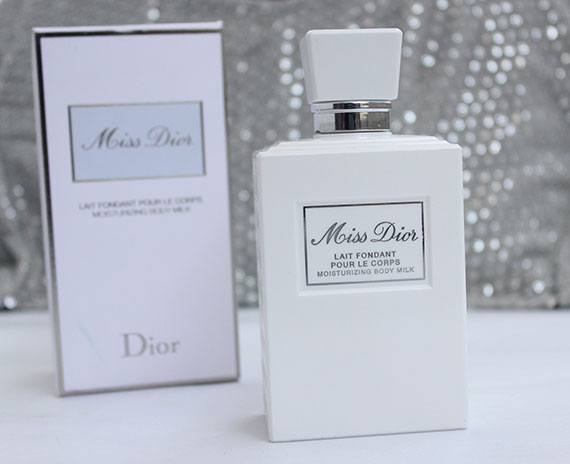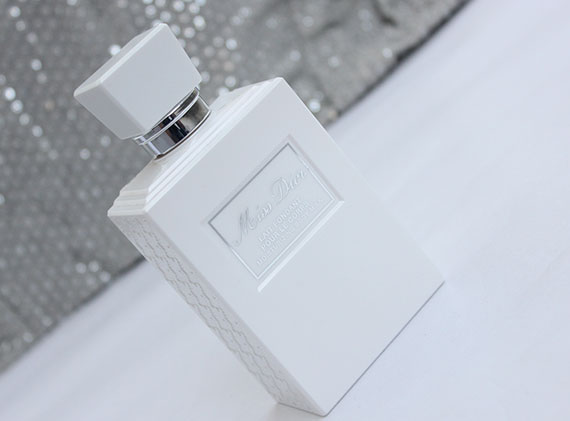 Yes, this body milk bursts with a sweetly seductive fragrance. It is a marvelous combination of intense, sensual and sophisticated fragrance. Plus, this body milk is a perfect mixture of a moisturizer and perfume. On one hand it keeps the skin moisturized and on the other it spreads its fragrant aura. The best thing is that the fragrance is long lasting. That being said I can smell it on my skin next day as well. It is there even after I wash my skin. This is like those perfumes that stay on your clothes even after washing. Is not it amazing, and a lot to get from body milk? I can go on writing about its fragrance as it so amazing that I am rarely able to stop myself from applying it daily. It has become an indispensable part of my daily routine. In fact, I am worried as I do not want it to finish for at least next couple of months until I get another bottle.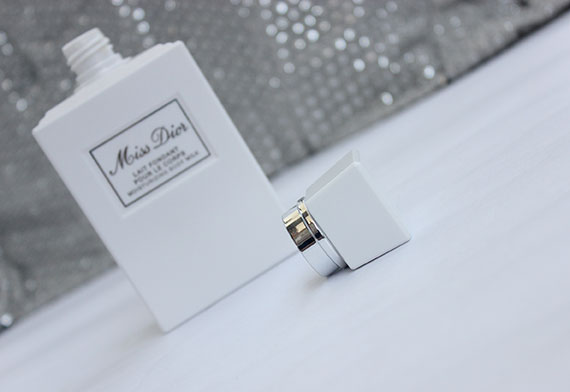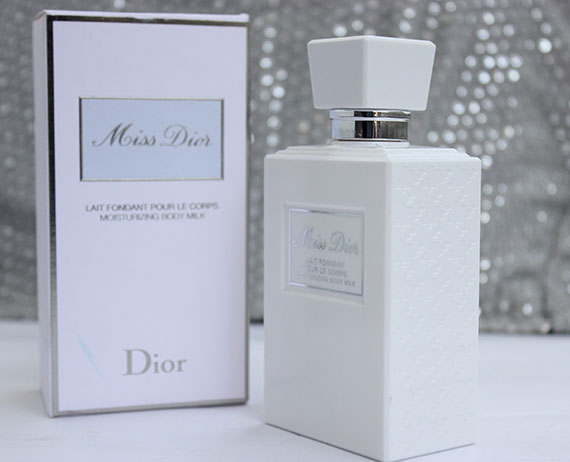 What I like about 'Miss Dior Moisturizing Body Milk'
– It hydrates the skin giving it healthy moisturized look.
– Long lasting fragrance that stays with you all day and night.
– Classy, luxurious packaging.
– Easy to carry and spill proof bottle.
– It gets absorbed into the skin in a jiffy.
– It does not make the skin feel sticky or heavy.
– Perfect combination of sweet and seductive fragrance.
– It can very much replace your most favorite perfume.
– It serves two purposes- one of a body lotion and other of a perfume.
What I do not like about 'Miss Dior Moisturizing Body Milk'
– Well, its not about this body milk but its availability, which is hard to get in India.
– Might not be that much moisturizing on extremely dry skin.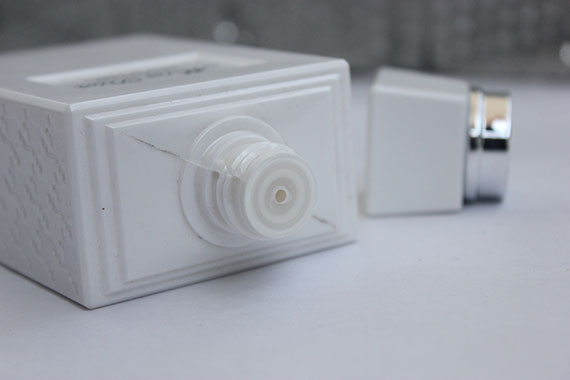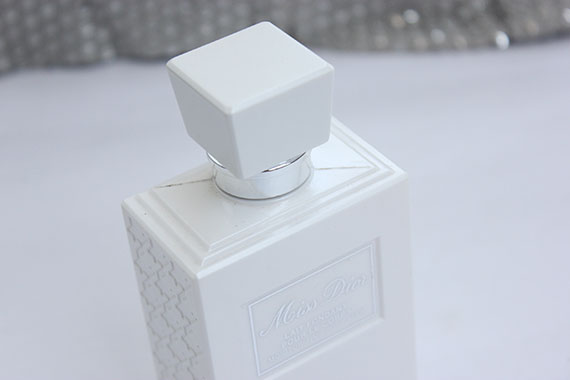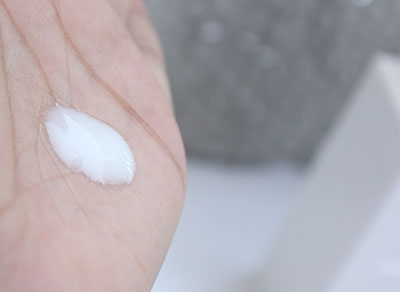 Ingredients of 'Miss Dior Moisturizing Body Milk'

Price of 'Miss Dior Moisturizing Body Milk': USD 52 or approximately INR 3500 for 200ml
BABE Rating: 5/5
Final Word: Miss Dior Moisturizing Body Milk is an epitome of moisturizer. It is an ideal combination of body milk and perfume. Its fragrance stays for an infinite time. The feather light texture, non-stickiness are some of the properties that make it one of my favorite products. Undoubtedly, the price is on a higher side but looking at the results, fragrance and efficacy the tag seems justified. After all it doubles up the benefits by serving as a body milk and a high-end perfume.
You may also like reading these related topics:
Davidoff cool water sea rose moisturizing body lotion review
Bodycology Sweet Petals Body Cream Review
Aaranyaa skin soothing hand and body lotion shea butter review
Dove essential nourishment body lotion deep care complex review
Dove Indulgent Nourishment Body Lotion With Shea Butter Review
Jergens Ultra Healing Extra Dry Skin Moisturizer Review
Vaseline Total Moisture Cocoa Glow Body Lotion Review
Vaseline Total Moisture Aloe Fresh 24hr Nourishing Body Lotion Review
Vaseline Healthy White SPF 24 Triple Lightening Lotion Review
Himalaya Herbals Intensive Moisturizing Body Lotion Review
Parachute advanced deep nourish extra dry skin body lotion review
Jolen Sun Screen Lotion SPF 15 Review, Swatch
Jergens Age Defying Multi Vitamin Moisturizer Review
VLCC Almond Nourishing Body Lotion Review
Nivea Express Hydration Body Lotion Review
Nivea Whitening Cell Repair and UV Protect Body Lotion Review
Marks and Spencer Pampering Cocoa Butter Moisturizing Hand and Body Lotion Review