Who does not want bright and fresh skin? And if you know you will get it without making any efforts that will be like a dream coming true. So, Maybelline has recently launched "Maybelline White Superfresh Compact Powder" that claims to provide fresh and bright skin. But are all these claims true? Let's find out, but before jumping on to that let us see what these compact powders have to say.
What The Product Says
Maybelline New York introduces it's all new perfecting compact powder, White Super Fresh that comes in three shades, Pearl, Shell and Coral. The new perlite formula absorbs oil and sweat and gives you a fresh look all through the day. Now bid goodbye to touch-ups and stay fresh and fair upto 12hours.
Here's why you will love it:
– UV filters protects skin from both sun darkening and damage.
– Helps you stay 12HR Fair and Fresh
– Perlite, a pure mineral that helps absorbs oil and sweat.
– Gives a naturally perfect-looking complexion
– Suitable for everyday use.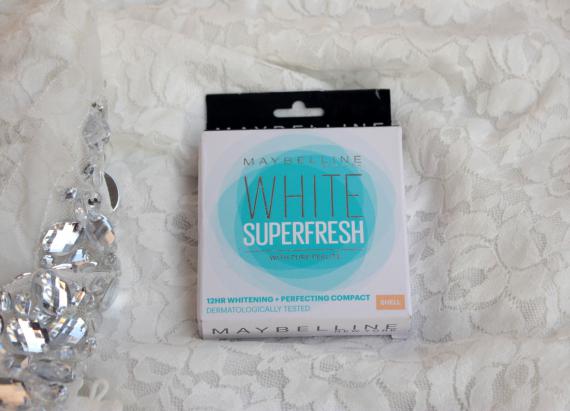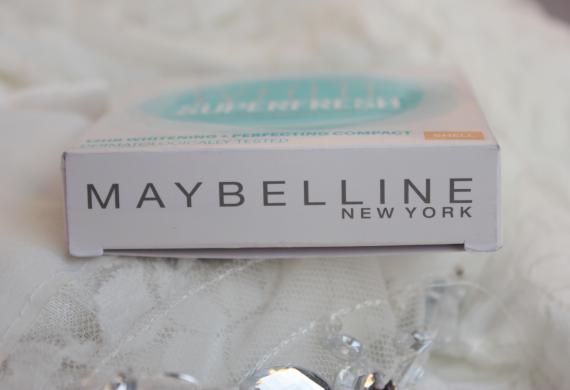 My Skin Type: Combination to oily
My Take on 'Maybelline White Superfresh Compact Powder-Shell'
It comes packed in a white cardboard box that has all the details mentioned on it expect ingredient list. The compact powder is housed in a similar color round plastic packaging. The white and blue combination of packaging gives a refreshing look just as the name says. It has a single compartment, the base of which contains the powder and the top contains an inbuilt mirror. The powder is again covered with a flimsy plastic layer, and contains a puff for application purpose. I feel the separation is done to save the powder from any wear and tear that could happen if puff remains in constant touch with the compact powder. The puff has two sides, one is soft and this is the one which should be used for application and the other side has a rubbery feel to it. Overall, it provides good grip and eases in gentle application.
Maybelline white superfresh compact powders come in three shades: pearl, shell and coral. Pearl is the lightest and coral is the darkest of all. I have a medium skin tone so I decided to go for shell. I tell you, it matches with my skin tone well and does not make me look like a white-clown. The downside is there are just three shades to choose from, and if you do not find any of these matching with your skin tone you are not left with any other option but to move to some different range of compact powders.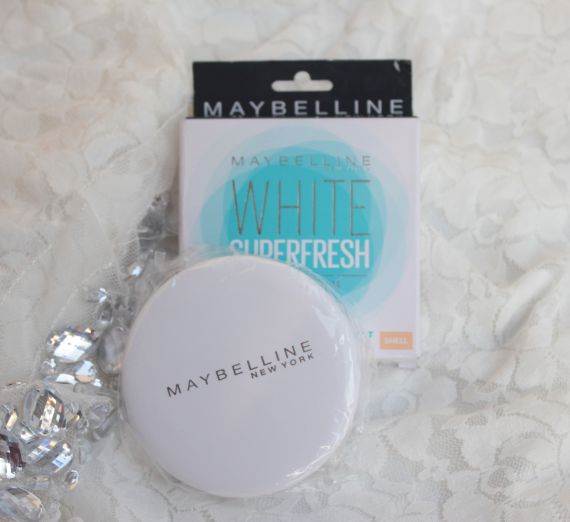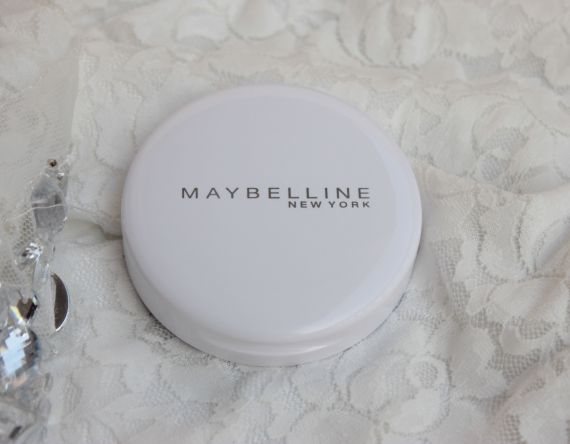 It has smooth texture, though it feels chalky on the hands but once blended it gives non-chalky plane finish. The smooth texture allows it to be easily picked by the puff, and further aids in application. The puff feels soft and gentle against the skin. Whenever I am on the go I apply compact powder using the puff only, but when I have ample time for makeup I prefer using a powder brush as it gives more fine look.
This compact powder provides light coverage that makes my skin look fresh and bright. It does not do anything major in concealing acne scars and red spots , so you should take care of those using either a concealer or foundation.
It has very mild floral fragrance, which dissipates into the air in no time. Speaking of shade, I have already said it matches with my skin tone perfectly. Even when I applied it on half of the face, nobody could actually notice the difference in my skin tone except the finish. The one half that was slathered with compact powder had even finish, slightly matte and alive look, whereas the other half looked quite natural in terms of sheen. So I would say it does add to my skin's bright and fresh look.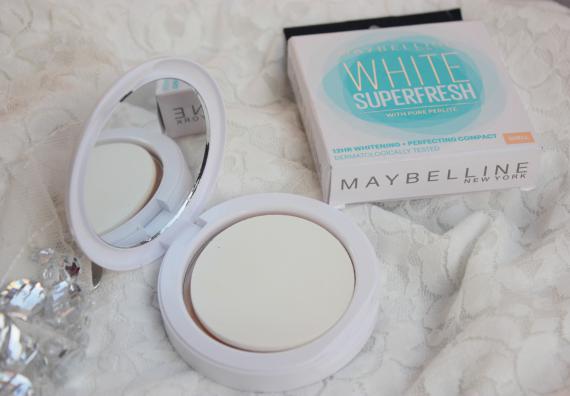 As far as the oil-control is concerned, it took pretty good care of that for first 2-3 hours after which it started losing control. I could see the oil resurfacing on the T-zone. I have combination to oily skin that shines like an oily surface especially moments after I apply sunscreen. This compact powder did subdue the immediate appearance of an oily layer but not for long. So I would say the 12hr whitening claim is not that true because as the oil starts surfacing, my skin again starts looking dull and darker. But in the price Maybelline is offering these compacts, it is very economical to reapply these after every few hours (Of course, if you have the time to do so).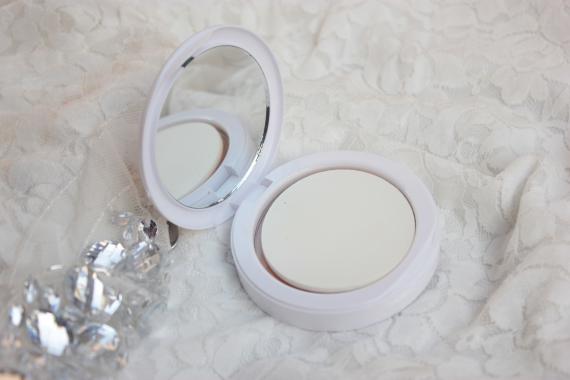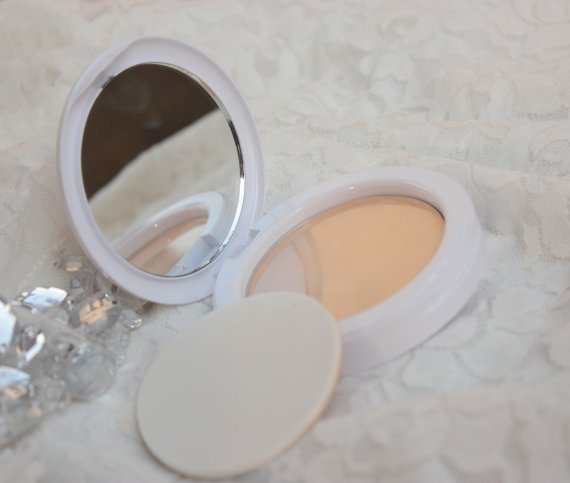 What I like about 'Maybelline White Superfresh Compact Powder-Shell'
– It does not make my face look chalky or overly white, so I would say it is the right shade for medium Indian skin tones.
– Mattifies skin and controls oil for 2-3 hours.
– Provides light coverage that is apt for daily wear.
– Gives a naturally bright look.
– Does not break my skin out.
– Does not make it look dry/stretchy.
– Easy to apply.
– Smooth texture.
– Affordable price.
What I do not like about 'Maybelline White Superfresh Compact Powder-Shell'
– Just three shades to choose from.
– The oil-control action should have stayed for longer.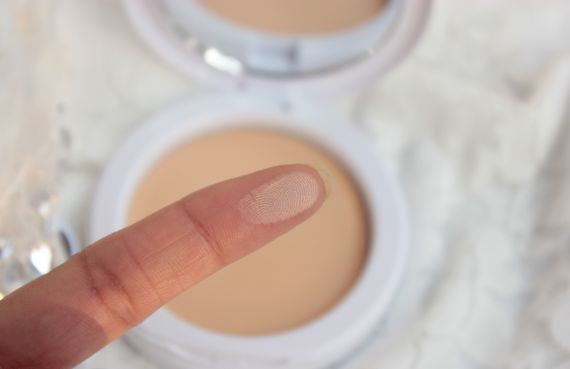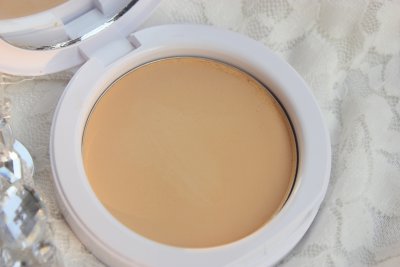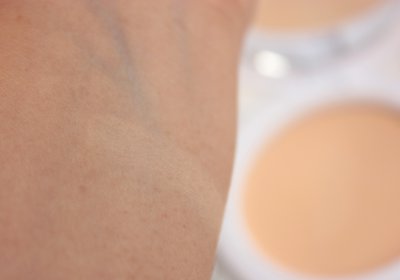 Price of 'Maybelline White Superfresh Compact Powder-Shell': Rs 150
Shelf life of 'Maybelline White Superfresh Compact Powder-Shell': 24 months from date of packaging
BABE Rating: 4/5
Final Word: Maybelline White Superfresh Compact Powder is a nice drugstore option if you are looking a daily wear compact that should add freshness and light layer of whitening to your skin. In my opinion it will work best on normal skin as those beauties do not have to struggle to wipe off that extra layer of oil. It is good for oily skin as long as reapplication is not a concern. Dry skin beauties can apply it on a well moisturized face. Overall, I would say Maybelline white superfresh compact powder has something for every skin type, and it all depends on the way you are using it.
You might also like reading these related topics
L'Oreal Paris Mat Magique All In One Transforming Powder Review
CoverGirl Smoothers Pressed Powder Translucent Fair Review
Oriflame The ONE Illuskin Powder In Shade Medium Review