Yippee, so the weekend is here. Last week was pretty hard for me so I am relieved to see these two days. I have not made any weekend plans this time; I think I will just be staying at home, watching movies and doing some chit-chat with friends. Of course, I will click some product photos as I rarely get that time on weekdays. But today let's go through my experience with Maybelline Colossal Volum Express Waterproof Mascara.
What the product says:
For the lushest, most gorgeous smudge-proof lashes.
• Waterproof collagen-enriched plumping formula and exclusive Mega Brush build 7X volume with one quick sweep
• Contact lens safe and ophthalmologist-tested
• Waterproof, also available in Washable formula
For Best Results
Sweep brush from root to tip to plump lashes and achieve dramatic volume. Do not let dry between coats. Removes easily with soap and water or Expert Eyes® Moisturizing Eye Makeup Remover.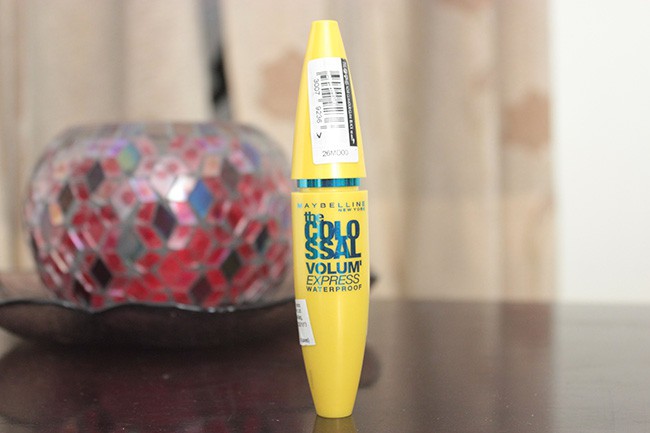 My Take on 'Maybelline Colossal Volum Express Waterproof Mascara'
Maybelline colossal volum express mascara comes in fat yellow colored tube that has the turquoise colored text. I find the packaging attractive, but somehow I feel that if the packaging were sleek it would have been easier to handle it. The advantage of this packaging is that you can spot it in a pile of makeup products. If it had been a black or grey colored tube, I would be spending couple of minutes in just taking it out from my vanity drawer (no matter how many times I organize makeup, I have to redo it after a couple of weeks). Nevertheless, this mascara comes in two versions – waterproof & non-waterproof. The price is same for both, and both have the same packaging except the text color. For, non-waterproof mascara, the yellow colored tube is coordinated with purple text. If you have both the mascaras, you can easily differentiate one from other by just seeing the text color. On daily basis I prefer non-waterproof mascara as it is easier to remove. I wear waterproof mascara on special occasions or when I have to wear makeup for really long hours.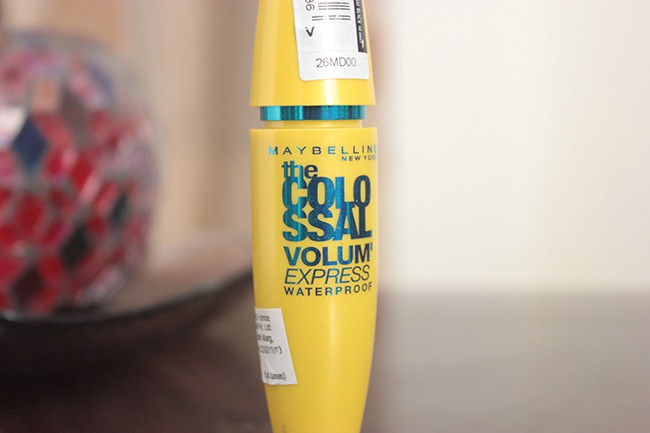 The black wand contains fine bristles that enhance lash volume. The bristles spread the product evenly and do not leave any residue clinging to the lashes. The length of the wand is average; I mean it is neither too long nor very shot. It provides good control while I have to work on inner lashes but if I talk about the ease of application on inner lashes, I feel it is not that great with this brush. Reason being, unlike the Maybelline falsies mascara, the volum express mascara has a flat brush that makes it difficult to reach the inner corner. I have to be very cautious while working on the inner corner and lower lashes. Otherwise, one slight mistake can smear it on nose and under eye area, and as this is waterproof it becomes hard to take it off.
The consistency is neither too thick nor very runny; in fact for the consistency it is easier to coat the lashes without any clumps. I like heavily coated distinct lashes as they have the capability to lift up the regular look. This mascara dries fast so I have to quickly apply 2-3 coats to get that lift. I have long lashes and it makes them even longer. So if you have short and sparse eyelashes you will notice a lot of difference. The only con I find is that it does not give me the desired curl. I like curly eyelashes, but this mascara fails to add a dramatic curl.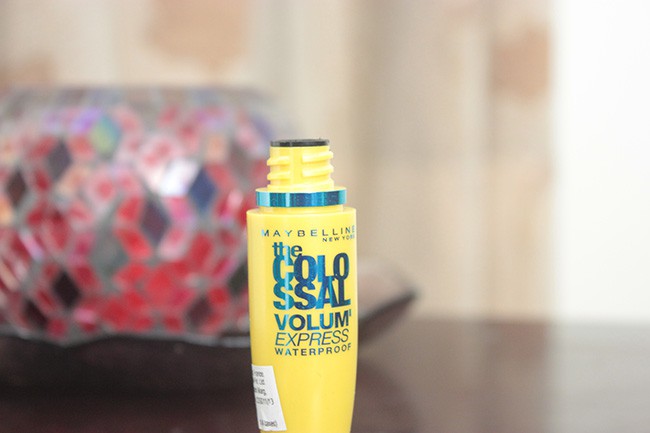 For longevity, it is purely waterproof mascara that lifts up the lashes for good 9-10 hours without any smudging. It is in fact tear-proof as well, so if you have this on the lashes you can shed the tears of happiness without worrying about black panda look. And, as it waterproof mascara it is difficult to remove. I cannot just remove it with regular cleanser and water. I need to either use a makeup remover or cleansing oil to get it completely off my eyes.
What I like about 'Maybelline Colossal Volum Express Waterproof Mascara'
– Prominently increases lash length
– Does not clump the lashes.
– Waterproof.
– The fine bristles separate every lash, and richly coat them without leaving any residue.
– The consistency is easy to work with.
– Lifts up the lashes for good 9-10 hours without smudging.
– It does not feel heavy.
What I do not like about 'Maybelline Colossal Volum Express Waterproof Mascara'
– It does not curl the lashes.
– It does add volume but not 7* as claimed by Maybelline.
Price of 'Maybelline Colossal Volum Express Waterproof Mascara': Rs 400 for 10 ml
Shelf life of 'Maybelline Colossal Volum Express Waterproof Mascara': Around 3 years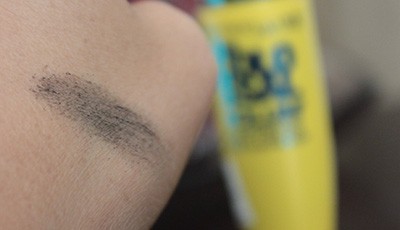 BABE Rating: 4/5
Final Word: Maybelline Colossal Volum Express Waterproof Mascara adds prominent length and volume (but not 7*) to the lashes. The fine bristles coat every lash without causing clumps or residual deposition. It is waterproof mascara so stays on for long without smudging or feeling heavy on the lashes. Overall, I find it a great option for times when I have to wear mascara for long hours or I know my eyes would get moist 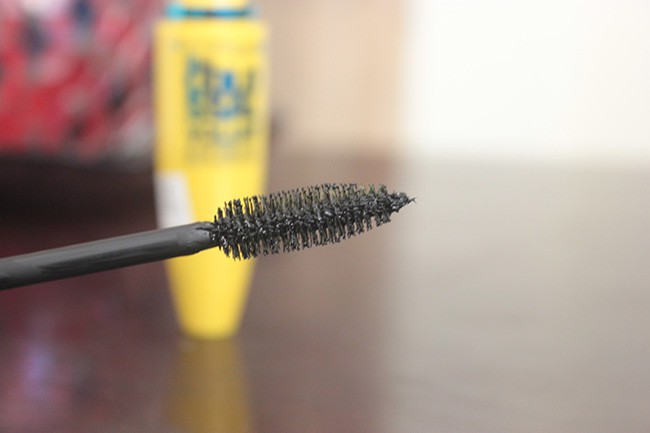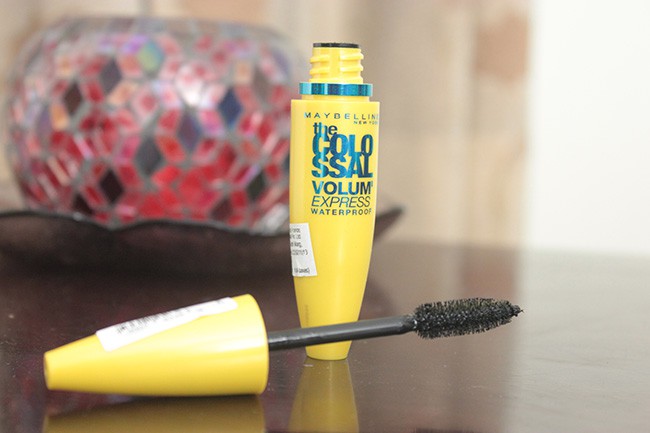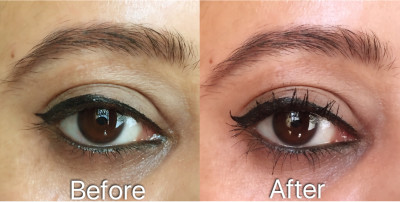 You might also like reading these related topics:
Maybelline The Falsies Volum Express Waterproof Mascara Review Swatch
Wet n Wild XXL Lash Mascara Review
Lakme Eyeconic Mascara Review
Oriflame The ONE Volume Blast Mascara Review
Loreal Volume Million Lashes Extra Black Mascara Review