Maybelline has launched these go graffiti nail polishes almost a year back. These are available in 9 versatile designs, out of which 6 are top coats and 3 are jelly type nail polishes. For the top coats, one just needs to apply an opaque base coat and layer it up with one of the go graffiti top coats. Today, I am reviewing one of the top coats that is named 'Star Struck'. All the shades have interestingly unique names that relate to the design and struck a chord with my dreamy world. Let's see how I find this nail polish.
What the product says:
Bringing New York Street Art in a bottle under the much-loved Color Show franchise, Maybelline New York presents the all new Color Show Go Graffiti; a range of nine nail polishes with special innovative effects that will keep you captivated this Spring Summer. Now get nail art at your convenience with interesting effects that form the Color Show Graffiti range. Flash your graphic nails to make a fashion statement this season with the most playful range of nail polishes.
Here's why you'll love it:
– Long lasting designs
– Nine different shades
– It's nail art in a bottle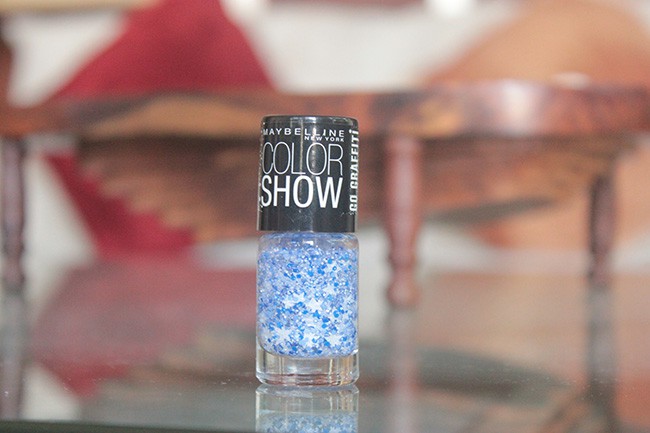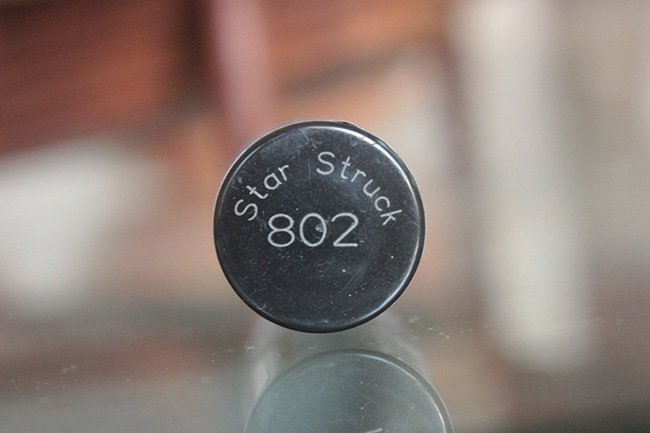 My take on 'Maybelline Color Show Go Graffiti Nail Polish Star Struck'
The packaging is similar to basic color show nail polishes. It is just that it contains various shapes and sizes that give a fancy look to the otherwise transparent bottle. The design-name and pricing details are mentioned on the bottle. Again, the glass used in the packaging is not much sturdy so one has to be careful while handling it. I have already broken its 'Pop goes my heart' variant even before I could apply it on my nails 
As the name says 'Star struck' variant contains big five point stars, royal blue & light blue round shapes among many smaller white round shapes in a clear base. The big white stars can be picked individually either using tweezers or brush itself and placed on the desired spot. The smallest white shapes are everywhere in the clear base and are easy to spread in one coat. The stars can be adjusted depending on the desired design. I have put this as a top coat over a coral base but you can go for any other base as well. Over black, it will look a star studded night 🙂 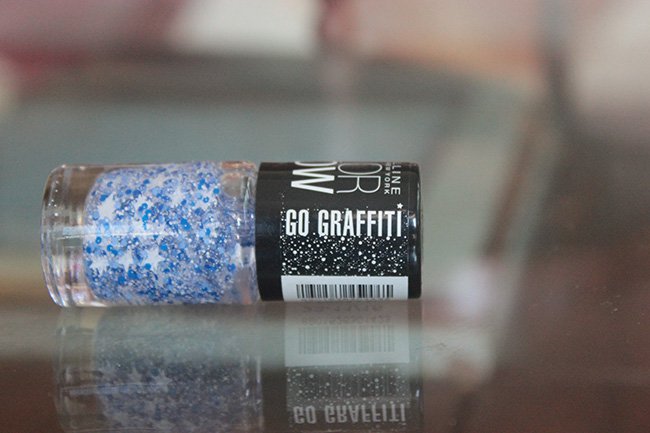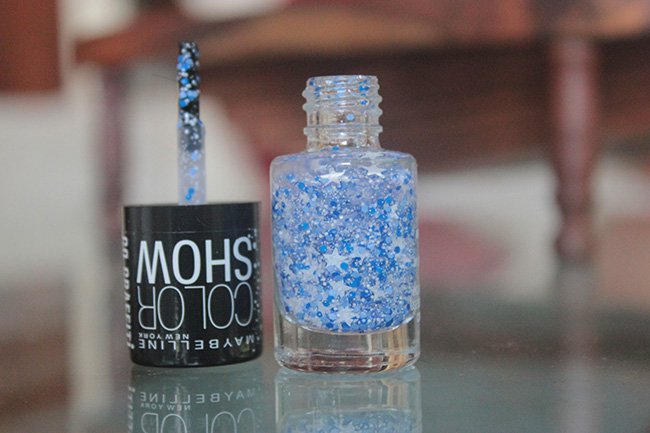 Just one top coat is required for a prominent designer look, and this polish sets fast so it you have to adjust any of the shapes you need to speed up. As the shapes are protruding especially the big stars so they keep getting struck here and there. In order to avoid that, I seal the graffiti top coat with another clear coat. This saves the stars from getting folded and also enhances the staying power, which is already quite ahead of the average staying power of a nail polish.
The only con I find in this polish is the difficult to take it off the nails. It is a tedious task to remove it in one swipe so what I do is I cover my nails with a cotton swab that has already soaked nail polish remover. I keep the swab on for couple of second before starting to remove the polish. This dissolves the polish and makes it easier to remove.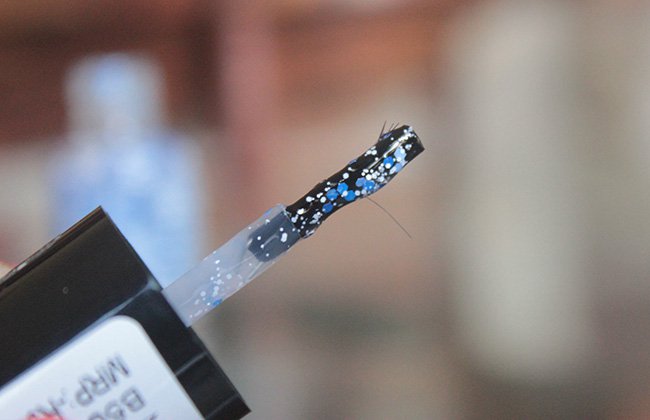 What I like about 'Maybelline Color Show Go Graffiti Nail Polish Star Struck'
– Convenient to use.
– Adds uniqueness to nails in no times.
– Long staying power.
– Reasonably priced from nail art perspective.
– Available in 9 designs.
What I do not like about 'Maybelline Color Show Go Graffiti Nail Polish Star Struck'
– Difficult to remove.
Price of 'Maybelline Color Show Go Graffiti Nail Polish Star Struck': Rs 175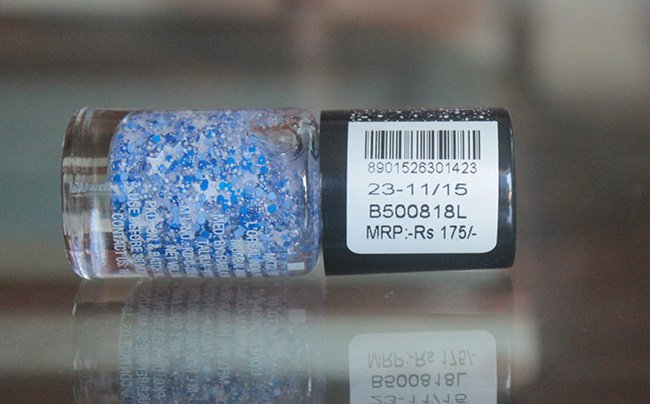 BABE Rating: 4.75/5
Final Word: Maybelline color show go graffiti nail polish star struck is an easy way to decorate the nails at a very reasonable price. The big white stars look cute and add beauty to the nails. It can be experimented on different opaque bases with different positioning of stars, and I am sure it will give a different look every time. Overall, I recommend this nail polish to all nail art lovers who love decorate their nails.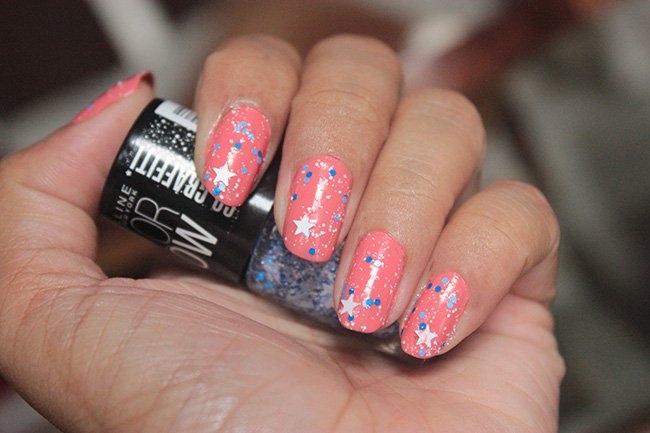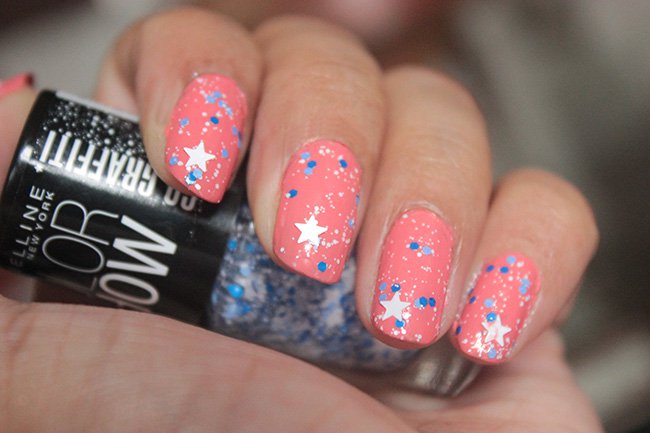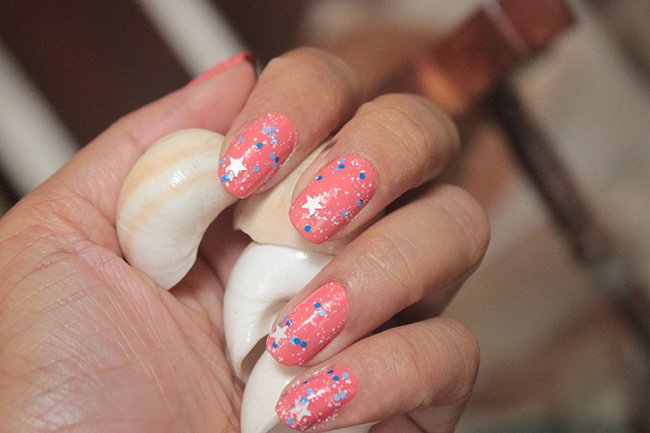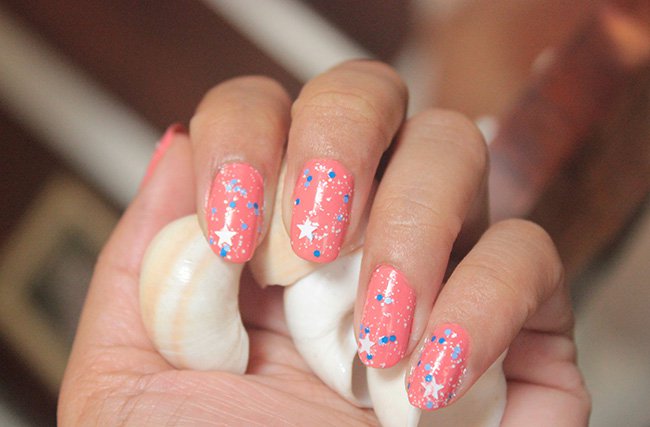 You might also like reading these related topics:
Maybelline Color Show Glitter Mania Bling On The Blue Review Swatches
Maybelline Color Show Glitter Mania Nail Paint – All That Glitters (601) Review
Maybelline Color Show Glitter Mania Nail Paint – Pink Champagne (607) Review
Maybelline Color Show Glitter Mania Nail Paint-Dazzling Diva (602) Review,Swatches