Here is another review of Maybelline color show nail polishes but this time of the 'Glitter Mania' range. As the name says, this range has shimmery nail polishes that are nice for festive season or parties when you want a lot of bling. The range comprises of 8 shades: golden, silver, grey, red, pink, purple, champagne and blue variants. Today I will review the blue shade which is named 'Bling on the blue'. Let's hop on to my experience with this nail polish.
What the product says:
Let your nails dazzle and shine with MNY Color Show Glitter Mania nail color range.
Priding itself as India's first-ever textured nail paint, the Color Show Glitter Mania range is every nail-art lover's dream! When applied, these sparkling nail colors deliver a 3D shimmering effect, adding oodles of style to your tips. They also have a unique sand-textured effect that looks and feels great on your nails. With 8 glittering nail color shades to choose from, you're sure to find the perfect shade for every mood.
Here's why you'll love it:
• Features the Color Dry Technology for a stylish, sand-textured effect
• When applied on nails, it delivers a 3D shimmering effect
• Perfect for experimental, trendy nail art
• Easy to apply and dries quickly
• Comes in 8 trendy, glittering shades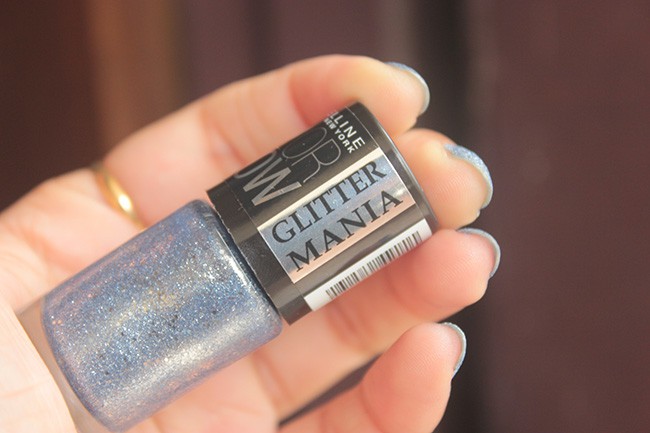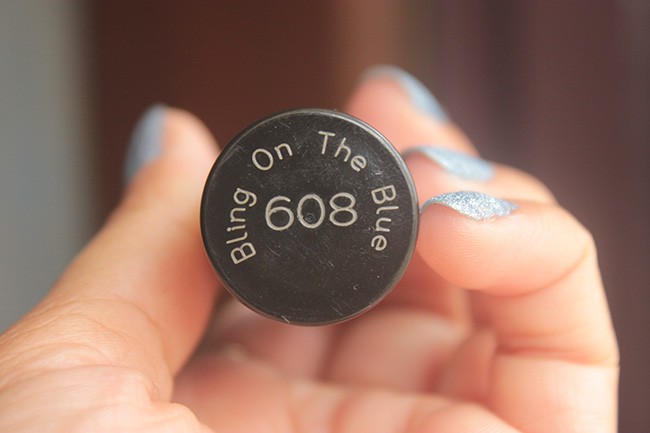 My take on 'Maybelline Color Show Glitter Mania Bling On The Blue'
The packaging is similar to the color show basic nail polishes except the silver 'Glitter Mania' label that is on the black cap. The bottle glass is not very strong, and that being said it may not be able to survive an accidental fall. In short, the nail polish bottle needs to be dealt with care. The brush is of average thickness; on my wide nails I swipe it three times to cover the entire nail bed. The best is because of the gritty finish multiple swipes do not result in streakiness.
'Bling on the blue' is an aqua blue shade with tons of silver shimmer. One coat of the nail polish gives a shimmery grey impression and about 80% opacity. Going for a second coat provides full coverage and lots of silver shimmer. It is not very prominent blue shade rather the silver shimmer dominates the nails. Looking at the huge touch of silver, I feel the shade name should have been Blue on the bling 🙂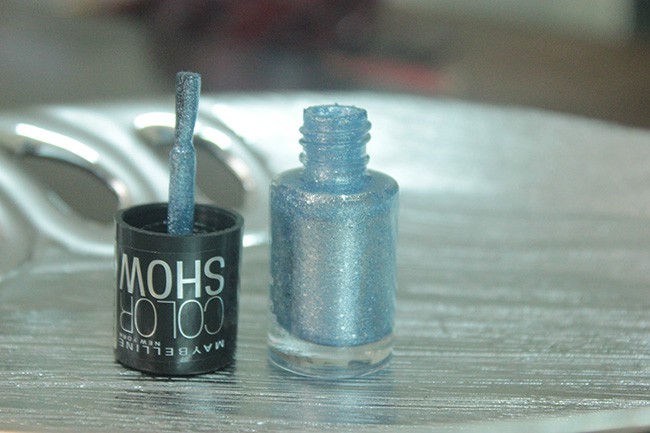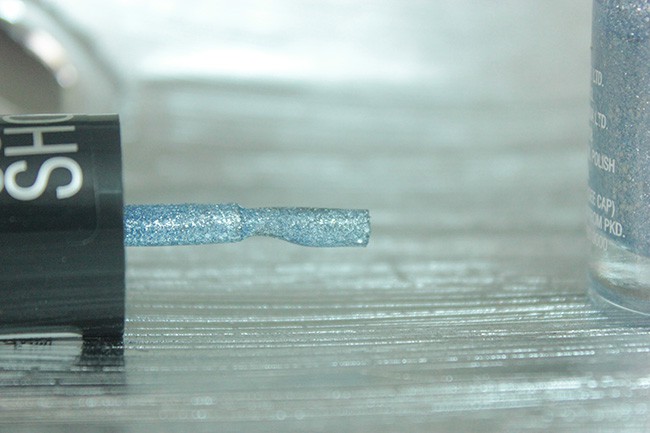 The glitter mania nail polishes have more staying power as compared to basic color shower polishes. Bling on blue stayed for good 4-5 days on my nails, and that too when I was doing regular household chores. Though the shimmer starts fading after day 2 but there was no chipping off the tips. And, I think if the hands are not involved in water work then even the shimmer would not fade away too early.
Like they say everything has its pros and cons so the because of long lasting staying power this nail polish is difficult too. If regular nail polish is removed in 1 minute this one takes 3 minutes to get completely off the nails. But the good part is it does not stain the nails or make them pale. The whole I wore this nail polish, I did not have the base coat on and still when I removed it there was no sign of staining.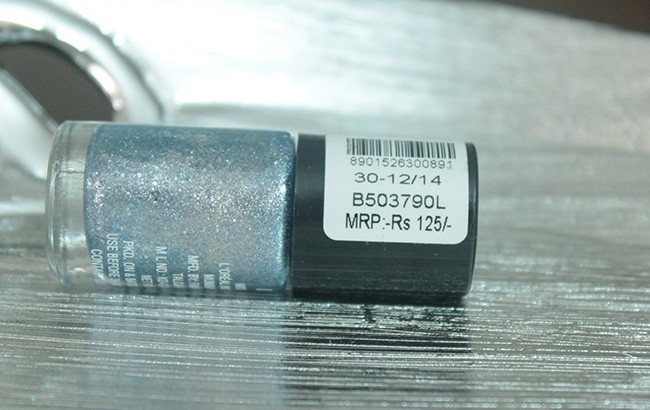 What I like about 'Maybelline Color Show Glitter Mania Bling On The Blue'
– Excellent staying power.
– Nice party shade.
– 1 coat provides 80% opacity.
– Dries fast.
– Easy to apply
– No need to worry about streakiness or brush marks.
What I do not like about 'Maybelline Color Show Glitter Mania Bling On The Blue'
– Difficult to remove.
– The shimmer starts fading from day 2.
Price of 'Maybelline Color Show Glitter Mania Bling On The Blue': Rs 125
BABE Rating: 4/5
Final Word: Bling on the blue is party wear nail polish with huge silver shimmer. The sand-textured effect gives a sophisticated look and elongates the staying power. It stays intact for good 4-5 days, without chipping off the tips. It requires no efforts for application as there is no fear of streakiness or brush marks. Overall, I think this makes a nice investment and it also adds diversity to regular nail polish collection.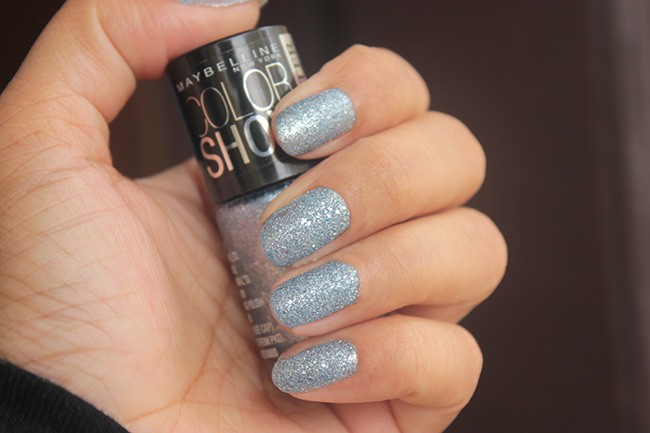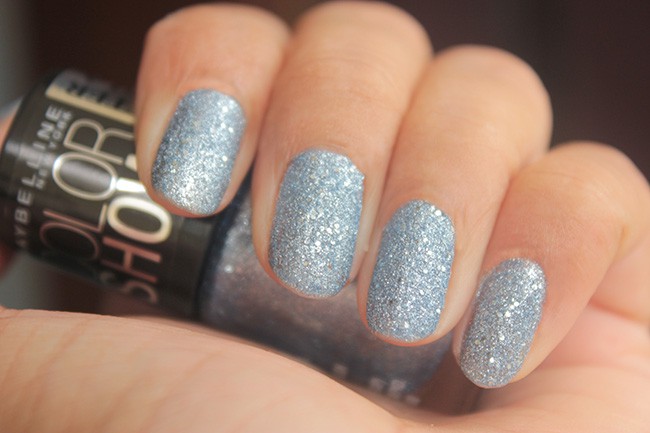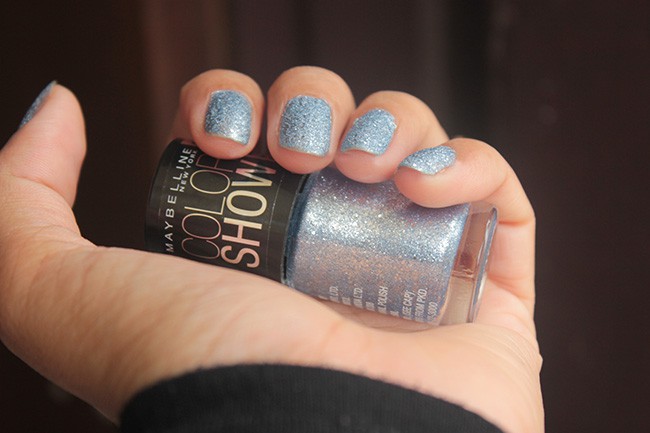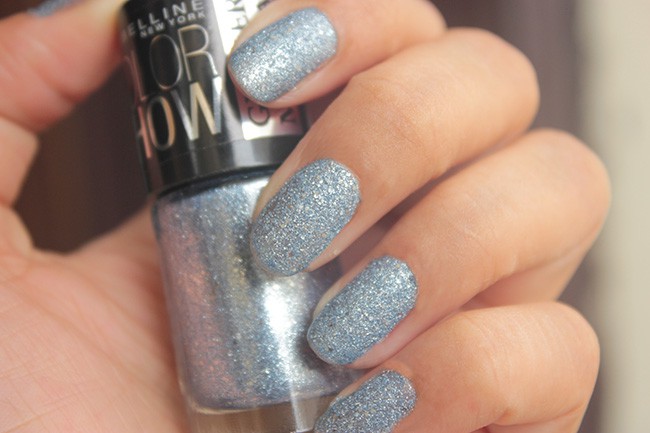 You might also like reading these related topics:
Maybelline Color Show Glitter Mania Nail Paint – All That Glitters (601) Review
Maybelline Color Show Glitter Mania Nail Paint – Pink Champagne (607) Review
Maybelline Color Show Glitter Mania Nail Paint-Dazzling Diva (602) Review,Swatches