Lux Velvet Touch Moisturizing Body Wash Review
Hello Everyone
Weather has really started to boil and sun is at its own fury. For the unexpected changes in weather, I have at least no idea what would the temperature like in the hottest months of the year. When the heat is at best, why would we lag behind? A common girl like me would accept the challenge and go out in the sun with all Sun defying preparations. There is a different joy of experiencing the different shades of nature, and we should not keep ourselves away from these miraculous changes. Well I think, as I have been writing for quite some time I am exploring the philosophical side of me. 😉 Coming to the point, I recently chose something new for my body, and it relatively turned out to be a good decision. I am not disclosing everything in the introduction itself, you need to read on to know my liking(s) and disliking(s) about this product.
What the product says
LUX Velvet Touch is a skin care beauty secret that lives up to its name. Enriched with exclusive Almond Oil Extract and Jasmine, this elegant body wash lathers richly to create a silky soft skin feel instantly. Bid adieu to dry skin and step out with the self-confidence of an alluring diva.
My Take on 'Lux Velvet Touch Moisturizing Body Wash'
Lux is a very old and renowned brand. I have seen and used Lux from my childhood. The difference is that previously I was using the Lux soap as my parents used to stock it up in the toiletries. I used Lux soap for at least fifteen grand years of my life and during those years I hardly knew if there were some other brands in the market. I never thought of using a body wash in those days as I was aware of none of them. But now as I am a grown up girl and I am exploring a lot about the beauty products
I have been using a variety of body washes from past few years.
Since last 3-4 months, I am using Lux velvet touch moisturizing body wash. I bought it from a grocery store. Lux body wash comes in a plastic bottle with flip open lid. The bottle is cylindrical in shape, very comfortable to hold while showering. Because of the soft plastic it is easy to squeeze the bottle to ooze out every last drop. The lid is dull golden in color with off-white body. The packaging is quite travelling friendly, without any fear of spilling.
This body wash contains jasmine and almond oil; you can check the magical effects of almond oil here. It is extremely beneficial for the skin and makes it soft and supple. Jasmine induces freshening fragrance that is an imperative part of summer showers. When the body gets all sweaty, you need something powerful to overcome body odor, and rejuvenate not only you but also others around.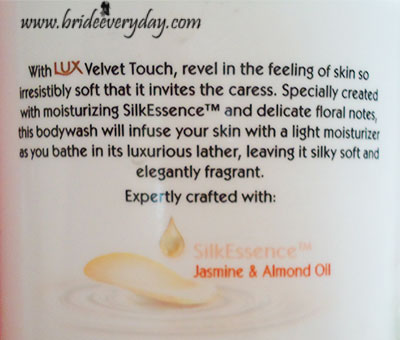 How to use- Well, every time I purchase this body wash I get a free loofah ;). So for the usage part, one needs to put a few drops of the product on the loofah and rub it gently on the wet body to form a rich lather. Rinse off with water. The one good benefit of using a loofah, while bathing, is that you can easily get rid of the dead skin. You don't have to spend extra pennies for a body scrub.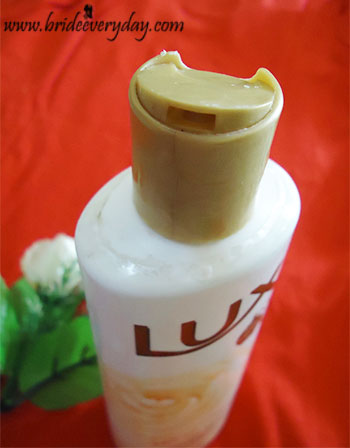 I find it working well on my dry skin. I am using it since winters, and now even when the weather has changed my skin is still responding to the velvet touch. I am not seeing any issue regarding the effectiveness of this product. Earlier I was worried that if it's not making the skin dry in winters it would make it oily in summers but there is no such thing, my skin is maintaining its softness. I am in love with this product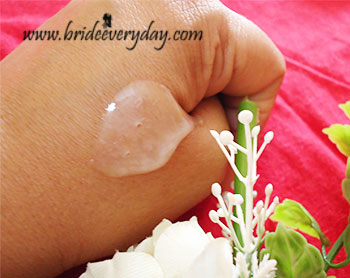 What I like about 'Lux Velvet Touch Moisturizing Body Wash'
– It does not have the typical Lux fragrance but a mild one.
– It is required in a very small amount.
– It forms a rich lather.
– It is suitable in both winters and summers.
– It does not squeeze off the moisture from the skin neither leaves a moisturizing layer to make the skin oily.
– It is very economical.
– Easy to carry in a hand bag.
– It contains Almond oil which is good for skin.
What I don't like about 'Lux Velvet Touch Moisturizing Body Wash'
– It does not have long lasting fragrance after bath; I wish it could have stayed for some time.
Shelf life of 'Lux Velvet Touch Moisturizing Body Wash': 30 months from packaging.
Price of 'Lux Velvet Touch Moisturizing Body Wash': INR 150 for 240 ml
BABE Rating: 4/5
Final word: I would prefer to buy this body wash repeatedly until I find something better with same qualities but with more exotic and refreshing fragrance.
You may also like reading these related topics
Lux Peach & Cream Body Wash Review and Swatch
Marks And Spencer Blissful Strawberry Shower Gel Review
Marks and Spencer Pampering Cocoa Butter Shower Gel Review
Palmolive Aroma Morning Tonic Shower Gel Review
Palmolive Ayurituel Joyous Shower Gel Review
Palmolive thermal spa skin renewal body wash review
The Little Bubble Co Strawberry Sundae Bath & Shower Gel Review
Cinthol Splash Cooling Shower Gel Review