In this busy life I rarely get any time to spend on me but still I try to make the most of every single minute. The blogger in me gets really excited seeing a new tempting product on the aisle. Discounts and deals become the cherry on the cake encouraging the Indian in me to buy the products. And, this is exactly what happened when I saw discount (tiny) on Loreal Paris Total Repair 5 Restoring Hair Mask at shoppersdrugmart. I have been thinking to buy a hair mask for long so I did not let go this opportunity. Let's see how I like it so far.
What the product says
• 5 benefits of repair for damaged hair.
• Daily wear and tear can damage the hair's surface and weaken the fibre. Hair becomes weak, looking limp and damaged, losing its shine and silky feel. This mask helps restore 5 visible signs of replenished hair without weighing it down. 1. STRENGTH 2. DENSITY 3. VITALITY 4. SHINE 5. SILKINESS
• Enriched with CERAMIDE & CALENDULA EXTRACT, the Restoring Mask provides in-depth care thanks to its rich and creamy texture. MICROFILLERS: seals the breaches of the hair to repair the 5 signs of damage. RESURFACING: resurfaces the hair for restored protection.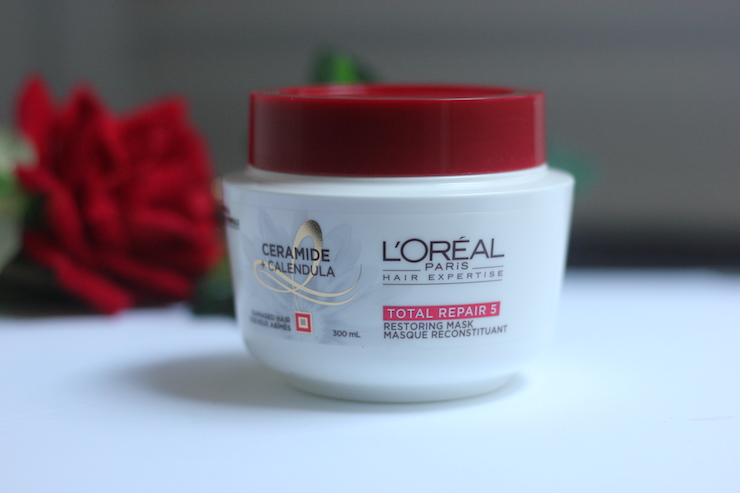 My take on 'Loreal Paris Total Repair 5 Restoring Hair Mask'
The hair mask comes in a white color tub with red screw open cap. This color combination is fancy enough to tempt me to add it to the hair care routine. Yes, that's me! The label on the tub contains the usage instructions, ingredient list and the expected results. When I bought this product I paid more attention to the packaging than the results, and luckily it has not disappointed me so far.
The hair mask is white in color with semi-thick consistency. It is like a whipped cream which can be easily slathered and massaged on the hair. The fragrance is quite mild and stays in the hair for 1-2 hours. I like this mild fragrance as it feels like a nice hair perfume. As you know, the only problem with a tub packaging is maintaining the hygiene so I use a spoon to take out the contents in a separate bowl before masking.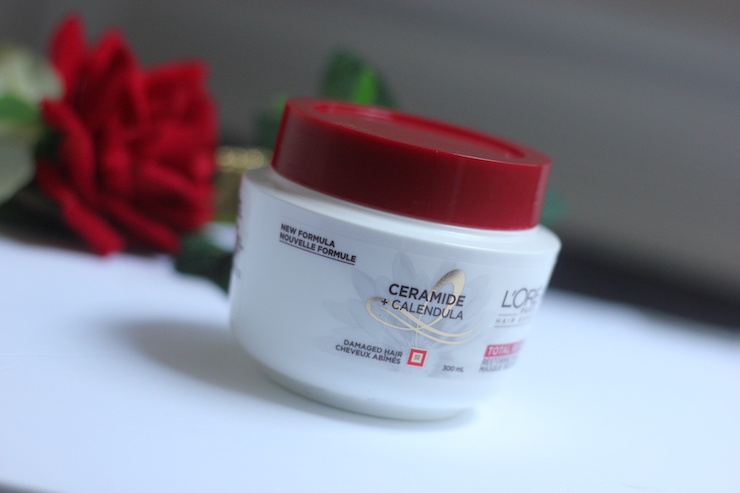 Hair mask is an intense form of hair conditioner. I personally feel hair masks make the hair quality better in terms of texture and health. I apply this hair mask once every week on towel dried hair, immediately after shampooing. Taking 1 inch thick hair section I slather the hair mask on it until every strand is covered. While the mask is on I do other chores and rinse it of completely after 10-15 minutes. After the wash I tie up the hair using a hair towel and untangle it with fingers after an hour or so. I have been drying my hair like this for years now, and it has significantly improved the quality of my hair.
Well, this hair mask makes the hair smoother and shinier without weighing it down. On rare days, my hair used to be frizzy with some static charge; however, for the last couple of weeks there is no frizz. My hair is well-behaved now and looks quite healthy. If you follow me on Instagram you would get what I am talking about :). I have an oily scalp so usually the deep conditioning products aggravate sebum production causing the hair to look oily in a short interval. Thankfully, this hair mask is only doing well so far. My hair is bouncing with happiness and that makes me confident.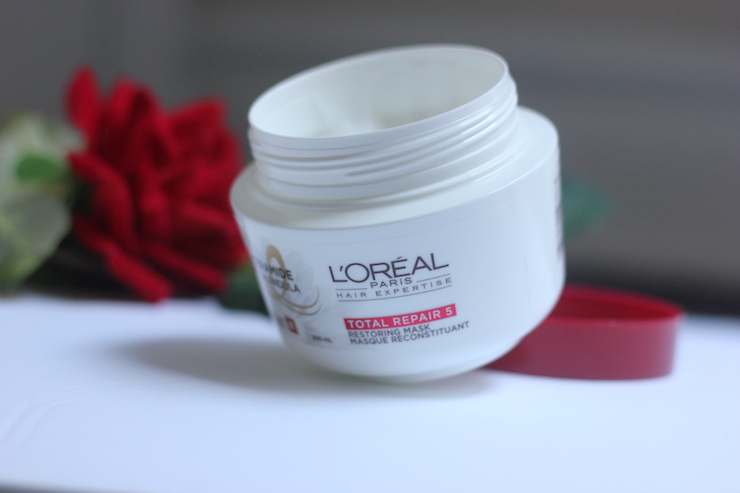 Things I like about 'Loreal Paris Total Repair 5 Restoring Hair Mask'
– Hair looks smoother and shinier.
– No more frizz or static charge.
– Makes hair manageable without any weigh down.
– Makes hair mildly fragrant which gives a refreshing feel.
– Easy to rinse of.
– Does not encourage the scalp to produce more sebum.
Things I do not like about 'Loreal Paris Total Repair 5 Restoring Hair Mask'
– Tub packaging.
Price of 'Loreal Paris Total Repair 5 Restoring Hair Mask'- Approximately CA 8 for 300ml tub.
BABE Rating: 4/5
Final Word: Since I have started using this hair mask my hair has become more manageable. It looks fresh and bouncy that too at no cost of frequent shampooing. It is easy to apply and rinse of, and I am happy that it does not trigger sebum production as I already have an oily scalp. I am happy to have found that product, and hair will be bouncing with joy this winter!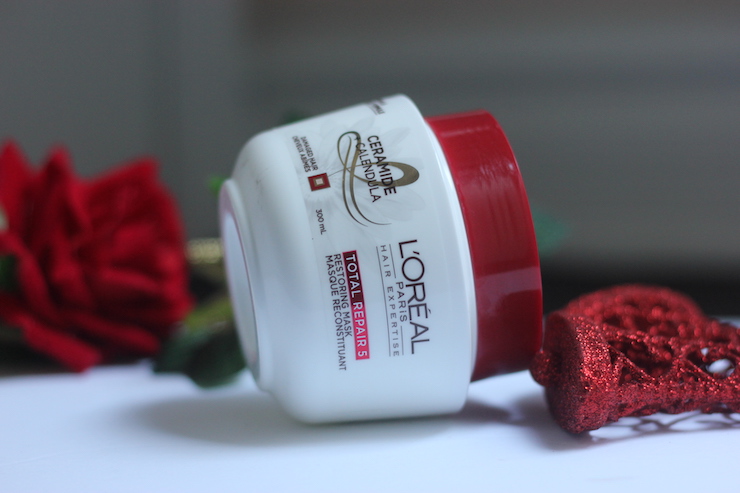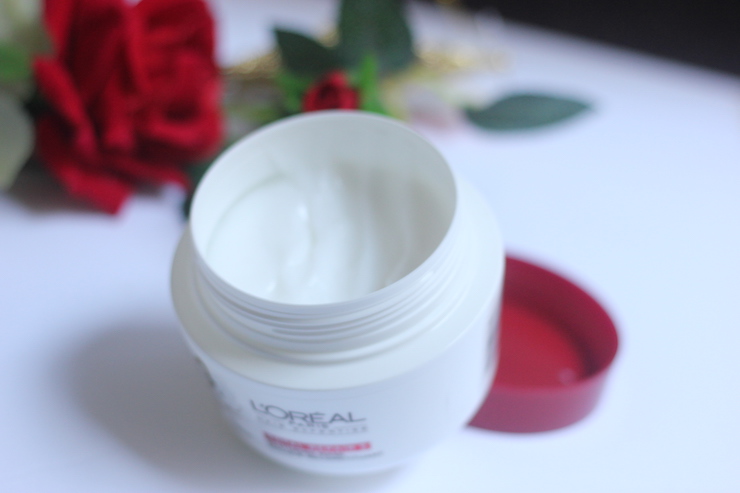 You might also like reading these related topics
Fenugreek (Methe) Hair Packs For Healthy Nourished Hair
Homemade Curd Hair Packs For Dry Damaged Hair
10 Home remedies to treat rough hair and control hair fall naturally !
Healthy and Strong Hair – How To Take Care of Your Hair
How to color hair naturally with Henna or Mehandi and its other benefits !
How to straighten hair naturally using Banana Hair Mask