Last week I shared my review on Wet n Wild Private Viewing nail polish , and also that I would be buying couple of more blue and green pastel shades for this season. Mint nail polish was on top of my list, and after a lot of trials I finally bought L'Oreal Paris Color Riche Nail Polish Le Vernis Pearle De Jade 602. I am super excited to share my experience with you as I feel one should keep exploring new colors/things, and if they make it to favorite list then they should be shared with larger group. So, enjoy my minty nail polish review. And, by the way, my summer nail polish hunt is still ongoing…
What the product says
Color Riche Le Vernis pampers you with a range of bright, high gloss nail lacquers.
• In-built Top Coat.
• Ultra-finely dispersed pigments provide superior coverage and enhanced colour intensity.
• Innovative formula with crystal acrylics adds intense clarity to magnify shine.
• Durable film-forming polymers create glass-like clarity with 10-day resiliency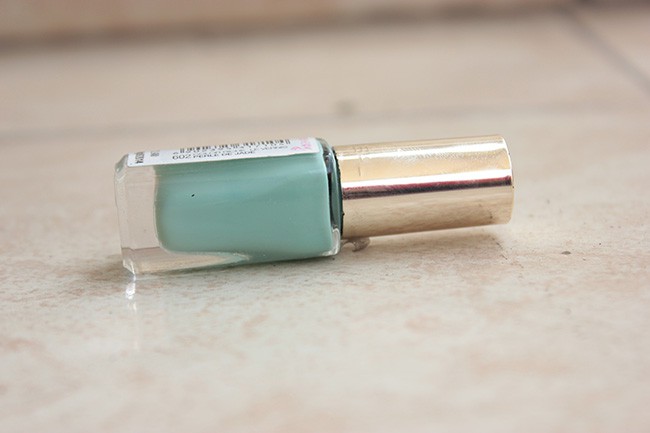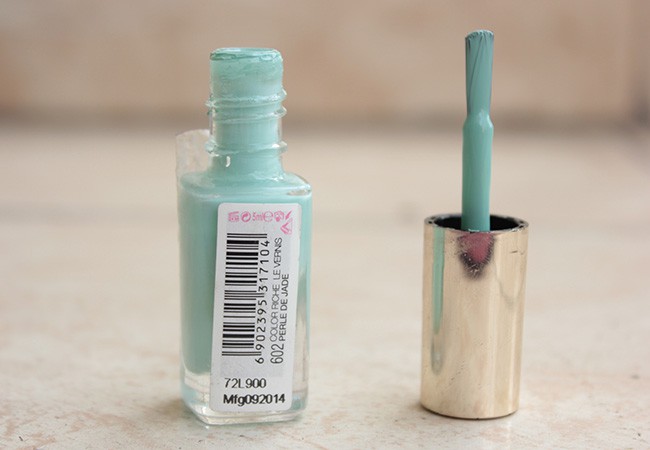 My Take on 'L'Oreal Paris Color Riche Nail Polish Le Vernis Pearle De Jade 602′
This nail polish comes in a stylish sleek bottle with a metallic golden cap. It is a transparent bottle that boasts of a soft mint shade. I usually do not like experimenting but this season I really want to try some different shades, mainly pastels. This soft, blue green shade is perfect to embrace the hot summers and make a style statement. I love flaunting it on my nails as it is quite different and pairs up amazingly well with all white and black outfits. It also pairs up well with those summery outfits that have small, cute prints. After its addition to my nail polish collection, the collection looks all feminine and stylish. Now coming back to the packaging, the sturdy glass used in the making seems strong enough to remain intact even after hitting the floor from a certain height. The golden lid follows the screw mechanism and shuts properly, not allowing air to reach the polish and make it dry. The shade name, number, pricing and other details are also mentioned on the bottle.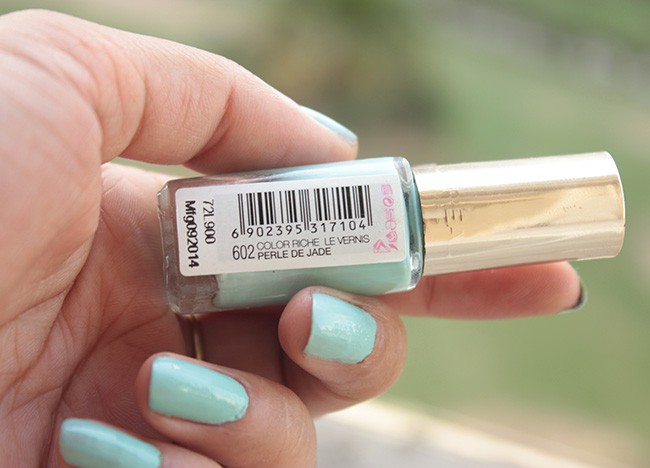 It has semi-thick consistency just like gel based nail polishes, and being a pastel shade one coat is not enough to get opaque nail beds. Actually, the brush is also not wide and thick so I need to make three swipes to cover the entire nail, and doing that leaves brush impressions. To cover those up and get 100% opacity I go with 3 coats. The thumb rule here is to let the first coat dry completely before applying the next one, otherwise it all will become messy. The first coat does not take a lot of time in drying- maximum 30 seconds but as I keep piling on second and third coat the drying time increases as well. But I do feel that devoting this much time is worth the look I get.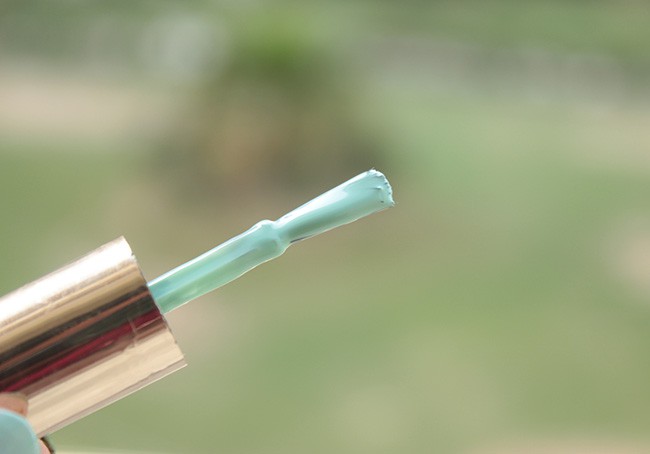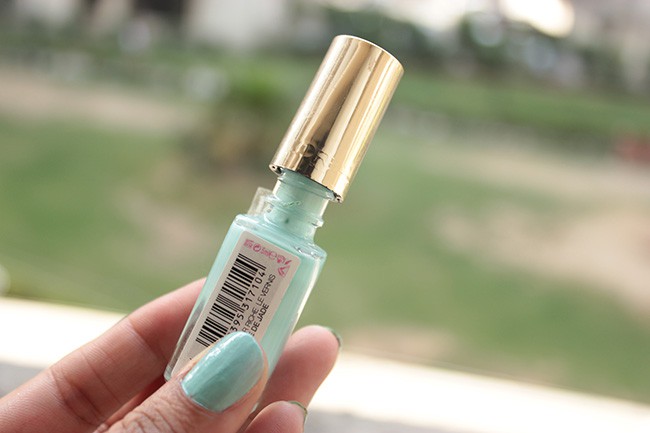 Speaking of the look, it has high gloss shine, like you have just stepped out of the salon. To get this finish, the only thing one needs to ensure is to give it ample time to dry completely; not doing that will leave imprints on the nails. This is a long lasting nail polish. It stayed on my nails three days at a stretch without chipping off the tips, that too when I did not apply any top coat to prevent damage. Though the product claims to stay intact for 10 days, in my opinion, that timeframe is too long and possibly can be achieved while vacationing (when there is not much to do).
What I like about 'L'Oreal Paris Color Riche Nail Polish Le Vernis Pearle De Jade 602′
– Beautiful mint shade, which is perfect to make a style statement especially in summers.
– Salon-like high gloss shine.
– Sturdy packaging.
– Dries quickly.
– Stays on intact for 3 days without any top coat.
– Does not stain nails.
What I do not like about 'L'Oreal Paris Color Riche Nail Polish Le Vernis Pearle De Jade 602'
– If the consistency would have been slightly thin it would be easier to pile up the coats in less time.
Price of 'L'Oreal Paris Color Riche Nail Polish Le Vernis Pearle De Jade 602′: Rs250 for 5ml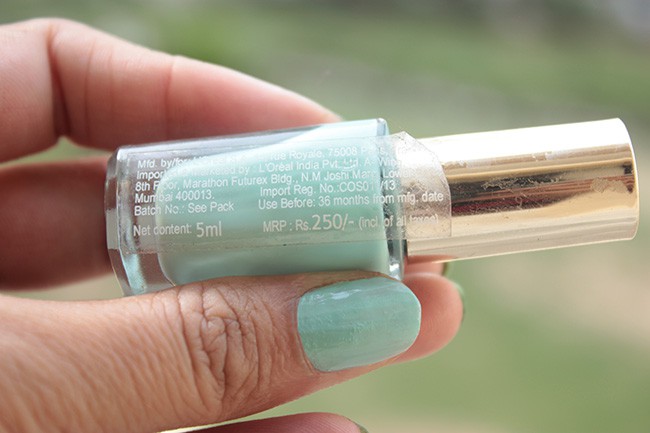 BABE Rating: 4.5/5
Final Word: Before purchasing this shade, I had tried other similar mint shades from different brands but this nail polish's quality and color tempted me to go for it only. I am deeply in love with L'Oreal Paris Color Riche Nail Polish Le Vernis Pearle De Jade. It is a heavenly mint shade with salon like finish. If you want to try something unique, and love standing out from the crowd I would recommend this nail polish to you.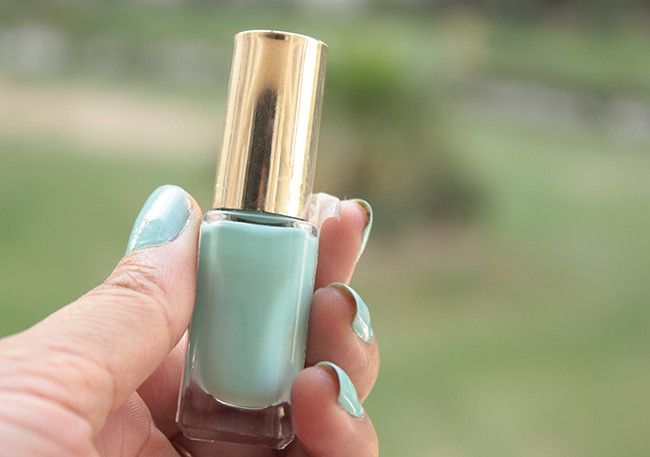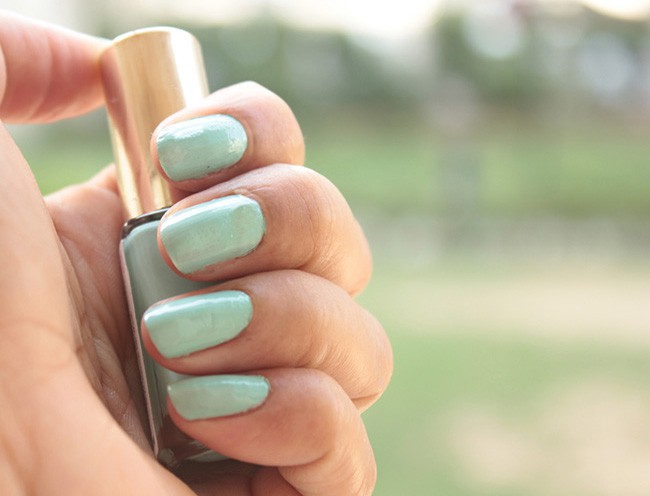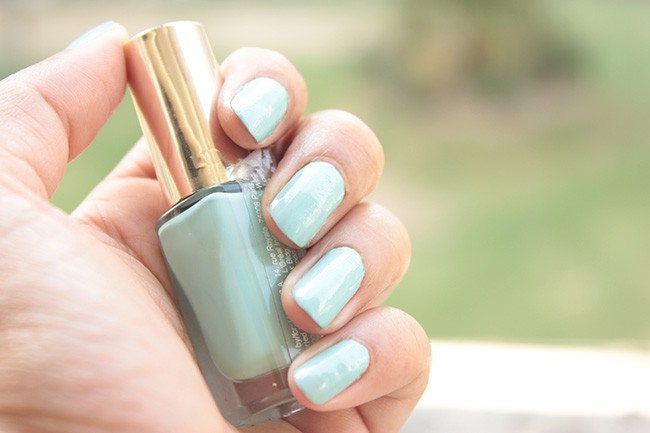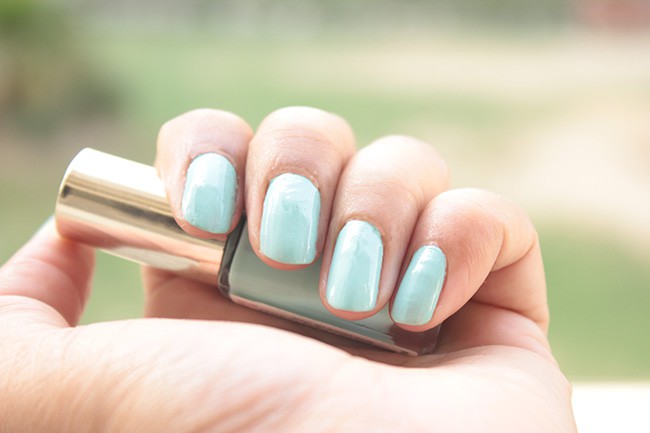 You might also like reading these related topics:
L'Oreal Color Riche Nail Polish Mysterious Icon Review Swatch
Maybelline Color Show Mint Mojito Nail Polish Review Swatches
Wet n Wild Private Viewing nail polish review