Just like matte lipsticks, matte nails have been in trend for long. The more sophisticated version of matte nail polishes is the leather nail polishes. These are self-textured nail polishes with matte finish, and come in bold colors such as black and red. I could not find them in India yet, but what I recently found almost accomplishes my search for matte nail polishes. L'Oreal Paris Color Riche Le Vernis Top Coat Matte 915, as the name says is a mattifying top coat. Let's see how far it suffices to my expectations.
What the product says:
Create nail art looks in minutes with Colour Riche Top Coats. With three ranges, including black and white dots in the Confettis range, glamorous sparkles in the Carat range or the chic finish of the Matte, any of your favourite shades can be transformed for an updated and eye catching look.INNOVATION New textures including fine and concentrated sparkles, black and white dot effects and a sophisticated matte finish bring new life and depth to your nail colour.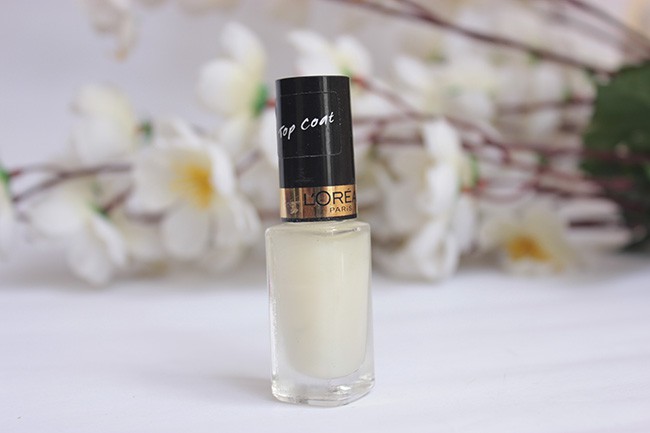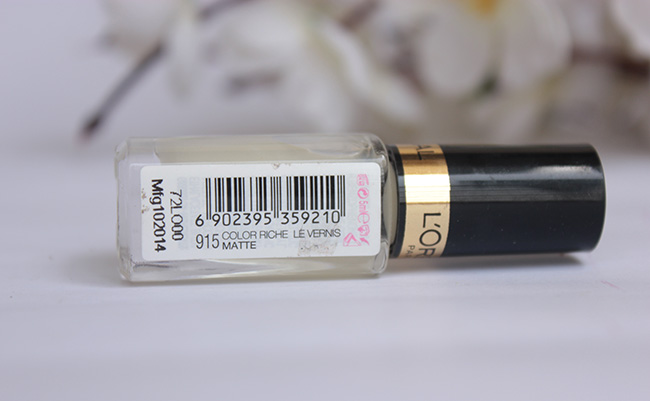 My take on 'L'Oreal Paris Color Riche Le Vernis Top Coat Matte 915'
Like other color riche nail polishes, the top matte coat also comes in a rectangular glass bottle. The bottle is sleek, transparent and sturdy. The outlet is safeguarded with a black plastic cap that showcases a golden rim just near the neck of the bottle. The applicator brush has average thickness and brush density. On my wide nails, I need to swipe it twice to cover entire nail bed. On the contrary, if you have slim nails you would find the brush perfect to give single stroke coverage. As it is a top coat it does not leave brush marks as well.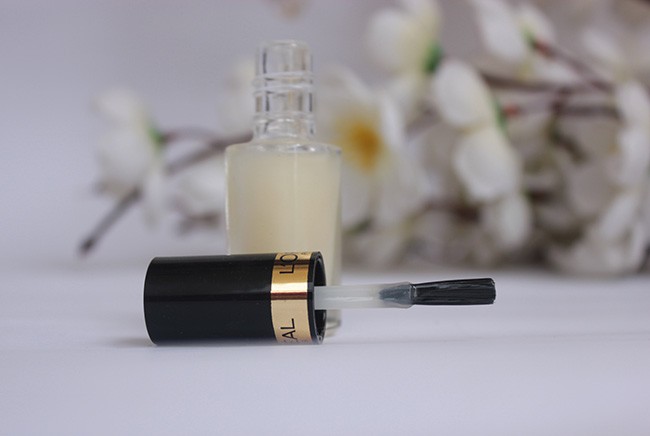 The transparent bottle gives an impression that the nail polish is off-white in color but it is rather transparent and does not interfere with the color of base nail polish (colored polish on top of which matte coat is applied). It is a top coat nail polish but different from the regular top coats. The difference lies in its ability of mattifying the base nail polish. I love both glossy and matte finishes but when it comes to bold colors such as black, red and navy blues I like wearing them matte. And, as it is difficult to get the glossy and matte shades of same nail polish so I thought to buy a mattifying top coat. I have been looking for a matte top coat for quite some time but it was only recently that I got my hands on it.
Usually, the top coats add glossiness. You can wear top coats just on your bare nails in order to give a natural shiny look. The matte top coats, on the other hand, take away the glossiness giving a lusterless look. For this reason, these shades are ideally not applied on bare nails. I apply matte top coat on the boldest of nail polishes. This color riche le vernis top coat gives 80% matte effect, plus seals the base nail polish and prevents chipping especially from the tips of fingernails.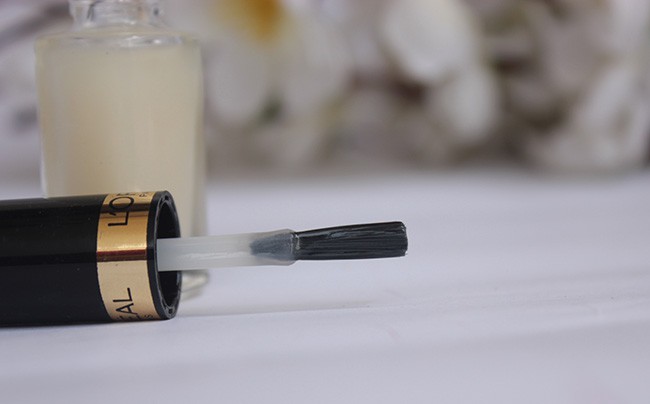 I apply it on completely dried nail polish. Just one top coat is enough to mattify the glossy nail polish. However, the number of strokes might vary depending upon the nail width. In just couple of second, it starts weaving its magic and in 15-20 seconds it converts glossy nail to matte nail. It dries quickly so I do not need to wait for it to resume my activities. Matte coats reduce the color intensity of base nail polishes but this should not be a surprise as when the glossiness is taken off the pigmentation gets reduced by few notches. This is not the case with base nail polishes that are formulated to give matte finish on their own. Moreover, as I could not find the matte version of my favorite glossy nail polishes I was ok to go for the top matte coat at the cost of slight reduction in color intensity.
Talking about the longevity of matte effect, on my nails the matte effect could not stay intact for more than 2 days. In fact, I could see the sheen resurfacing from day 2 only. Thought it kept preventing the base nail polish from chipping but the lusterless look could not stay for much longer. The good thing was when I reapplied the top coat at end of day 2 it was able to elongate the duration of matte look.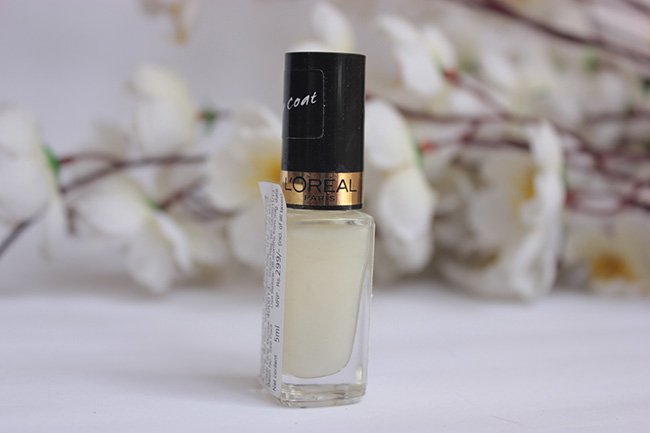 What I like about 'L'Oreal Paris Color Riche Le Vernis Top Coat Matte 915'
– Instantly mattifies glossy nails.
– Seals the base nail polish and prevents chipping.
– One coat is sufficient to attain 80% matte effect.
– It dries quickly.
– Brush holder is long enough to aid convenient application.
What I do not like about 'L'Oreal Paris Color Riche Le Vernis Top Coat Matte 915'
– Applicator brush could have been slightly wide and thick in density.
– The matte effect is not long lasting. It starts diminishing from day 3 onwards but if you have the time you can reapply top coat to increase the longevity of matte look.
Price of 'L'Oreal Paris Color Riche Le Vernis Top Coat Matte 915': Rs 299 for 5ml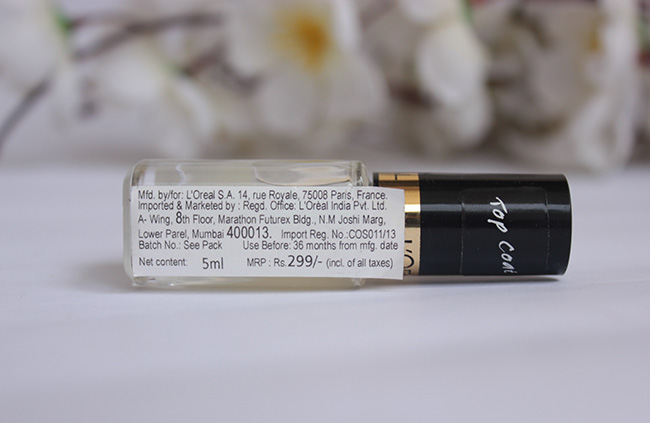 BABE Rating: 4/5
Final Word: 'L'Oreal Paris Color Riche Le Vernis Top Coat Matte 915' is an easy way to convert favorite glossy nail polishes to matte ones. It is cost effective as instead of buying the matte version of all favorite polishes, we just need to invest in one single top matte coat. It gives 80% matte look in just single coat, and the longevity of matte effect can be increased by applying another coat. Overall, I think nail polish lovers will find it worth making an investment.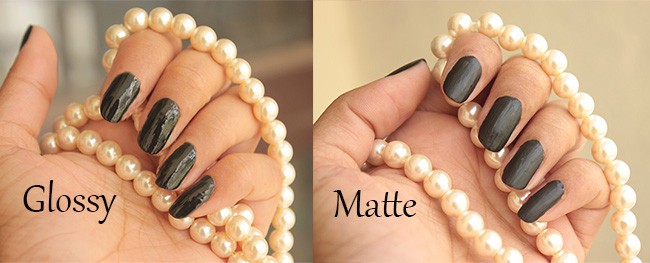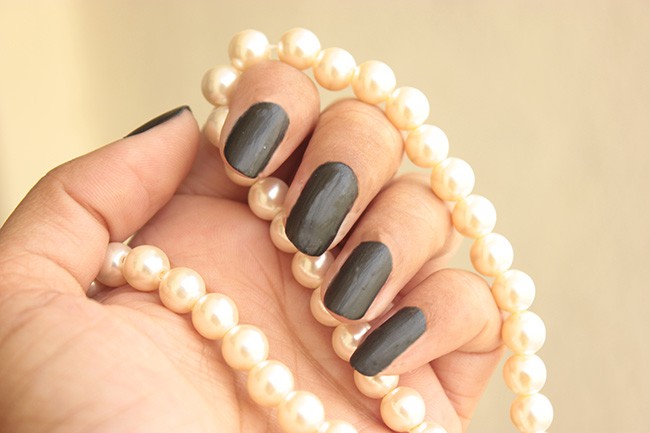 You might also like reading these related topics:
L'Oreal Paris Color Riche Nail Polish Le Vernis Pearle De Jade 602 Review Swatches
L'Oreal Color Riche Nail Polish Mysterious Icon Review Swatch