I am a die-hard matte lipstick over. Why not? They have good staying power, high pigmentation, less transferability and pro look, and all this is what I need for those 8 hours spent at office daily. So when L'Oreal launched the Les Chocolats collection in their L'Oréal Infallible Pro Matte Liquid Lipstick range I could not resist myself from giving it a try. I guess the other matte lovers were even more excited since by the time I hit the store there were not many shades left. Anyways, let's find out why everyone is going gaga over these lipsticks.
Brand Claims'
Chocolate lovers, meet your matte! Our Pro Matte Liquid Lipstick just got more addictive Enhanced with an indulgent chocolate aroma, infallible pro matte liquid lipstick les chocolats scented provides all day full matte coverage. Our long wear liquid lipstick feels light for all day comfort, never sticky. A chocolate nude liquid lipstick for every craving, meet your newest lip addiction. With a pro-sculpt applicator, shape and add dimension to lips.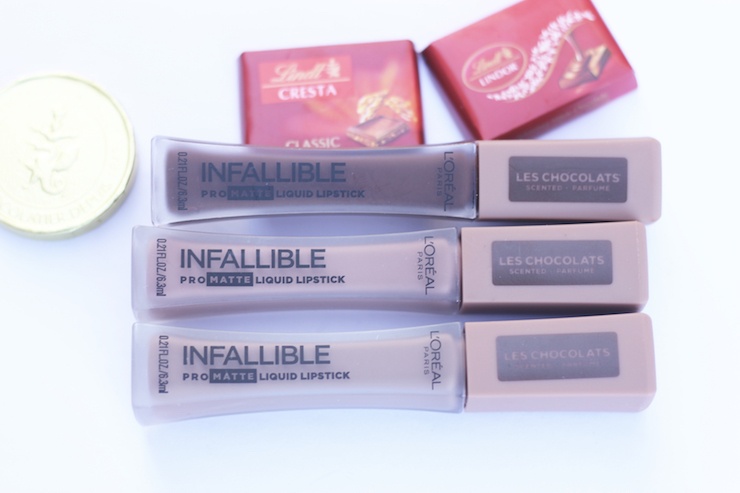 My Take on 'L'Oréal Infallible Pro Matte Liquid Lipstick'
Packaging wise, these lipsticks look just the same as other liquid lipsticks from L'Oreal except the cap. These ones have beige cap with the range name 'Les Chocolats' mentioned on it. The shade name is written on a label at the bottom of the transparent tube. I love the pro-sculpt applicator as it feels super soft against the skin and helps in precisely defining the lip-shape.
These lipsticks smell just like chocolates. I have never ever worn a lip product that smells so deliciously sweet making it hard for me to resist myself from licking my lips. If you are a chocolate lover I am sure you are going to have a hard time wearing these lipsticks.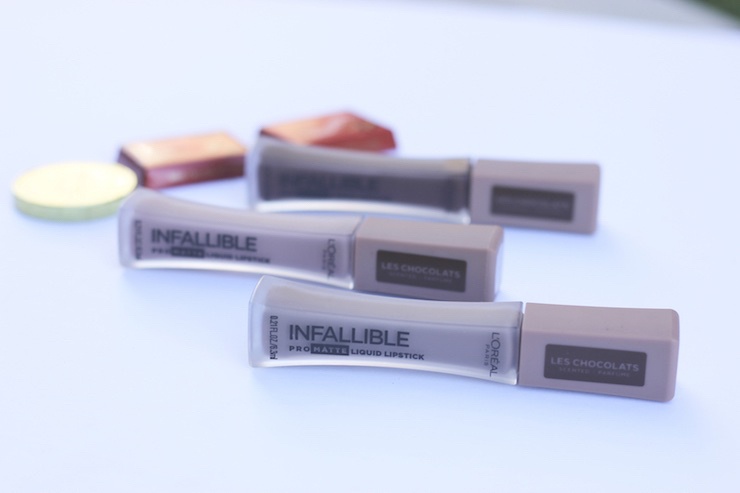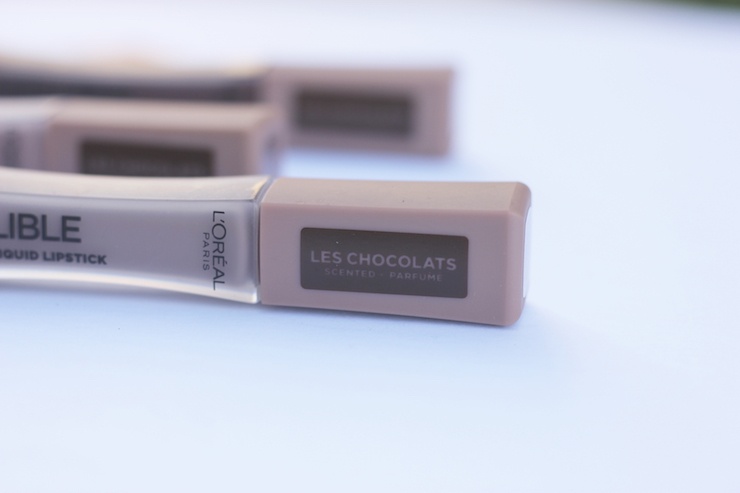 The pigmentation is amazing- just one swipe is what you need to get 100% opaque coverage which is great for pigmented lips. These have got soft texture that makes the application easier and the pro-sculpt applicator defines the lips precisely. Besides the matte finish these lipsticks do not even settle in fine lines and give an ultimate pro look. As the brand claims, these lipsticks last really long for about 7-8 hours without any need of touch-up.
As far as the formula is concerned, it's not the best I have seen in liquid lipsticks. They feel sticky and heavy on the lips, and because they are made to last long I find them difficult to remove. Even a cotton-pad full of makeup remover cannot remove these without multiple swipes.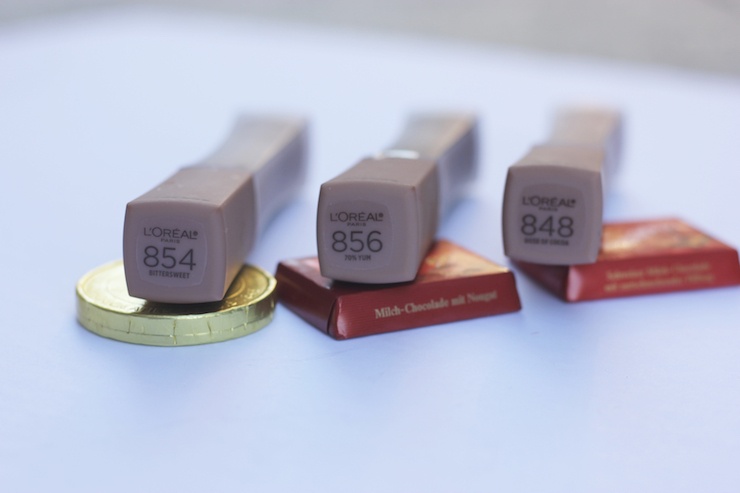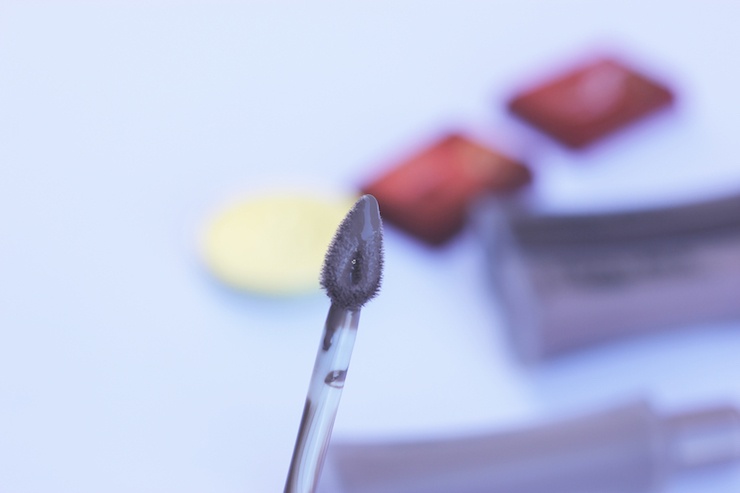 Now talking about the shade, this chocolate range is available in 6 shades: Dose of cocoa, bittersweet, box o chocolate, candy man, sweet tooth, 70% yum. All these are kind of nude shades so I had hard time picking a few for my skin tone. Though all of them look very tempting they do not go well on every complexion. Or you try the shade before making a purchase. I bought dose of cocoa, 70% yum and bittersweet but I feel none of these shades suit my medium toned complexion. I wish I too had tried hem before spending my money. I really hope the brand add more shades to this range.
Things I like about 'L'Oréal Infallible Pro Matte Liquid Lipstick'
– Long lasting.
– Irresistible yummy chocolate fragrance.
– Ultra-light and comfortable.
– Pro matte finish.
– Pro-sculpt applicator.
– Do not settle in fine lines.
Things I do not like about 'L'Oréal Infallible Pro Matte Liquid Lipstick'
– Few shades in the range.
– Not suitable for all skin tones.
– Difficult to remove.
– Sticky.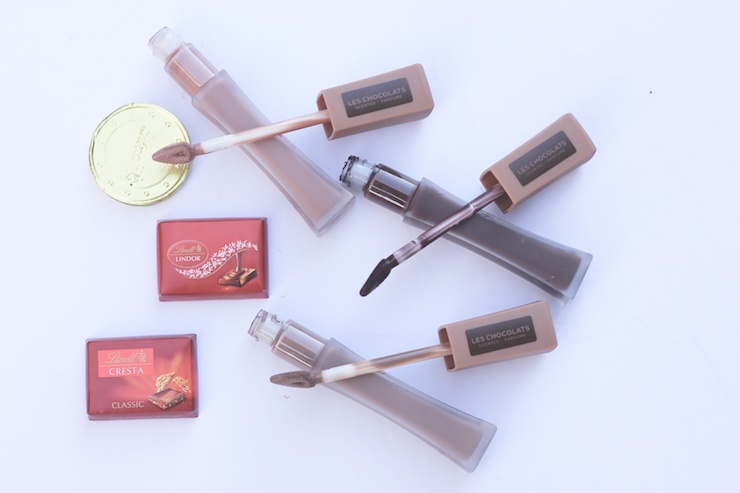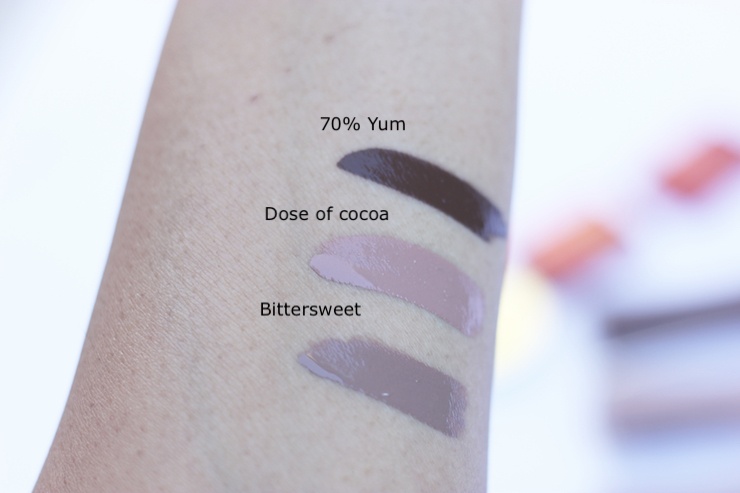 Price of 'L'Oréal Infallible Pro Matte Liquid Lipstick': USD 9.99
BABE Rating: 3/5 (because of the lack of shade availability)
Final Word: Formulated to have smooth, lightweight texture, the les chocolats shades of pro matte liquid lipstick range feel super comfortable. They have amazing longevity and an irresistible chocolate(y) fragrance. I am sure chocolate lovers would love these lipsticks. My only concern is the lack of shades for every tone otherwise I love the quality of these lipsticks. If I was fair skin toned I would have grabbed all of them by now.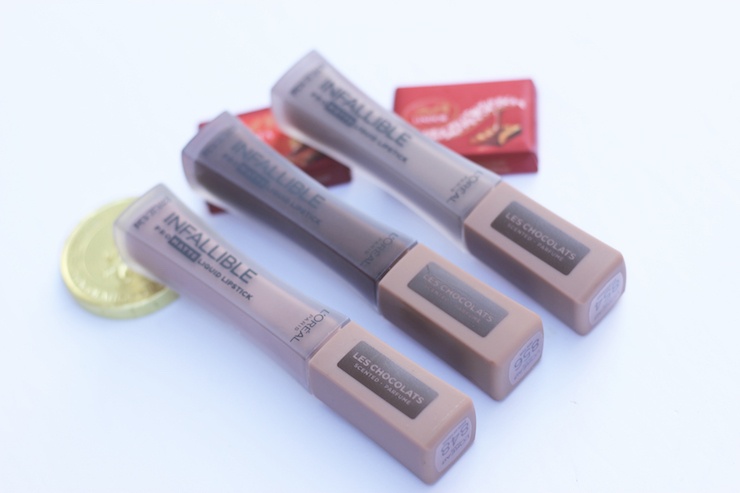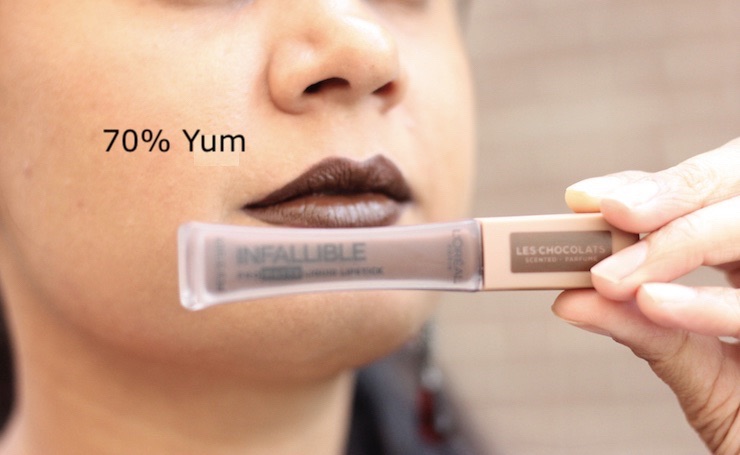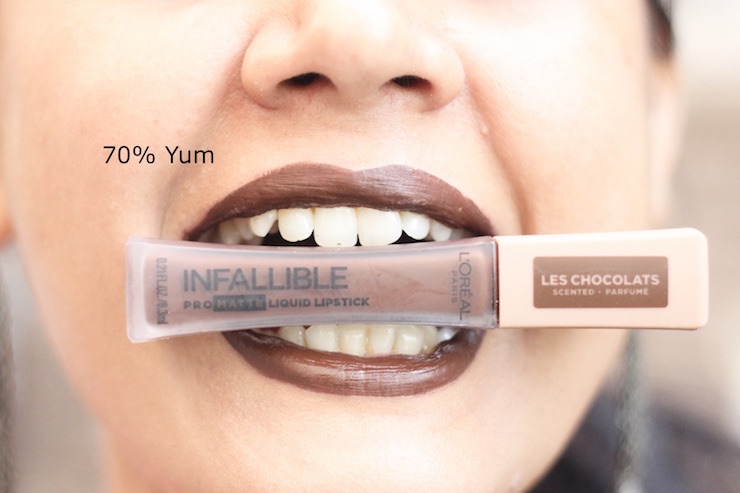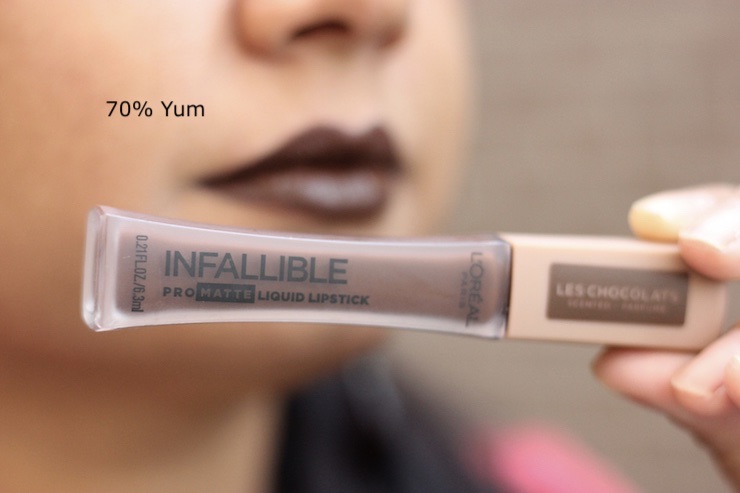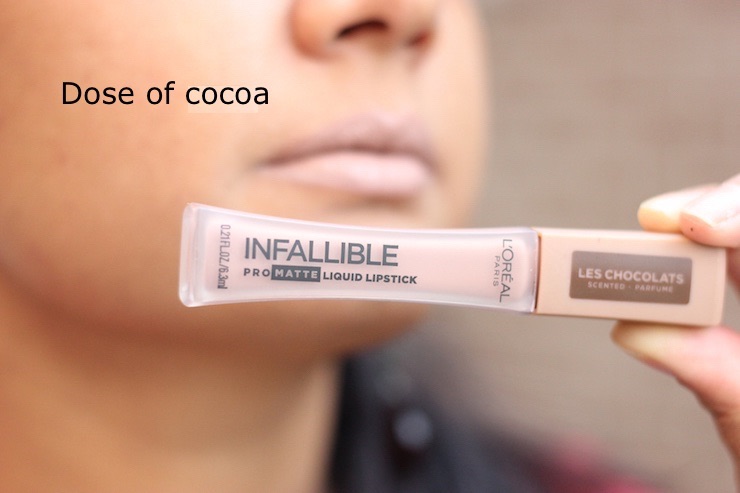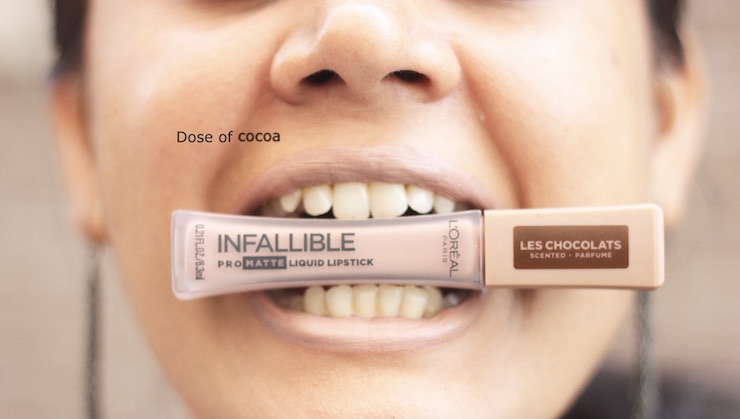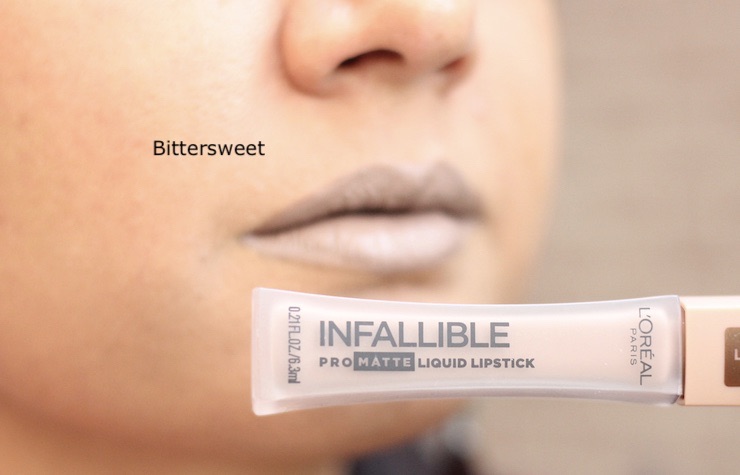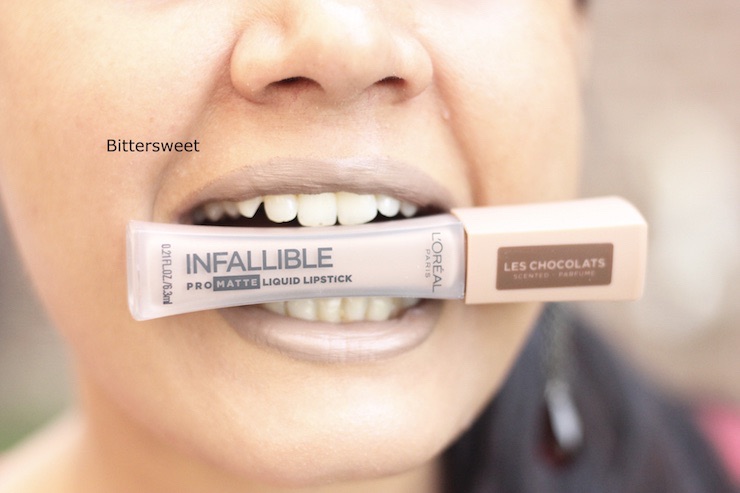 You might also like reading these related topics
Sugar Matte As Hell Crayon Lipstick Baby Houseman Review Swatches
Sugar Cosmetics Matte As Hell Crayon Lipstick Poison Ivy Review Swatches FOTD
Sugar Cosmetics Matte As Hell Crayon Lipstick Holly Golightly Review Swatch FOTD