As much as I love trying new skincare products I am equally wary of their formulae. My acne prone skin has a tendency to deceive at any point making it tough for me to deal with bright red painful zits. This feeling was no different when I got to know about Battys Bath. The products looked promising but I held back my desire to try them until I read the ingredient list. In addition to the tempting packaging, the other thing that triggered me to try this Canadian skincare brand is its plant based formulation. It's been a couple of months I have been trying a few products from Battys Bath, and now that I have taken my sweet time to test those I am presenting my review to you all. Let's have a look at the products I tried and my experience with them.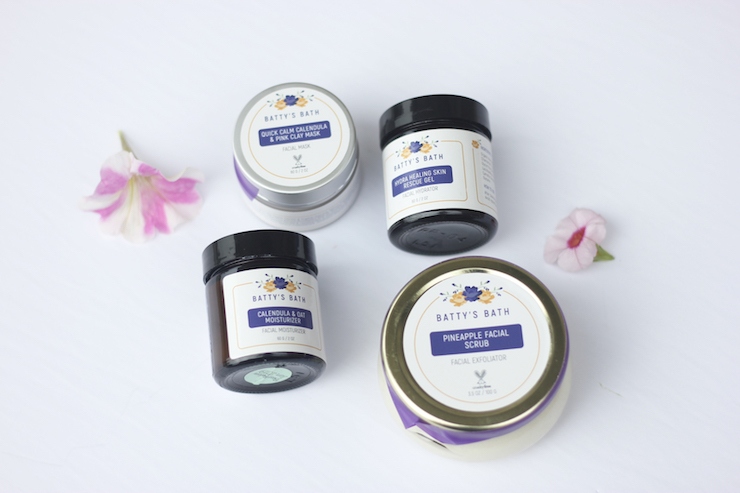 Batty's Bath Hydra Healing Skin Rescue Gel | Priced 24.95 CAD – Contrary to the popular saying of "Save the best for the last", I will start with my most favorite product which is the hydra healing gel. When a moisturizer is not enough to keep the skin healthy this gel comes in rescue. It makes the skin thoroughly hydrated maintaining a balance of oils and water. And that's why my oily skin never faced any breakouts since I have started using it. I apply it day and night before applying the moisturizer. It has semi-runny consistency that is easy to work with, and makes it go into the skin in no time. The mild fragrance and healthy feel are the only two things that are left on the surface of the skin. This gel is the powerhouse of hydration. In a short time it has become my go-to product for a jumbo dose of hydration.
Battys Bath Quick Calm Calendula & Pink Clay Mask | 34.95 CAD- Pink is my favorite color but never in my life before I tried a pink clay mask before. It is a blend of calendula, cucumber and oat powder, and that's what makes it a powerful anti-inflammatory and antioxidant product. When my skin is going through an angry phase and oozing inflamed red bumps this is all I need to calm it down. The whipped mousse texture makes application extra gentle, especially on the painful areas. I apply it once a week but unlike other masks the application process is slightly different. After 15-20 minutes of leaving this mask on the skin I use an exfoliator to remove the impurities that have been brought to the surface by the clay in this mask. Sounds different? Yes, it sounded strange to me as well when I heard of it for the first time but now everything makes sense. This mask deeply cleanses the skin by uprooting the impurities thereby unclogging pores and increasing blood circulation. With regular use, I see my skin's overall radiance is improved; it's looking more youthful and plump.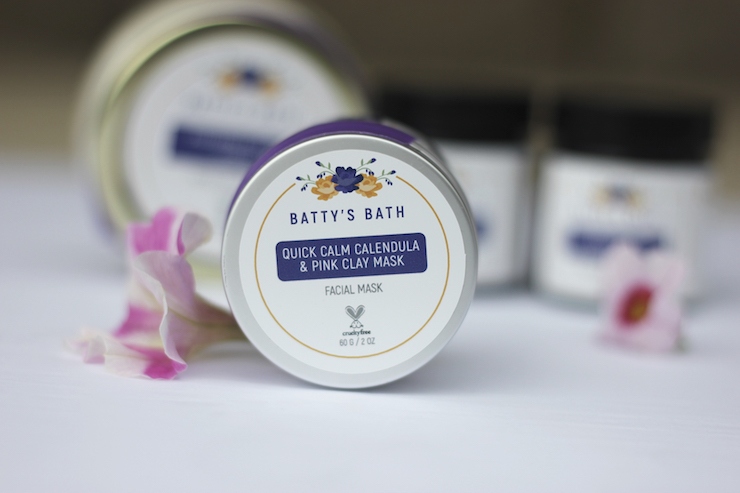 Battys Bath Calendula And Oat Facial Moisturizer | 34.95 CAD– We all know how important Zinc is for our skin. Zinc is a great healer! This wonder ingredient does not only treat acne but also helps in reducing redness, balancing oiliness and protecting the skin against UVA/UVB rays. This moisturizer is abundantly loaded with Zinc that makes it a marvellous product for oily acne prone skin. The mattifying properties control excess oil throughout the day, and simultaneously keep the skin moisturized and protected from harmful sun rays. Wait, the good-things list does not end here. This moisturizer is also infused with the goodness of sunflower oil and turmeric. Sunflower oil is a great source of vitamin E and provides tonnes of antioxidant support for the skin. Once absorbed, it delivers moisture deep below the skin's surface. Turmeric, on the other hand, has been used in Ayurvedic practices for centuries because of its ability to improve blood circulation and reduce inflammation. Now, don't you think this is an all-in-one product for moisture, sun-protection and acne treatment?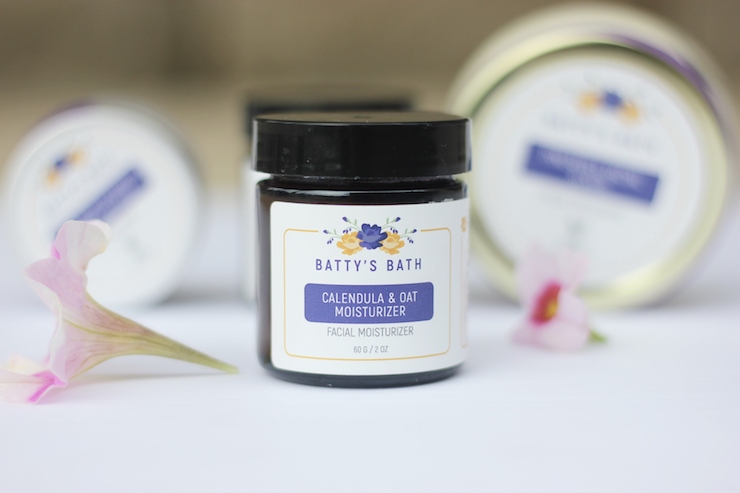 Battys Bath Pineapple Facial Scrub | 34.95 CAD- Can anything be tastier than a Pineapple? Well, for Pineapple lovers the answer is NO. If I cannot resist from eating a Pineapple how could I hold myself from tasting a scrub that contains my favorite fruit as the main ingredient. Well, I succumbed to that resistance and as expected, the taste was not even closer. Hey, this does not mean I am not impressed with its performance- after all it contains PINEAPPLE. This naturally gentle scrub exfoliates on two levels. The first is on a physical/abrasion based level: the round jojoba (natural wax) beads remove dead skin cells by buffing them away. The second level of exfoliation results because of the presence of fruit enzymes – pineapple to be exact. They lift off dead skin cells without any abrasion at all. These two levels of exfoliations unclog the pore and remove dead skin cells leaving the skin even, smooth and toned. I use the power-cleaner once a week after applying the pink clay mask and my skin is basking in the glory of these products.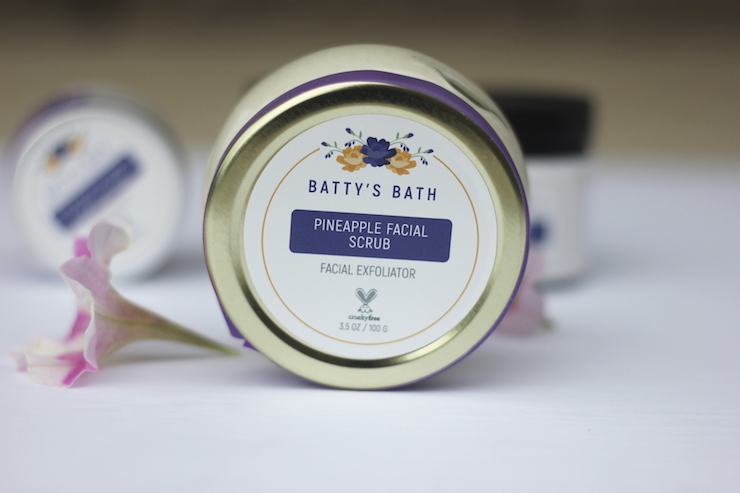 To cut things short, I am impressed with the performance of these products on my acne prone skin and would love to continue using them. If you decide to try these products you can check them out at Battys bath website.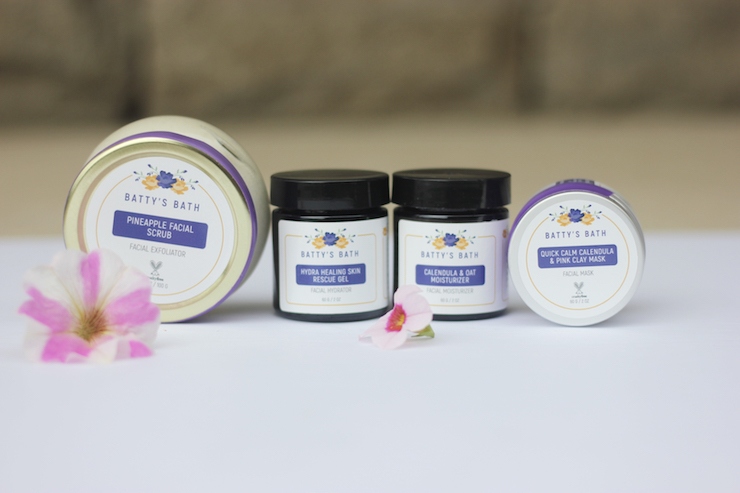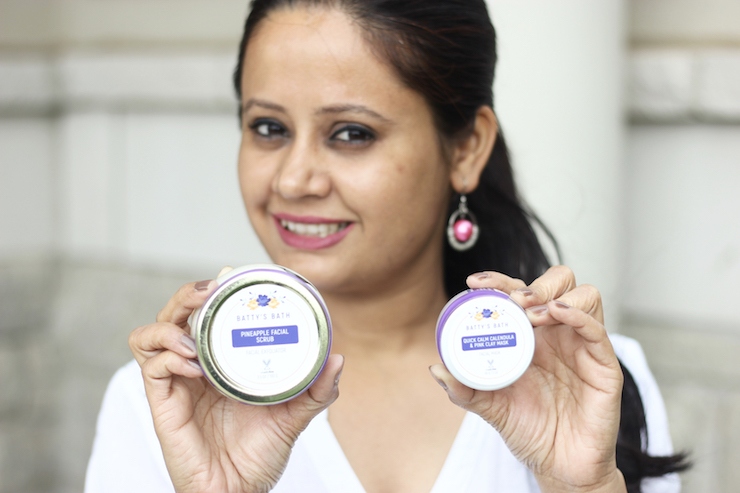 You might also like reading these related topics:
Prenatal Ease Ultra Nourishing Cream And Ultimate Oil Review
Loba Mane Color Vibrante Hair Cleanser, Illuminating Hair Oil, Styling Cream Review