In continuation to my effort of sharing the health and beauty benefits of natural foods, today I am sharing the goodness of eating soaked walnuts. Walnuts are considered nutritive source of omega3 fatty acids, protein and fiber. Without shell, walnuts contain 4% water, 15% protein, 65% fat, 14% carbohydrates and 7% fiber. Even though walnuts contain 65% fat the good thing is largely it is the polyunsaturated fat, which is good for health. Also known as 'Akhrot' , walnuts are used in many bakery recipes such as cakes, cookies , etc. Even though their taste is slightly bitter (as compared to other nuts) but people enjoy consuming them for the nutritive value. They look like brain and considered an important nut that can activate the brain cells.
If consumed dry, Walnuts produce heat in the body which might be harmful sometimes. So the best way of consuming walnuts is by soaking them in plain water overnight and then eating them the next morning. It is not mandatory to eat walnuts on empty stomach but if you do that you will reap more benefits. Walnuts are great for skin and hair as well, and that's the reason why you so many cosmetic brands launch their skin and hair care products using this magical nut.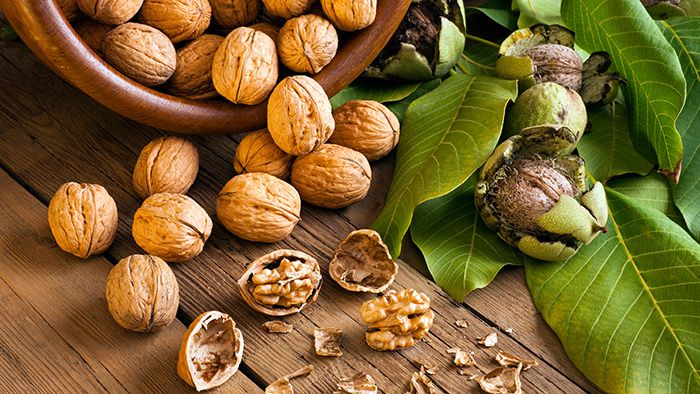 That being said, today I will share with you the health and beauty benefits of walnuts. Because my body cannot stand heat producing food so I prefer to soak walnuts overnight before consuming them the next morning. Soaked walnuts are also easy to grate so I can also utilize them to make a quick scrub or face pack. Now, let's quickly see the benefits.
Health Benefits Of Walnuts
Increases Immunity: Walnuts are rich in anti-oxidants that keep the immunity level high and save you from catching any disease. Especially, in changing seasons when there is high probability of catching flu and cold you should add walnuts to your diet. They will keep the immune system healthy and protect you from catching these diseases.
Improves Memory: Walnuts do not only look like brain but they also help empower the brain. Being rich in omega 3 fatty acids walnuts keep the nervous system healthy and improve memory. That's the reason walnuts are considered essential food to be consumed during pregnancy. The consumption of walnuts by mother will provide the nutrients to the developing foetus and that aids in the development of the baby's brain and nervous tissue.
Strengthens bones: The fatty acids present in walnuts aid in strengthening the bones. This is another reason why pregnant women are advised to eat walnuts during and after the pregnancy. If you are suffering from weak bones or have arthritis you should try consuming walnuts on regular basis.
Relieve from constipation: As these nuts are rich in fiber so they also help in keeping the digestive system functioning properly. If you suffer from chronic constipation you should start consuming soaked walnuts on daily basis to keep the bowels functioning properly.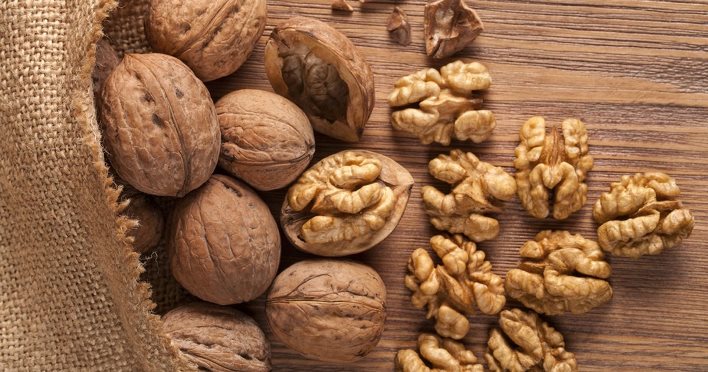 Beauty Benefits Of Walnuts
Defers ageing- Walnuts are packed with omega 3 fatty acids, anti-oxidants and vitamin B. These ingredients help in combating the free radicals and thereby defer ageing. Also, it is said the lack of Vitamin B induces more stress level so if you include walnuts in your daily diet you will stay stress-free and young.
Adds glow to skin- The omega-3 fatty acids and anti-oxidants clean the system from within, and impart glow to the skin. You can also mix grounded walnuts with milk and use the mixture as face scrub. This will get rid of the dead flaky skin and lead to healthy and young skin.
Keeps skin hydrated- As walnuts contain some water content as well so they help in keeping the skin hydrated. In winters our skin becomes dull and dry so regular consumption of walnuts can prevent this dullness and keep the skin well hydrated.
Adds luster to hair- The omega-3 fatty acids in walnuts strengthen hair follicles and add shine to the tresses. In addition to eating walnuts you can also make homemade hair packs using grounded walnuts and apply them at least once a week. After only couple of applications, you will notice stronger and shinier hair.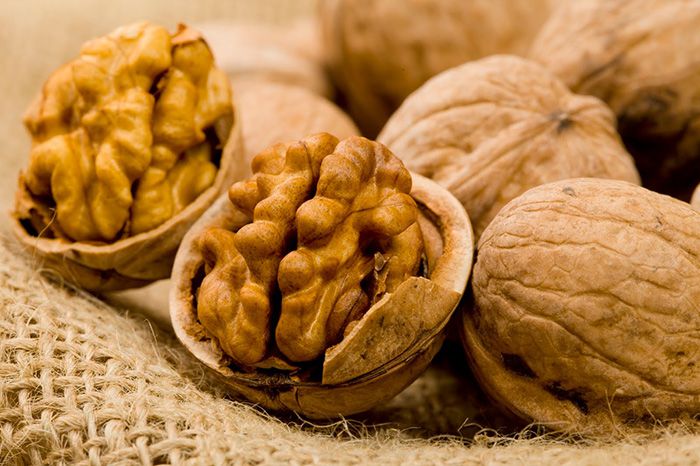 Image source: google
You might also like reading these related topics
Health And Beauty Benefits of Eating Flaxseeds
Health And Beauty Benefits Of Eating Soaked Almonds
Health and Beauty Benefits of Coconut Water
Health and beauty benefits of green tea!
Health Benefits of Chamomile Tea
Health benefits of sprouts
Health Benefits of Drinking Warm Water in Morning
Roghan Badam Shirin Almond oil review