Hello beautiful girls,
We all know Delhi winters make skin rough and dry, and in such cold weather I always feel like taking a dip in tub of body lotion. I feel very uncomfortable when it's all dry and stretchy on my skin so I rely on body lotions and body butters to feed my skin with proper nourishment. Especially in winters, I stock up these moisturizers and usually have 3 -4 on my shelf. I know it is quite a lot but I think I am not the only girl who does this 😉 Today I am going to review my new favorite body butter which is 'Fabindia Almond and Coconut Body Butter'. My sister purchased this body butter for me from one of the Fabindia stores. Let's see how it works on my skin.
What the product Says
The emollient properties of this hydrating blend of oils and shea butter leaves the skin naturally healthy and supple.
Directions for use:
Apply liberally & massage gently onto the skin as often as required.
My Take on 'Fabindia Almond and Coconut Body Butter'
This is the first time that I am using body butter and I feel like I have got a new friend for winters. The packaging of the product is very attractive and eye catchy. The product is housed in a translucent glass tub which is of water color and has the same color lid. Both the tub and the lid are covered with a quirky design that looks like an ethnic print. It has subtle combination of yellow and orange colors. The lid is based on screw open mechanism, and thus prevents the contents from spilling. Overall, it is an attractive and travel-friendly packaging.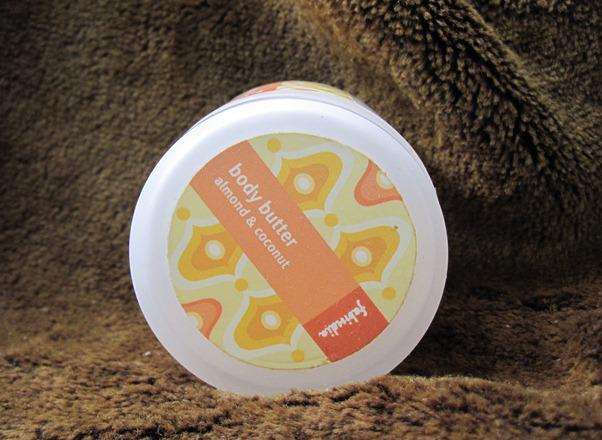 The body butter is white in color, and has smooth soft texture. Though the product does not sink in the skin immediately, it takes some time to completely get absorbed into the skin but it spreads like melted butter, making the application way easier. For the late penetration, skin feels greasy for initial couple of minutes but after sometime it feels normal. The good thing is that just a small quantity of this body butter is enough to moisturize the skin. I really like the fragrance. As per the name, it smells of almonds and coconut the fragrance is yummy and mild.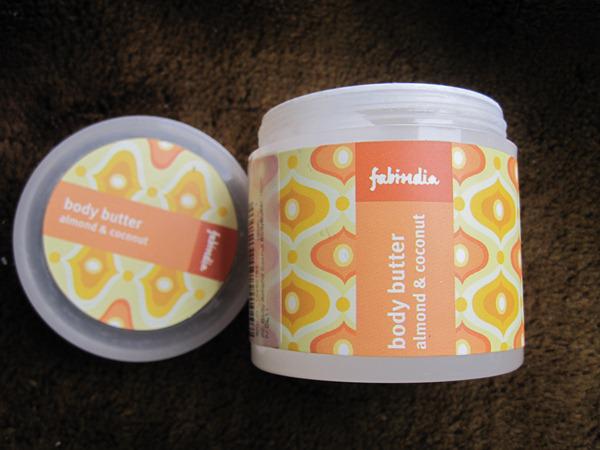 As far as the efficacy is concerned, it moisturizes and hydrates the skin really well which is a huge plus in winter season. I apply it on elbows, hands, knees and feet, even though these are the driest areas of my body this body butter keeps them moisturized all day long. Sometimes, when I have to travel I apply this body butter on top of my regular body lotion. Doing so increases the staying power and does not require the reapplication. If you have dry or extreme dry skin you should try this trick, and I am sure you will be happy with the results.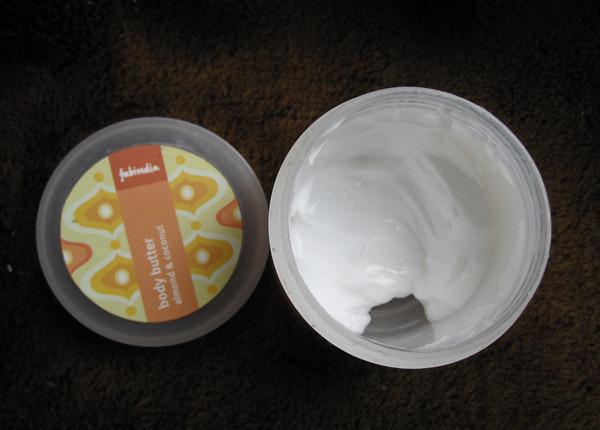 As the body butter is housed in a tub so I always have to dip fingers in it to get hold of the product. This practice is unhygienic as it can easily contaminate entire tub. But I do not think there is a solution to this problem except providing a spatula. The consistency of the product is quite heavy and that's why it cannot be stored in a tube or dispenser bottle.
This body butter is perfect for winters, because in summers it will make the skin very greasy. I also use this during night time, especially on my extreme-dry body parts and in the morning those areas look well-hydrated and moisturized. The main ingredient of this body butter is coconut oil, which is an excellent natural skin moisturizer and softener. Plus, almond oil keeps the skin soft without causing any breakouts. Overall, I love this body butter as it makes my skin soft, hydrated, supple and moisturized.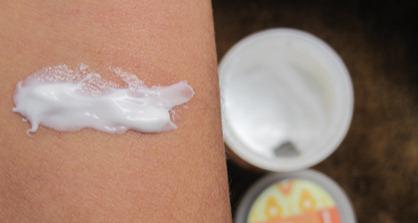 What I like about 'Fabindia Almond and Coconut Body Butter'
– It keeps the skin moisturized and hydrated.
– It has pleasant fragrance.
– Affordable price.
– Just a small amount is needed to moisturize the skin.
– It is not tested on animals
What I do not like about 'Fabindia Almond & Coconut Body Butter'
– It contains paraben.
– It makes the skin greasy so might not suit oily skin.
– Tub packaging is unhygienic.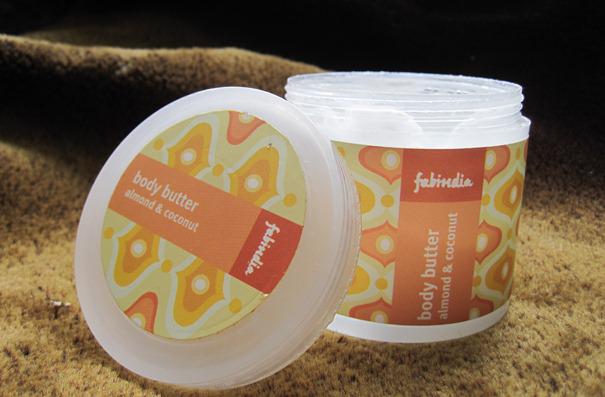 Price of 'Fabindia Almond and Coconut Body Butter': Rs 225 for 100ml.
Ingredients of 'Fabindia Almond And Coconut Body Butter'
Purified Water, Isopropyl Palmitate, Petroleum Jelly, Glycerine, Glyceryl Mono Stearate, Coconut Oil, Cetyl Alcohol, Shea Butter, Emulsifying Wax, Dimethicone, Sweet Almond Oil, Imid Urea, Triethanolamine, Carbopol 940, Methyl Paraben, Allantoin, Disodium EDTA, Propyl Paraben, Vitamin E Acetate.
Shelf Life of 'Fabindia Almond And Coconut Body Butter': 36 months
BABE Rating: 4/5
Final Word: 'Fabindia Almond And Coconut Body Butter' is an affordable moisturizer which is easily available in offline and online stores. It makes the skin soft, hydrated and supple from inside out. The result is long lasting, and in winters it provides huge relief from dryness. It is enriched with the goodness of coconut and almond oils that help in keeping skin healthy. I think it is perfect for people with dry skin; oily skin people might give it a skip.
Author: Veena Singh
You might also like reading these related topics
The Body Shop Virgin Mojito Body Butter Review
Palmer's Cocoa Butter Formula With Vitamin E Lotion Review