It is important to take care of feminine hygiene as even a small negligence on that front can cause grave discomfort. Especially, on those special days, women need to pay attention to maintaining the hygiene at home and while accessing public areas. Bliss Of Earth Daily Fresh Panty Liners that I am sharing with you today will help you to maintain daily hygiene. Keep reading.
What the product says
Bliss of earth daily fresh panty liners are made of 100% natural cotton surface and are super lightweight making them comfortable to wear. Large cotton surface of daily fresh liners does not irritate your skin and provides you instant dry and soft feel.
Why should you wear a daily fresh panty liner?
– As a backup for tampon and cup.
– For urinary incontinence.
– Light discharge.
– Before & after periods.
– To maintain daily hygiene.
– To keep your panty stain free.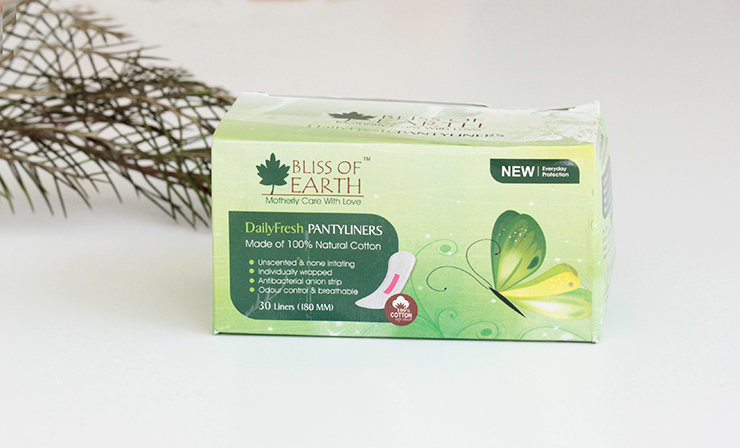 My take on 'Bliss Of Earth Daily Fresh Panty Liners'
The panty liners come packed in a lightweight cardboard box. The box contains 30 liners (180mm) that are individually packed in white colored soft plastic sheets. Being individually wrapped, the panty liners can be carried separately in a handbag without compromising on the hygiene or can be put in a zip-lock plastic bag that will also keep them in shape.
The size and shape of the panty liners absolutely suffice the purpose they are made of. They are smaller in size and thinner in width as compared to sanitary napkins. This makes them comfortable to wear without any irritating feel. They provide enough coverage, which is required to keep the panty base stain-free.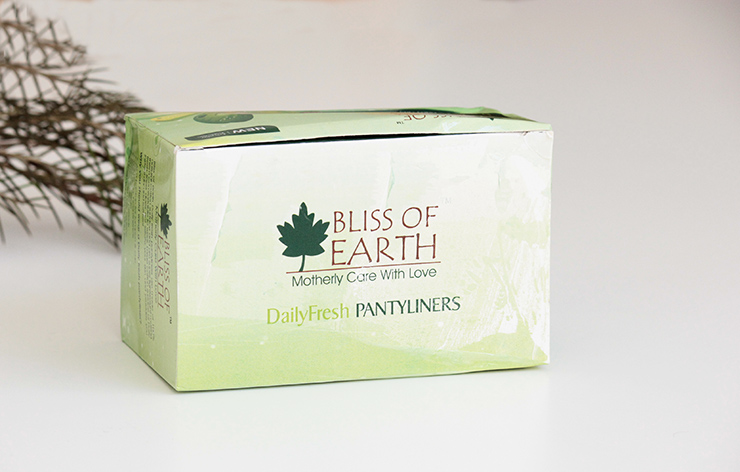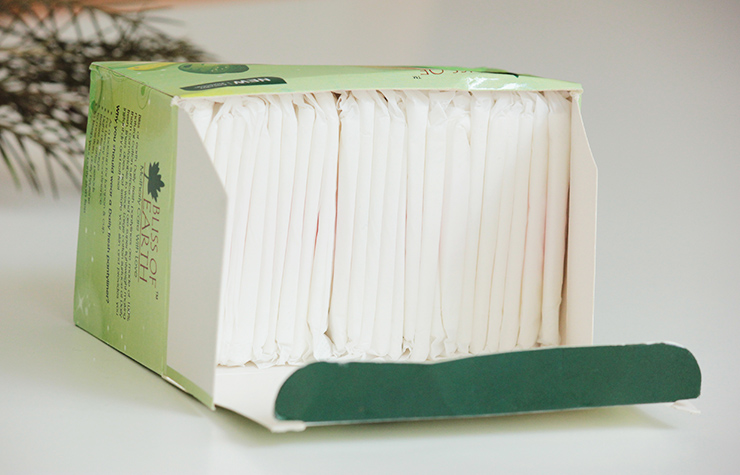 Bliss of earth daily fresh panty liners are made of 100% natural cotton, which makes them super soft. They do not cause any irritating feel; in fact feel very gentle against the most delicate feminine part. These liners also have a light pink colored antibacterial anion strip inside the cotton setting. The strip is at the center of the liner and emits anions when used. Anions when neutralized, release oxygen that suppresses the major source that causes gynecological diseases. This also helps in maintaining the average vaginal PH reading, which is 4.0 to 5.5.
When to use a panty liner:
1) If you are going through excessive vaginal discharge you should use a panty liner. It will absorb the discharge and keep you dry.
2) In those tough days of pregnancy, when you are already tired of carrying the extra body weight, sticky or wet feel down there can make you feel more uncomfortable. A small thing like a panty liner can save you from such unnecessary discomfort and mood swings by absorbing the wetness.
3) Before and after the periods- when the flow is less and you do not want that irritating feeling from a big sized sanitary napkin or tampon.
4) While traveling long distances. Sometimes, when we travel for long hours at a stretch without getting fresh on the way we take the risk of compromising with feminine hygiene. But if you have the panty liners on, there are chances that the risk will be reduced and you will be fresh for long.
5) To absorb involuntary urination.
During the second and third trimester of pregnancy, urinary incontinence becomes a problem because the growing baby exerts pressure on the gall-bladder. This gives you less control over urination and there are chances that you would leak even from sudden sneezing. Panty liners are quite useful for situations like that as they absorb the liquid and keep the panty stain free. Also, since these liners contain antibacterial anion strip they will maintain the hygiene and Ph levels.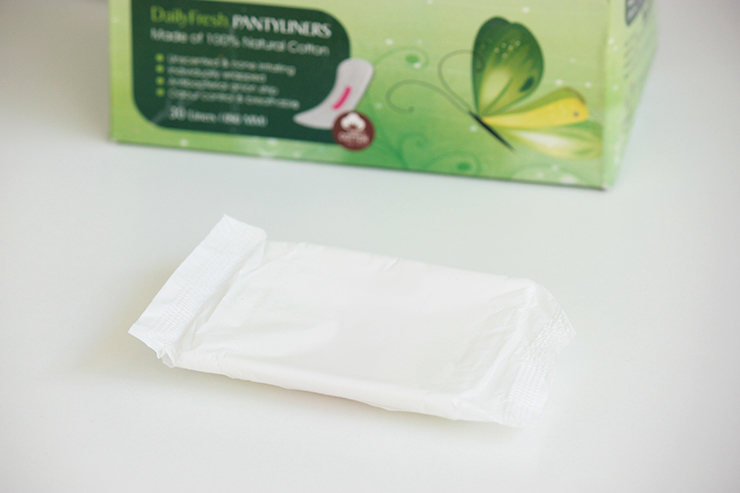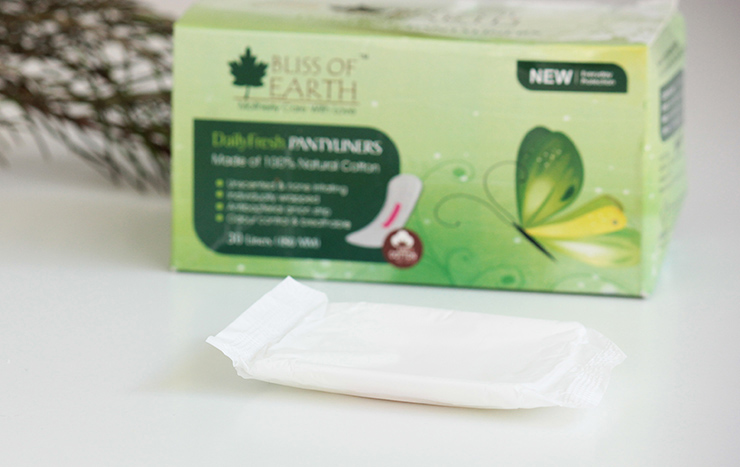 Just like with sanitary napkins, these panty liners also have to be changed after every few hours. Otherwise, the odor-controlling ability reduces and you will get the same stinky feel as if you are not wearing a liner.
Considering the quality, usability, and price of these panty liners, I would recommend using them. Nothing is more important than maintaining the feminine hygiene- after all prevention is always better than cure. Especially, pregnant women should always carry panty liners in their handbags as these liners will save them from uneasiness that can occur because of the common pregnancy problems such as excessive discharge and involuntary urination.
Things I like about 'Bliss Of Earth Daily Fresh Panty Liners'
– Keep you feel fresh and dry.
– Being made of soft cotton these liners are comfortable to wear and do not irritate the skin.
– Apt size that keeps the panty stain-free.
– Ideal to use before and after periods.
– Absorbs excess discharge and control odor.
– Individually wrapped that keeps the hygiene & shape of liners intact.
– Easy to carry in handbags or pockets.
– Contains antibacterial anion strip that helps in preventing gynecological disease.
– Reasonably priced.
– Unscented – so less chemicals.
– Lightweight and thin.
Things I do not like about 'Bliss Of Earth Daily Fresh Panty Liners'
– More than five hours of wearing can cause bobbling to appear on the surface.
– If worn for a long time, their odor-controlling ability decreases.
Price of 'Bliss Of Earth Daily Fresh Panty Liners': Rs 210 for a pack of 30 panty liners.
Online availability of 'Bliss Of Earth Daily Fresh Panty Liners': From amazon.in
BABE Rating: 4/5
Final Word: Overall, I would suggest using Bliss Of Earth Daily Fresh Panty Liners. Being made of 100% cotton, they feel soft and gentle against the skin. The anion strip also helps in maintaining the Ph level, which further reduces the risk of various gynecological diseases. Though pregnant women will find panty liners more useful but even if you are not pregnant but traveling long distance or suffer from excessive discharge or have low flow before/after periods, you should wear panty liners as they will keep you dry and fresh.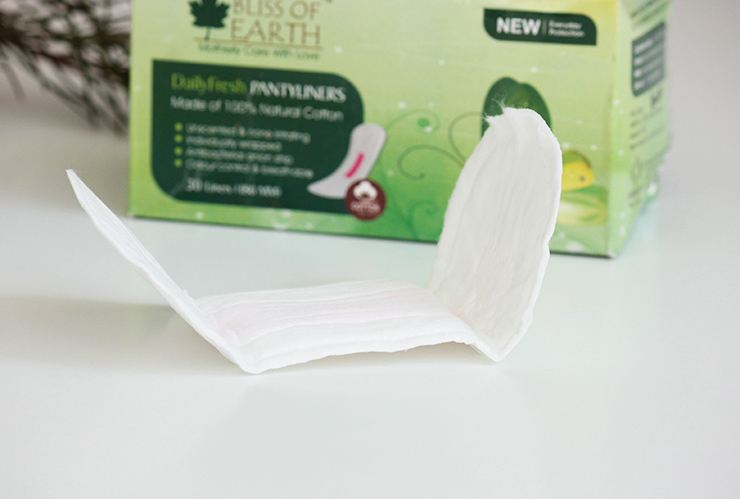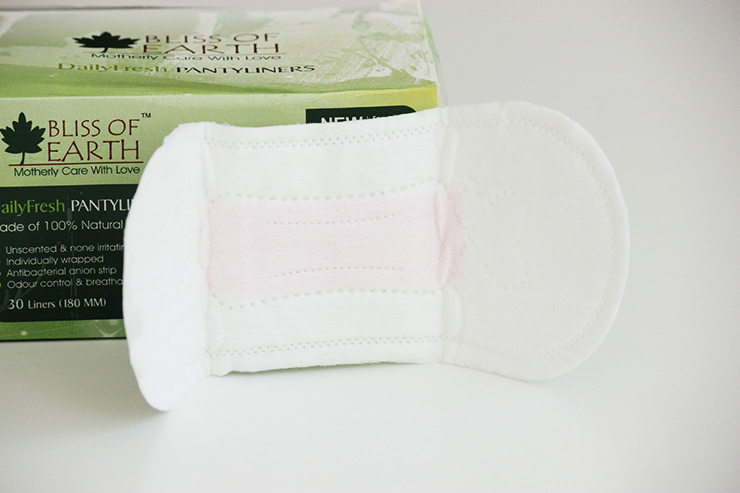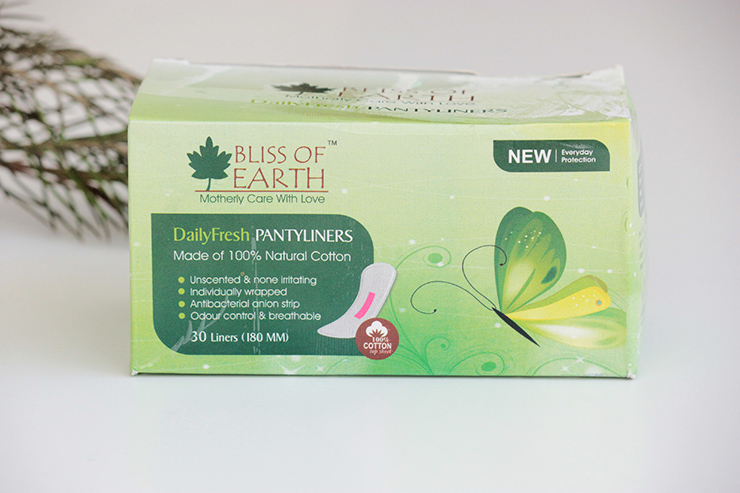 You might also like reading these related topics:
Everteen Natural Cotton Sanitary Napkins Review
Everteen Natural Intimate Hygiene Wipes Review