I often write about skin care products and beauty tips that would help in maintaining a supple, soft and fresh skin. Seldom are the times when we talk about intimate care, but being a delicate area of our bodies it requires utmost attention and tender dealing. So in today's post I will talk about a product that is made just for the wellbeing of intimate area and can be used in the most convenient way possible -'Everteen Natural Intimate Hygiene Wipes'.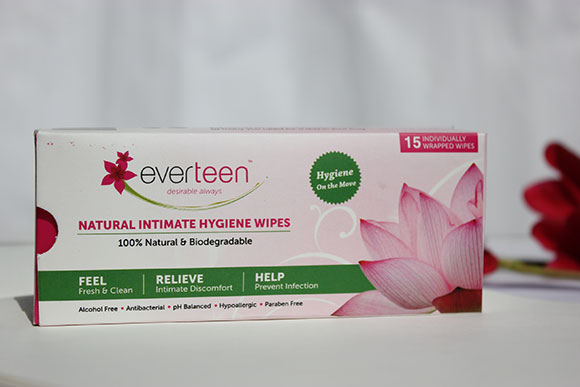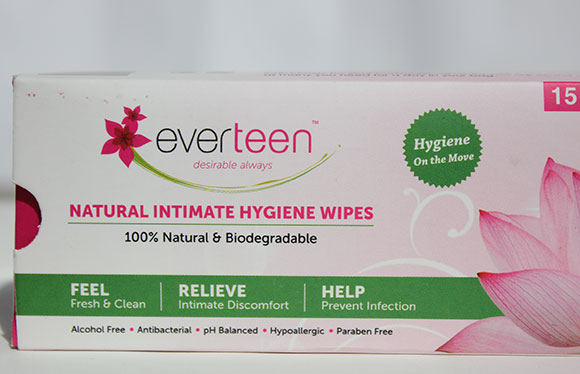 My Take on 'Everteen Natural Intimate Hygiene Wipes'
Until few years ago, I was apprehensive of using any type of cleansing product for the intimate area. But on a fine day when I visited my family doctor for a regular checkup she advised using vaginal cleansing products to maintain the ph balance as well as the hygiene of this part. According to her, we should never ever use any regular soap or body or face cleanser on this area as these products tend to imbalance the ph level that can cause more trouble than good. But that does not mean we should not clean this area, in fact we should use exclusive products made for intimate hygiene as this delicate area requires consistent cleansing in order to keep up the refreshing feeling.
Since I have got to know the importance of vaginal cleansing products, I have been regularly using one. It is a liquid vaginal wash that used to remove bacteria thereby leaving the skin fresh and clean. The one problem with that product is you have to have hygienic surroundings in order to use it. But what if when you are travelling and you have to use public toilets that do not suffice to a clean washing place. Of course you can carry the bottle with you but unless and until you get a clean place to use the bottle you would not be able to clean the intimate area. To resolve this cleansing problem, Everteen has launched intimate hygiene wipes.
These wipes are similar to wet tissues, only that they are specially made for the vaginal area. A pack of 'Everteen natural intimate hygiene wipes' contains 15 wipes that are packed individually. So, it's not that once you open the pack you need to use them within a definite timeframe (of course you have to use them before the expiry date). As they are packed separately, they stay as good as new until you open them. In fact, when you are travelling or you think you would require a quick cleaning of this area you can conveniently carry couple of wipes in your handbag or clutch. A single wipe does not occupy that much space, so you can even sneak it in your pocket.
As far as the usage is concerned, after tearing the pouch you need to unfold the wipe and gently clean the external vaginal area. After usage throw it in the bin, make sure you do not flush it as it can cause blockage. You can use these wipes on any regular day or even when you are going through your monthly cycles. They provide a fresh and clean feeling which is the same as you get after shower. Sometimes when I have to do a lot of travelling I make sure that I keep a wipe handy to clean the area for a refreshing feel.
These are biodegradable wipes so you are not unbalancing the celestial equilibrium. They maintain the ph balance of intimate area. As they also help in preventing infection, so you may want to use them when you are using public toilets. Immediately cleaning the vaginal area may curtail the possibility of catching an infection.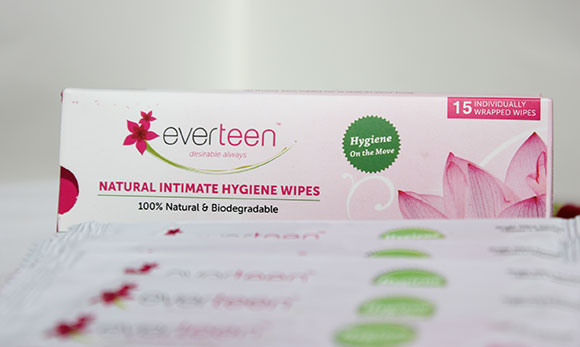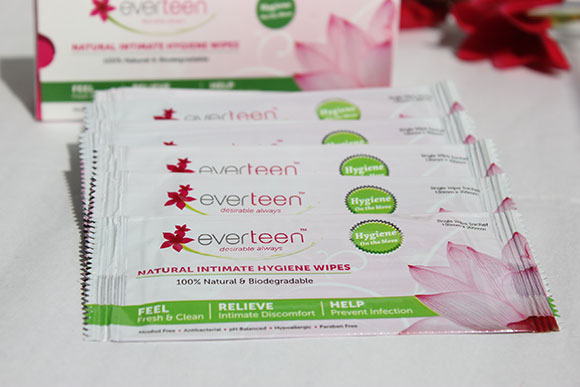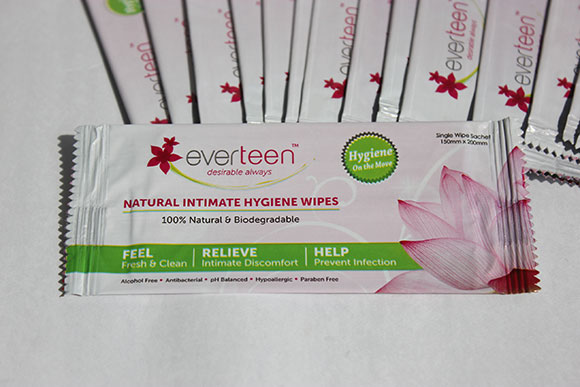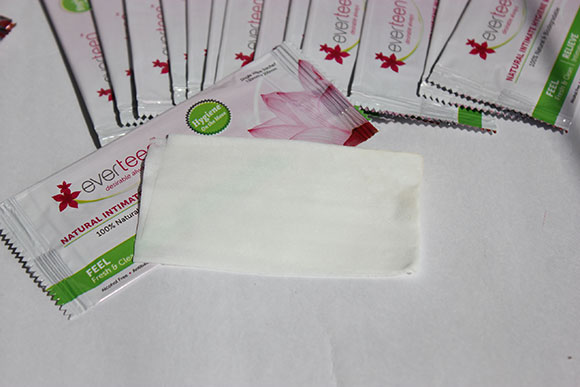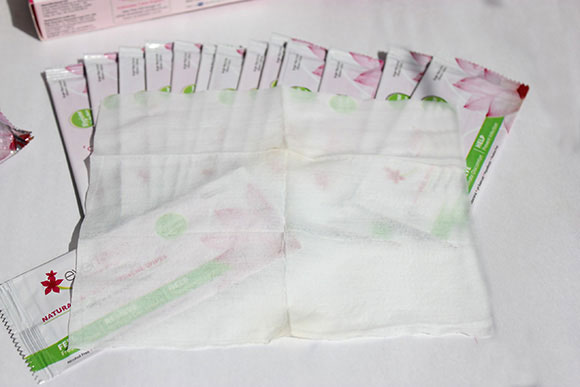 What I like about 'Everteen Natural Intimate Hygiene Wipes'
– Made from 100% natural biodegradable fabric that does not do any dragging or tugging along of skin.
– For every wipe is packed individually, they are easy to carry when you are on the move.
– Wipes stay as good as new until you open them –before the expiration date.
– Provide instant refreshing feeling.
– Maintains ph level of the delicate area.
– Prevents infection.
– They do not contain alcohol, SLS or parabens.
– Nominally priced.
– Clinically and dermatological testes.
What I do not like about 'Everteen Natural Intimate Hygiene Wipes'
– There is nothing I can think of to fit in this section.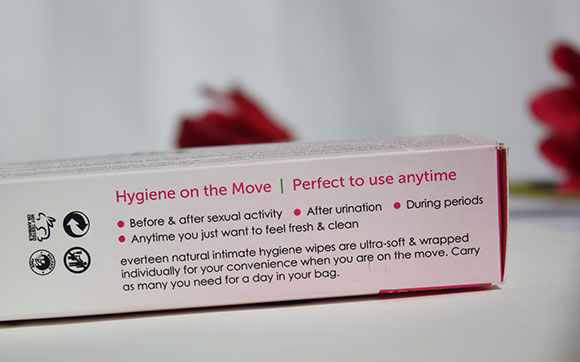 Price of 'Everteen Natural Intimate Hygiene Wipes': INR 99 for 15 wipes.
Ingredients of 'Everteen Natural Intimate Hygiene Wipes'

Final Word: Everteen intimate hygiene wipes provide external vaginal cleansing when you need it the most and in a convenient way possible. You can stock them up in a handbag and use whenever required without worrying about hygiene problems anymore. The affordable price tag makes you get 15 wipes in just Rs 99, so maintaining intimate hygiene is convenient and inexpensive now.