Today, I am reviewing another product from the personal hygiene brand 'Everteen'. Everteen has recently launched 'Everteen Natural Cotton Sanitary Napkins' that are made of 100% natural cotton. Sanitary pads are having a regular place in every woman's life so they need to be chosen with care. I am sharing this review with you today as I feel intimate hygiene should be the topmost priority.
What the product says
Introducing the all new Everteen natural cotton sanitary napkins which are designed with 8 layers of serious protection to maximize absorbency, comfort & dryness during your menstrual days. Surface of Everteen napkins is made of 100% natural cotton which is comfortable and non-irritating unlike other sanitary napkins which are made of rayon.
•100% natural cotton surface for instant dry and soft feel
•8 layer protection & extra absorbent
•With wings for a secure fit and super soft sides for comfort
•Unscented ultra-thin sanitary pads for medium to heavy flow (free of artificial scents and fragrances)
•Antibacterial negative ion chip helps prevent bacterial multiplication & eliminates odour
•Ultrathin and extra absorbent
•Breathable layers help keep moisture away
•Food grade nontoxic adhesive helps keep pad in place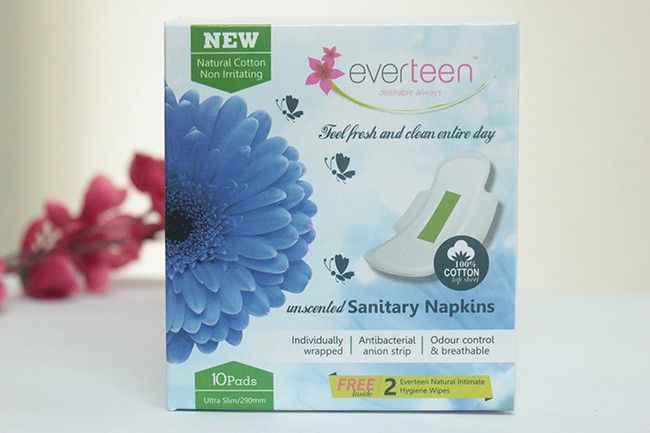 My take on 'Everteen Natural Cotton Sanitary Napkins'
Unlike in the usual plastic wrapper, Everteen natural cotton sanitary napkins come in a cardboard box packaging. The box contains 10 individually packed napkins plus 2 'Everteen intimate hygiene' wipes. The wipes included in the pack are free of cost, and I think these will be free only until the introductory offer lasts. The cardboard box has all the details mentioned on it, and as it is compact in size it can be made to fit in any corner of the drawer. The individual napkins are packed in white colored plastic wrapper and can be carried separately as well.
When it comes to pads, I am a hard core fan of Whisper ultra-wings in XL size. These pads stay put even in the initial high flow days. They absorb more, and thus do not cause leakage to happen. My only concern with Whisper ultra-pads is that their top layer is a mix of synthetic, and if it is kept in use for more than 4 hours it can cause cancer. So, with Whisper Ultra I change the pad after ever 3.5 – hours irrespective of the flow. And when I used to keep these pads for longer duration they used to produce an awful smell.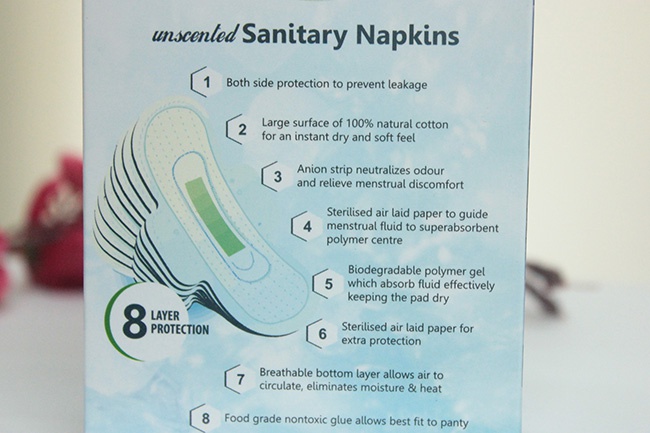 The best thing about Everteen sanitary napkins is that their top layer is made of cotton which feels soft against the delicate skin. And because it is cotton, I do not have to worry when I cannot change the pad after every few hours. Obviously, being made of cotton their absorption is lesser than Whisper Ultra pads but that is taken care of by timely changing the pad.
These pads are almost of the same size as any other ultra-pads. The only difference is in the wing size- Everteen natural cotton sanitary pads have short wings that have a solid grip on the base. So far, I did not find any problem because of the wing size; in fact I find them better glued to the pant as compared to other sanitary napkins. Length-wise they are comparable to Whisper ultra-napkins (XL) and thickness wise they are quite thin.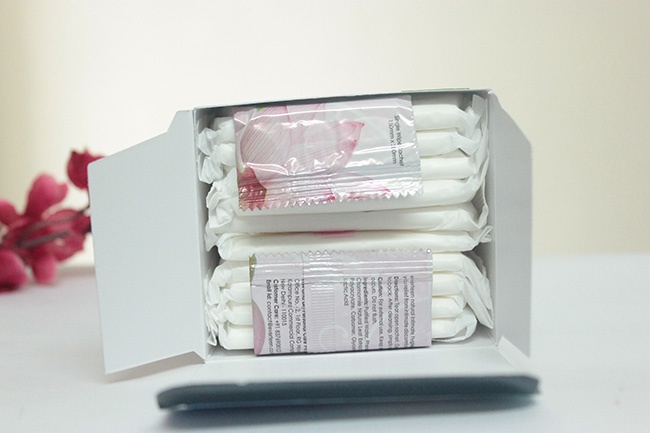 Everteen pads also have antibacterial protection. That being said, these pads contain negative ion chip that helps prevent bacterial multiplication and eliminates odor. I find this antibacterial protection quite beneficial from hygiene perspective as usually other pads do not have it, and this also take care of the bad smell that come when the pad is not changed on time – which specifically happens when one is travelling.
Price wise, they are slightly expensive but I won't mind spending few extra bucks for the top cotton layer and antibacterial protection they come with.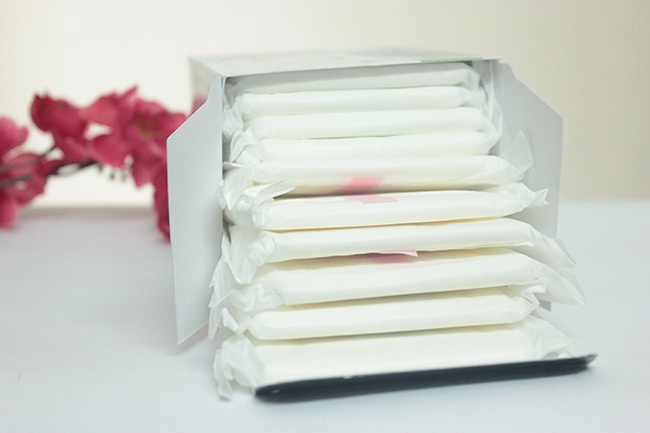 What I like about 'Everteen Natural Cotton Sanitary Napkins'
– Made of natural cotton.
– Feel soft against the delicate skin.
– Good absorption.
– Provide antibacterial protection.
– Easy to dispose of.
What I do not like about 'Everteen Natural Cotton Sanitary Napkins'
– Slightly expensive.
Price of 'Everteen Natural Cotton Sanitary Napkins': Rs 249 for 10 napkins
BABE Rating: 4.75/5
Final Word: Made of 100% natural cotton, Everteen sanitary napkins feels soft against the skin and prevent rashes. They are quite long and provide full coverage. The short wings provide good grip and keep the pads in place for long. The antibacterial protection that eliminates the odor and prevents bacterial multiplication is the biggest plus as it helps in maintaining the hygiene of the most delicate area.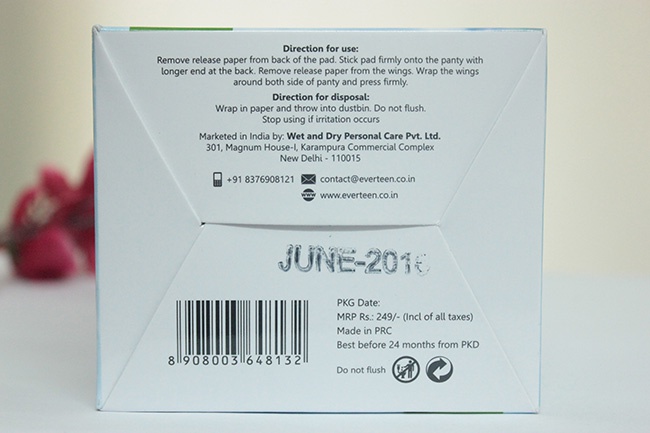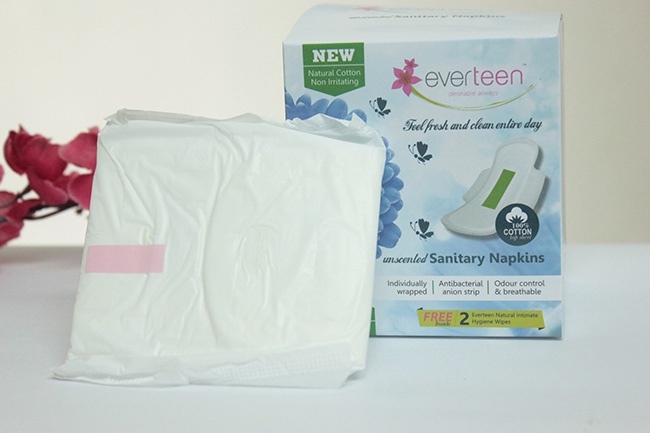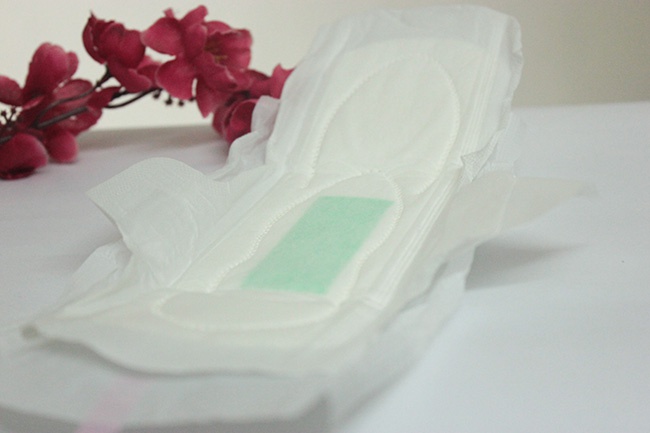 You might also like reading these related topics
Everteen Bikini Line Hair Removal Cream Review
Everteen Natural Intimate Hygiene Wipes Review