Itchy or over-dry skin is a common problem in winters. If proper measure are not taken, consistent itching can aggravate resulting in painful wounds. Even a mere skin-dryness can cause cracks and spoil the look of your skin. To prevent these skin problems, there are many remedies that you can easily adopt in your day-to-day life. Here are some of the winter skin care tips to help you avoid dry skin and give it a healthy feel.
1) In winters, we tend to feel less thirsty and that's why do not drink water often. The result is dehydrated skin that loses its flexibility and becomes more prone to cracking, scaling and itching. To keep up the hydration level you should drink a lot of water (even when you do not feel the need of it) and other fluids.
2) Find a moisturizer that is oil-based rather than water-based, the oil in the moisturizer will create a layer on your skin that will retain the moisture for long. Apply moisturizer twice or thrice a day, especially after morning-shower as it will lock in the moisture and keep your skin healthy all day long.
3) Invest in after shower oils as they are easy to spread and have good moisture content. Oils tend to fight against dryness and keep the skin moisturized for long hours. If your skin is over-dry, you can apply moisturizer on top of after-shower oil.
4) In winters, it is difficult to bathe in regular tepid water but that does not mean you use super-hot water. Prefer luke-warm water over hot showers as hot water rip the skin off moisture and make it dry.
5) Shield your skin with a generous layer of sunscreen. Sub block is not just for summers; sun or no sun you should always apply sunscreen. If you stay outside for a long time, reapply sunscreen frequently.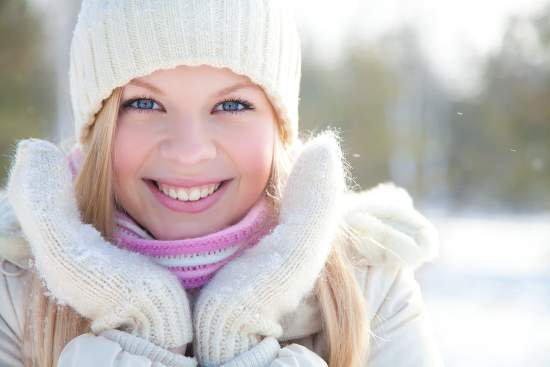 6) Harsh winter air can cause dryness and cracking. So keep your skin maximum covered while you step out of the house. Wear woolen gloves, socks and hat to avoid dryness.
7) Cracked heels are quite common in winters. To avoid this problem, clean the feet with a good scrubber, massage them using a heavy moisturizer and cover them up with a pair of woolen socks. You can do the cleaning part while bathing, but ensure that you apply moisturizer afterwards. If your skin is over dry repeat the same process before going to bed as well.
8) Alcohol-based skin care products rip vital oil off the skin so replace alcohol-based products with oil-based ones. If required, you can also use cleansing milk or fresh milk cream before going to bed.
9) Glycerin is another nice alternative to replete the skin with lost moisture. Make a concoction of glycerin and rose water, and apply it on your skin every night.
10) Do not over heat your surroundings as it can cause humidity level to plummet. If you use central heating, also use humidifiers along with as it helps in balancing the required moisture level.
Do you have some specific skin care tips for winter season? If yes, do share them in the comment section below.
You might also like reading these related topics
How To Take Care Of Your Face This Winter
How To Take Care Of Your Feet In Winter
How To Take Care Of Your Hands In Winters