For a nail lover like me, there is nothing like getting my hands on the newly launched nail polishes. So when Sugar Cosmetics contacted me to review their metallic nail collection I said yes without a second thought. I have always admired Sugar products for their quality and variety, and these nail polishes are no less. Without another word let's see what new nail shades are being launched and my experience with Sugar Cosmetics Tip Tac Toe Nail Lacquers Pro.
What the product says

And on days when you're ready to let your hair down and step out for a prowl, fire up your nail game with any of our 11 expert-picks from this set where every shade is designed for pure nail sorcery!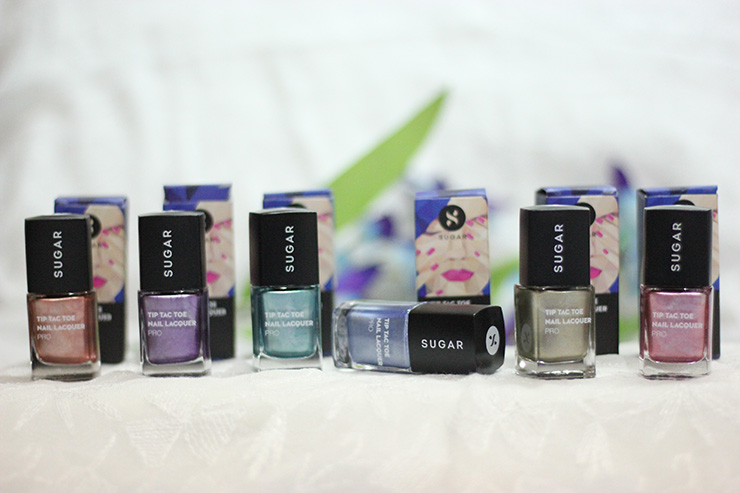 My take on 'Sugar Cosmetics Tip Tac Toe Nail Lacquers Pro'
Sugar Cosmetics metallic nail polishes come in their classic nail polish packaging that includes a hard paper box containing the glass bottle. There is no color coding on the hard paper box but it does have the shade name and number mentioned on it. It is a transparent nail polish bottle with a matte black cap on top. Shade name and number are also mentioned on the bottom of the bottle. The applicator is wide and dense enough to cover the entire nail bed in a couple of strokes.
Sugar tip tac toe nail lacquer pro range already has 5 shades and the brand has recently launched 6 new metallic nail shades:
039 – Bold As Brass (Metallic Brass)
040 – Rust For The Record (Metallic Copper)
041 – Amethyst Actress (Metallic Purple)
042 – Rock And Rose (Metallic Rose Gold)
043 – Deep Down Diopside (Metallic Emerald Green)
044- Sapphire Straits (Metallic Blue)
I like metallic shade range- most of the shades are appropriate for Indian skin tones. My personal favorites are 039, 043 & 044. Though I am a matte lover, I equally like these metallic shades. The applicator makes the application super fast and convenient without any streakiness. Just one coat of the nail polishes is enough to get a 100% opaque look. In situations of a time crunch, I apply one coat and I am all done to flaunt the all dolled up nails. If you are looking for longevity, I would recommend applying two coats and then a transparent top coat. In that, these polishes can easily last for 3-4 days with any chipping off the tips.
They dry at the snap of a finger. By the time I am polishing the second nail the first one is dry. I feel this is an extremely beneficial property for those who less time in hands. Earlier because of the scarcity of time, I used to apply my nail polishes while I am traveling but these ones can be applied satisfactorily at home without any fear of sitting idle for long or getting them smudged.
These nail polishes give a professional look just like the one you would get in a high-end salon. You can attain the same look at home with investing much time and money. Considering the quality and finish, the pricing is genuine. Since I have started using these nail polishes I am in love with them. I wear these to office and parties. Even taking them off the nails is easy. The struggling days to remove the polish from the nails are gone. Plus, there is no staining on the nails anymore. I apply them without any base coat underneath and I am satisfied with the finish & stain-free removal.
039 – Bold As Brass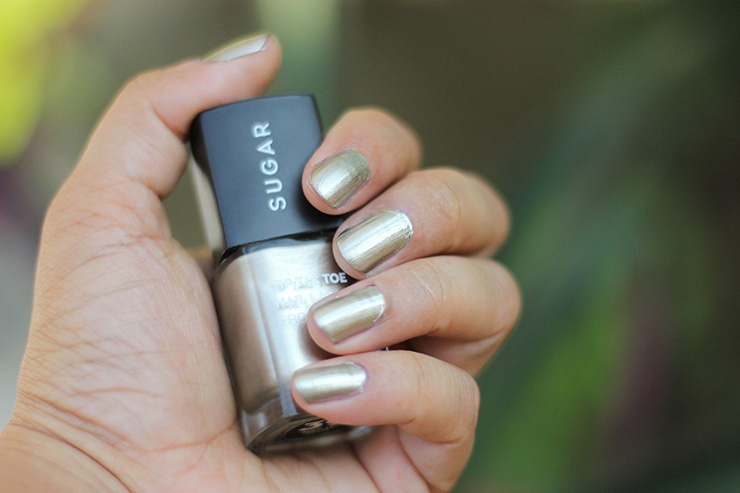 040 – Rust For The Record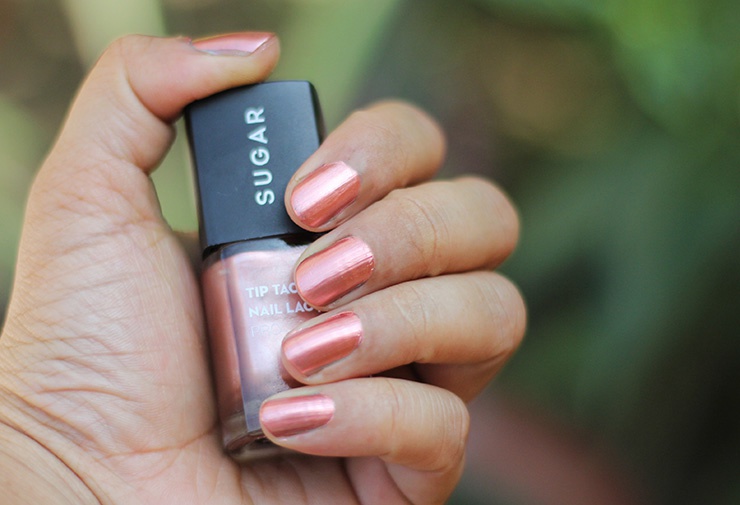 041 – Amethyst Actress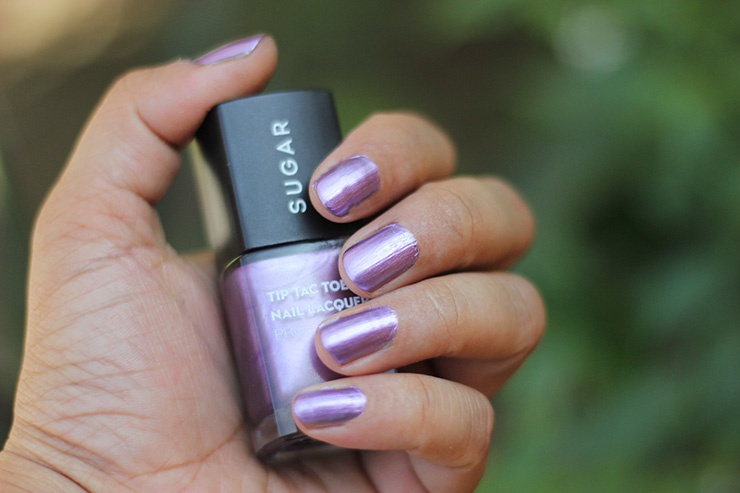 042 – Rock And Rose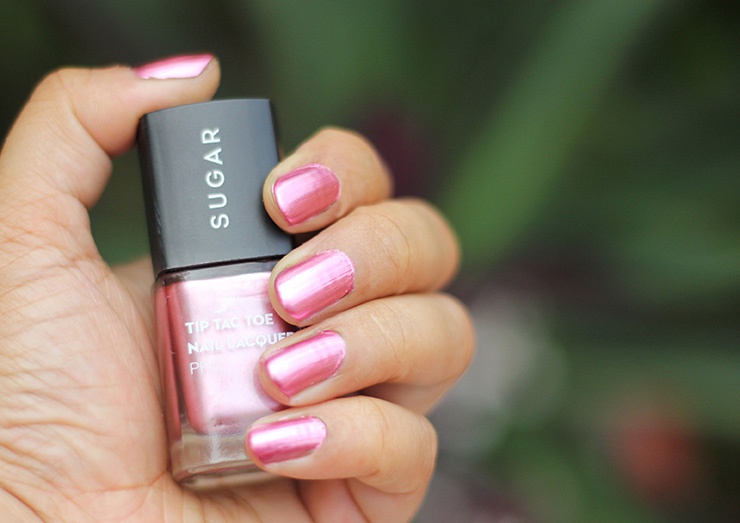 043 – Deep Down Diopside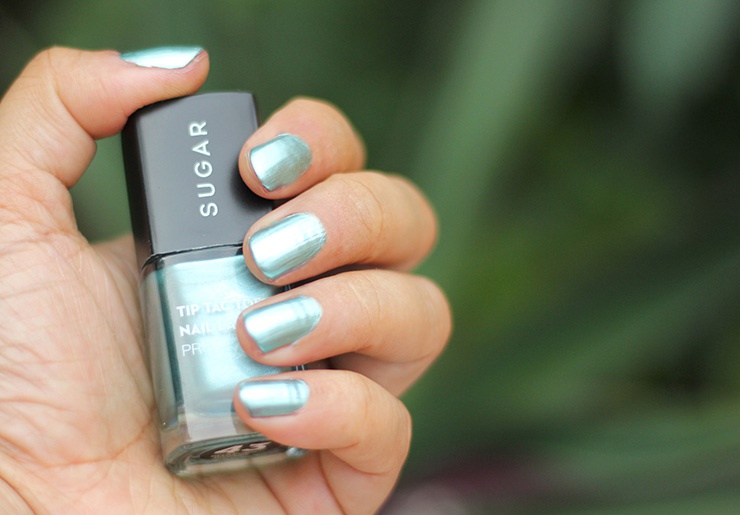 044- Sapphire Straits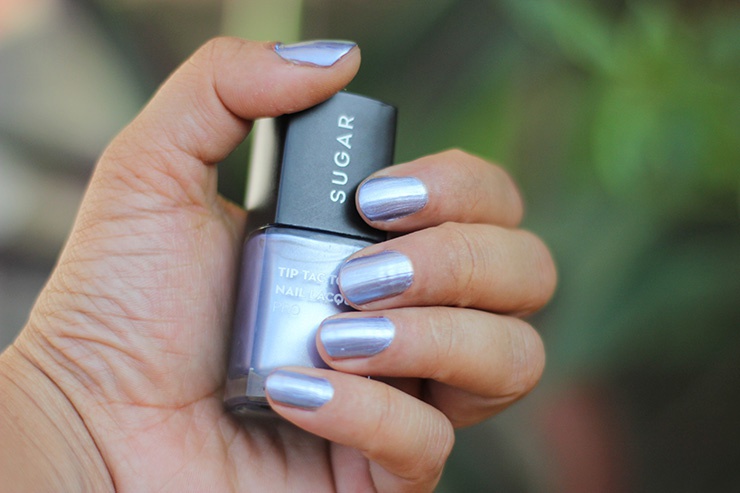 Things I like about 'Sugar Cosmetics Tip Tac Toe Nail Lacquers Pro'
– A single coat gives 100% opaque look.
– Metallic finish that is perfect for daily and party wear.
– Non-streaky application.
– Wide and dense applicator for fast & convenient application.
– Various shades to choose from.
– Dry quickly.
– Most of the shades would suit Indian skin tone.
Things I do not like about 'Sugar Cosmetics Tip Tac Toe Nail Lacquers Pro'
– Some of the shades might not be suitable for dark skin tones.
Price of 'Sugar Cosmetics Tip Tac Toe Nail Lacquers Pro'- Rs 299
Final Word- I really like the metallic range of Sugar Cosmetics Tip Tac Toe Nail Lacquers Pro. The fact that these polishes dry quickly and require just one coat for opaque look make them a boon for people like me, who never have a lot of time in hand to paint their nails. I am a nail polish lover and I love to keep my nails painted. Now, with these polishes, I do not have to invest a lot of time in application and neither do they stain the nails. I can easily get salon-like like finish without actually stepping out of my home. And, this is in favor of me since after the birth of my son I rarely get any time to go to the salons. So, I would highly recommend these nail polishes to mother, homemakers, and professionals for the quality and easy application. Go, give them try girls. I am sure you would love them too.
Disclaimer- This is an editorial review. The product is sent by the brand for consideration. However, my review is genuine and I am not being paid for publishing my experience with this product.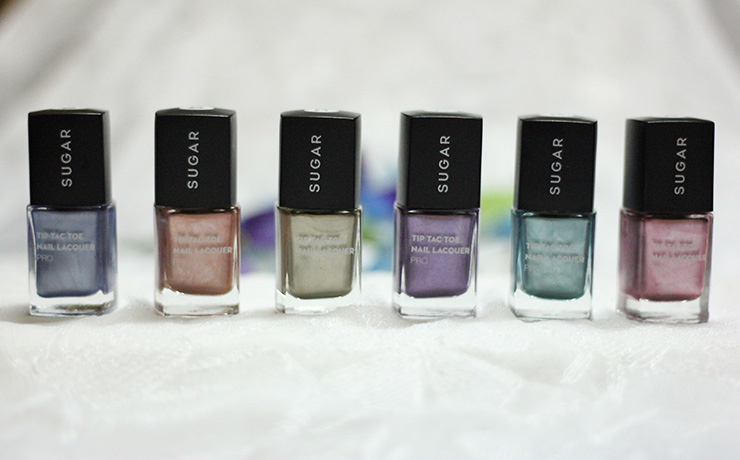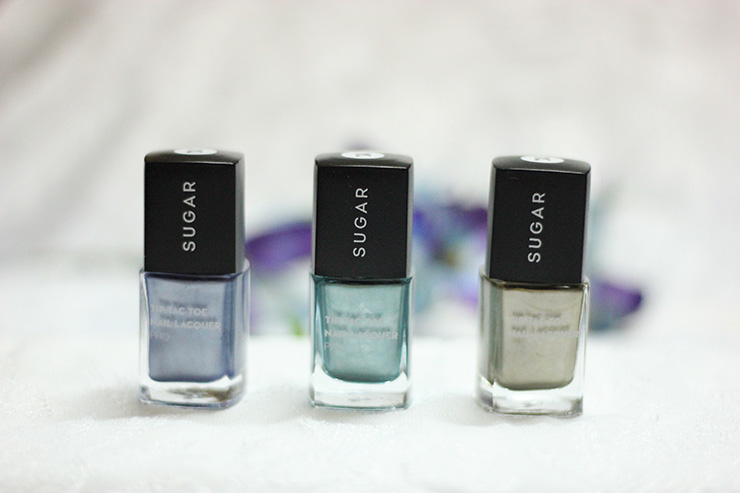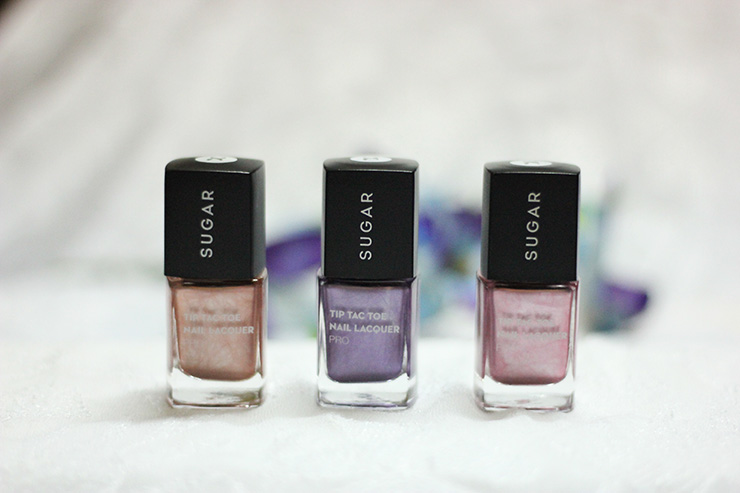 You might also like reading these related topics
Ingrid Cosmetics Estetic Nail Polish Review Swatches Photos
Revlon Colorstay Gel Envy Nail Polishes Review Swatches Photos