Sugar Cosmetics have recently added one more category of products to their lip range- Sugar Cosmetics Smudge Me Not Liquid Lipsticks. These lipsticks are available in 10 beautiful shades. Today, I am sharing my experience with two of these shades – Brazen Raisin and Wine & Shine. Read on to know more details about these liquid lipsticks that also includes pricing, ingredients, and swatch photos.
What the product says
If you've ever lusted for a "one-coat wonder" product for your lips, your search ends here. Get a full-blooded burst of pigment with just a single swipe of the SUGAR Smudge Me Not Liquid Lipstick that will stay the day and right up till the night! Wine, coffee & date-proof – this is a matte lipstick that is guaranteed to last longer than your longest day. Available in 10 stunning shades that will make it difficult to choose – the question is, are you ready to commit to a lipstick that is built to last?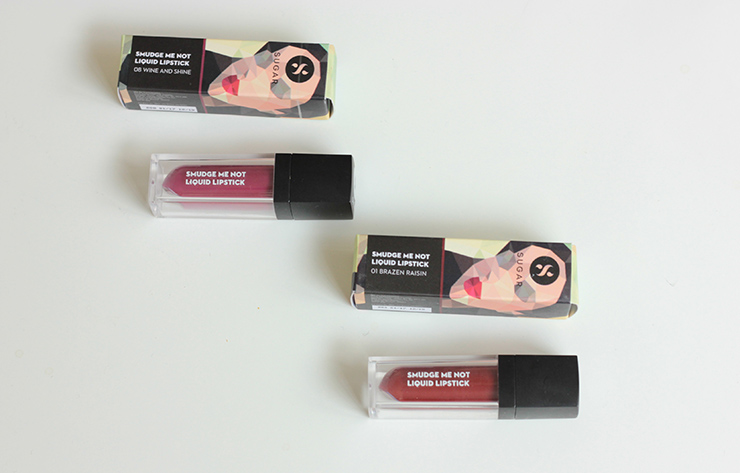 My take on ' Sugar Cosmetics Smudge Me Not Liquid Lipsticks '
These lipsticks come packed in a cardboard case that contains the actual lipstick. It is a transparent tube with black colored screw open cap. The shade name is written at the bottom of the lipstick and the product name is mentioned in white at one of the sides. From the outside, the clear product inside the transparent casing looks exactly like a solid lipstick bullet as its end is in the slanting shape. Being transparently packaged, the lipsticks might look color coded but it is not the exact replica of how the lipstick looks when applied on lips.
The applicator is slightly small in height and is not in the shape of a doe-foot but still, it provides precise application around the corners. It is not the softest applicator I have used but still, I like how it helps in defining the lips shape. The dispensing hole is narrow and when I pull out the wand it extracts the excess product from the applicator. This prevents getting a lot of product in one go, and I find it quite useful as it helps in giving an even application. If more product is required, I always dip the applicator again and fill up my lips.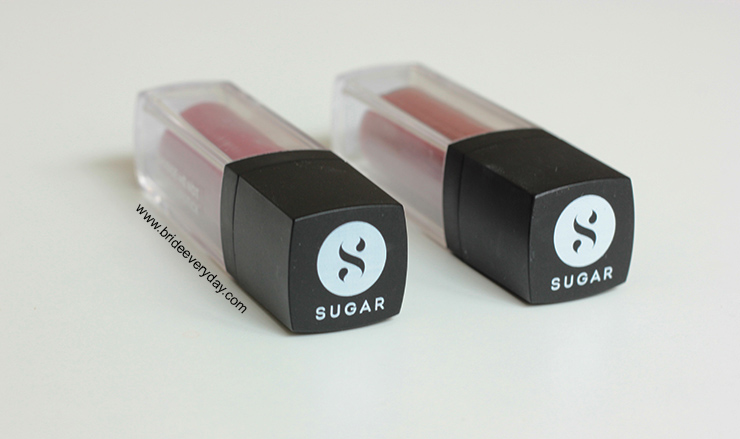 Shades available in Sugar Cosmetics Smudge Me Not Liquid Lipsticks range
The brand has been quite thoughtful in making these lipsticks available in all sort of shades such as nudes, pinks, berries, and reds.
01 Brazen Raisin
02 Brink Of Pink
03 Tan Fan
04 Plum Yum
05 Rust Lust
06 Tangerine
07 Rethink Pink
08 Wine And Shine
09 Suave Mauve
10 Drop Dead Red
Brazen Raisin- I did not have this shade in my collection so I thought why not give it a try. It is a beautiful burgundy shade- very bold and sassy. Once you put it on you do not need words to introduce yourself. This burgundy lipstick will say it all for you.
Wine and Shine- It is a deep violet berry shade with blue undertones. It looks feminine but not that delicate type instead it gives you a confident look with a hint of feminine elegance. It adds glamor and rigor to the overall look.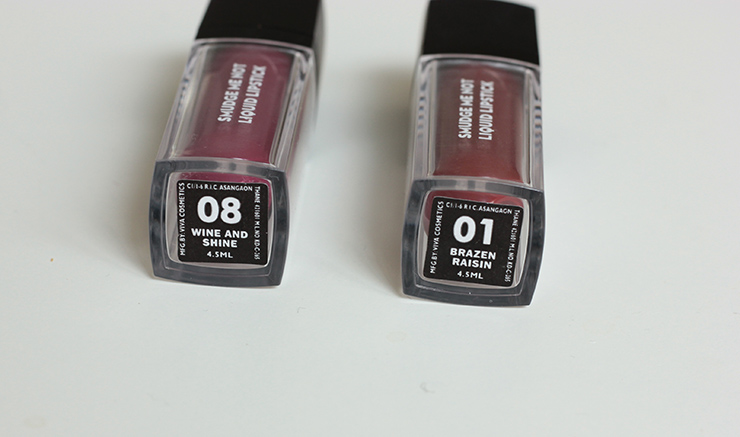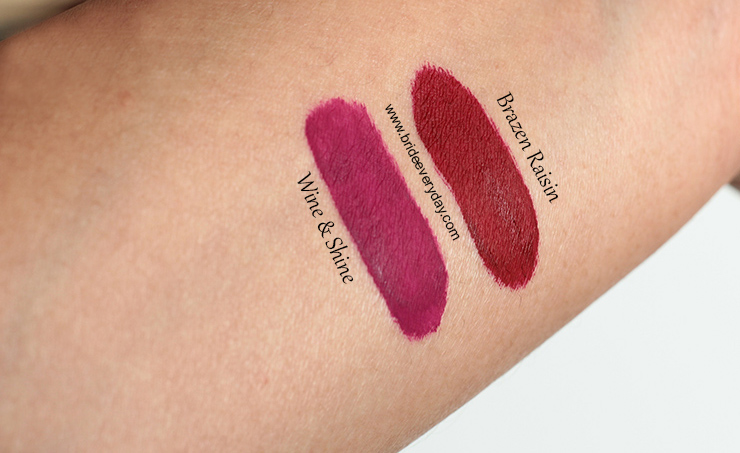 Formula-wise, these liquid lipsticks are super pigmented. Just one swipe of the lipstick is enough to get 100% coverage. If you have pigmented lips, I would highly recommend going for these lipsticks. These lipsticks are super easy to apply as they glide on well. But you have to be quick with the application since they dry quickly and if you are slow you might see a patchy application. Once set, these lipsticks won't move a bit. Irrespective of what I eat or drink the whole day, I do not see even a tiny bit of difference in their appearance. These are ideal lipsticks for all day and night parties. Especially for Indian wedding season, when you know you have to wear the makeup for quite long and also relish your taste buds with typical Indian food you must go for these lipsticks. They will stay intact until you want them to and also let you know the food without moving or fading a tiny bit. These lipsticks are non-transferrable and hence I do not need to do any touch ups. And, I think this is one of the main reasons that contribute to their long-lasting staying power. In fact, even while removing these lipsticks you would need a makeup remover. You cannot get rid of these lipsticks just by using normal face cleanser.
The good thing is even though the finish is matte and the staying power is long lasting, these liquid lipsticks do not feel drying. Initially, I do feel a little bit of dryness but soon it goes away. What I am left with immaculately painted matte lips!
In order to get a clean matte finish, I would recommend applying these lipsticks on well-exfoliated lips. Otherwise, the dead skin will accumulate at the center of lips and give a patchy application. These are super matte lipsticks with no sheen or reflection. On the contrary, for matte lovers, this is a good product considering the quality and price.
I love Sugar cosmetics lip products. So this time when I got to know about their new launch of liquid lipsticks I was excited to try them. Their lip products have always come out well as per my expectations and so have these liquid lipsticks.
Things I like about ' Sugar Cosmetics Smudge Me Not Liquid Lipsticks '
– Highly pigmented.
– Give opaque coverage in one swipe.
– Dry quickly.
– Do not make the lips dry.
– Extremely long staying power.
– Do not fade or move a bit.
– No need of touch ups.
– Do not transfer or smudge.
– Glide on easily.
– Do not stain the lips.
– No chance of eating these lipsticks.
– Reasonably priced.
– Catchy shade names.
– 10 shades to choose from.
Things I do not like about ' Sugar Cosmetics Smudge Me Not Liquid Lipsticks '
– Some of the shades might look superficial after application.
– Slightly difficult to remove.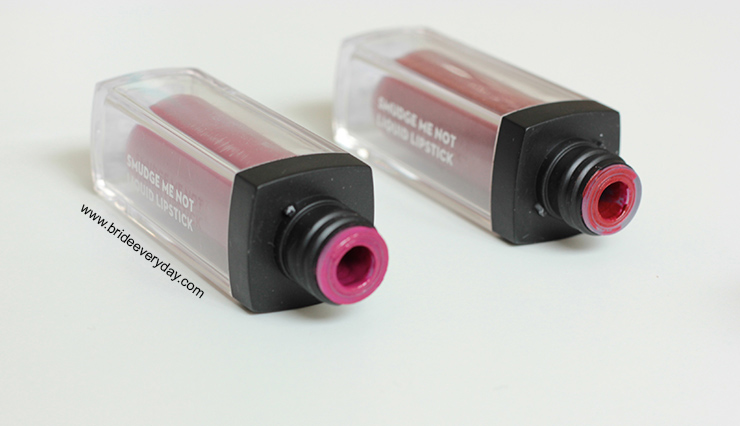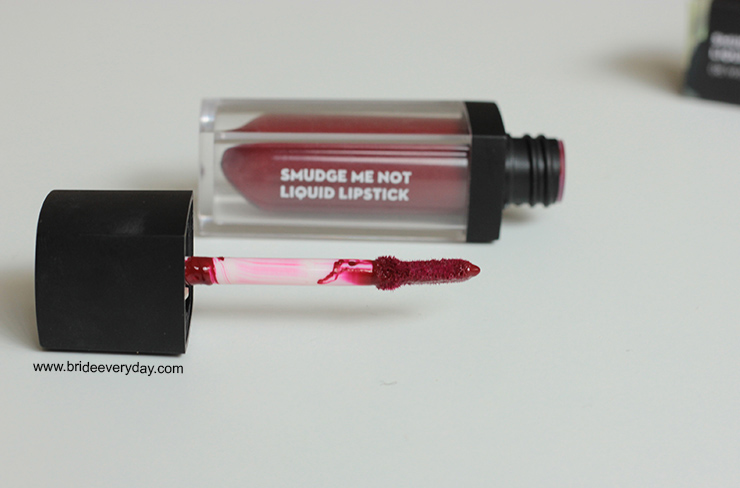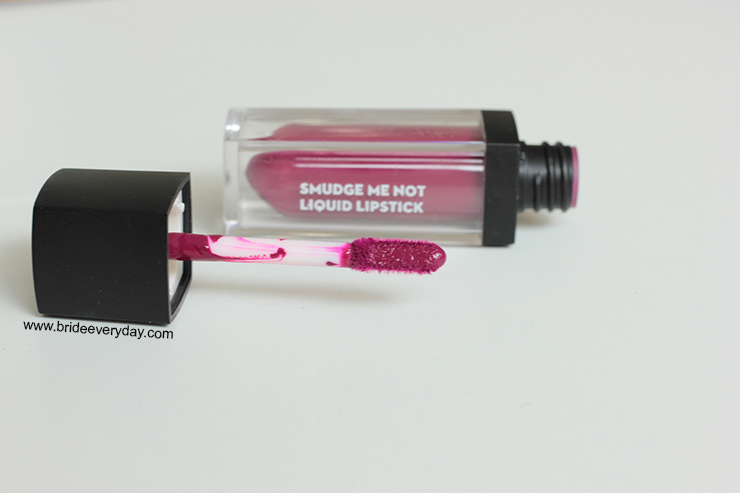 Price of ' Sugar Cosmetics Smudge Me Not Liquid Lipsticks ': Rs 499 for 4.5ml product
Ingredients of ' Sugar Cosmetics Smudge Me Not Liquid Lipsticks '
Isododecane, Dimethicone & Isododecane & Trimethylsiloxysilicate, cyclopentasiloxane & trimethylsiloxysilicate, disteardimonoium hectorite, propyl paraben, propylene carbonate, vitamin-E, fragrance, approved colors.
BABE Rating: 4.75/5
Final Word: If you are a matte lover I would recommend trying these power packed colors. The lipsticks are available in 10 beautiful shades and priced quite reasonably. So if you like the formula and finish, price won't be a deterrent in your way in owning all the bold shades. The lipsticks can be purchased from fabbag or sugar cosmetics website.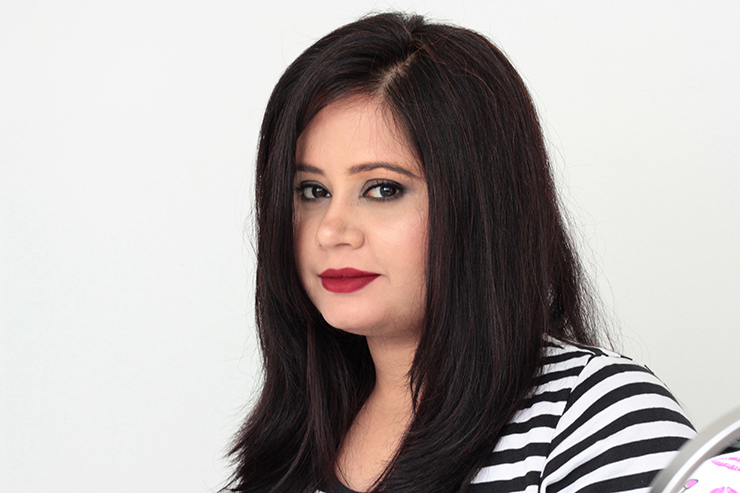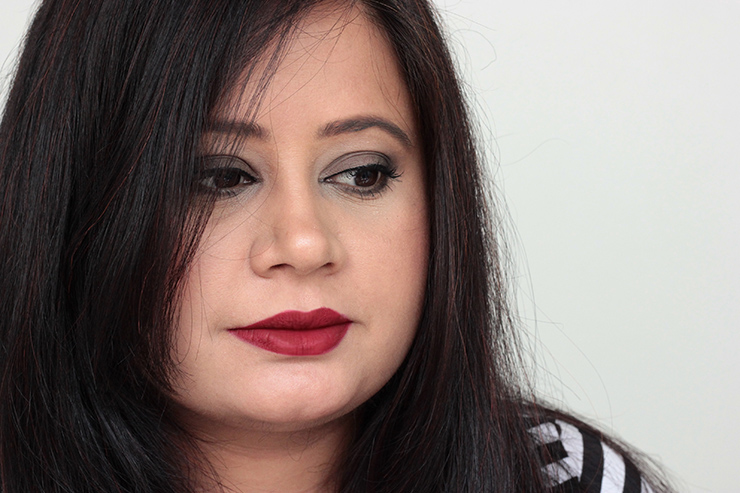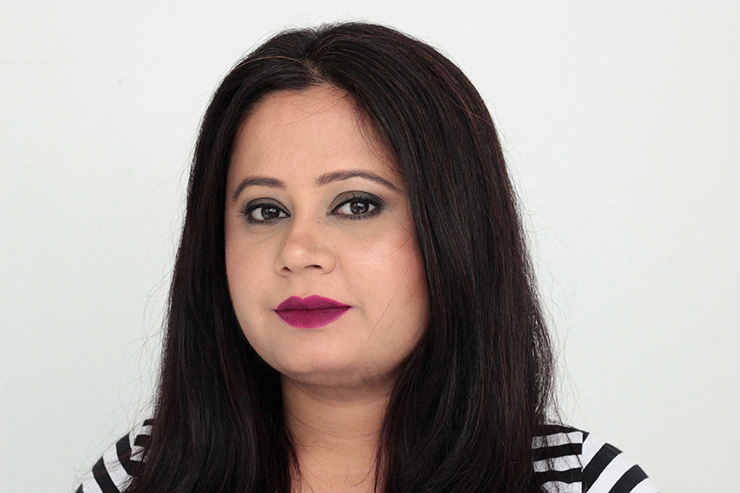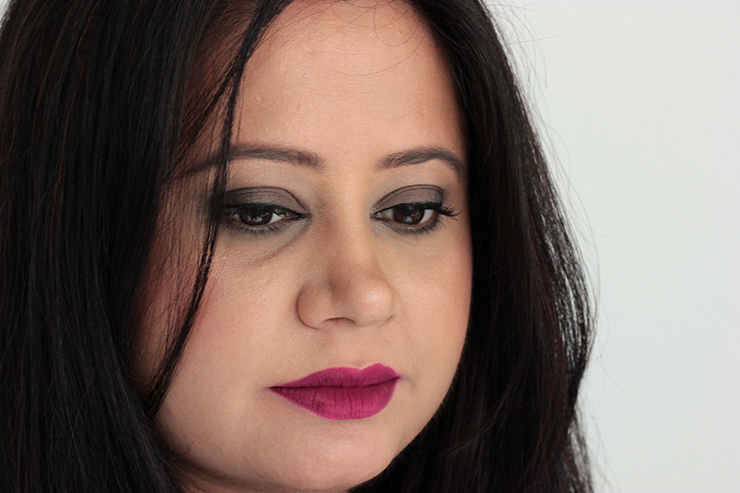 Disclaimer: This is an editorial review. The product is sent by the brand for consideration. However, my review is genuine and I am not being paid for publishing my experience with this product.
You might also like reading these related topics:
Sugar Cosmetics It's A Pout Time Vivid Lipstick Mad Magenta Review Swatches
Sugar Cosmetics It's A Pout Time! Vivid Lipstick Breaking Bare Review Swatch FOTD
Sugar Cosmetics Matte As Hell Crayon Lipstick Poison Ivy Review Swatches FOTD
Sugar Cosmetics Matte As Hell Crayon Lipstick Holly Golightly Review Swatch FOTD