If you read the blog regularly, you must have read my review on knockout shade from Revlon Nail Enamel range. But I could not stay away from my usually pink and red likings for long, and that's why I bought this pretty fuchsia fever nail polish from the same range. Read on to know the detailed review.
What the product says
– Silk-Silicone formula delivers a layer of silk protein which instantly evens out nail surface
– Silicone shield rises to the surface to automatically smooth away bubbles, streaks and brush marks to deliver a salon perfect finish
– Chip resistant smooth finish and rich glorious colour
My Take on 'Revlon Nail Enamel Fuchsia Fever 368'
Revlon nail enamels come in transparent glass bottles, so the shade is easily visible from outside. The top of the cap bears shade name and number, and that makes these polishes easy to recognize. The bottles are fragile so be careful while handling them. The double barrel brush has appropriate length and width that are very much beneficial for speedy application.
Fuchsia fever is a beautiful pink color with blue undertones. It is nicely pigmented, and gives good color payoff in two coats. But if you want to deepen the intensity you can go for a third coat as well. This is the kind of shade that would suit all skin tones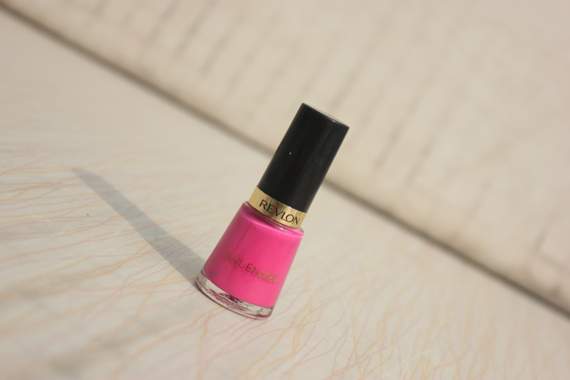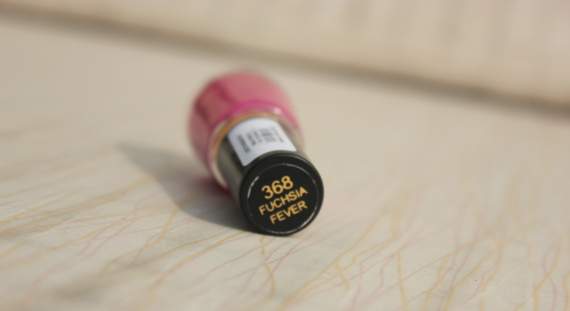 It has smooth satiny texture that glides on to the nails effortlessly. Both the consistency and double barrel brush ensure that there are no streakiness and brush marks on nail surface. Also, the silk-silicone formula smooth away bubbles, and contributes to even finish. Moreover, the glossy salon-like finish enhances the attractiveness of this beautiful nail polish.
Unlike other nail polishes, Revlon nail enamels dry quickly and cut down the idle sitting time. By the time you will jump to the second coat, the first coat will be completely dried. And even if you plan to go for a third round you would not need to wait for long. This is the best part I like about these nail polishes. Usually, I apply my nail paints in situations of time-crunch and this type of instant-drying formulae help a lot in those times.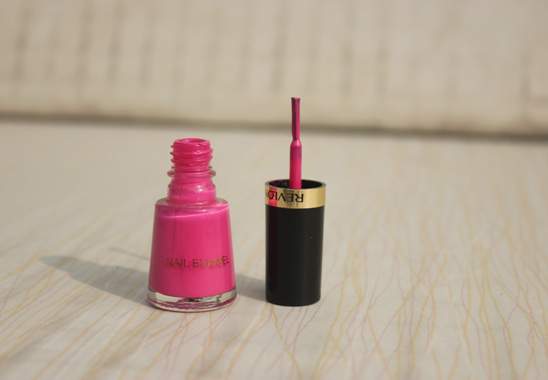 It has good staying power. On my nails it stayed intact for 2-3 days, after which minor chipping off the tips started happening. If you do not do any household chores, I am sure it will stay on for longer. The sheen also does not fade quite easily. Unless and until, you do not dip your hands in water the shine won't go anywhere. If you want to solidify it even more, you can apply a top coat.
The only con I found in this nail polish is the color transfer. If you do not apply a base coat underneath, it will stain the nails. So make sure, you go for a base coat with this nail polish.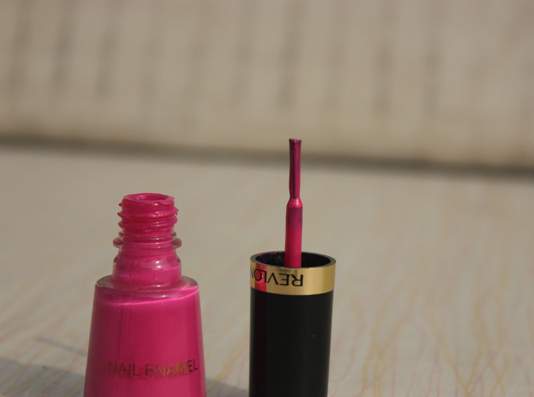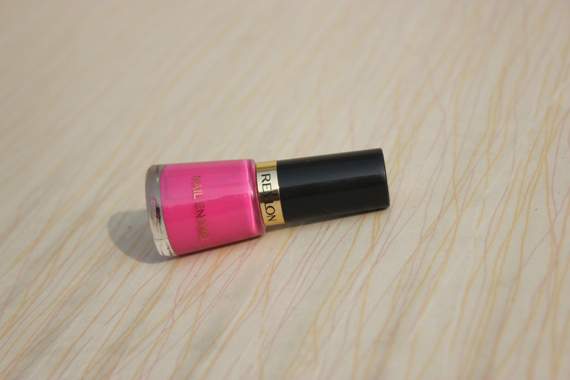 What I like about 'Revlon Nail Enamel Fuchsia Fever 368'
– Being based on chip resistant formula, it has long staying power.
– It dries fast.
– Beautiful pink shade with blue undertones.
– Non-streaky creamy finish.
– Easy to apply as it spreads quickly.
What I do not like about 'Revlon Nail Enamel Fuchsia Fever 368'
– Stains nails.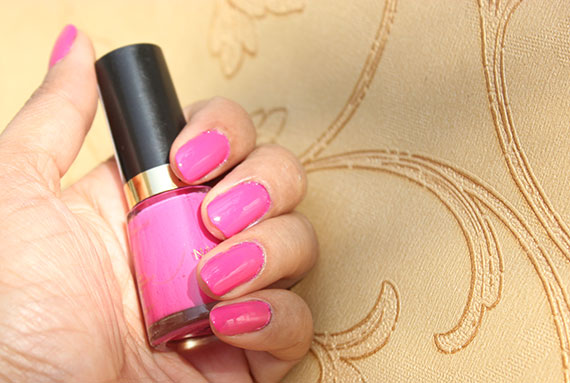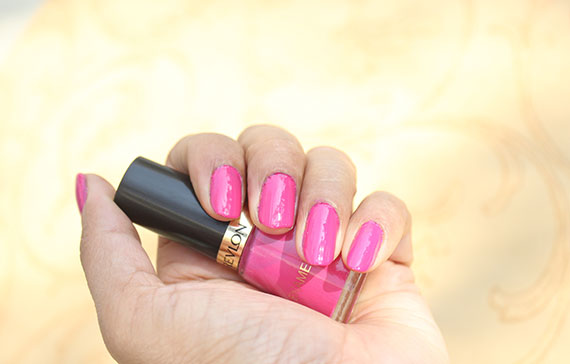 Price of 'Revlon Nail Enamel Fuchsia Fever 368' – Rs 190 for 8 ml
Shelf life of 'Revlon Nail Enamel Fuchsia Fever 368'- Around 3 years from packed.
BABE Rating: 4.5/5
Final Word: The silk-silicone formula of 'Fuchsia fever' gives a smooth salon like finish with no bubbles and streakiness. Plus, it is chip-resistant so you can easily count on it in terms of longevity. Also, the quick-drying trait makes it fast to apply- especially in situations of time-crunch. Overall, this pretty pink nail polish is a must one to have- mainly for busy-bees and brides.
You might also like reading these related topics
Revlon Nail Enamel Knockout 451 Review Swatches
Revlon Nail Enamel Polish in Shade Cherry Berry 421 Review Swatch