Remington 19mm Tong Hair Curler Review
Hi Everyone,
You know how it is with us girls, when we have natural straight hair we want to curl them up and if we have beautiful curls we want to go for straightened look. I am blessed with straight hair; it is so straight people often ask me if I have gone through permanent hair straightening. I love my straight hair but the girl in me likes curls even more. On special occasions I prefer going for hair curling irrespective of the ethnicity of the outfit. But that used to take lot of time as I had to queue up in salons to get my desired hair styling. Hence, I bought Remington hair curler. To know if it has really curtailed the salon visits, you should go through the detailed review.
My Take on 'Remington 19mm Tong Hair Curler'
Remington hair curler comes in a cardboard packaging that includes user manual, maintenance guide and warranty card. The hair curler has 19mm tong that is made up of superior quality material and feels quite sturdy. I have seen many hair curlers whose tongs were not that strong, and neither did their tong clips had good grip. But this tong clip has an amazing grip that keeps the hair in place until you yourself loose them up.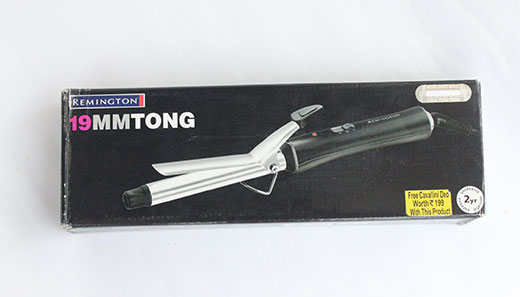 It has a cool tip at the front, which is again made of good quality plastic. The tip provides convenient rolling of hair, and ultimately helps in holding the tong without causing burns on fingers. Technically, this hair curler has two temperature setting:
Setting 1 – up to 95 C
Setting 2- up to 150 C
Depending upon your hair texture and the time in hand you may choose the desired setting. For those who have very coarse hair, they may want to use the tong at setting 2. In case you have manageable hair that can be tamed easily stick to setting 1 only. Usually I prefer to work on setting 1, but in situations when I want to curl up my hair real quickly I use it on setting 2.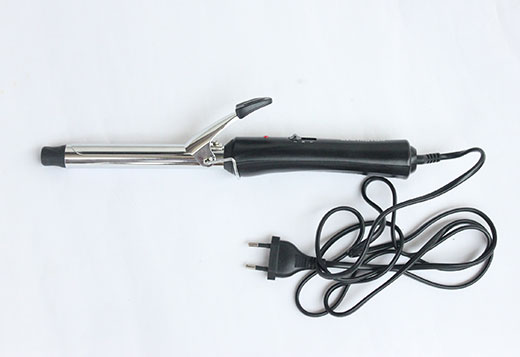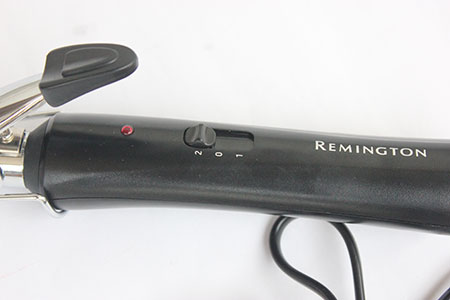 The hair curler also has an on-off indicator to let you know whether the tong is being heated up. Plus, it also has a heat-protection stand. While heating, during use and cooling, place the curler on heat-protection stand on a flat surface. It is electricity operated curling tong that has 1.8m long swivel cord. So, like me, if you do not have any plug in your dressing corner, you can insert it in a nearby plug… yeah it is that long.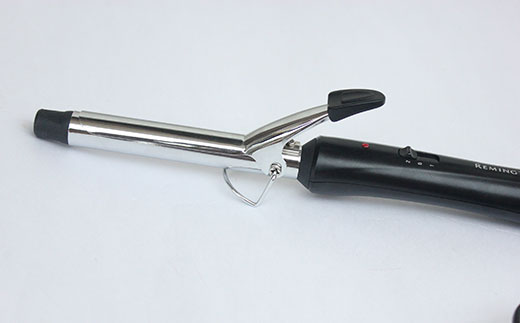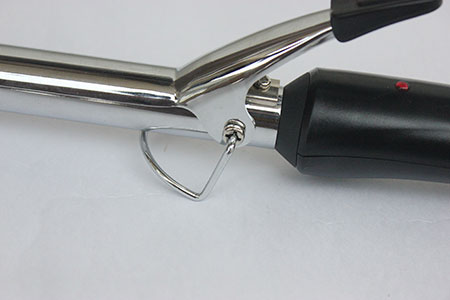 For the usage, it works best on dry, tangle free hair. If you operate it on wet hair you may not get the curls at all. As I said I have straight hair and I do not use any hair styling products either, but still the curls stay on long without any setting gel. All you need to do is:
1) Divide your hair into small sections, and clip-up.
2) Plus in the curling rod, and make sure it is all heated up before you start using it.
3) Now, take one section (approx 1 inch thick) and place its end firmly under the tong clip.
4) Turn the tong handle to roll hair onto heated barrel. Keep them on for at least 10 seconds, as that is the minimum time it takes to form curls.
5) Once done, place the tong in vertical direction (perpendicular to floor), depress the clip amd unwind the tong to release the curl.
6) Repeat the same process with all sections.
7) For tighter curls use smaller section, for looser curls and waves use larger sections.
8) For further styling, allow curls to cool down completely.
I have used this curler for soft wavy look in this OOTD.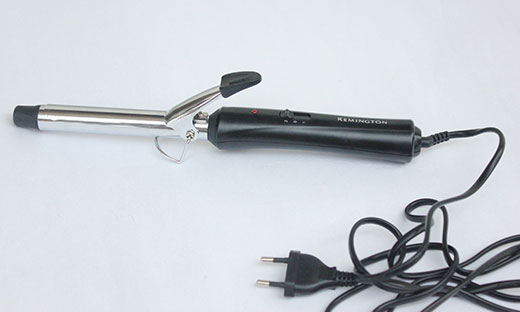 What I like about 'Remington 19mm Tong Hair Curler'
– 2 temperature settings to suit your hair texture.
– It comes with a heat protection stand.
– It has a cool tip at the front that makes the rotation of tong even easier.
– It has an on-off indicator light.
– It has long swivel cord for convenient usage.
– It makes the curls in less than 20 seconds.
– It comes with 2 year guarantee.
– 19mm curling tong has superior quality that does not harm hair.
I would say it is easier done than said 🙂 . If you are using hair styling products, once the device has cooled down wipe clean any build up of styling products with a damp cloth. Do not use an abrasive fluid to clean or scratch the surface as that may deteriorate the effectiveness of the coating.
What I do not like about 'Remington 19mm Tong Hair Curler'
– Slightly big to carry.
Price of 'Remington 19mm Tong Hair Curler': INR 1499
Online Availability: You can get it from Flipkart.com
BABE Rating: 4.5/5
Final Word: Remington hair curler is the most efficient and safest tong I have ever used. It has the ability to tame my stubbornly straight hair and keep them curled for long hours. Even though I do not use any hair styling products, the curls stay in shape or say do what the curler wants them to do. In my opinion, this is one of the efficient hair curlers at a reasonable price without any compromise on the quality.
You may also like reading these related topics
How To Curl Hair At Home Without Heat – flaunt your soft curls the natural way!
Remington Compact 1800W Hair Dryer Review