Pregnancy is the most wonderful phase of any woman's life. On one side where it brings joy, pampering and plenteous dreams for the little angel inside, on the other, it results in numerous changes in mother's body. For me, the most worrisome thing was the appearance of stretch marks. I started preparing my body well-in-advance to prevent stretch marks, and for that, I used high viscosity oils and butters. Today, I am sharing my personal experience with ' Palmers Cocoa Butter Formula Tummy Butter For Stretch Marks '
What the product says
This is it. The little tub of goodness putting you on the path to a stretch-mark free body. A thick creamy tub of cocoa butter that melts on contact with your skin is the ideal consistency to rub all over a burgeoning belly, breasts, hips and thighs during pregnancy. The super rich Cocoa Butter and Vitamin E penetrate deep into your skin, drenching you in vital moisture to smooth and tone your stylish bump. A must have for every pregnant body.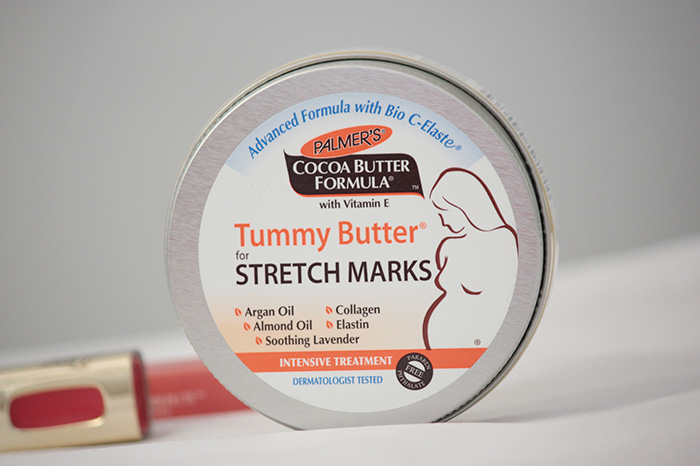 My take on ' Palmers Cocoa Butter Formula Tummy Butter For Stretch Marks '
It comes in a round shaped plastic tub that is lightweight and easy to carry. The contents of the tub are sealed with a screw open silver cap. The usage instructions, etc are also mentioned on the sides of the tub. It is a transparent tub so I can easily see how much quantity is left inside in case I need to stock it before it is completely emptied. Overall, the packaging is seal-proof, easy-to-carry and re-usable. I have emptied two of these tubs by now, and I am reusing them to stock small things such as rubber bands, safety pins, etc.
The cocoa butter is off-white in color and has a thick texture. It is packed in compressed form so the contents do not move any tiny bit from its place. Even when I hold it upside down the butter stays at its place. I find this very useful especially when I have to carry the tub while traveling. It has a pleasant cocoa fragrance that is yummy and very enticing. If you love cocoa, you are going to enjoy this body butter on your skin.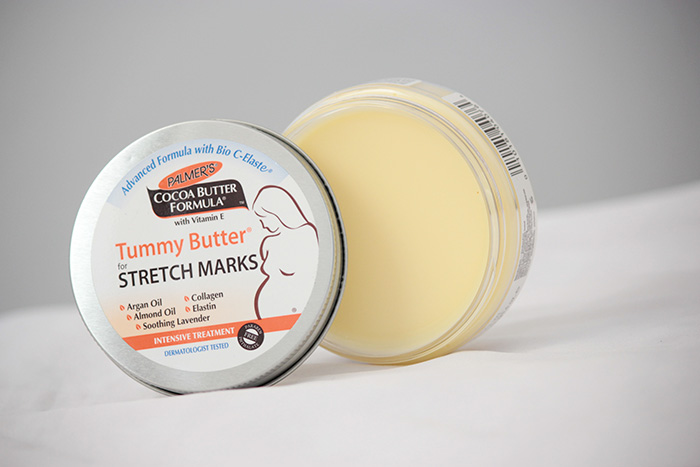 For the application, I apply it twice a day – morning and before going to bed. I take it out from the tub using the finger tips and place it on the palm. I do not apply it directly on the skin as I feel it does not melt well that way. So what I do is I rub it between my palms and then apply the melted butter on the skin. This makes the application easier and more beneficial. Though it is another thing that it does not 100% goes into the skin. Even after massaging for good 5-6 minutes, a flimsy oil layer still stays on the skin. In cold days I can tolerate this high viscosity but in summers it feels sticky and uncomfortable.
I had high expectations from the tummy butter, so I started using it from 6th month onwards. When I added it to skincare regimen I did not have any stretch marks but as I progressed towards 7 months tiny red lines started appearing on the sides of my bulging tummy. That concerned me so I started applying the tummy butter twice in the hope that it will prevent the appearance of stretch marks. Unfortunately, it did not put a stop to the increasing criss-cross designing and by the time I delivered my baby my tummy was a heavy mush of those red/purple lines. Still, I continued the application and today as I am writing this post my baby is three months old. I do not see much reduction in the appearance of stretch marks. So, I have stopped using this tummy butter and I am moving to castor oil. I have heard that it helps in fading stretch marks. I will keep you posted on my experience with castor oil with regards to stretch marks.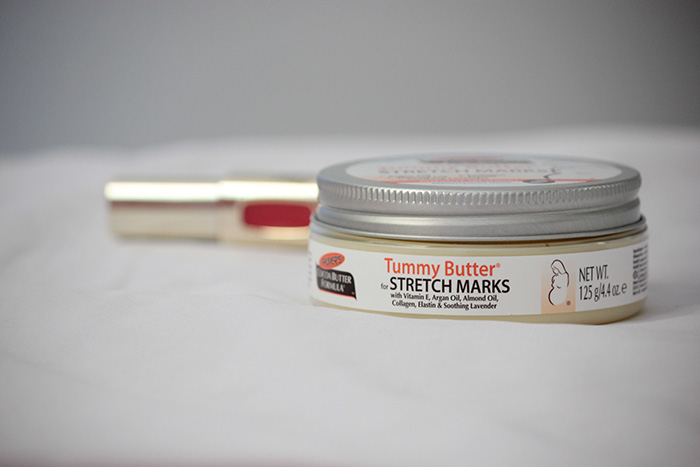 Things I like about ' Palmers Cocoa Butter Formula Tummy Butter For Stretch Marks '
– Keeps the skin moisturized.
– Travel-friendly packaging.
Things I do not like about ' Palmers Cocoa Butter Formula Tummy Butter For Stretch Marks
'
– Does not prevent the appearance of stretch marks.
– Does not completely absorb into the skin.
– Takes a lot of rubbing to melt and spread on the skin.
Price of ' Palmers Cocoa Butter Formula Tummy Butter For Stretch Marks '- AUD 15.99
BABE Rating- 2/5
Final Word- I had high expectations from 'Palmers Cocoa Butter Formula Tummy Butter For Stretch Marks', unfortunately, it did not work that well for me. I used it for good 7-8 months but it did not do much on either preventing the appearance of stretch marks or fading the appearance. Going by my personal experience, I would say you should not have high expectations from it when it comes to stretch marks. On the other hand, if you want to simply use it as a moisturizer you will be happy from the high viscosity it holds.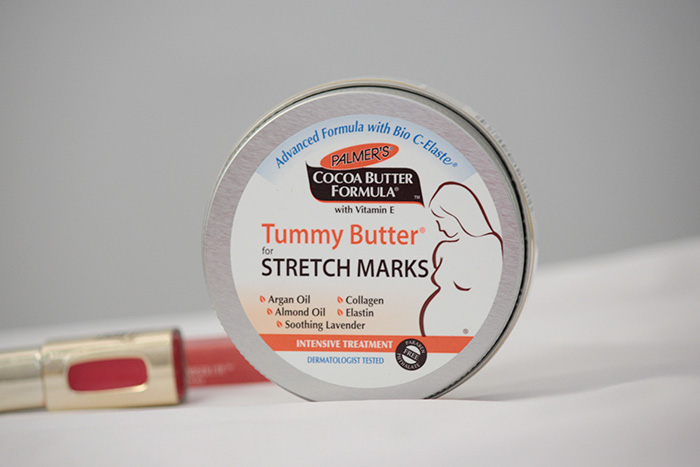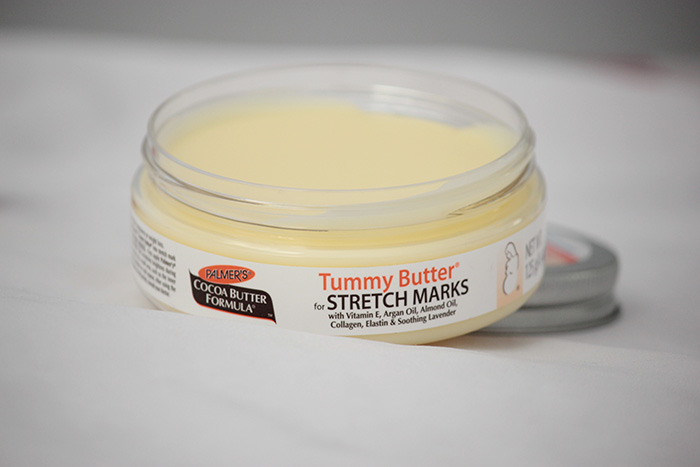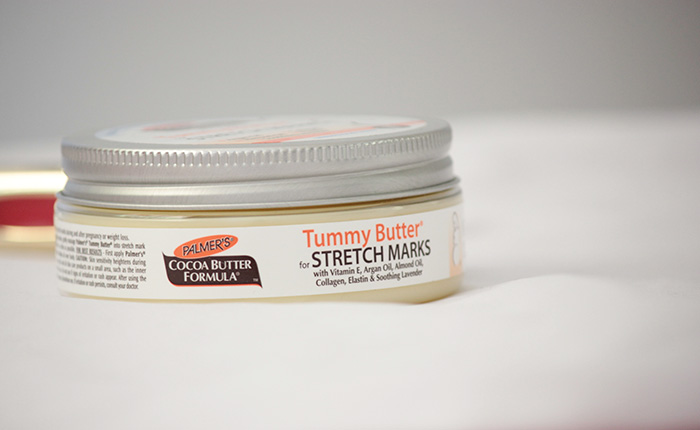 You might also like reading these related topics
Palmers Cocoa Butter Formula Massage Lotion For Stretch Marks Review