Palmer's has a good line of stretch marks products- stretch marks cream, lotion, rapid moisture spray and tummy butter. During my pregnancy, I used the pregnancy body lotion and tummy butter. If your bump is too big and you get stretch marks on the areas that are no more reachable you can try the rapid moisture spray. But today, I am reviewing the Palmers Cocoa Butter Formula Massage Lotion For Stretch Marks. Let's first have a look at the product's claims.
What the product says:
A unique formula that boosts healthy collagen which is the building block of skin, while increasing the skin's elasticity and its ability to stretch – very important while pregnant – at the same time as being moisturizing and protecting.
Clinical tests prove* that in 97% of women tested, using Palmer's Cocoa Butter Formula Massage Lotion for Stretch Marks gives a 59% increase in skin elasticity.
It's recommended that pregnant women begin using this special formula as soon as they know they're pregnant, to prevent as much damage as possible. It should be rubbed all over the stomach, hips, thighs and breasts to help prevent scarring.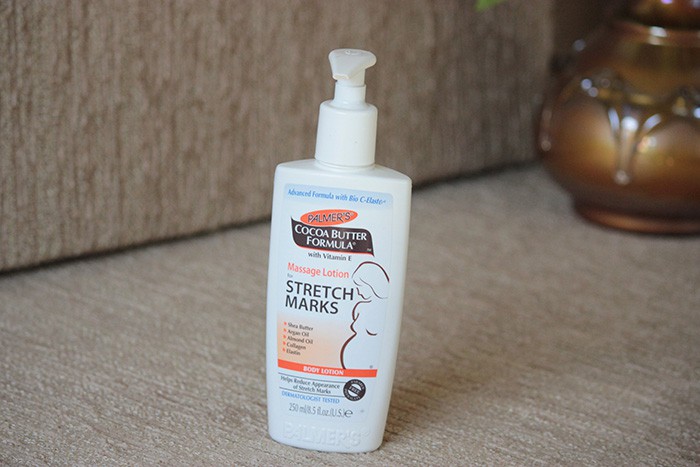 My take on 'Palmers Cocoa Butter Formula Massage Lotion For Stretch Marks'
The 250ml packaging of Palmers cocoa butter body lotion comes in white colored plastic bottle that is based on pump dispensing mechanism. It is made of hard plastic so no fear of breakage. The bottle is convenient and hygienic to use. At some stores, the lotion is also available in smaller travel-friendly bottles so you can give a try to the sample size bottle as well before investing in the full-size product. If you are going for the full-size bottle, you can always transfer the contents to a travel size container.
The lotion is off-white in color with semi-thick consistency. It has a smooth texture that makes it easy to spread. I apply it in a circular motion on the stretch marks prone areas such as tummy, thighs & breasts. It is moisture enriching lotion so it does not completely get absorbed into the skin rather leaves a light greasy layer behind. I do not have any problem with the greasy feel as long as it does what it claims.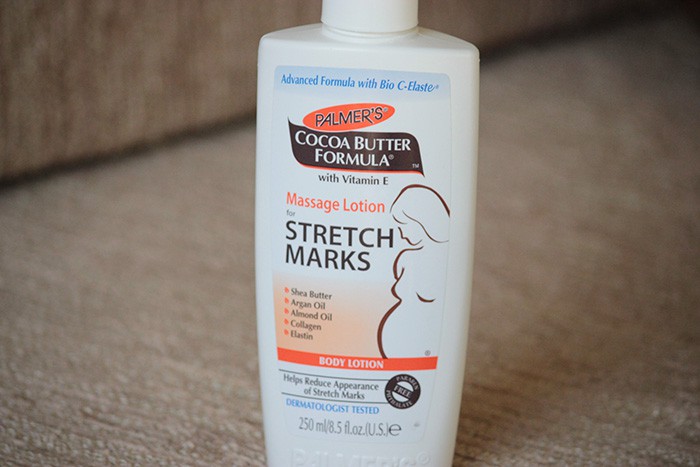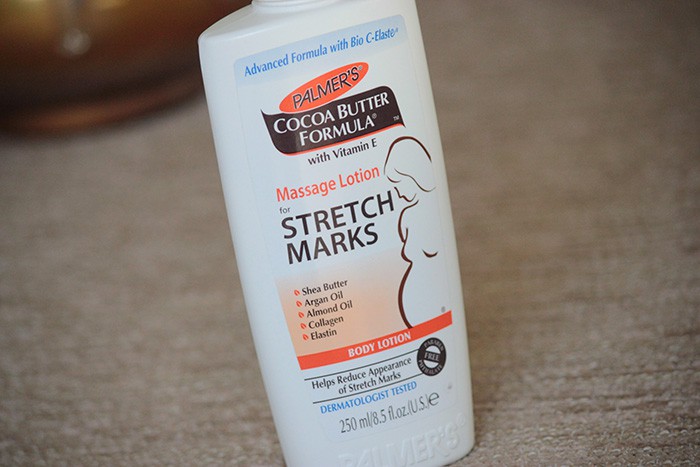 Being formulated with cocoa butter, it has a yummy fragrance of cocoa that I like a lot. But the product claim says that it is a light scented lotion and is manufactured considering the heightened sense of smell during pregnancy. If you are pregnant and you have an aversion from this fragrance you might not be able to tolerate it. For non-pregnant women, who are using it to reduce the appearance of stretch marks, the fragrance might be a pro.
I started using this lotion when I was five months pregnant. I did not have any stretch marks but still, I thought of using it as it claims to prevent the appearance of stretch marks. I used to apply it twice a day as they say that in pregnancy your skin stretches abruptly so it should be always kept moisturized & prepared in order to combat sudden stretching. Everything went well until 6th month but after that even though I was using the lotion stretch marks started to appear. I increased the frequency of application from twice to thrice a day but nothing seemed to work. The ugly looking purple stretch marks continued to spread on the sides of the naval and the lotion did not work to stop them. I am still using this lotion in hope that it might work if not in preventing then in reducing the appearance.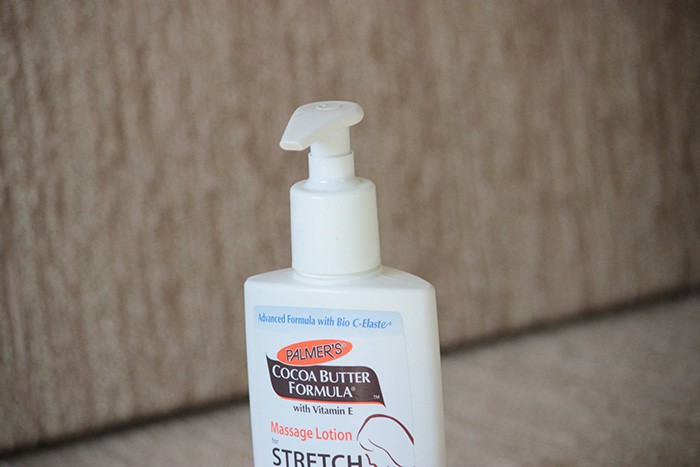 Things I like about 'Palmers Cocoa Butter Formula Massage Lotion For Stretch Marks'
– Spreads easily.
– Yummy fragrance.
– Keeps the skin moisturized for good 4-5 hours.
– Convenient and hygienic packaging.
– It does not require any effort in spreading.
Things I do not like about 'Palmers Cocoa Butter Formula Massage Lotion For Stretch Marks'
– Needs to be reapplied at regular intervals.
– For me, it did not work in preventing stretch marks.
– Though it says it is lightly scented but I found the fragrance quite intense- might be because of pregnancy hormones.
Price of 'Palmers Cocoa Butter Formula Massage Lotion For Stretch Marks': Around AUD 15.99 for 250ml
Ingredients of 'Palmers Cocoa Butter Formula Massage Lotion For Stretch Marks':

BABE Rating: 2.5/5
Final Word: I had high expectations from Palmers Cocoa Butter Formula Massage Lotion For Stretch Marks but it did not perform as I wanted it to.However, it is recommended that pregnant women should start applying this lotion from the day they come to know about pregnancy. I am not sure how well it will perform in that case as going by my experience when I started using it I did not have even a single stretch mark. All those surfaced were during the time when I was already applying it on stretch marks prone areas. I am still continuing its usage in the hope that it might at least reduce the appearance of stretch-marks.