I have been keep saying time and again that sunscreen is one thing that I never forget to apply except on those super lazy days. No matter is the weather is cloudy, sunny or rainy, or I am staying indoors or outdoors I always apply a good layer of sunscreen. However, the SPF factor varies depending upon the time I have to spend under the sun but for a daily usage purpose when I have stay indoors most of the time I prefer SPF 30 sunscreen. It provides the apt protection from sun rays and keeps the skin guarded. Today, I am reviewing Organic Harvest Monsoon Sunscreen SPF 30, which I have been using for over last couple of weeks. Let's see my experience with this sunscreen.
What the product says:
During the monsoon, with the heat subsiding we tend to forget a very crucial element of skin care. Sunscreen. Even if the sun remains hidden behind the clouds or tangos with the rain, as long as it is daytime, your skin needs protection. This Sunscreen has been specially made to shield your skin from the UV rays of the sun, during the monsoon.
It gives satin and soft skin feel, while maintaining the matt effect.
It reduces the shine on the skin by suppressing the phenomenon of specular reflection.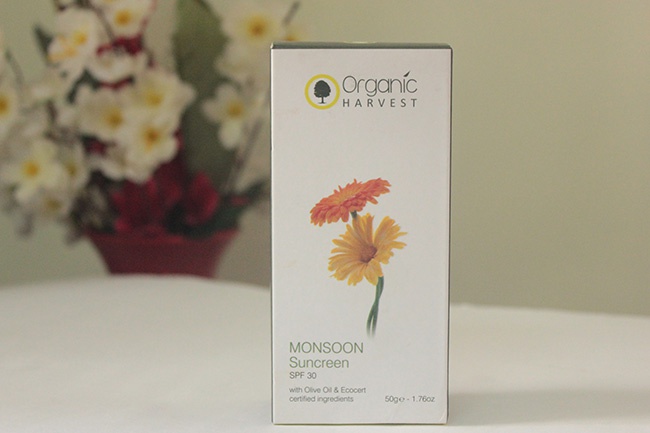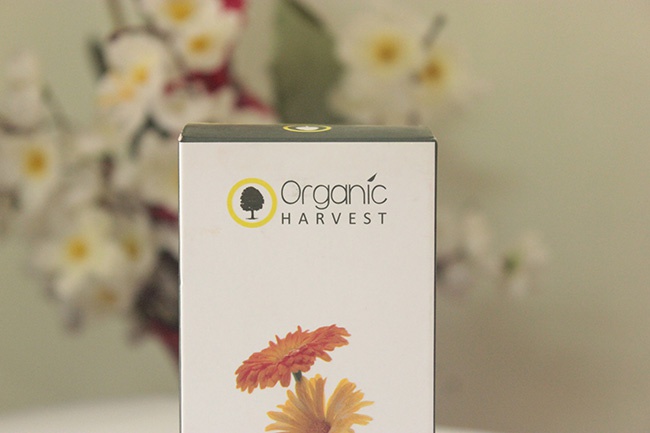 My Skin Type: Combination to oily.
My take on 'Organic Harvest Monsoon Sunscreen SPF 30'
It comes packed in a cute pump dispenser bottle. The bottle is further housed in a cardboard box, and contains brand description along with what to expect from this sunscreen. The outlet of the dispenser is not covered with a cap so I feel that lead to contamination. Although there are less chances of leakage as cream does not come out until the pump is pressed but in order to make it 100% spill-proof I think the nozzle should have been covered with a cap. It is a white colored small opaque tube that can easily fit in a handbag. Other than the fear of leakage, it is a quite a travel friendly product.
The sunscreen is white in color and has runny consistency. One to two pumps are sufficient to cover face and neck, and because of the runny consistency it is easy to spread and sinks into the skin in no time. Though the strong medicated smell is what I do not like but looking at the effortless application I think that can be ignored. Moreover, the smell does not linger on for long. On my skin it vanishes away after few minutes of application.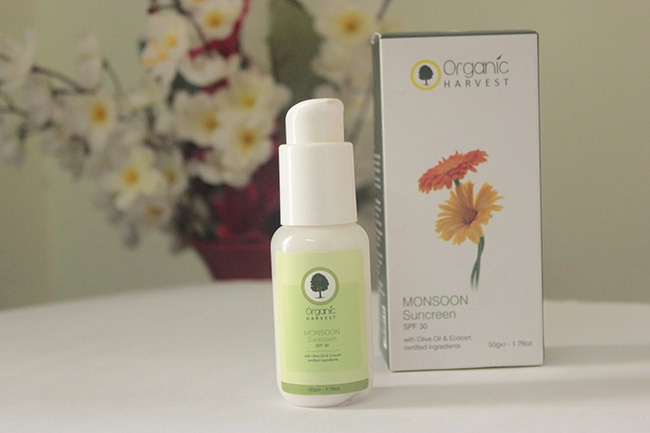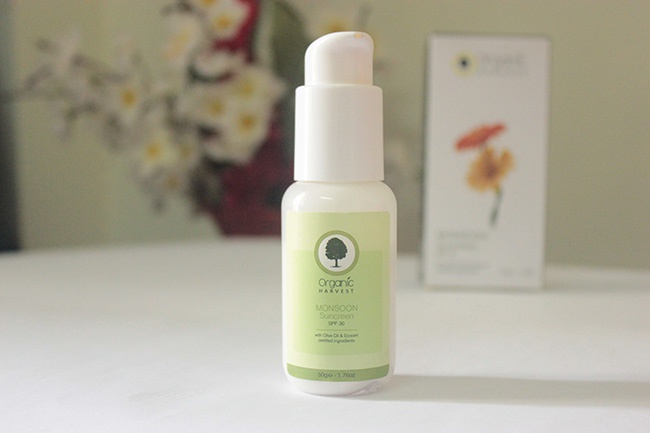 In monsoon season, sunscreens usually lead to greasiness and make the skin a home for bacterial growth. As this sunscreen is specifically made for monsoon season it is does not leave any greasy layer behind- not even on my combination to oily skin. And there is no white cast as well. It feels like any other day cream and does not irritate the skin with oily residue.
Right after the application, it feels heavy for initial few minutes but once it gets absorbed into the skin it does not feel cause any heavy feeling. On combination to oily, skin it provides hydration to some extent and that is why when I do not feel like layering 2 creams on my skin I just apply this sunscreen and it does not moisturizing job as well. I think on dry skin, you would need to apply it over a moisturizer.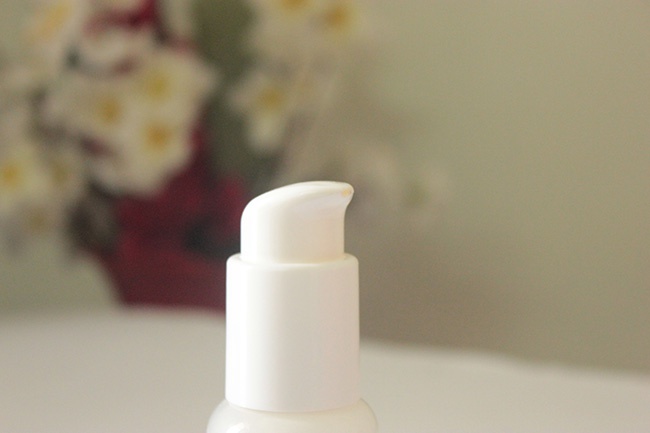 The best thing I like about this sunscreen is that it does not contain a lot of chemicals, and is in fact paraben and mineral oil free. Also, olive is mentioned as its main ingredient and considering its efficacy on human skin I feel this cream has got the goodness of that wonder ingredient.
What I like about 'Organic Harvest Monsoon Sunscreen SPF 30'
– Pump dispenser – easy to use.
– Spreads easily.
– Does not leave white cast.
– Does not make the skin greasy.
– Does not cause sweating.
– Moisturizing for combination to oily skin.
– Penetrates into the skin.
– Paraben free.
What I do not like about 'Organic Harvest Monsoon Sunscreen SPF 30'
– Medicated smell.
– Feels slightly heavy in the beginning.
Ingredients of 'Organic Harvest Monsoon Sunscreen SPF 30'

Price of 'Organic Harvest Monsoon Sunscreen SPF 30': Rs 495 for 50g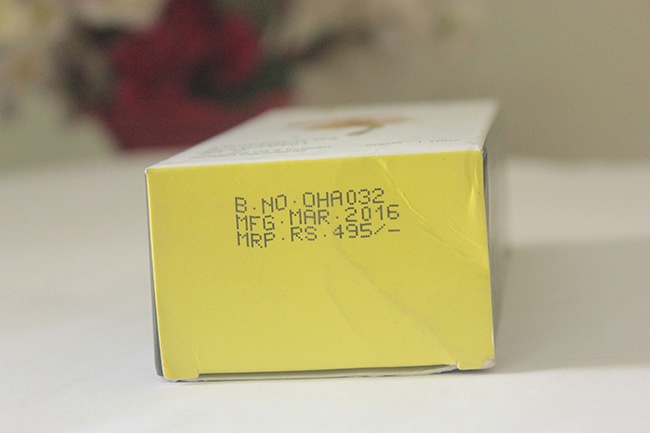 BABE Rating: 4.25/5
Final Word: Organic Harvest Monsoon Sunscreen SPF 30 shields the skin from harmful sun rays without making it greasy and white. It is free from paraben and mineral oil, and the absence of these ingredients is another reason why I would recommend this sunscreen. Plus, it feels comfortable and moisturizing on oily skin and does not make the skin a home for bacterial growth. Overall, I am satisfied with this sunscreen and would recommend it in case you are looking for a lightweight sunscreen that does not leave any whitish cast.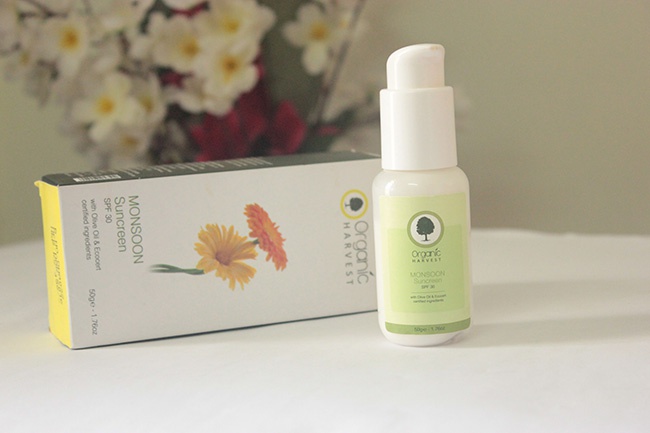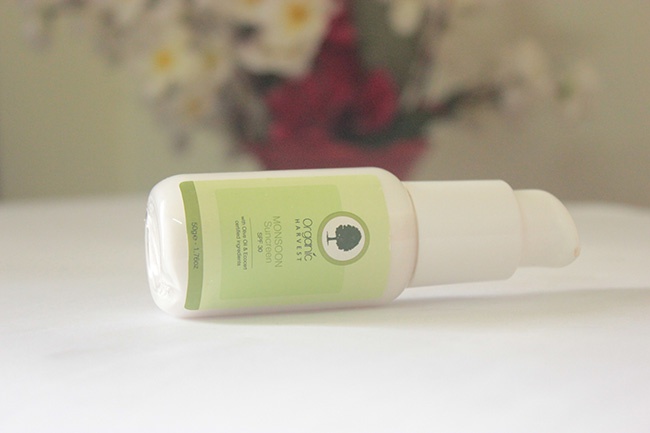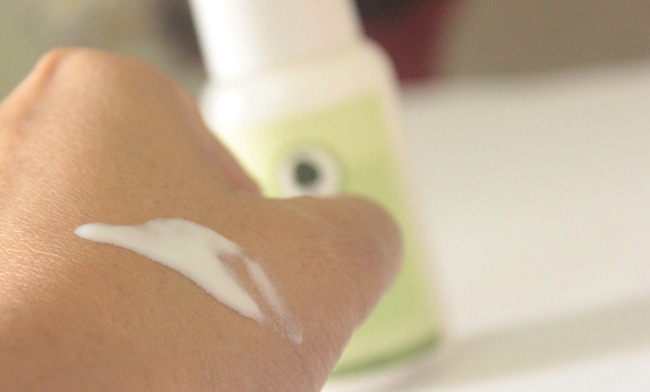 You might also like reading these related topics:
Eau Thermale Avene Very High Protection Emulsion SPF 50 Review
Eau Thermale Avene Very High Protection Cream SPF 50+ Review
Vichy Capital Soleil SPF 50 Mattifying Face Fluid Dry Touch Review
Jolen Sun Screen Lotion SPF 15 Review, Swatch