These days if you ask my favorite product, without a second thought I would go for sunscreen. Though sunscreen is one product that I apply everyday but in this hot season I apply it even more frequently. When I spend more hours outside I apply sun protection after every few hours. This keeps the skin safe from harmful UVA/UVB rays, and in turn defers ageing. I can skip moisturizer but not sunscreen, and that's why I restock sunscreen when the current product is at the verge of finishing. These days I am using Eau Thermale Avene Very High Protection Emulsion SPF 50. I have already used its Avene very high protection CREAM version but was not much satisfied with it. It used to leave white cast and oily layer on my skin, and that is what made me go for the emulsion version. To know if I am satisfied with this sunscreen keep reading, and yes if, you have dry skin the cream version might suit you.
What the product says
Very high protection for normal to combination sensitive skin. Efficient, high quality and reliable suncare. Effective against both UVB and UVA rays.
– Paraben-free – Certified UVA-compliant – VERY water-resistant – 100% photostable
– Benefits from exclusive SunSitive Protection®, a product of Pierre Fabre Group Research:
– Pre-tocopheryl, a photostable Vitamin E precursor, gives additional cell protection.
– Avène Thermal Spring Water with natural soothing and anti-irritating properties.
– Sebum-reducing action thanks to Monolaurin.
-An ultra-fluid, silky and non-oily texture which leaves a satiny, matte finish and a specially designed tube for particularly pleasant application.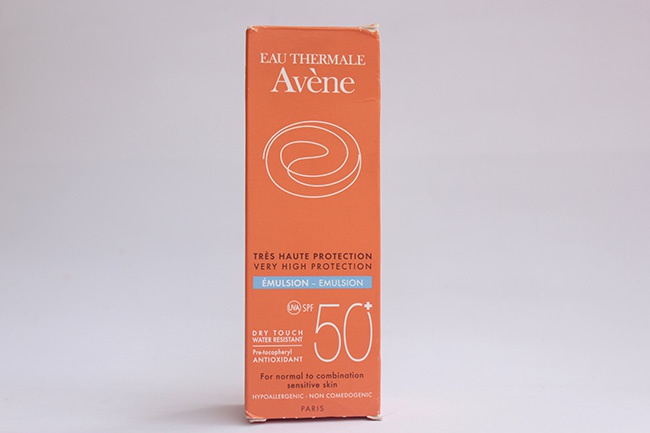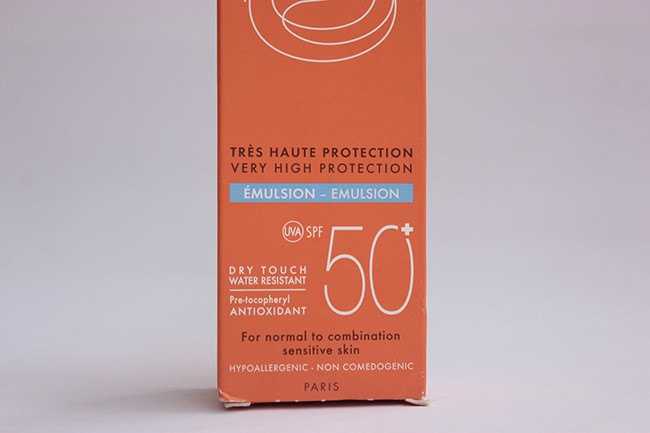 My skin type: Combination to oily
My take on 'Eau Thermale Avene Very High Protection Emulsion SPF 50'
Avene very high protection emulsion has pump tube packaging. The nozzle is protected with a transparent cap that fits snugly. It is a bright orange colored tube, and comes in the same color cardboard carton. Due to the bright color, it can be spotted from a distance and even in a bag full of goodies. The tube and carton bear the usage instructions and some safety tips from sun. The carton also contains ingredient list, which has Avene thermal spring water at number one position. It is quite beneficial for the skin so I am glad it is made a part of this formula. The content is encoded in different languages, which has made it easier for people from different countries to assess its suitability for their skin types.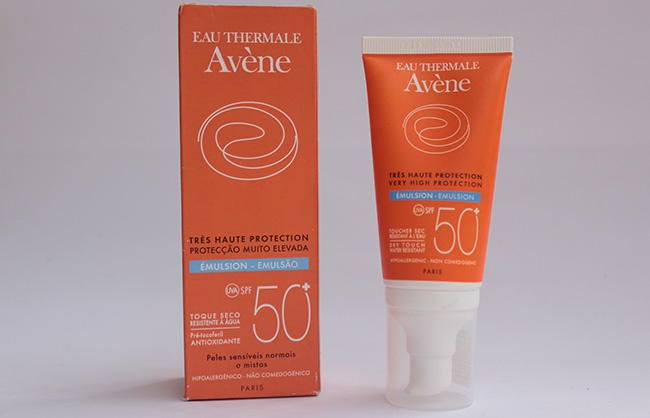 The sunscreen is off-white in color and has thick consistency. It is a perfumed emulsion so the fragrance is quite pleasant. It lingers on for couple of minutes only, afterwards it subdues as if there was no fragrance at all. This will be good if you do not like using perfumed skin care products. Coming back to the consistency- as it is thick so the spreading is difficult. I need to be patient and gentle while spreading it on entire face otherwise it drags the skin along. To make application effective and convenient, I closely dot the sunscreen all over my face and neck and then join the dots 🙂 (reminds me of childhood). This way it becomes easy to spread and does not even pull along the skin.
Once spread, it penetrates into the skin leaving no oily residue on surface. This is the best thing I like about it as I have oily skin which tends to become greasier soon after I apply sunscreen. I won't say Avene emulsion gives 100% matte look rather I would say it gives a dewy look, which looks more like a radiant glow. It also does not leave any white cast unless you apply it unevenly. Just 2 pumps are sufficient for face and neck, and dot it all over and spread evenly. Uneven spreading can make it accumulate on some points giving white cast. The thumb rule is to dot it and spread evenly.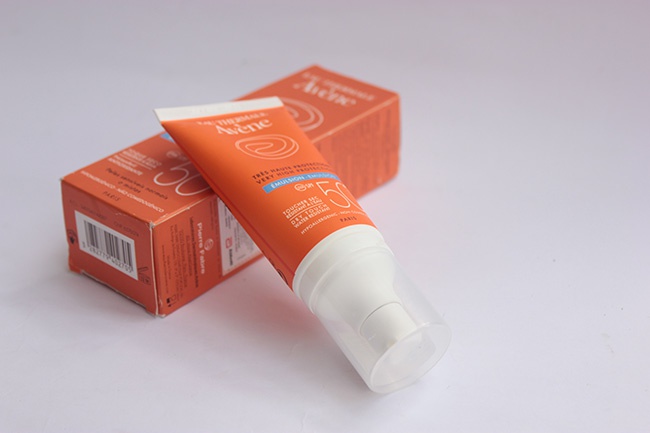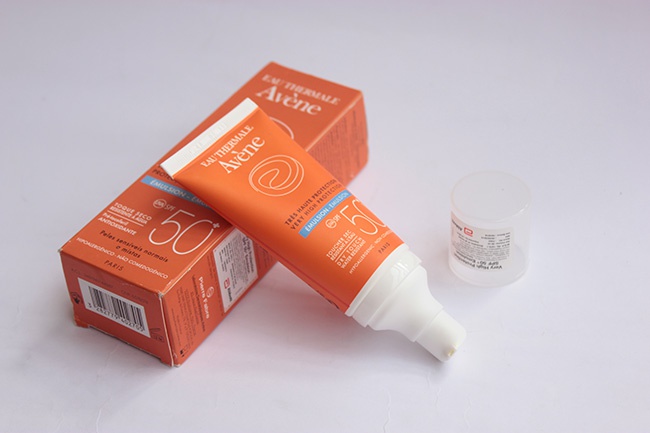 It is photo-stable sunscreen, which means you won't see those flash blow-outs while clicking photographs. If you love getting clicked, you can rely on this sunscreen. Plus, it is water resistant so can safeguard the skin even when skin comes in contact with water. Though when I am outdoor I need to reapply it after couple of hours, but I do not mind doing that as I like dewy finish. It protects the skin from sun tanning, so I wear it even under makeup. If I have to support a matte makeup look, I cover the dewy finish with few dabs of pressed powder and I am all good to with matte makeup. Most importantly, it does not break my skin out. I have oily skin that is prone to breakouts so whenever I buy a new product I get ready to see painful acne but fortunately that did not happen with this product, and I am happy that it's suiting my skin.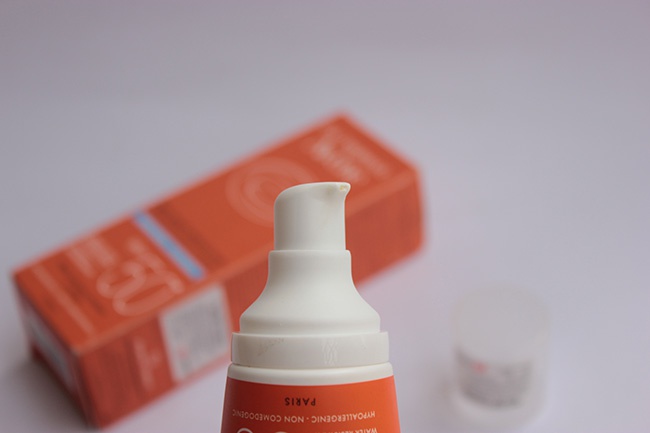 What I like about 'Eau Thermale Avene Very High Protection Emulsion SPF 50'
– It does not cause any greasiness.
– If applied the right way it does not leave any white cast.
– Protects the skin from sun burns.
– Pump tube packaging is convenient to use.
– Does not cause skin breakouts.
– Does not clog pores.
– Mild fragrance.
– Dewy finish that looks like a natural glow.
– Penetrates into the skin.
– Specifically formulated for normal to combination and sensitive skin types.
– Photo protective as it does not make the skin reflect light.
– Water resistant.
What I do not like about 'Eau Thermale Avene Very High Protection Emulsion SPF 50'
– As the consistency is thick so it is difficult to spread.
– Dewy finish might be a concern for some.
– Pricey as compared to other sunscreens.
– Not easily available.
Price of 'Eau Thermale Avene Very High Protection Emulsion SPF 50': Rs 1375 for 50ml
Shelf life of 'Eau Thermale Avene Very High Protection Emulsion SPF 50': 3 years
Ingredients of 'Eau Thermale Avene Very High Protection Emulsion SPF 50'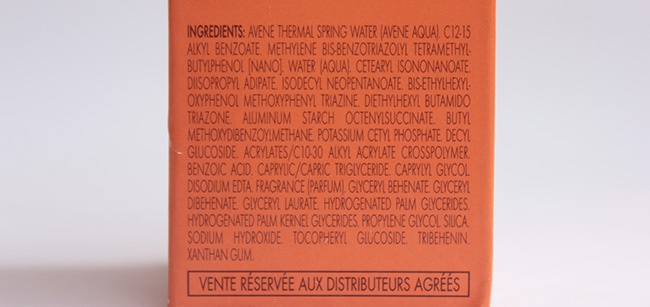 BABE Rating: 4.5/5
Final Word: Overall, I am pleased with formula and efficacy of Eau Thermale Avene Very High Protection Emulsion SPF 50. It is a nice option for combination to oily skin types as it saves my skin from sunburns and tanning, without any greasy layer, breakouts or white cast. If you have oily skin and price is not a concern you should give this a try.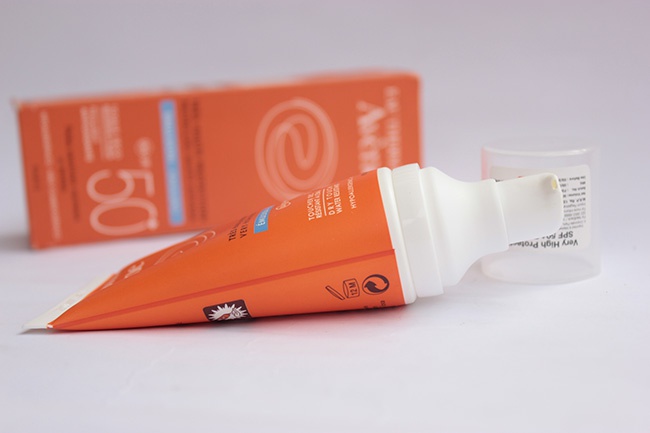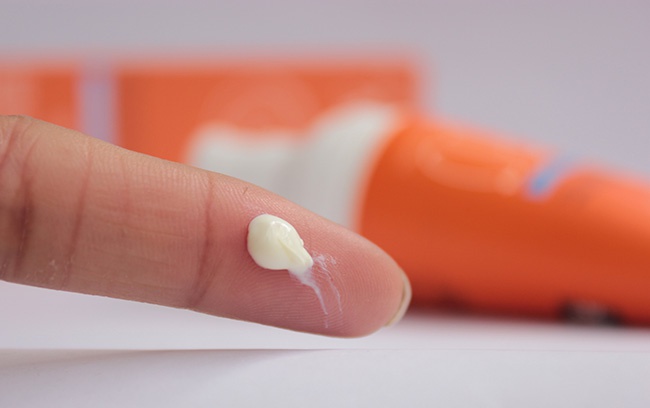 You might also like reading these related topics
Eau Thermale Avene Very High Protection Cream SPF 50+ Review
Vichy Capital Soleil SPF 50 Mattifying Face Fluid Dry Touch Review
Jolen Sun Screen Lotion SPF 15 Review, Swatch