Summers are here, and I feel summers season and tanning are best friends. I get tanned very easily, and the irony is I am dusky skin so tanning makes my skin more dull and dark. That's the reason I badly need ant-tanning products. Today, I am going to review one of my best friends for summers – Nature's Essence Lacto Tan Clear Cream. Before jumping on to the review I want to tell you that I am using this product from last 2 years. This is the 4th bottle that I am using; now, you can understand how much I love this product. This was my 1st anti tan pack which I started using to combat tanning and I have not changed it till date and I don't even think that anything is going to replace this in near future. Let's see my rich experience with this product.
What The Product Says:
Milk proteins and honey enriched special tan cream helps remove the epidermal sun tan, thereby restoring the natural fairness of the skin and also preventing pigmentation due to harmful sun. Its matte effect is ideal for hot climates and the cream also helps enhance after facial glow.
Directions for use:-
Apply layer on the face/skin and keep it on for 10-15 minutes & after soft massage remove with water. Advised to be used every day to restore natural color & glow of the skin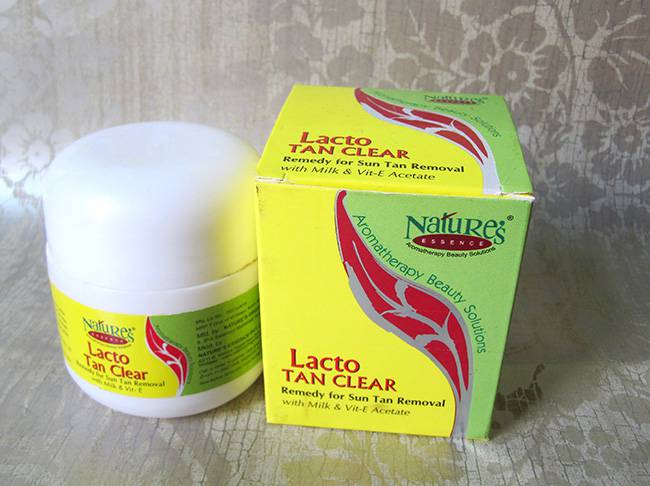 My Take on 'Nature's Essence Lacto Tan Clear Cream'
The packaging of the product is very simple. It comes in a white tub which has a screw cap with additional lid to keep the contents intact. As it is a tub packaging so I have to dip my fingers to get hold of the product. It gets messy sometimes so I use a spoon or spare spatula. This tan clear cream comes in 2 sizes – the smaller version comes in a tube, which is more convenient to use and more hygienic. It has strong smell which can bother people with sensitive noses but talking about irritation or any side effects on the skin, in last 2 years of usage I have not experienced any irritation, breakouts, red spots whatsoever on my skin.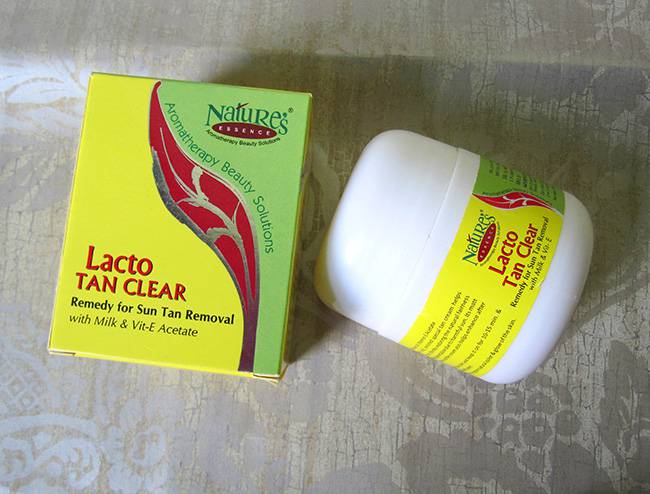 This is anti-tan face pack but in cream form. I do not need to mix it with water or anything else, rather I just directly apply it on my clean skin. Its texture is just like any other cream – soft and smooth. It is a white colored cream that spreads easily. Before applying this cream, I moisten my face with rose water. I leave it on for around 15 minutes and when it starts becoming translucent that's a cue that I need to remove it with water. Though it is in cream form but it does not moisturize the skin. So, after removing it with water I make sure to add a layer of moisturizer. I do not have to put in a lot of pressure or do any tugging to make it reach every part of my face. It can also be applied on hands and legs. I often apply it on my hands & legs in summer. When on the skin it gives a cooling sensation that relaxes the body. I use this cream in winters as well but the frequency is more in summers. This is like a staple product for me during summers.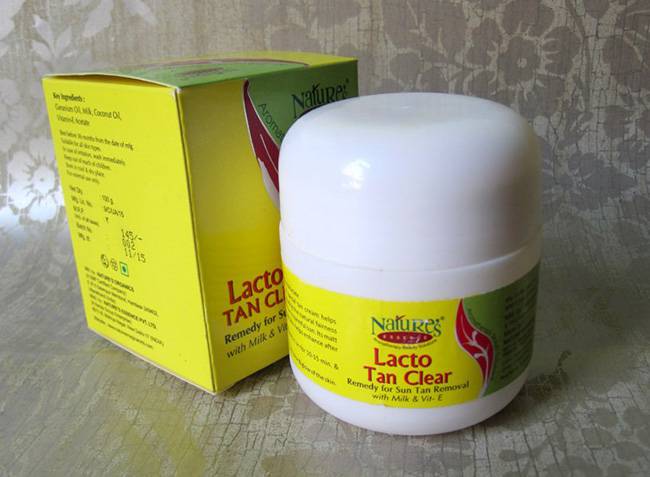 This product works like magic, just after one application, it removes 90 percent tan. That's the reason I love this product and still sticking to it. I am really happy with the results I get. It says it can be applied on daily basis, but I use it twice or thrice a week depending on the need. It works like bleach so I don't use it daily. If I go out in summer, I make sure to use it next morning to remove the tan. It leaves the skin clean, clear, and bright. It gives an instant glow to the skin (especially face) that a lot of face masks fail to provide during summers. The effect lasts for few days if I don't go out in sun. It also helps in reducing acne marks and blemishes but the results are temporary and the same goes for the pore size. It helps to control oil secretion for 5-6 hours, which is a great duration in summers.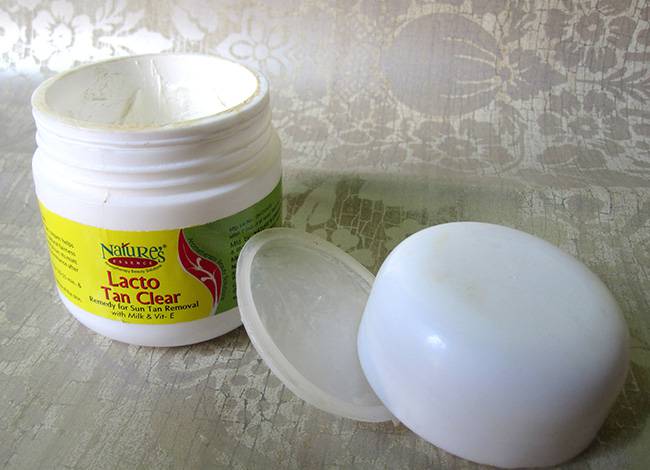 I carried this along for my beach holidays and trust me, it removed all the tan. Sea water and humid climate lead to stubborn tan that usually takes months to fade away but this product did an amazing job in removing the tan after just couple of applications.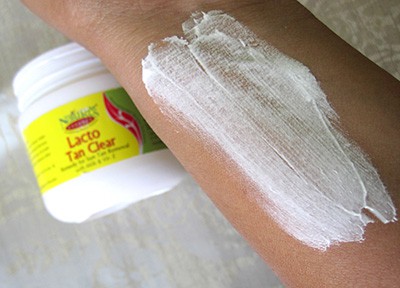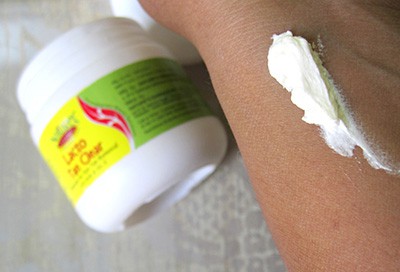 If I talk about the ingredients only key ingredients have been listed on the packaging, and I do not that these key ingredients only can give such amazing results in one application, so definitely it contains some bleach like substance that removes substantial tan in just application. Nevertheless, it is easily available online but I hardly see it in local stores.
What I like about 'Nature's Essence Lacto Tan Clear Cream'
– It has an affordable price tag.
– It gives an instant glow.
– It reduces dark spots and blemishes.
– It is easy to apply and remove.
– It gives bright, clear skin.
– It is suitable for all skin types.
– It is travel friendly and spill proof.
– It is a herbal product.
What I like about 'Nature's Essence Lacto Tan Clear Cream'
– Tub packaging is unhygienic.
– It has strong smell.
– Full ingredients list is undisclosed.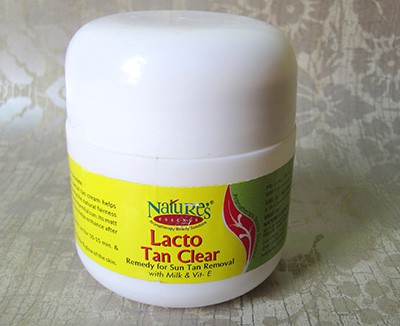 Ingredients 'Nature's Essence Lacto Tan Clear Cream':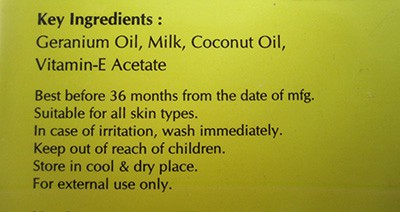 Price of 'Nature's Essence Lacto Tan Clear Cream': Rs 145 for 100gm, Rs 90 for 40 g
Shelf life of 'Nature's Essence Lacto Tan Clear Cream': 36 months from date of manufacturing.
BABE Rating: 4.75/5
Final Word: Overall, this is one of the best anti-tan packs I have used till date, and there is no doubt that I am going to purchase it again and again.It is must have for summer, and works wonders for me. It brightens up dull skin taking away all the tan and exhaustion. The texture of this anti tan pack is very soft and creamy which make the application easy. It gives an instant glow and removes the tan within minutes. The very first time when I used this, I was surprised to see the results. It removed all the tan from my face and left it clear and glowing. From that day till today, I never replaced it with any other product.
You might also like reading these related topics:
5 'Instant Glow' Skin Care Tips From Kitchen
Home Remedies To Remove Tan From Hands And Feet