My sister is an Ayurveda practician and she is a hard-core believer of its results and efficacies. As I have seen her trust growing in Ayurveda, I find myself turning into firm believer of ayurvedic products. It is because these products are made of natural herbs and tend to have no side effects. And, that's why I could not resist myself from reviewing Medimix Ayurvedic Face Wash, which is made of 6 essential herbs namely: Manjishtha, Nimba, Haridra, Amaya, Lodhra and Kumari. I will explain the benefit of each of these herbs in following sections.
What the product says:
Helps the skin as it battles with environmental toxins all day. Medimix Ayurvedic face wash gives your skin the deep natural care it deserves. The unique blend of neem, aloe vera and turmeric gently cleanses and rejuvenates skin, keeping it pimple free and clear. The divine herb 'Lodhra' reduces skin inflammation while improving complexion and 'Manjishtha' enhances skin texture.
A drop of green to keep your face healthy and clean.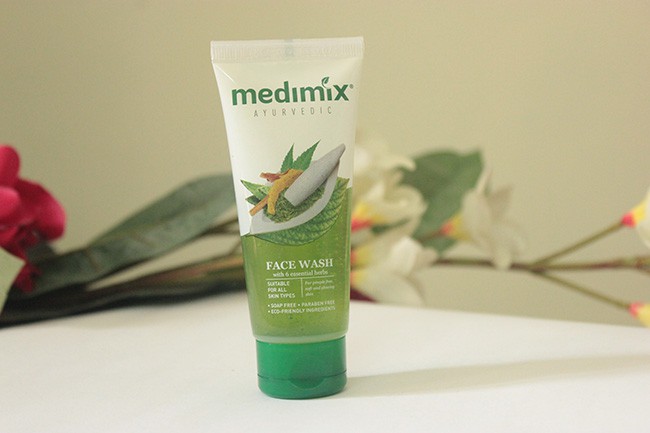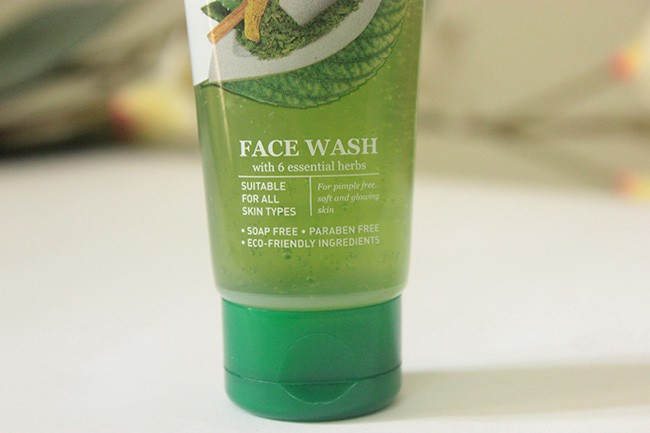 My skin type: Oily, acne prone.
My take on 'Medimix Ayurvedic Face Wash'
Medimix ayurvedic face wash comes packed in a flip open tube. The lower half of the tube is transparent, allowing keeping an eye on the quantity left and the upper half is opaque. It is made of soft plastic so can be easily squeezed. The bottle green cap closes with a sound ensuring that the contents are sealed properly and the tube can be carried without any fear of spillage.
The face wash is green in color with semi-thick consistency. It has wonderful herbal fragrance that instantly freshens up the dormant senses. It does not foam much, which might be slightly disappointing for foam lovers but it creates enough lather for that satisfying feeling of cleansing the skin. Plus, it is easy to rinse of as it does not leave any soapy residue behind. Its USP is the powerful mix of 6 essential herbs so these herbs deserve a special mention. The benefits of these herbs are explained below.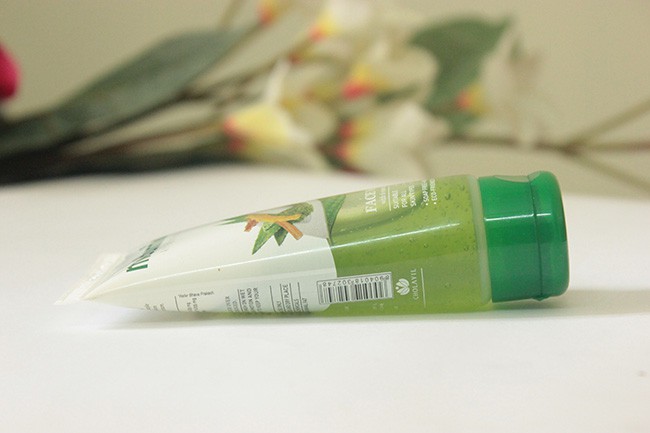 Manjishtha: The roots of 'Rubia cordifolia' or 'common madder' or 'Indian madder' are known as Manjishtha. It has medicinal use as it helps in reducing swelling and removes excess heat from the blood. So it is an anti-inflammatory herb that helps in combatting inflammation.
Nimba: Nimba is ayurvedic name of neem. Neem products have been in use in India since ages. Neem leaves are used to treat skin diseases such as acne, pimples, etc in addition to their use for attaining healthy hair and detoxifying blood.
Haridra: Haridra is again the ayurvedic name of turmeric, and we are well versed with its skin benefits. It heals the skin, reduces inflammation and is anti-allergic.
Amaya: Amaya, commonly known as Amla, is a rich source of Vitamin C. It helps in skin brightening and deferring ageing.
Lodhra: It helps in preventing acne and pimples. It is also used for many skin diseases that involve bleeding, secretion and oozing.
Kumari: Commonly known as Aloe Vera, this amazing herb is one of the popular cosmetic aids as it moisturizes, heals and regenerates the skin.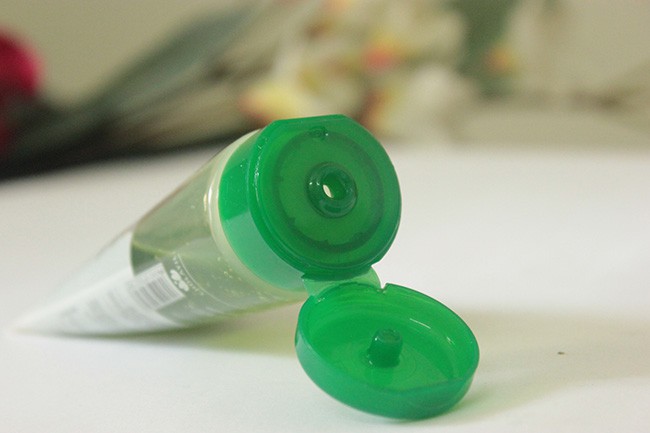 Now, that we know the benefits of each of the herbs used in the formulation of Medimix face, this amalgamation sound even more powerful and effective. Especially in monsoon season, when bacterial growth is very probably, these herbs will shield the skin from infection and thus the popping up of pimples/acne. It helps in curbing new red-heads and also dries out the existing ones. I had few painful pimples on my face before I started using this face wash but in just few applications they have subsided and I am hoping they will soon leave my skin.
In addition to pimples, the herbs used in the formulation also defer ageing and heals the skin. The consistent usage also events out skin tone leading to bright and glowing complexion. Overall, I am quite happy with the efficacy of this ayurvedic face wash, and I think this is ideal combination of ayurvedic skin beneficial herbs.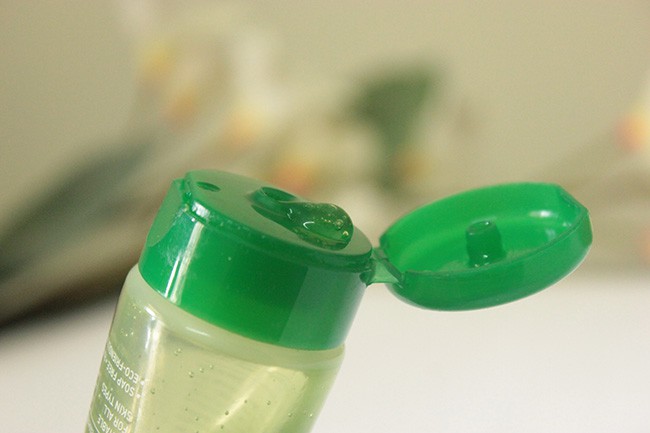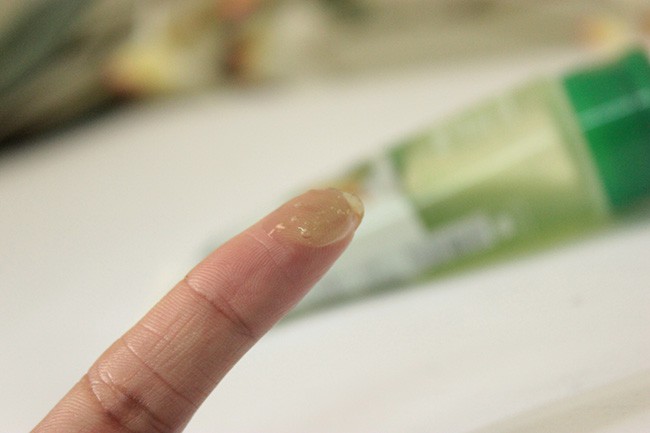 What I like about 'Medimix Ayurvedic Face Wash'
– Feels gentle on the skin.
– It does not dry out the skin in fact leave it hydrated.
– Herbal fragrance that freshens up the mood.
– Suitable for all skin types.
– Reasonable price.
– Keeps pimples and acne at bay.
– Leaves skin clean and clear.
What I do not like about 'Medimix Ayurvedic Face Wash'
– It does not lather much.
Price of 'Medimix Ayurvedic Face Wash': Rs 60 for 50 ml
Online Availability: Medimix Face Wash Essential Herbs 50 ML, Medimix Face Wash Essential Herbs 100 ML
BABE Rating: 4.75/5
Final Word: Formulated with skin beneficial herbs, Medimix ayurvedic face wash does not only keep the skin free from pimples but also helps in deferring ageing and healing damaged skin cells. The goodness of Aloe Vera and Amla brightens up the complexion and gives it a healthy glow. Also, Amla being rich in Vitamin C helps boost up skin elasticity and keeps skin younger looking. Largely, Medimix ayurvedic face wash is packed with essential herbs that have been known for their skin benefits for ages, and is more than worth giving a try. For those who are suffering from tanning, Medimix also has an Anti-Tan variant i.e Medimix Ayurvedic Anti Tan Face Wash with Tanaka, so you can give a try to this variant as well.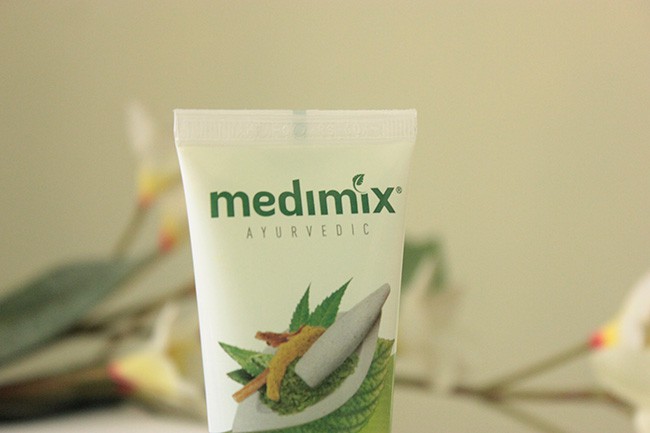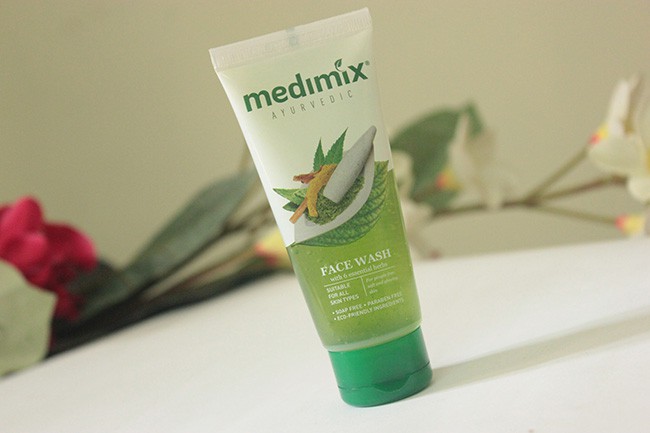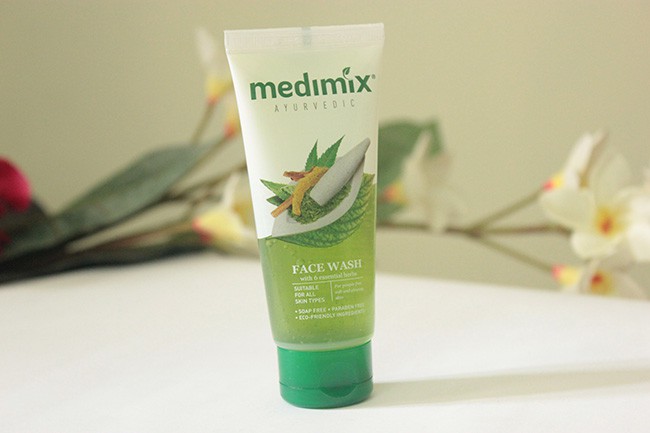 You might also like reading these related topics:
Go Natural-Medimix Ayurvedic Natural Glycerine Soap Review
Garnier Pure Active Neem Tulsi High Foaming Face Wash Review
L'Oreal Go 360 Clean Anti Breakout Facial Cleanser Review