Hello my beautiful friends,
Hope you are doing well. Today, I am going to review a brow groomer. I feel there is lack of eyebrow grooming stuff in India such as eyebrow pencils, brow powder, gel etc. On many occasions, I have seen women supporting really good makeup but undone eyebrows. I wonder if this is because of the lack of products or eyebrows are taken for granted. I always fill my brows when I am doing makeup but because of the scarcity of products I never had enough options to choose from. Fortunately, last year Maybelline, our lifesaver brand that bring quality products at reasonable prices, launched 'Maybelline Fashion Brow Duo Shaper'. This new launch from the brand instantly became a big hit especially among those who have been waiting for a good eyebrow shaper. Going with the flow, I also purchased the most-awaited product. Let's see if it lives up to my expectations.
What the Product Says
Brows- meet the 1st defining and filling duo. An easy two-step application, using our .2 mm defining wax pencil to shape and mess-free filling powder to finish. Get ready to wow with a naturally full brow!
How to Use It
1. Define and set brows with the defining pencil, using short, light strokes
2. Fill brows using filling powder, following along natural brow contour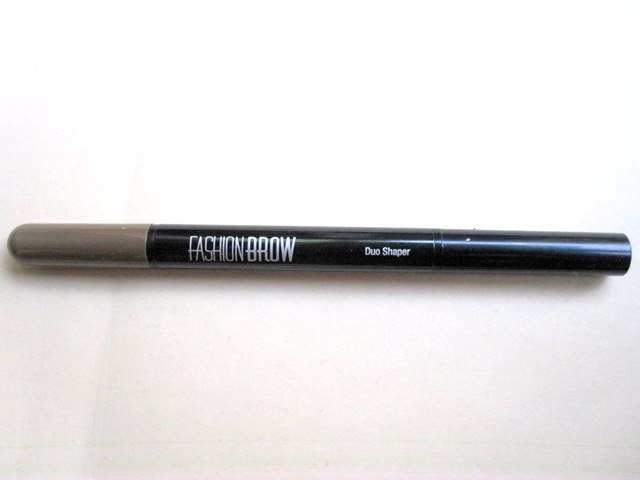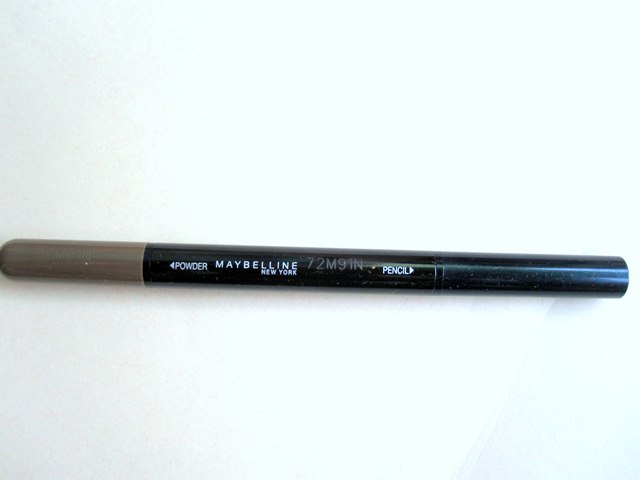 My Take on 'Maybelline Fashion Brow Duo Shaper Brown'
It comes in 2 shades brown and grey. The shade range is quite small but I would second the adage ''something is better than nothing''. I purchased the brown shade as it was a close match to my eyebrows. The outer packaging is of hard plastic and quite handy. All the details about the product are written on the wrapper that is used to seal the product. It is open at both the ends, and the ends are secured with caps that fix tightly, hence, negating possibility of ruining the ends. The main reason I purchased brown shade is because of the natural look it gives. I think the grey shade will look too harsh on my skin. Shade selection is totally dependent on your skin color and personal choice.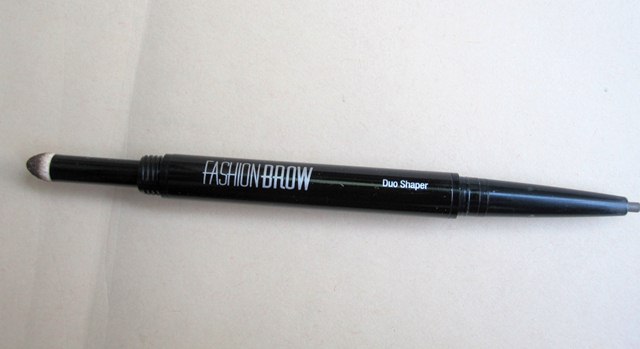 Honestly speaking, it looks more like a pen. But in reality, it is a duo shaper that has pencil on one end, and powder and sponge applicator on the other. The sponge applicator is secured with brown cap and pencil has black cap, to omit any confusion regarding what fits where. If you are wondering why the cap colors are important then let me clarify that the brow cap, which fits over sponge applicator, contains the powder. Yes, the cap houses the powder so you need to ensure that it always capped on the right end. You also need to keep this cap safely and gently as if you lose or break the brown cap the powder will be lost. The idea of incorporating both pencil and powder in a pen like structure is very practical. It saves a lot of effort of finding brow powder and pencil that complement each other.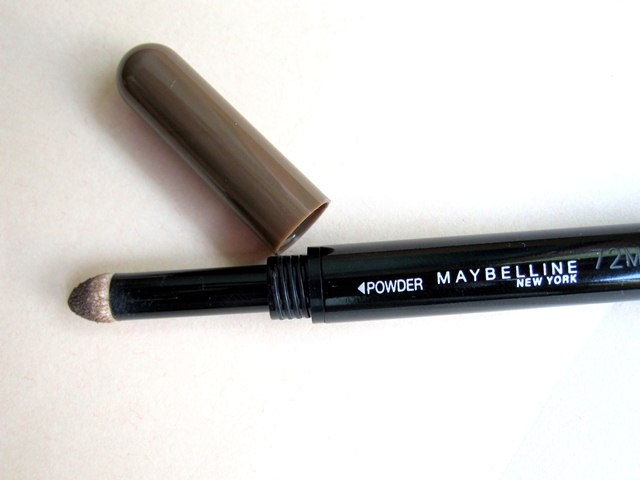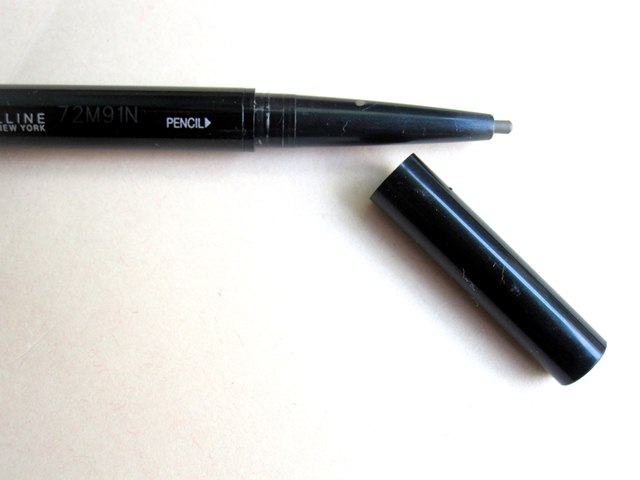 The pencil has a flat end rather than pointed as you see in eyeliners and lip liners. Unlike lip liners and eyeliners, this brow pencil does not have a creamy texture, which is a good thing. Creamy texture can make the product stuck in the brows and lead to clumping. This non-creamy texture is beneficial for a clean and smooth look. The pencil is hard which makes it easy to work with and simplifies application. The pencil is used to just outline the eyebrows while filling part is taken care of by the powder and sponge applicator. The powder is soft, velvety, and gives matte finish. The sponge applicator evenly spreads the powder throughout the shape of the brows.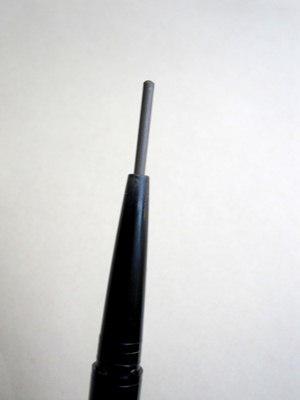 For pigmentation, the product is not highly pigmented, which I think is a good thing because more pigmentation means a lot of color will come on eyebrows, giving them an artificial look. With less pigmentation, you have the liberty to build up the intensity slowly as desired. I can easily control the pencil and powder according to the need. Just 4 -5 swipes of powder cover the eyebrows and fill it beautifully. Sometimes, I use an eyebrow brush to spread the powder evenly on the eyebrows. I have a cut in my right eyebrow that looks very blunt and empty but with this product I can easily fill it in. This brow duo shaper hides it perfectly. This gives fuller and natural looking eyebrows.
If I talk about the staying power, it stays all day without any fading. It is not waterproof so you have to keep your distance from water otherwise it will all come down on the cheeks. But the good thing is it can be easily removed using regular cleanser, and you do not necessarily require face cleanser.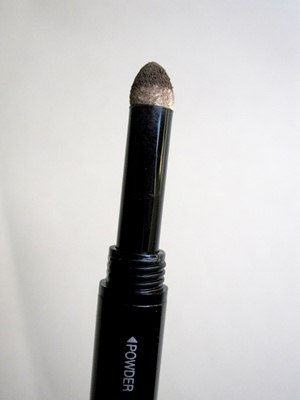 What I like about 'Maybelline Fashion Brow Duo Shaper Brown'
– Reasonably priced.
– It gives a very natural look
– It provides volume to eyebrows without much effort.
– The texture is very smooth.
– Matte finish looks natural.
– The powder is velvety soft and easy to use.
– The quality is very impressive.
– Good staying power.
What I do not like about 'Maybelline Fashion Brow Duo Shaper Brown'
– It is not waterproof.
– Limited shade options.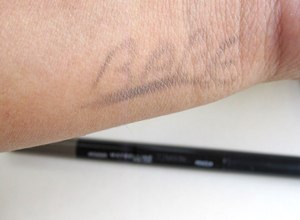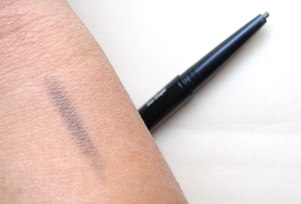 Price of 'Maybelline Fashion Brow Duo Shaper Brown': Rs 245
BABE Rating: 4.75/5
Final Word: Maybelline never stops to amaze me and the same goes for Maybelline Fashion Brow Duo Shaper. I really like the powder and pencil combination. The formula is almost perfect. The pencil is not creamy so aids in non-clumpy outlining and powder fill the brows to give them a natural effect. Overall, it is a good quality product at an affordable price tag. I must say this product is a blessing for ladies who want a good eyebrow shaper at an affordable price, and have really sparse eyebrows like me. I have sparse eyebrows, so my makeup looks really incomplete when I go out without filling my brows. The duo shaper does an amazing job in defining my brows and giving them a natural look.
You might also like reading the related topics:
Luscious Perfect Brows Tool Kit Medium To Dark Hair Review
Deborah Milano Eyebrow Perfect Super Precision Brow Liner Review