Maybelline Color Show Nail Polish Sweet Sunshine 405 Review Swatch
Hi Everyone,
I am almost done with organizing my summer nail paint collection. A couple of days back while I was rearranging the nail paints I rediscovered this Sweet Sunshine shade from Maybelline Color Show Range. I like this shade not because yellow is my favorite color, I love it because of the freshness and liveliness it adds to nails, and how it make other people perceive about your personality. Read further to know the trivial details of this nail paint.
My Take on 'Maybelline Color Show Nail Polish Sweet Sunshine 405'
Sweet Sunshine is one of the few shades of MCS range that gives an entirely western look. The fluorescent yellow color of this nail polish is perfect for summery season, and it has the ability to make your boring outfit look lively. In my opinion, if you wear this shade it will give an impression of bold personality – the sort of tiger-lady who likes experimenting.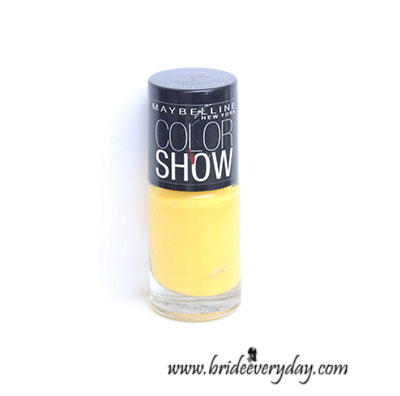 The brush applicator has the exact required thickness. With this shade I do see that it leaves brush marks but nothing of the sort that cannot be covered with another coat.
Like all other MCS nail paints, sweet sunshine also has creamy texture, which is neither too runny nor too thick. The pigmentation is not that great though, one coat gives an almost translucent look, two coats intensify the pigmentation but you can still see through. Yes, it requires three coats for a perfect opaque look. Plus, you need to be careful while applying the third coat to have non-streaky nails. It would be ideal to wait until the second coat is completely dry before proceeding with the third coat.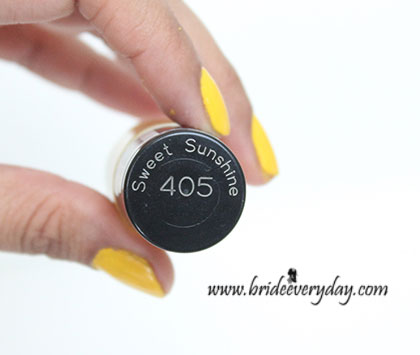 The glossy sheen amplifies the brightness of this shade. It is very much salon like, stays like that for initial couple of days and starts fading away from third day. Like most of other MCS nail polishes, sweet sunshine stays intact for 3 days before it starts chipping.
The first time I wore this nail polish, I did not apply a base coat. When I removed the nail paint, I was shocked to see yellowness it had imparted to my nails. It took me a month to completely get rid of those stains. But the second time when I wore this nail color, I made sure that it was on top of a base coat. To my relief, the yellow color did not seep inside my nails this time. Hence, I would recommend you wearing a good quality base coat underneath it to avoid the staining.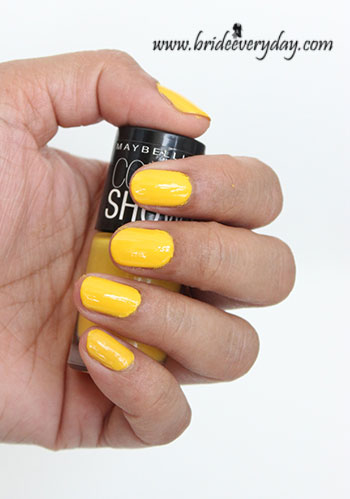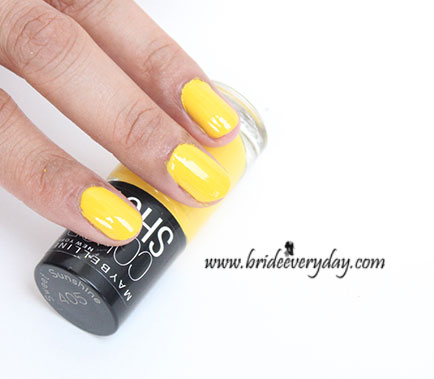 What I like about 'Maybelline Color Show Nail Polish Sweet Sunshine 405'
– Bright yellow shade that adds liveliness to an outfit.
– It has salon like glossy sheen.
– Fluorescent shade that looks summery and sophisticated.
– Reasonably priced for that finish.
What I do not like about 'Maybelline Color Show Nail Polish Sweet Sunshine 405'
– At least three coats are required for opaque look.
– If not applied carefully, the final look can be streaky.
– Stains nails if you apply it without a base coat.
Price of 'Maybelline Color Show Nail Polish Sweet Sunshine 405': INR 75 for 6 ml.
BABE Rating: 4/5
Final Word: Sweet sunshine is a bright summery nail paint that not only enhances the beauty of nails but also gives you a bold-headed look. This shade is perfect to go with western outfits, and it has the ability to add modern element to your dull Indian outfits.
You may also like reading these related topics
Maybelline New York Color Show Nail Paints
Maybelline Color Show Nail paint Nude Skin (015) Review
Maybelline Color Show Nail Polish Keep Up The Flame 215 Shade Swatch Review
Maybelline Color Show Nail Polish Crazy Berry Review Swatch
Maybelline Color Show Glitter Mania Nail Paint – All That Glitters (601) Review
Maybelline Color Show Glitter Mania Nail Paint – Pink Champagne (607) Review
Revlon Nail Enamel Polish in Shade Cherry Berry 421 Review Swatch
Maybelline Color Show Nail Polish Moon Beam 103 Review Swatch
MAC Nail Lacquer Morange Review and Swatch
How to do blended nail art using sponge at home
How to do nail art designs at home – Tutorial
My recent favorite nail paint swatches !
Wet n Wild Megalast Salon Nail Color – 201C Wet Cement Review, Swatch
Wet n Wild Megalast Salon Nail Color- 213C On A Trip Review