Today I am reviewing Lotus Herbals Color Dew Nail Polish in shade 'Plum Shine'. The color dew range has approximately 33 shades to choose from. I have tried the 'Peach Perfect' shade from this range and already reviewed it on the blog. If you want you can go through the photos of the peach perfect shade in the hyperlink provided. Now, let's see how I find the 'Plum Shine' shade from the same range.
What the product says:
Colourdew™ is a range of exciting nail enamels that are completely safe for the nail which is free from Toluene, Acetone & DBP
Background: Acetone, DBP and Toluene free. Chip Resistant. Long-Lasting
How to Use: Clean your nails with nail polish remover, shape your nail . Choose the nail enamel which you want to apply. Before applying the nail enamel rub the bottle between your hands so that contents mix up well. Apply the nail enamel in 3 strokes after drying up apply the 2nd coat.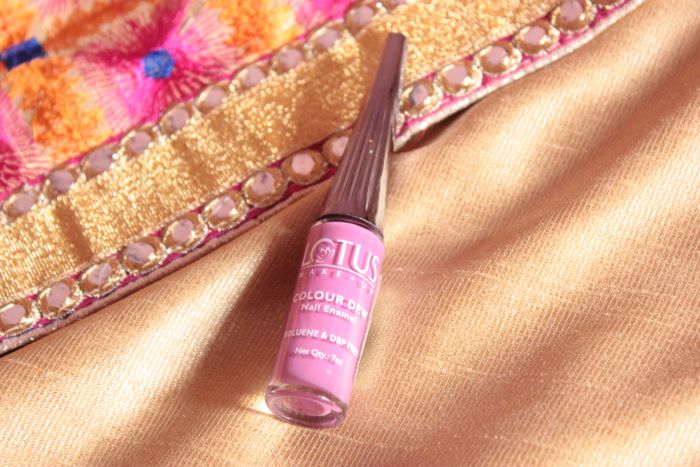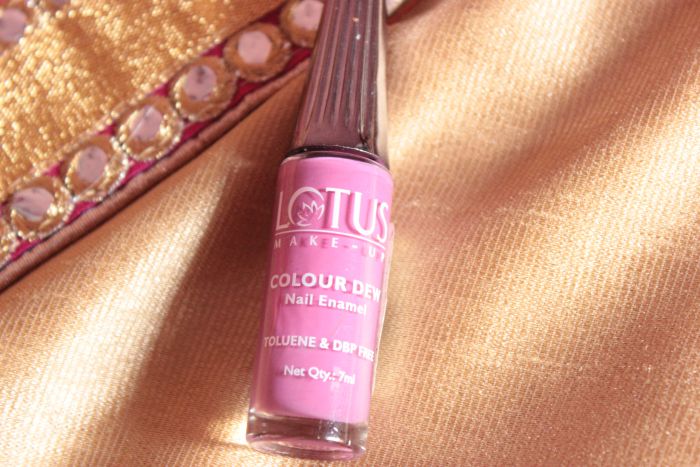 My take on 'Lotus Herbals Colour Dew Nail Polish Plum Shine'
I like the packaging of Lotus Herbals Color Dew Nail Polishes as it is different from the regular packaging of other brands' nail polishes. The long brush holder is made of plastic but has a metallic look. It bears the shade name and number, which are also mentioned on the bottle itself. The nail polish bottle is as usual made of glass with transparent visibility. The application brush is of medium thickness. It takes me 2-3 strokes to cover nail bed. However, if you have thin nails you might need as additional strokes to cover every nook and cranny.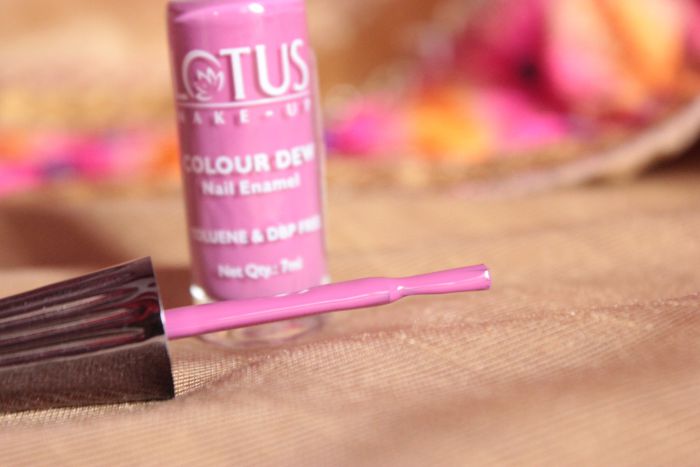 The pigmentation is good. In 1 coat it provides 70-80% coverage, and once the first coat is dry I go for the second coat to get the full coverage. For fine and smooth finish, it is always recommended that the next coat is applied on a dry base. Thus, if the former coat is not dry do not apply the next one as otherwise it will lead to patchy finish. As far as the 'Plum Shine' shade is concerned, I am very much in love with it. It reminds me of the Lakme True Wear Nail Polish In Shade Free Spirit, which was one of my favorite shades. I was so much in love with it that I used 2-3 bottles and now when I could not find it anymore I bought the Plum Shine shade, which is an exact replica of the Lakme Free Spirit shade. This shade suits all skin tones and gives the nail a well polishes look. Though the shine is not extraordinary but still it looks decent and party wear.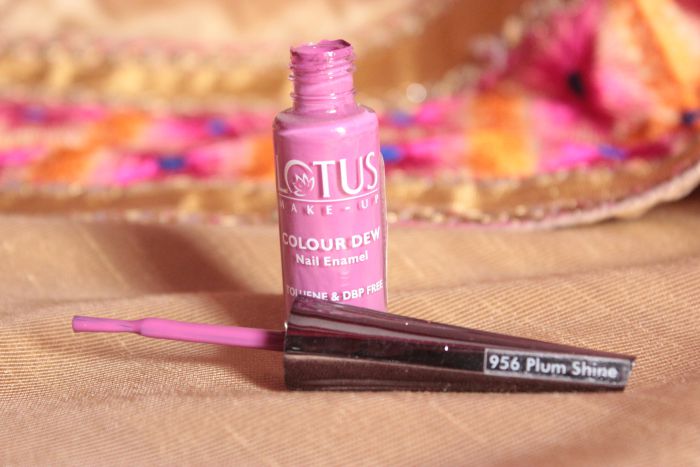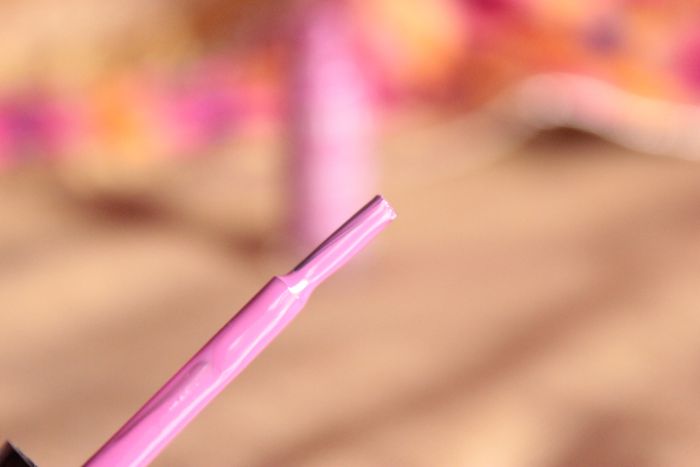 The staying power is average. For the first 2 days, it stays intact and then the shine starts fading. I prefer to seal the final coat with a transparent top coat, and doing so increases the longevity and shine of the polish. Overall, I like Plum shine shade as it gives a nice manicured look.
What I like about 'Lotus Herbals Colour Dew Nail Polish Plum Shine'
– Beautiful plum shade appropriate for all skin tones.
– Long brush holder that is convenient to use.
– Thick brush covers entire nail bed in two strokes.
– Two coats provide full coverage.
– Good longevity- does not easily chip off the tips.
What I do not like about 'Lotus Herbals Colour Dew Nail Polish Plum Shine'
– Shine starts fading from day 2 onwards.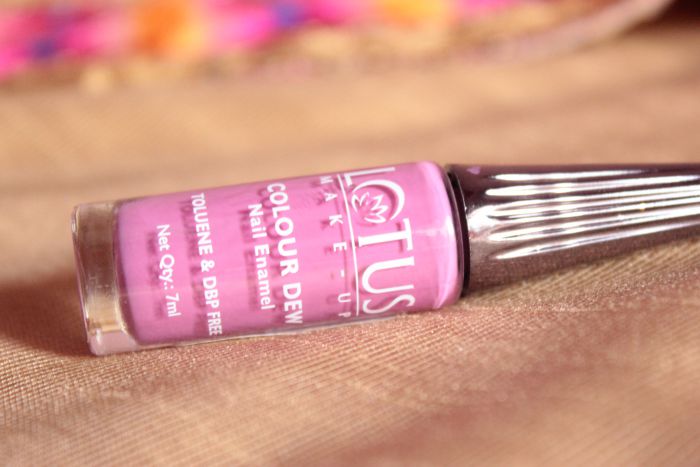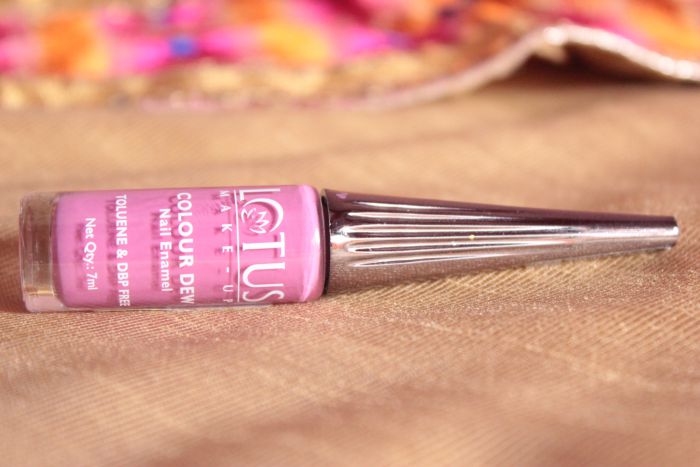 Price of 'Lotus Herbals Colour Dew Nail Polish Plum Shine'- Rs 120 for 7 ml
BABE Rating: 4/5
Final: Lotus Herbals Colour Dew Nail Polish in shade 'Plum Shine' has decent staying power and glossy shine. The purple nail polish makes the nails beautiful and gives them a polished look. It is appropriate for all skin tones and occasions. If you like wearing purple or mauve nail polishes this shade is worth giving a try.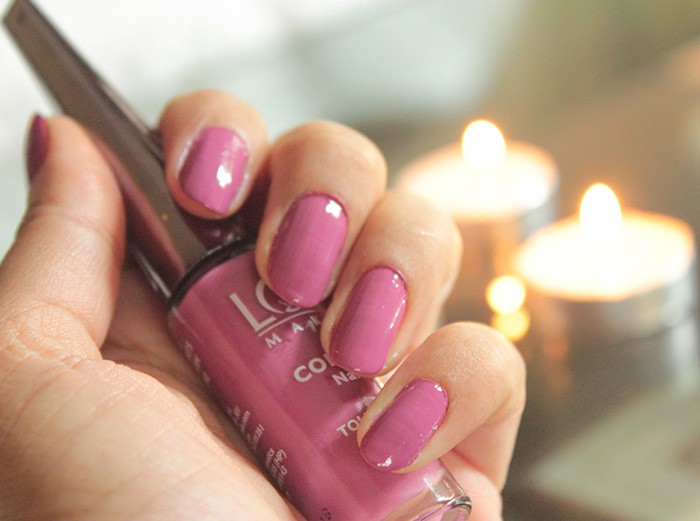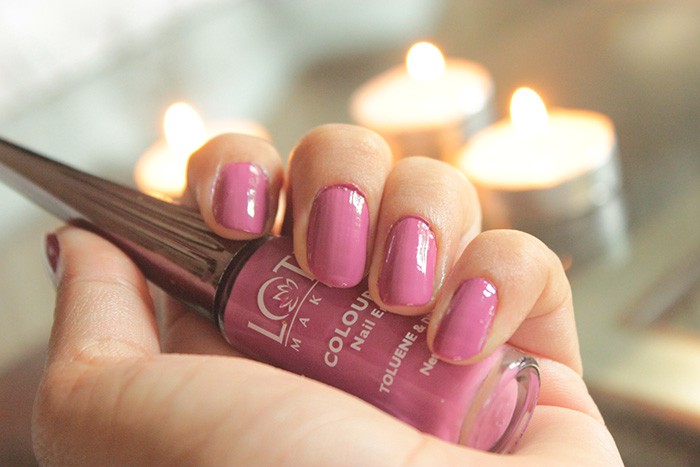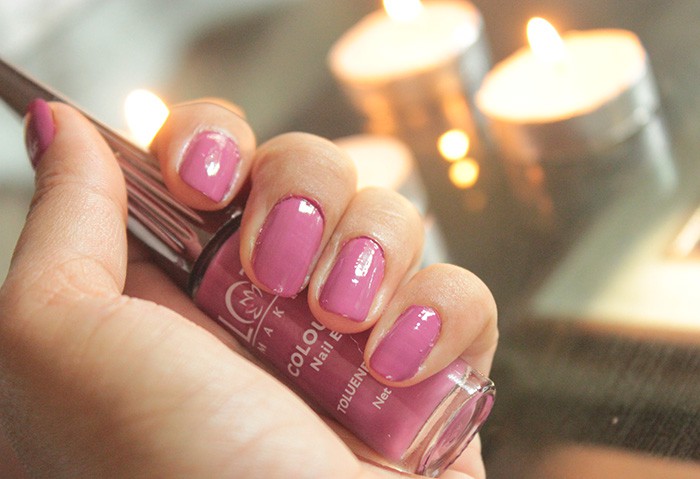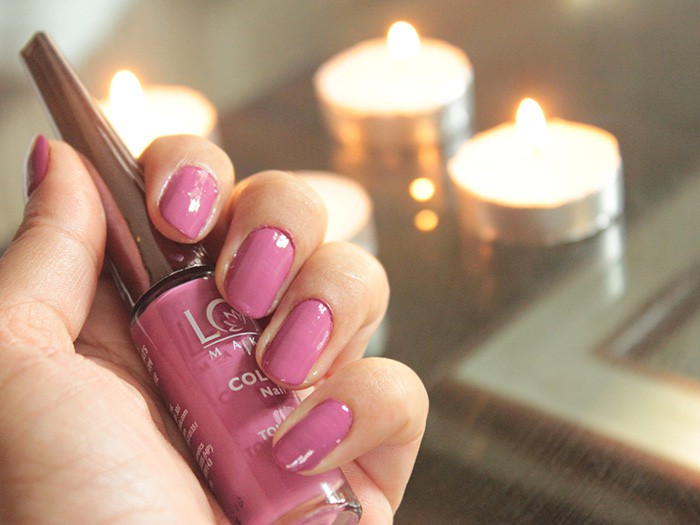 You might also like reading these related topics:
Lotus Herbals Colour Dew Nail Polish Peach Perfect 99 Review NOTD
Lakme True Wear N236 FreeSpirit Nail Polish Review Swatch