Hello Everyone,
I hope you all are doing great and taking very good care of your skin and body in this horrible hot weather. These days my life literally revolves around water and sunscreen lotion. They have become my basic necessity of life.
Apart from facing the fire ball in summers, the problem that I always face in this weather is hair fall. My hair keeps on falling the whole year but the speed of falling increases in summers. I guess it happens due to excessive sweating, exposure to sun, dirt and pollution. I spend my weekdays in searching one or the other home remedy to control the hair fall and spend my weekend on trying those remedies. Sometimes I succeed but most of the time I fail. Finally I decided to put a full stop on all these home remedies, which give only temporary relief, to try out something that can help me in reducing the hair fall. My search ended when I came across 'Livon Hair Gain Tonic for Women'.
What the product says:
Livon Hair Gain Tonic is clinically tested to accelerate hair growth and control hair fall by revitalizing hair follicles from the roots and improving hair quality. Livon Hair Gain Tonic for Women is enriched with Root Energisers (Kopexii) and B group of vitamins. It is a breakthrough formulation that has a 3 way action on the affected hair follicles. It penetrates to the root of the hair follicle and clears up the debris around it. It restores proper circulation of blood and nutrients to the hair follicle. It also prevents shrinking of the hair follicle and helps it grow in a healthy cycle.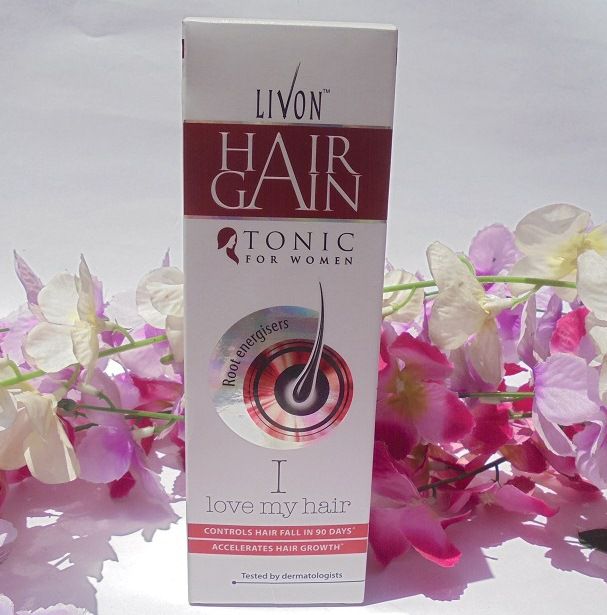 My Take on 'Livon hair Gain Tonic for Women'
It comes in white and red capsule shaped bottle. All the important instructions are clearly mentioned on the outer cardboard box in which the product comes as well as on the product itself. The box also contains a leaflet on which everything you want to know about hair fall and this product is clearly mentioned. There is a nozzle with a small cap that prevents any kind of leakage. We can apply the tonic directly on the scalp with the help of the dispensing nozzle and avoid wastage of the product.
The tonic is light yellowish in colour and has runny consistency. It has a pleasant floral fragrance which lingers for a while after application and then fades away. Due to its water like consistency, it cannot be applied like hair oil. So I apply it directly on my scalp with the help of the nozzle. I divide my hair into small sections and keep applying it on those different sections. I need to be very careful and quick while applying it otherwise the tonic will start flowing.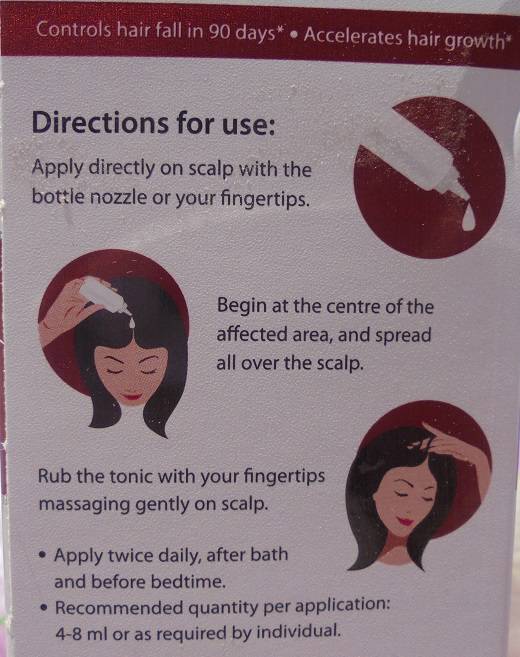 After applying the tonic on the scalp, I gently massage it on the scalp for few seconds and then repeat the same process on next section. As advised on the packaging, I use this product twice a day. I apply it in the morning after taking the bath and then I apply it again in the night before sleeping. It does not make my hair oily or greasy and I don't feel the need of washing my hair after every application. But after few usages, my hair becomes heavy and they start yelling for a wash. All the greasiness easily comes out in one wash only and my hair becomes soft and manageable.
I am using it from the last one month and still I am left with more than half of the bottle. So, a single bottle will last you for more than couple of months. Its regular usage has helped me a lot in controlling my hair fall and now I spot less hair on my pillow and comb. It has definitely reduced my hair fall to an extent. It has also helped in promoting the growth of my hair. Normally my hair takes so much time in growing but since I have started using this tonic, there is a noticeable change in the length of my hair.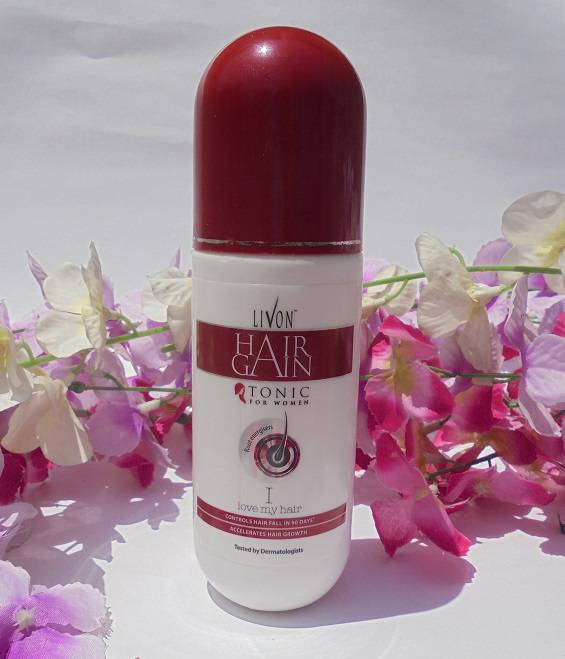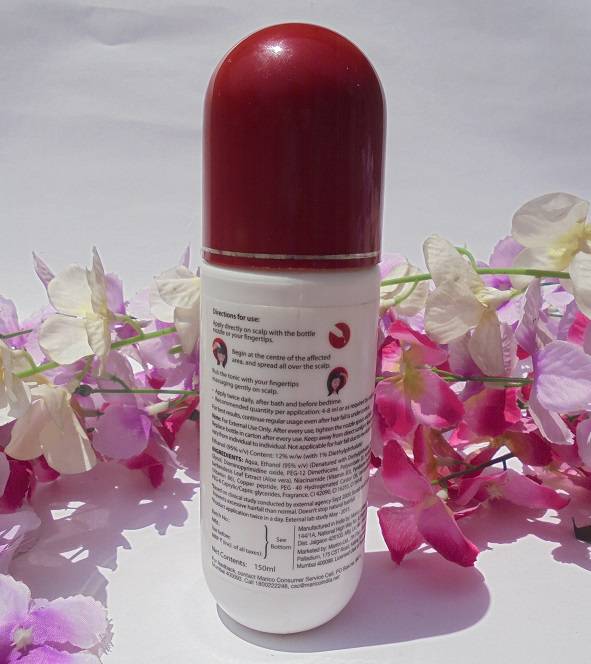 Though the product helps in accelerating the hair growth but it contributes nothing in the growth of new hair. It has increased the length of my hair but the volume of the hair is still the same. I haven't noticed any formation of the new hair.
The major con in this product is its ingredient list. It contains endless number of harmful chemicals, which can damage our hair and scalp in the long run. We will again start facing the problem once we will discontinue the product.
What I like about 'Livon Hair Gain Tonic for Women'
– It starts showing the results within couple of weeks only.
– It helps in controlling the hair fall.
– Its regular usage promotes hair growth.
– It gets easily absorbed in the scalp.
– The packaging is spill-proof and travel friendly.
– It does not make hair greasy or oily.
– It has very mild and pleasant fragrance.
– It is available almost everywhere.
What I do not like about 'Livon Hair Gain Tonic for Women'– The price is on the higher side.
– It does not promote new hair growth.
– It contains so many chemicals.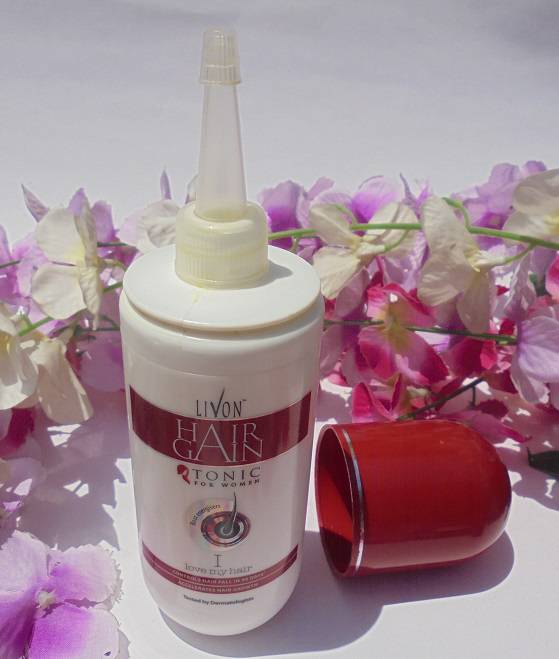 Price of 'Livon hair Gain Tonic for Women': Rs. 685/- for 150 ml
Ingredients of 'Livon Hair Gain Tonic for Women'
Shelf Life of 'Livon Hair Gain Tonic for Women': 2 years from the date of manufacturing
BABE Rating: 3.5/5
Final Word: If hair fall is bothering you and you are afraid with the rate at which your hairs are leaving your scalp, then all you need right now is 'Livon Hair Gain Tonic for Women'. It is non-greasy hair tonic which starts showing the result within 2 weeks only. It controls the hair fall to a major extent and promotes the growth of the hair. In case you are someone who maintains a distance from the products that contains chemicals, then it's better to skip it and look for other chemical free alternatives.
You might also like reading these related topics