A bad or a good hair day is defined just on the basis of temporary hair texture. Apply some hair serum and you will be able to convert a bad hair day into a good hair day. But if it is a severe hair fall phase or volume issue, the conversion would not be that easier. You might need to visit a trichologist or spend months following a specific treatment before you see the real results. Today, I am going to review one such treatment product 'Hair For Sure Hair Regrowth Treatment' that claims to simplify complex hair problems related to hair fall and regrowth. Let's see what the product claims before jumping to the experience.
What the products says:
Hair For Sure, featuring the breakthrough Rutexil Growth Complex brings together a broad spectrum of compounds delivering a high performance, clinically proven Comprehensive 4 Step performance formula to treat follicular dysfunction more effectively, stop hair loss and begin hair regrowth. It reactivates hair follicles to stimulate growth.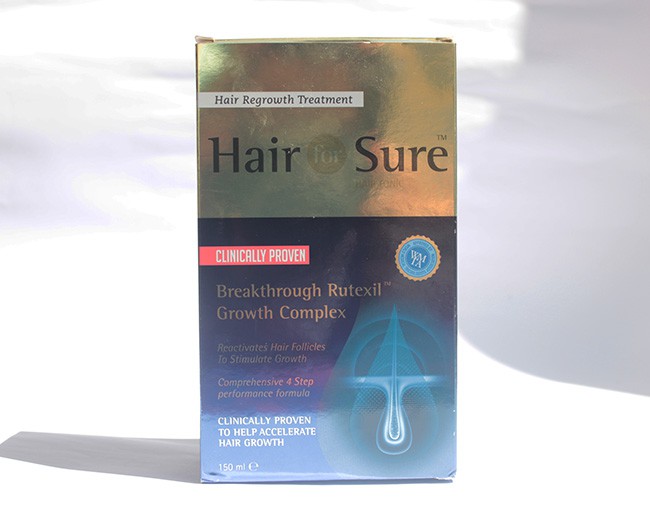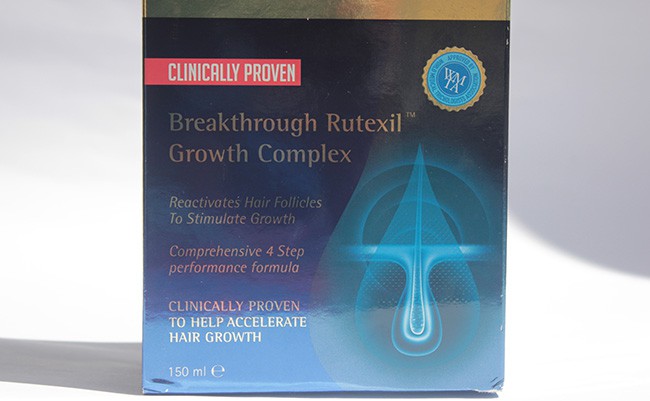 My Take on 'Hair For Sure Hair Regrowth Treatment'
It is packed in a fancy cardboard box that bears the usage instructions, the technology this product is based on and what to expect from it. Inside the big box, there is a 150 ml cream colored translucent bottle with a silver cap. The outlet is further sealed with a small screw cap to avoid any spillage. To simplify the usage another dispensing nozzle is provided with the pack and that should be fixed on the bottle before usage.
This hair growth treatment is a pale colored liquid with consistency as that of water. It is very runny so I have to be super cautious not to waste even a bit of it. It has heavenly fragrance, similar to perfume but it dissipates into air in just couple of minutes after application.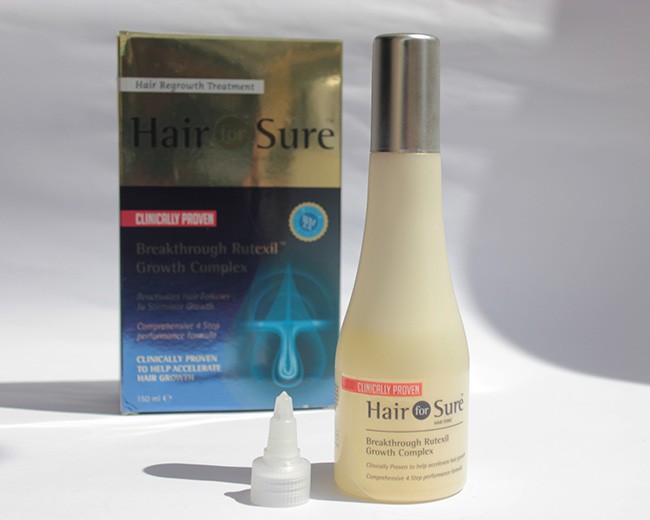 Before applying the hair growth treatment I divide my hair into numerous sections and clip them so that I can quickly work with the liquid. For application, I pour few drops on my palm and using finger tips apply it on the scalp massaging gently as if I am oiling my hair. I do not use the dispensing nozzle as I prefer to apply the product using fingertips. Also, because the consistency is very runny so if I use the dispensing nozzle I will not have any control on the dispensed liquid, however, while working with fingertips I can just pour the required quantity. It has very light texture that makes the liquid quickly penetrate into the skin. I apply it twice a day – morning and evening. Though it does not prominently weigh down the hair or make it oilier, yet I feel my hair needs a wash sooner than its actual time, but definitely not on a daily basis which is good considering I am applying it twice a day.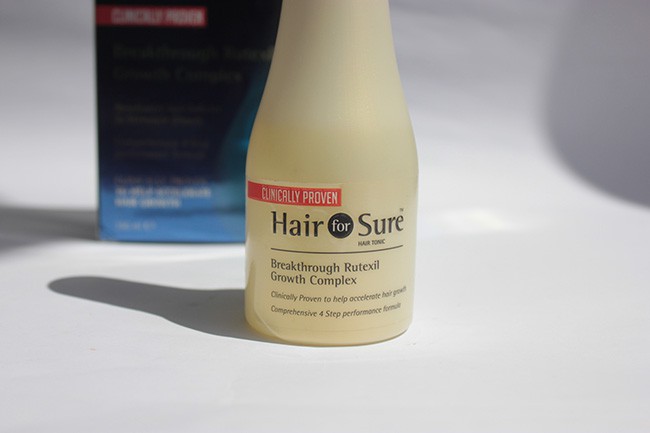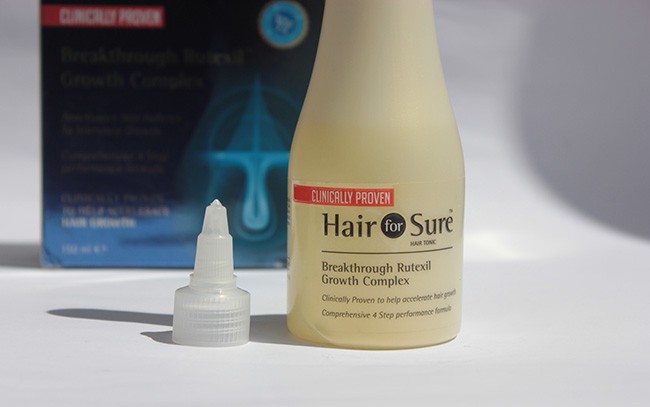 Its formulation is a mix of chemicals and herbs. In addition to the chemicals, the ingredient list also contains aloe vera and glycerine. These two ingredients are known for their wonder to skin and hair, but if it had contained more organic ingredients I would be happier.
Speaking of results, it claims to stop hair fall and reactivate hair follicle for regrowth. I have been using it for a month and half now and I see some improvement in loose strands. Though I was not going through a major hair fall, I started using it for better hair health and speedy growth of whatever tiny number of hairs my scalp was shedding. It does do its job when it comes to curbing hair fall but I am not much sure of the hair growth. Also, as I do not have major patches on my scalp so I won't be able to justify the regrowth claim. But yeah, in another few months the volume of my hair might prove that. I am continuing using Hair For sure hair regrowth treatment to see if it stimulates growth and adds volume.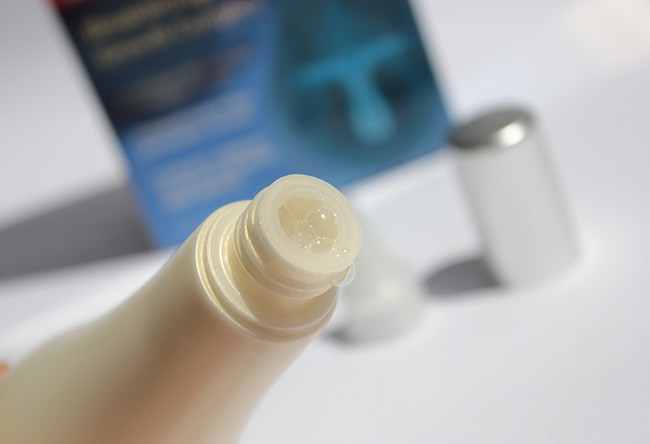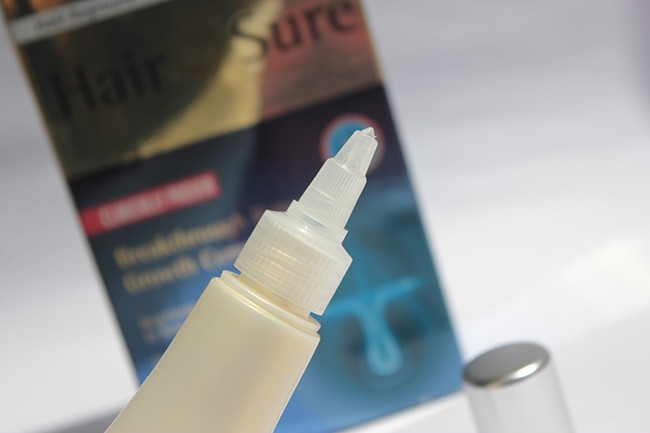 What I like about 'Hair For Sure Hair Regrowth Treatment'
– Does not make hair oilier.
– Controls hair fall to an extent.
– It has nice fragrance.
– Spill proof packaging.
– Convenient to use.
What I do not like about 'Hair For Sure Hair Regrowth Treatment'
– The packaging could have been slightly compact.
Price of 'Hair For Sure Hair Regrowth Treatment': Rs 800
Ingredients of 'Hair For Sure Hair Regrowth Treatment'

Shelf life of 'Hair For Sure Hair Regrowth Treatment': 2 years from manufacturing.
Final Word: Hair For Sure Hair Regrowth Treatment is lightweight and fragrant liquid that helps in curbing hair fall. The presence of organic ingredients such as aloe vera & glycerin is a relief but I wish the chemical list could have been cut down as well. Since I have started using it, I have not experienced any adverse effects on scalp or hair health, so I feel I will continue its usage as a precautionary measure.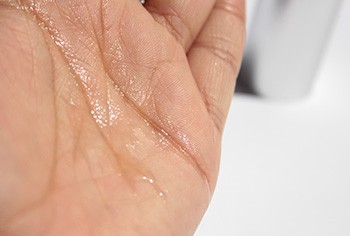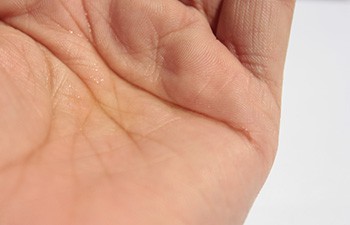 You might also like reading these related topics:
10 Home remedies to treat rough hair and control hair fall naturally
Healthy and Strong Hair – How To Take Care of Your Hair