We all are very well known to the skin benefits of aloe vera, and that is why there are many products available in the market that contain the goodness of this wonder plant. Today, I am going to review one such product – Just Herbs Aloe Vera Facial Massage Gel that I received in one of the Fab bags. The moment I saw this product in fab bag I was eager to use it immediately. I am glad that I started its usage and have been using it for over two weeks now. Let's see my experience with this facial massage gel.
What the product says:
An intensive skin rejuvenating facial massage gel designed to nourish, hydrate and liven up dull and lifeless skin. Aloe vera inhibits the over production of enzymes responsible for the breakdown of the collagen-elastin matrix of the skin and provides protection against sun's UV rays, clears away blemishes, while cucumbers restore the natural moisturising factor(NMF) by delivering vitamins and moisture to the deepest layers of sun-exposed skin. Aloevera and soy lecithin provides nourishment, stimulating the skin's metabolic functions and combats free radicals to prevent the effects of oxidative skin damage.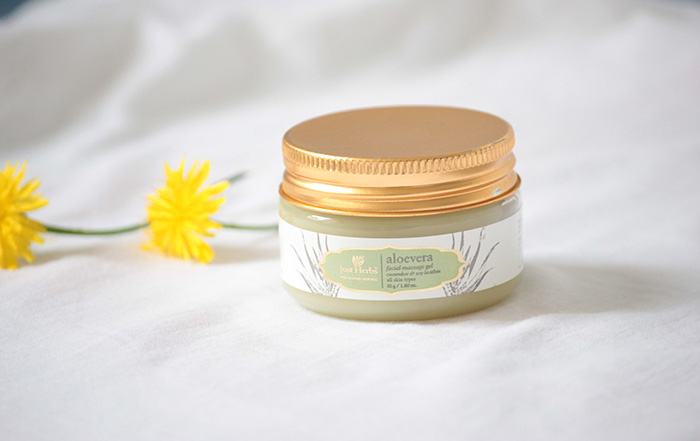 My take on 'Just Herbs Aloe Vera Facial Massage Gel'
The product comes in a wide jar that has golden colored screw open cap and translucent base. The jar is made of plastic hence light-weight and spill-proof. The only con I find with the packaging is that the entire content can be easily contaminated if I use my fingers instead of a spoon or spatula to take out even tiny bit of product. Besides that, I love the luxurious-looking packaging and the convenience with which I can use the product.
As the name says, it is a massage gel. The consistency is appropriate for a gentle facial massage – it is neither very runny nor very thick yet has the exact viscosity that is required for an easy and gentle face massage. It is a soft and smooth gel with very mild herbal fragrance. The soft touch of this gel against the skin makes me feel as if I am pampering my skin in a very tender manner. Since it contains the goodness of all skin friendly ingredients, it is a nice product for all skin types.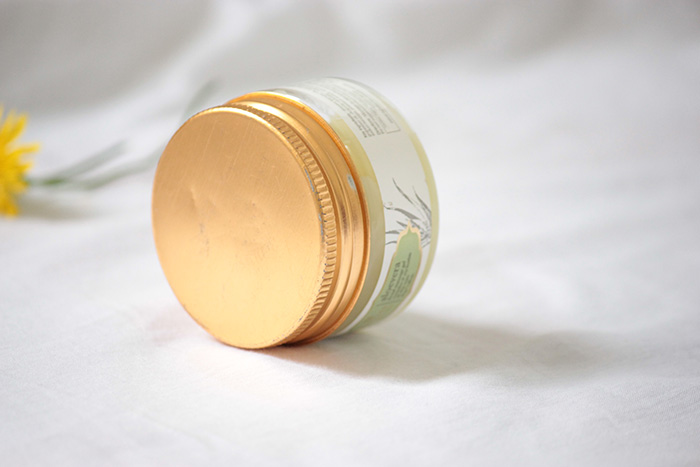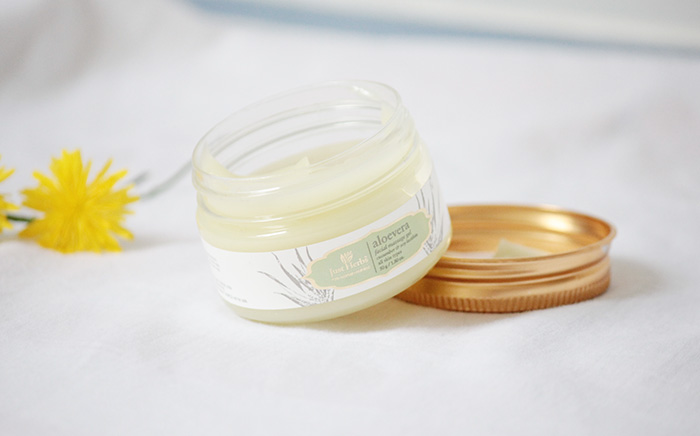 For the usage, I apply this gel every other night on a clean face. I massage this gel on my face after washing the face with a cleanser and before applying the night cream. As per the usage instruction, I massage it on the face and neck until it gets absorbed into the skin and afterward splash water to remove the unabsorbed product. I follow it with my usual night cream.
I have been using this gel for over two weeks now, and needless to say, I am quite satisfied with the results. Though my skin is oily but I do not see any excess oil production and greasiness surfacing on my skin since I have started using this gel. On the contrary, my skin looks well-balanced and healthy now. Even in this harsh winter season, it does not have any sign of flakiness. It looks hydrated and appropriately moisturized; not only that but also since I am using this product consistently for last few weeks I see it working on blemishes as well. My face looks much clearer and lively as compared to what it used to look two weeks ago. Overall, I find this aloe vera massage gel a nice product for all skin types because of its ingredient list and efficacy.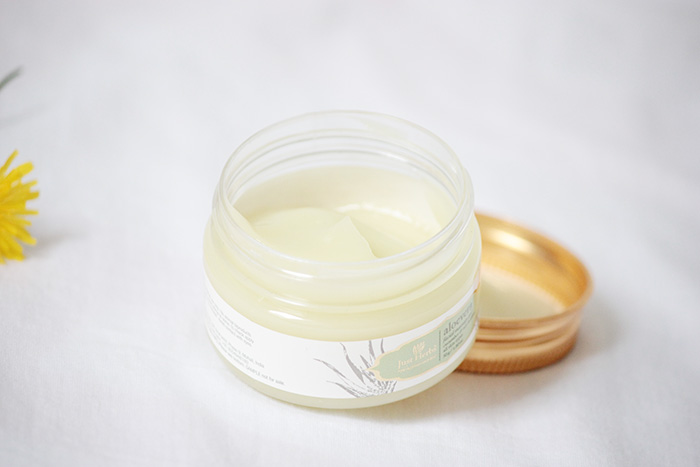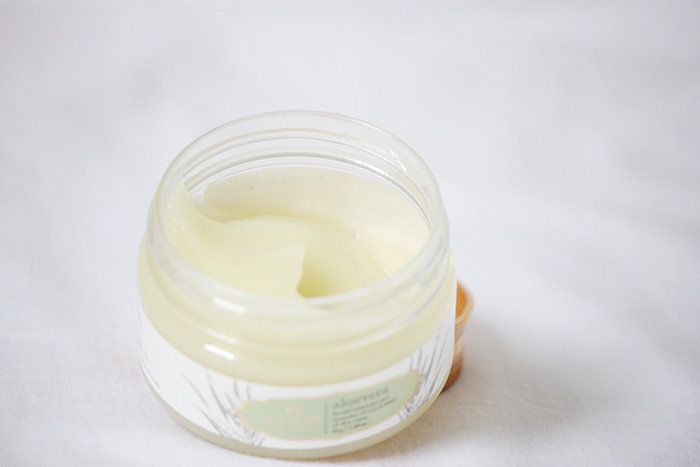 What I like about 'Just Herbs Aloe Vera Facial Massage Gel'
– Soothing fragrance that aids to a refreshing experience.
– Smooth texture that is gentle on the skin.
– It does not leave any greasiness or oily residue on the skin.
– Makes the skin softer and clearer.
– Works on blemishes.
What I do not like about 'Just Herbs Aloe Vera Facial Massage Gel'
– The jar packaging is not the most hygienic one, and that's why I recommend using a spatula or spoon to take out the gel.
Price of 'Just Herbs Aloe Vera Facial Massage Gel': Rs 495 for 100g
Shelf life of 'Just Herbs Aloe Vera Facial Massage Gel': 3 years from manufacturing date.
BABE Rating: 4.5/5
Final Word: Formulated with the goodness of skin friendly ingredients such Aloe vera, glycerin and grape seed oil, Just herbs aloe vera facial massage gel is appropriate for all skin types. Owing to the benefits of aloe vera for our skin, this effective aloe vera product is a nice substitute to fresh aloe vera. It clears the skin off scars and blemishes, and helps in restoring the lost moisture. As it is a smooth, fragrance-free gel it works gently and effectively on the skin. If you do not have access to natural aloe vera I would recommend the usage of this facial massage gel.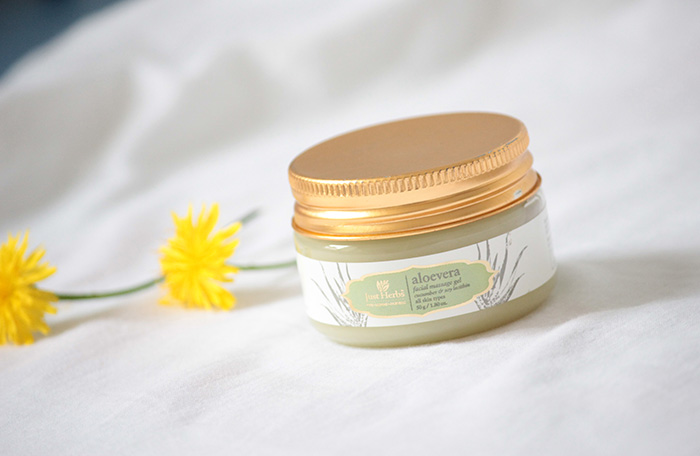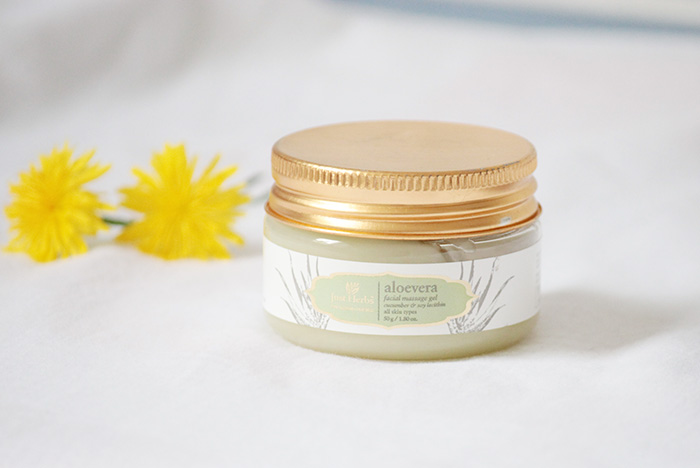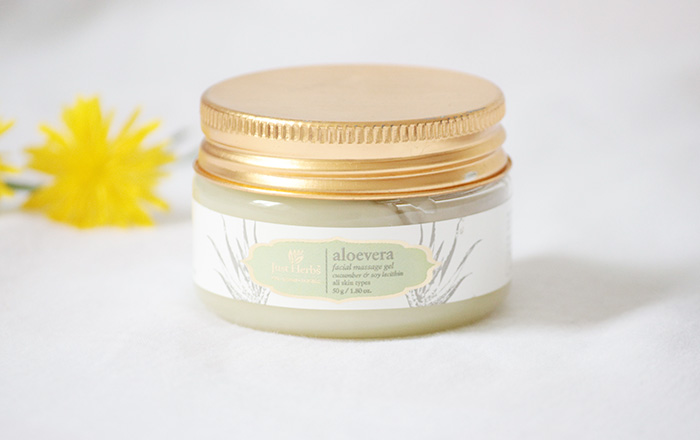 You might also like reading these related topics:
Just Herbs Rejuvenating Beauty Elixir Facial Serum With Gotukola Indian Ginseng Review