Looks are incomplete without good hair styles. And to help us get the contemporary hairstyle we have lots of hair styling products in the market. Most of them have specific uses such as hair straightener and curling tong but the product that I am reviewing today can be used daily on regular basis. The product name is Irresistible Me Jade Hair Straightening Ceramic Brush. The 'Irresistible Me' company is based out of USA and make quality products. Let's see my experience with this 2-in-1 product.
What the product says:
The Irresistible Me Jade with 3D technology for multiple contact points and special ceramic tourmaline heating surface will give you quick and effortless straight hair without heat damage.
The Irresistible Me Jade will give you a gorgeous blowout look in only a few minutes. All you have to do is brush your clean dry hair, taking small wefts and passing the brush through them slowly (similar to what you would normally do using a flat iron). You're going to be surprised how much faster you can straighten your hair with the Irresistible Me Jade than using the tension or chasing blow-drying method.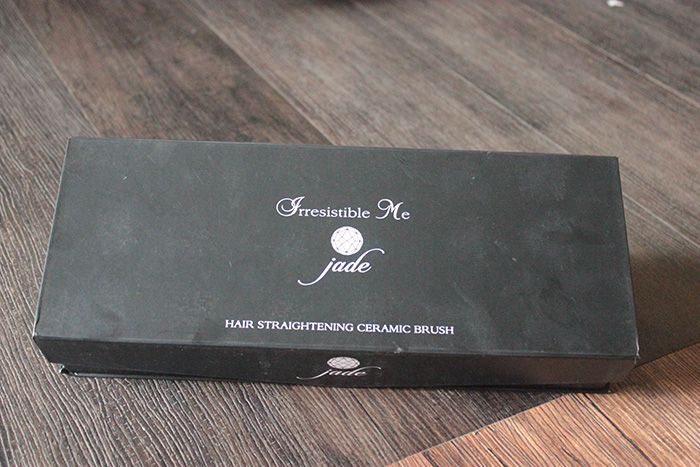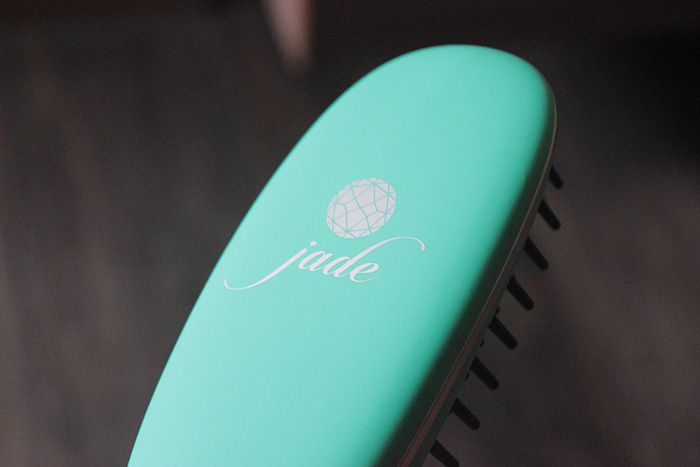 My take on 'Irresistible Me Jade Hair Straightening Ceramic Brush'
The brush is packed in a classy black box that has a magnetic look. Brush case is thoughtfully designed to make room for the cord and instruction booklet. Now, that my brush is out of the box I am planning to keep it a handy place and use the box for storing other stuff. Since the lock is magnetic the box can conveniently hold the stuff without spilling it out.
It is a sea-green colored brush with thick and long bristles, which are anti-static and thus does not produce any charge in the hair. Also, the anti-scald feature prevents them from causing any burn to the hair. The brand clearly mentions that we should be using heat protection products before styling the hair using this brush. If you have sensitive hair that is prone to damage you should be definitely doing that but 8/10 times I have used this brush I did not use the heat protection spray. It is mainly because I do not like applying unnecessary chemicals on my hair and also because my hair is strong I can afford skipping the protection. Anyways, the bristles ensure that hair gets untangled without breakage, and does not even poke the scalp. They feel soft on the scalp and easily come out of the tangled tresses.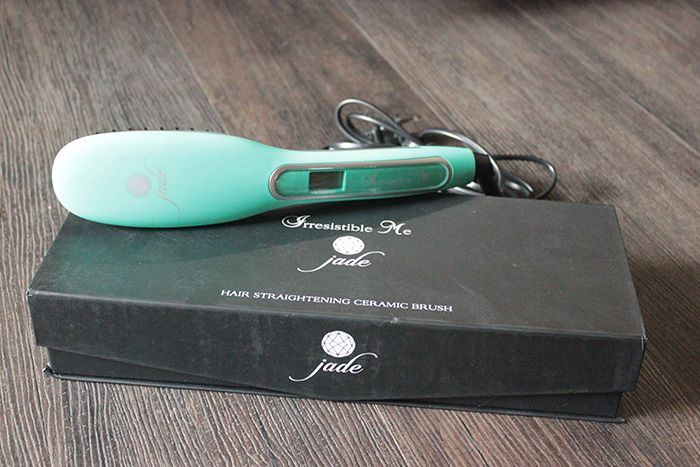 It is ceramic brush with non-slippery touch. My hands get sweaty so usually it takes me time to work with such appliances but since this is non-slippery and does not heat up I can easily hold it as long as required. The best thing is its cord is 8 feet long so that means even if I do not have a switchboard nearby by dressing place I can plug it within 8 feet radius. As it is a US appliance the plug requires an Indian converter to make it fit in the switchboard. I do not think that would be a problem because converters are easily available in any electrical shop.
It has got couple of impressive setting. The first one is the temperature setting that varies from 130C to 230C. So depending on the hair texture and quality of the hair you can set it to a desired temperature. I use it at 180C and it perfectly does the job of straightening my hair. All I do is brush my dry hair, taking small portions at a time and passing the brush through them slowly. In no time it straightens the hair and gives them a silky shine. The best thing is it can be used on colored hair as well. I regularly apply henna on my hair so I was bit sceptical about using the brush but fortunately it did not cause any damage instead after I use this brush my hair looks healthy and silky.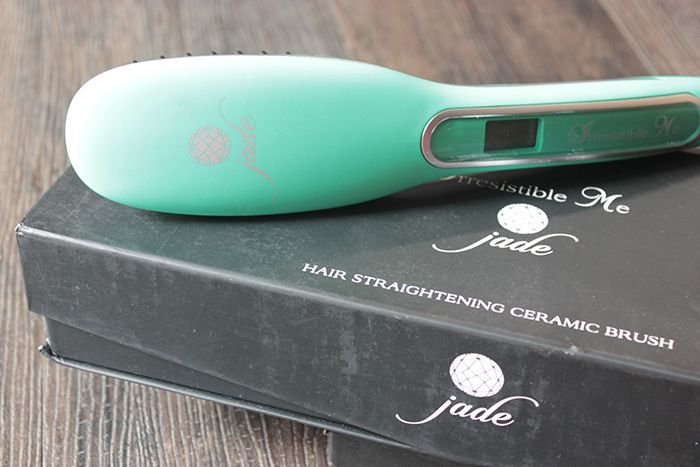 It heats up fast and also automatically shuts off when the temperature reaches the desired setting. The gorgeous LCD display on the handles shows the temperature being set and the easy to use heat up (+) and heat down (+) keys make it even more convenient to handle. Secondly, the ceramic tourmaline coating on the bristles makes the safe for use and prevents any damage to the hair.
Overall, I like how this brush does the 2-in-1 job of detangling and straightening hair without causing any damage.
What I like about 'Irresistible Me Jade Hair Straightening Ceramic Brush'
– Multiple temperature settings varying from 270℉ (130℃) to 450℉ (230℃).
– Slip-proof and heat-proof handle.
– Easy temperature control.
– Anti-scald and anti-static teeth that make the brush easy to run through hair.
– Gorgeous LCD screen display.
– Serves 2 purposes – detangles and straightens hair.
– Perfect thickness and length of bristles straight hair without causing any damage.
– Heats up fast.
– Automatically shuts off.
– 8 feet long cord that increases the range of usage.
– It can be used on colored hair.
– Imparts shine and smoothness
What I do not like about 'Irresistible Me Jade Hair Straightening Ceramic Brush'
– Nothing as such.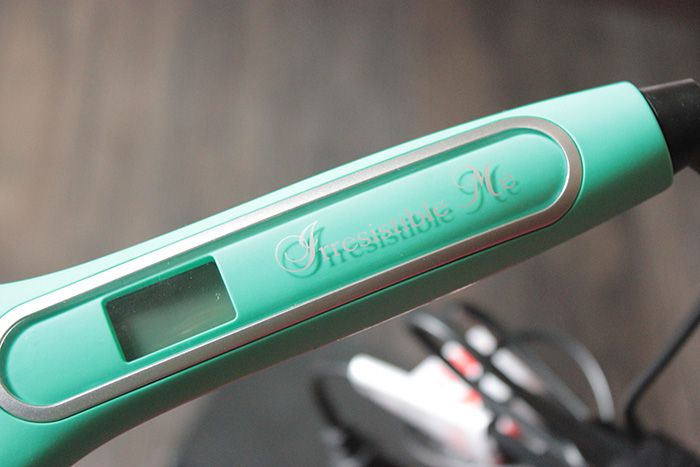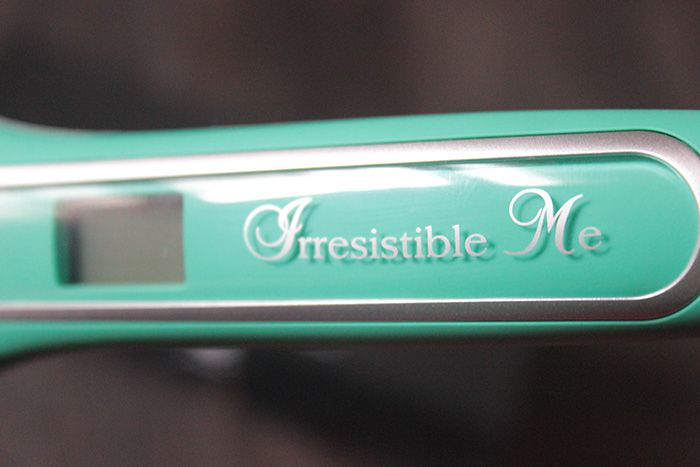 Price of 'Irresistible Me Jade Hair Straightening Ceramic Brush': USD 69
BABE Rating: 5/5
Final Word: I love how conveniently I can use Irresistible Me Jade Hair Straightening Ceramic Brush. It is easy to handle and heats up fast thus taking less time in straightening the hair. The best thing is now I do not need to detangle my hair before straightening instead I can upfront use a single appliance that does both the jobs for me. I love how silky it makes my hairs look and I hope it is visible in the photographs as well.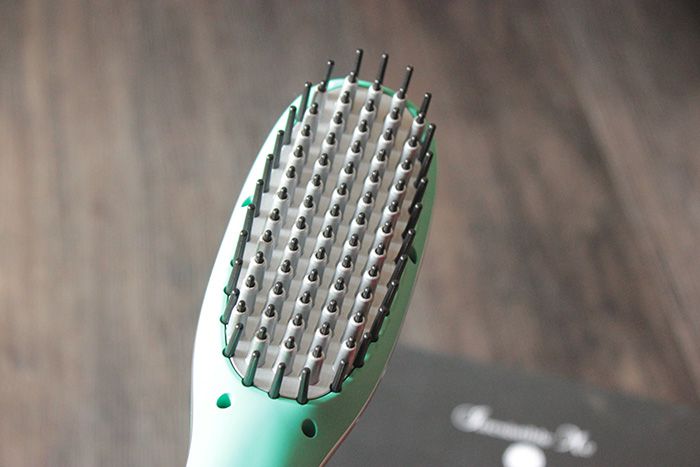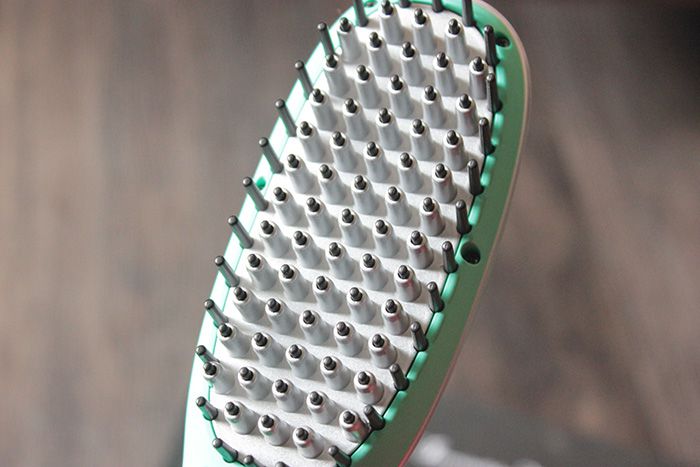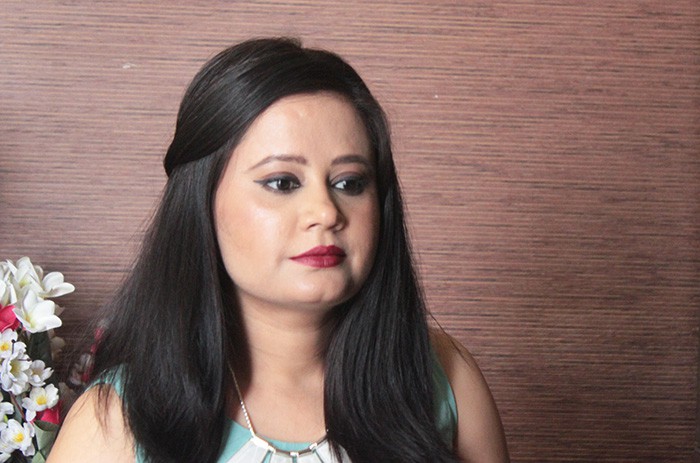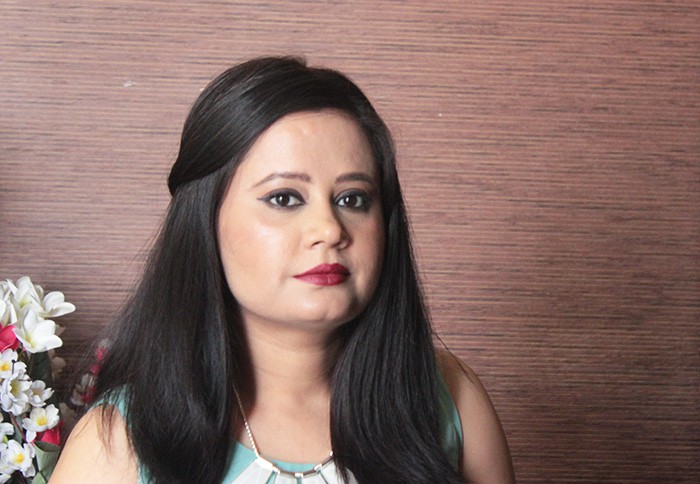 You might also like reading these related topics:
Remington 19mm Tong Hair Curler Review
How To Curl Hair At Home Without Heat – flaunt your soft curls the natural way!
Remington Compact 1800W Hair Dryer Review