Cute stuff is difficult to let go! Today, I am reviewing a cute pair of Forever 21 exfoliating gloves. When I bought them I did not have any need or intention of purchasing them. It was just that I spotted them on the shelf, really liked the mint color and cuteness these gloves behold. That was all that made me add these cuties to my skin care tools collection. Moreover, their price is quite affordable so that was another contributing factor in making this purchase. Let's see how I find these exfoliating gloves.
What the product says
– A pair of lightweight gloves made to exfoliate skin
– 100% nylon
– Hand wash cold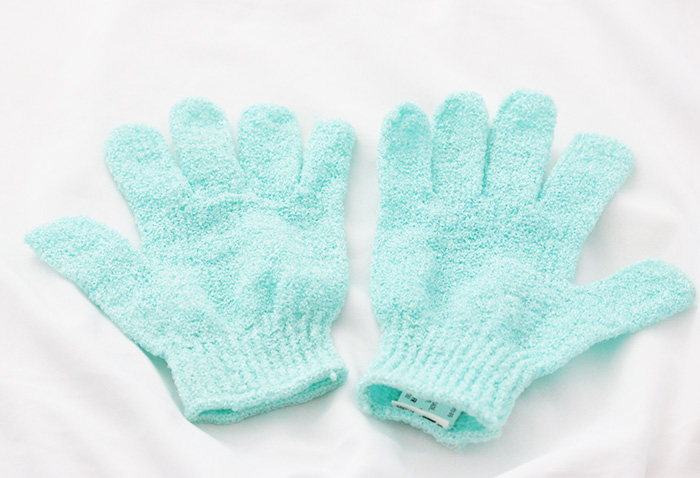 My take on 'Forever 21 Exfoliating Gloves'
These gloves come packed in a one-sided transparent pouch. The other side of the pouch contains the details about the fabric, pricing, etc. I have been using these gloves for quite long so I have misplaced the pouch and that's the reason you do not see any pictures of the pouch containing these gloves. Well, the gloves are all that matters. Anyways, the see-through of the pouch side enables you to see the gloves and the color. I picked the mint color as I found it quite attractive though they were available in a couple of more colors like hot pink and purple.
Like any other pair of gloves, these gloves also have five finger holes. They are made of nylon fabric, which is quite stretchable and fits all hands. The gloves have a thin elastic band at the wrist that provides good grip and saves the gloves from slipping while they are submerged in lather and water. The material is soft yet rough. It is not that kind of rough which feels harsh against the skin but the one that is appropriate for exfoliation without causing any damage to the skin. Being rough, the gloves do not let the bottles of body wash or shower gel slip away from my hands. I can keep pouring as much cleanser as I need without any need of picking up the slipped bottles from the floor.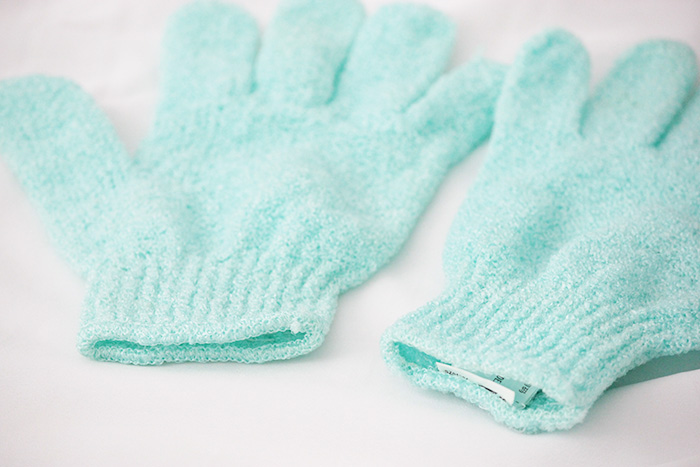 Coming to exfoliation, we all know the importance of exfoliating the skin regularly. It removes dead skin cells and makes the skin soft. It also increases the blood supply, and thus makes the skin healthy and supple. To exfoliate my skin, I put on these gloves and run my hands through water so that the gloves become wet. Then I pour my shower gel on these gloves and rub the palms together to generate lather. As compared to a loofah these gloves generate little less lather but still, the quantity is sufficient for a satisfactory bathing experience. Sometimes, I pour the shower gel twice and I am ok with that as after all my skin is getting exfoliated.
Since I have started using these gloves, exfoliation has become way easier for me. After generating the lather, I gently massage my hands on the body. The gentle yet rough texture of these gloves makes exfoliation perfect. They deeply clean the skin, removing grime and dead skin cells. This removes the roughness of the skin and the skin becomes soft and smooth. I can actually feel the difference after using these gloves. The best part is since I can use both my hands for exfoliation, it does not require a lot of time in an effective exfoliating shower. Also, by using these gloves my hands can reach and exfoliate every part of the body. These gloves easily make the elbows and knees look clean and smooth.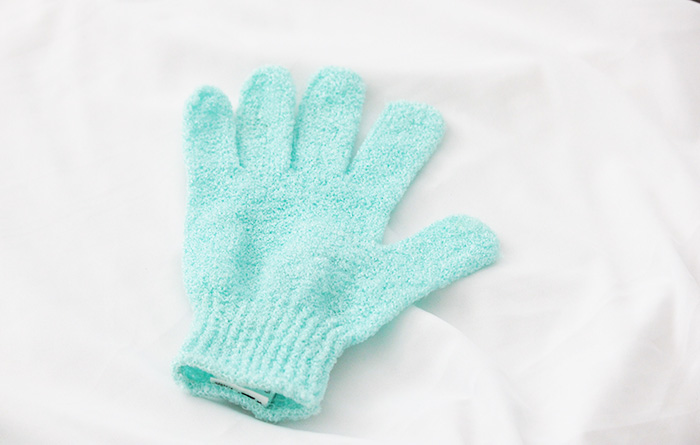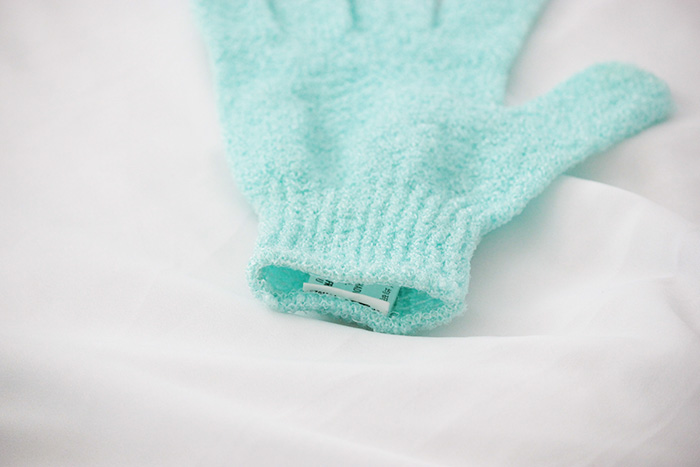 I do not wash these gloves separately. After bathing I squeeze them gently and either hang them on a wire or lay them on a flat top for drying. Being made of nylon, they take some time in drying which in my case is ok as I use them just twice a week, and this gap in usage gives them ample time to dry completely.
These gloves are effective when it comes to exfoliation but I use them just twice a week. In my opinion, over-usage might lead to skin dryness. So on the days when I am not using these gloves, I stick to the regular loofah.
Things I like about 'Forever 21 Exfoliating Gloves'
– Stretchable nylon material that size fits most.
– Exfoliate the skin well.
– Instantly make the skin soft and clear.
– Neither too harsh nor very gentle.
– Helpful in exfoliating every nook and cranny of the body.
– Help in creating lather from soap or body wash.
– Easy to wash and squeeze.
– Available in cute colors.
– The elastic band around the wrist provides good grip.
– Make exfoliation super easy.
Things I do not like about 'Forever 21 Exfoliating Gloves'
– Take time in drying.
Price of 'Forever 21 Exfoliating Gloves': INR 129
BABE Rating: 4.75/5
Final Word: Overall, I am quite impressed with Forever 21 exfoliating gloves. Since I have brought them skin exfoliation has become a lot easier in terms of time and efficacy. Now, my skin looks soft, clean and healthy. Plus, they are super affordable and last long so you can invest in them without worrying a bit about the budget. Give them shot girls!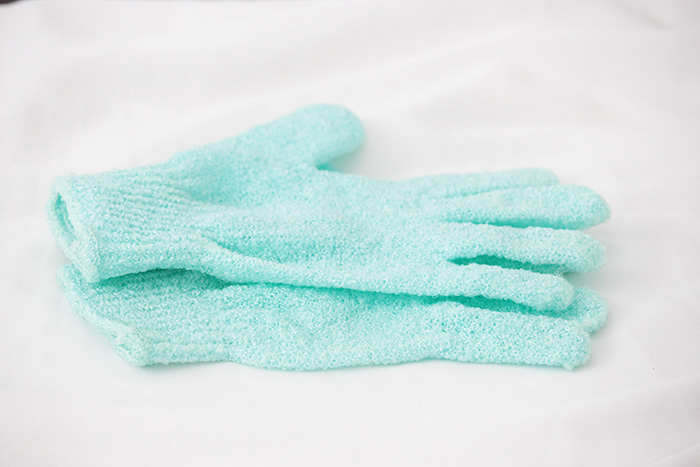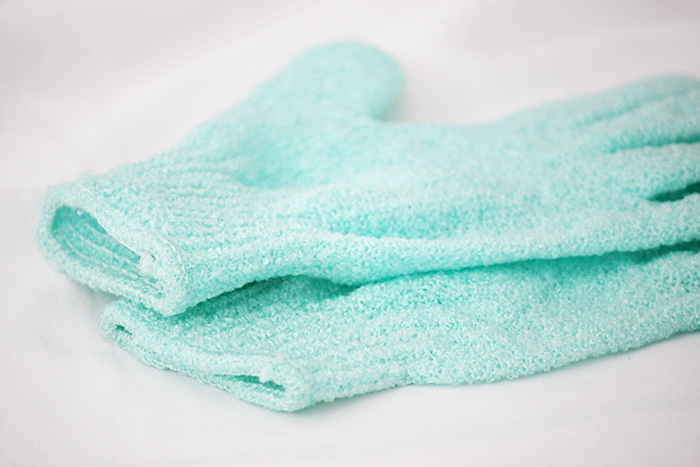 You might also like reading these related topics:
Forever 21 Ultra Soft Facial Cleansing Brush Review
Vega Facial Cleansing Sponge Review