e.l.f. Cosmetics is a renown name in the world of makeup. e.l.f is an acronym of "Eyes Lips Face" and the brand has launched a wide range of products in different lines that vary from makeup to skincare to nails. Their products are affordable and easily available, and I got a few of them to review. This is the first time I am trying e.l.f. Cosmetics makeup so I am excited to review these products on the blog. The products were beautifully packed that saved them from damage during the transit. Each product has its own damage-proof packaging that helps in keeping the makeup stuff safe from breakage. Read on for more details about my e.l.f. Cosmetics Makeup Collection and their pictures.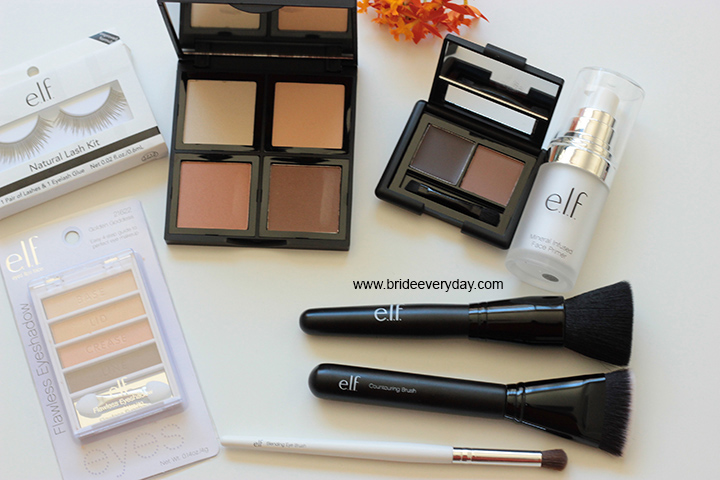 e.l.f. Cosmetics Makeup Brushes
e.l.f. has an extensive range of makeup brushes that includes brush sets and single brushes. For the review purpose, I have got three brushes- powder brush (AUD 12), contouring brush (AUD 14) and blending eye brush (AUD 3). All three of them are packed in individual cases to keep the bristles intact. The shape of these brushes is defined depending on the usage. They have synthetic bristles that feel really soft and gentle against the skin. My favorite is the contouring brush.
e.l.f. Cosmetics Contour Palette | AUD 14
The powder contour palette has 4 shades that are a mix of contouring and highlighting shades. The colors are decently pigmented and can give a well defined sculpted look. Of the two dark shades, one can also be used as a bronzer. The two highlighting shades can be used on the cheekbones, brow bone, the center of nose, Cupid's bow for a highlighting effect. The palette also contains an inbuilt clear mirror that can be conveniently used for applying makeup on the go.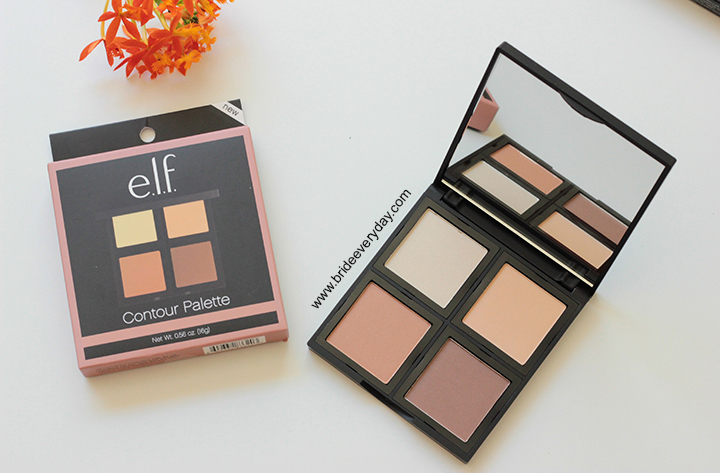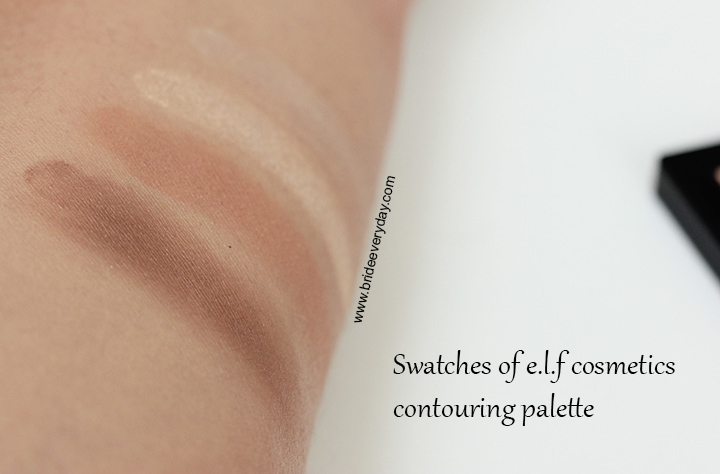 e.l.f. Cosmetics Brow Kit (Medium) | AUD 8
The brow kit has two compartments- one contains the dark brown brow powder and the other contains brown colored brow gel. The kit comes with a small two sided brush and an inbuilt mirror. The angled side of the brush is to apply the brow gel and define the brows whereas the other side is for blending purpose. However, the inbuilt mirror is too small to be used effectively.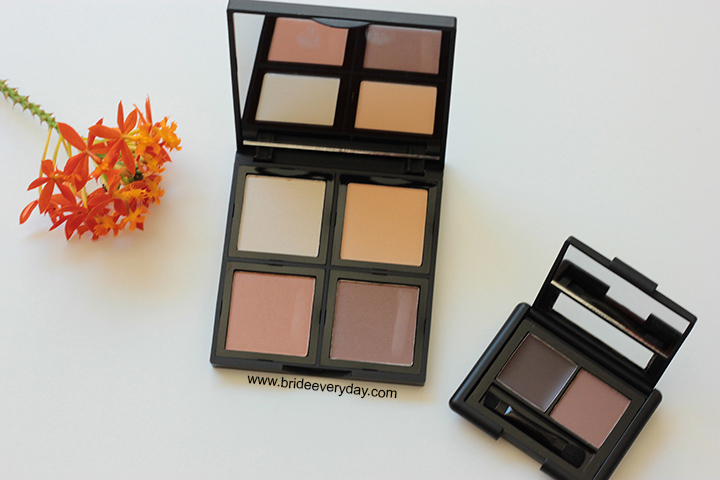 e.l.f Cosmetics Mineral Infused Face Primer | AUD 14
Primer is one of the essential products for long lasting & flawless makeup. e.l.f. cosmetics primer comes in a pump dispensing bottle that seems convenient and hygienic. Going by the product description, it appears suitable for combination to oily skin that has enlarged pores and greasiness. I am looking forward to using this product sometime soon so stay tuned for the detailed review.
e.l.f. Cosmetics Flawless Eyeshadow | AUD 6
Flawless eyeshadow quads come in 9 beautiful shades- beautiful brown, blushing beauty, happy hour, golden goddess, matte for plum, party purple, sea escape, smoky, tantalizing taupe. All these palettes have four similar shades that are coordinated to attain a contoured and defined eye makeup. I got the palette Golden Goddess that has the brown and beige shades for a natural look. All the colors have some shimmer in them so this would be a nice palette for party makeup. The best thing I like about these palettes is that every shade has the area name (on which the shade has to be applied) mentioned on it which will be quite a beneficial thing for makeup beginners.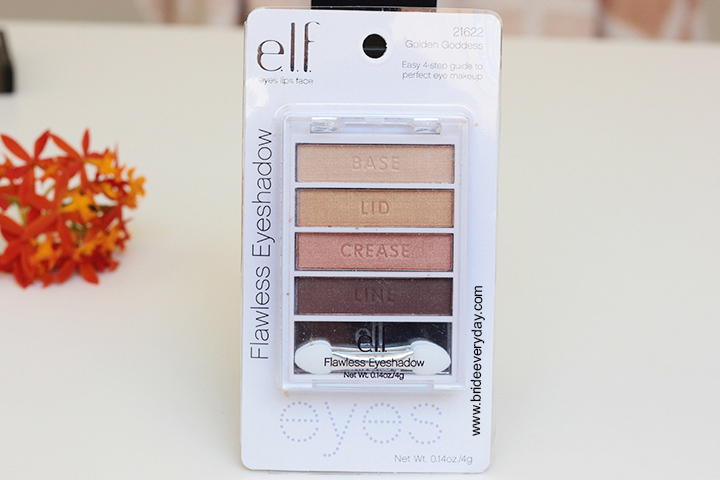 e.l.f. Cosmetics Natural Lash Kit | AUD 6
Natural lash kit contains a pair of synthetic lashes along with a small glue stick. The lashes appear slightly big for my eyes so I may need to trim them for a well-defined look. These are reusable lashes and can be removed using a warm towel & tweezers.
I am yet to use these products thoroughly so stay tuned for the detailed reviews.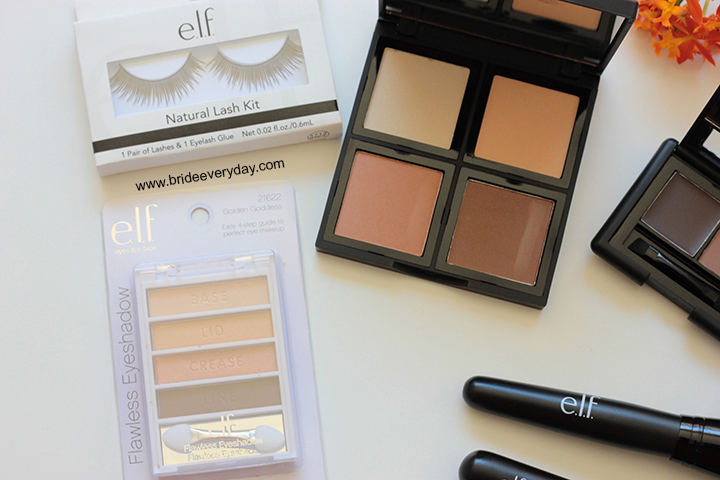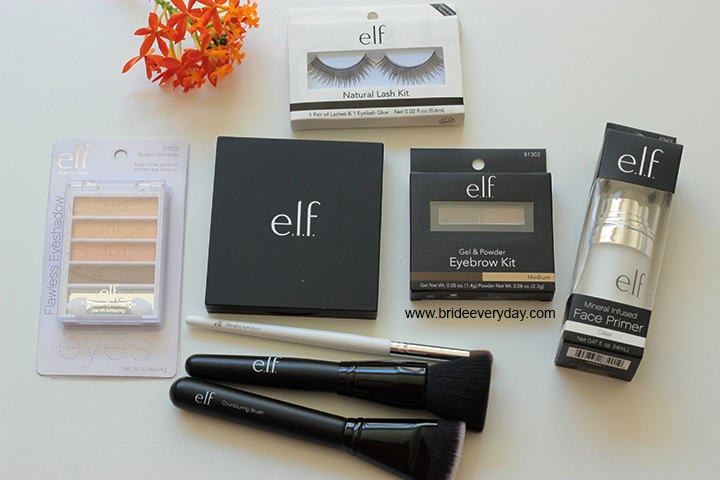 You might also like reading these related topics
5 Quick To Use And Impactful Makeup Products
Tips and Tricks to Apply Makeup Primer
How To Fill Eyebrows – Makeup Tutorial
Basic Makeup Brushes For Beginners
How to apply blush – Makeup Tutorial