Makeup plays a significant role in one's life as it has the capability of camouflaging the odds thereby giving a radiant look. Being a makeup practitioner, I know it requires ample time in doing a clean makeup look as you need to go slow and steady. You can skip some of the steps but for that perfect look you need to be patient and devote some time while doing makeup. On daily basis, it is difficult to dedicate much time to makeup, at least for working women, but that does not mean you cannot use the basic products that can make you look fresh and beautiful. Before stepping out of the house, I always make sure that I use the following five products to attain a fresh look. The application of these products does not call for much time, in just 3-4 minutes I am all set to live a new day. So, if you too have time-crunch in doing full makeup, I would suggest saving time by using these makeup products as they will make you look pretty in just no time.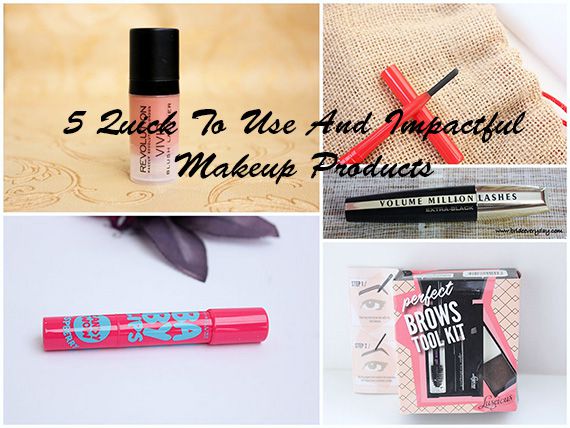 Kajal: I have lost the count of years I have been using this imperative makeup product. Kohl or kajal as it is called gives definition to the eyes and add depth to them. Even when you have puffy and sleep-deprived eyes, a simple waterlining of black kohl will make them look awake. Also, tightlining (applying kohl in between your upper lashes to make the gaps appear more bountiful) defines the lash line and makes the eyes look subtly brighter. The only thing you need to take care of while applying kajal is to use a smudge-proof one. If you do not own that kajal please check this article to know tips and tricks of preventing your kajal from getting smudged.
Blush: A soft pink glow to the cheeks makes the face bright and youthful. It just requires a couple of strokes on your cheeks, that too in no time, for that brilliant effect. Especially in winters, blushing cheeks add more radiance to the overall look. Oily skin people should go for a powder base or liquid blush, whereas dry skin should apply a cream based blush. Normal skin beauties are lucky that they can experiment with all kinds of blushes.
Lip gloss/Lipstick: If you do not like wearing bold lipstick shades every day, you can substitute them with a tinted lip gloss. These days makeup market is bombarded with humongous options of tinted lip glosses. You can choose your favorite shade and flavor (as they are imbibed with different fragrances) and just swipe the stick on your lips before leaving the house or even after shower. A light n*de or pale pink lipstick can also provide the same look, given it is moisturizing enough.
Brow Groomer: Well, not everybody has to use this product. If you are blessed with thick, plentiful eyebrows without any voids you do not need to invest time in filling the gaps and adding thickness. But if you have sparse brows you should fill them up with a good brow grooming product. It can be a brow pencil, brow powder, brow gel or even an eye shadow. The only thing you need to ensure is choosing the right shade. On most of Indian skin tones brown to dark brown shades go well. We often ignore filling our eyebrows, but perfectly groomed eyebrows do add dimension to your face. So, try not to skip this step.
Mascara: Mascara also makes the eyes look brighter and bigger. There are different types of mascaras: voluminous, lengthening and curling so you can choose one depending upon your requirement. Some mascaras claim to provide all these three effects so if you need that kind of mascara go for it. The application does not take much time, and also has considerable effect on the look. So, using this product will also add to your beauty.
You can get waterproof variants of these products, but personally I prefer them to be non-waterproofed as they are laced with fewer chemicals and are easy to remove.
Do share your list of daily makeup essentials!
You might also like reading these related topics
Tips and Tricks to Apply Makeup Primer
How To Fill Eyebrows – Makeup Tutorial
Basic Makeup Brushes For Beginners
How to apply liquid eyeliner on top eye lid – Makeup Tutorial
How to make the lipstick stay longer
How to apply blush – Makeup Tutorial