Hi Everyone,
After a long time I am reviewing any hair shampoo. Though I like frequently changing shampoos but as I always buy bug size bottles the gap between their reviews is elongated. The disadvantage of going for big bottles is you get bored with them as they keep lasting for eternity (at least feels like this). Thankfully, my previous shampoo finished earlier than what I anticipated, and I got a chance to purchase a new one. Read on to know my experience with this new (for me :-))Dove Hair Therapy Daily Shine shampoo.
What the product says
Dove Daily Shine Shampoo contains Micro Moisture Serum that builds a protective shield around your hair fiber and defends it against daily aggressions that cause dullness. It leaves your hair soft, shiny and smooth.
My Take on 'Dove Hair Therapy Daily Shine Shampoo'
Dove daily shine shampoo comes in a flip open bottle packaging. The bottle is sturdy and white in color. It is convenient for home use because of the shape and quality of plastic. In case you plan to pack it for travel, transfer the contents to a smaller bottle or buy a smaller size. Yes, this shampoo comes in three different sizes: 180, 340 & 650 ml.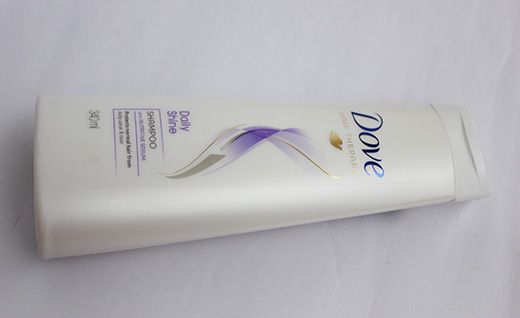 The shampoo is pearly white in color, and has typical shampoo fragrance i.e. fruity. The good thing is the fragrance is long lasting. Usually it stays in hair for 1 day, which is very good in this sweltering weather as it overcomes the sweaty smell.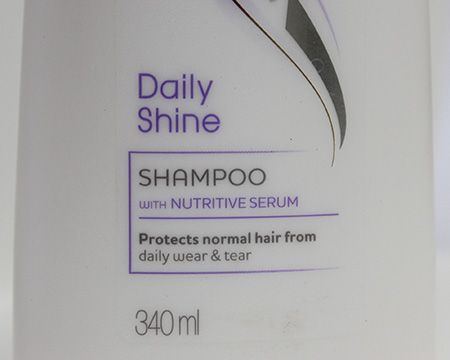 The consistency is runny but unlike water; even then you need to be careful while extracting the product because only a coin size quantity is required for one time usage. And, if you take out more product then rest of it will either get wasted or unnecessarily be applied on your hair. You heard it right- it is literally the coin size. By now, I have used several shampoos, and this is by far the most economical one. Even when I apply it on oiled hair just that small quantity removes all the oil, leaving hair fresh and lively. Likewise, it creates abundant lather so I always get a satisfactory feeling after shampooing.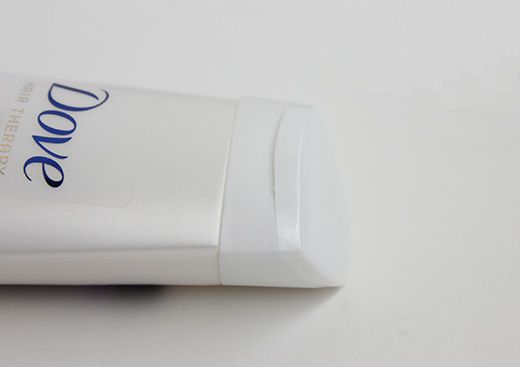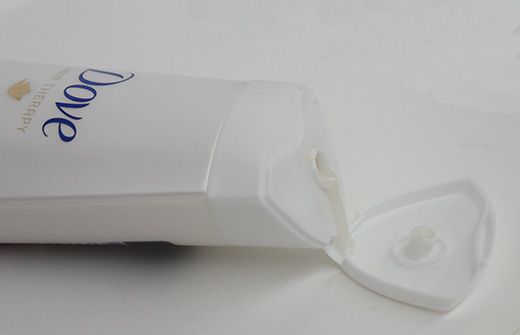 For efficacy, it makes hair soft and smooth. Even after couple of washes, I started noticing visible difference in my hair quality. It cleanses hair completely, and also tames the fizziness of my oily scalp hair. The only drawback is that because of the oily scalp, my hair looks weighed done the very next day after shampooing. Hence, to maintain the bouncy look I need to wash my hair every other day.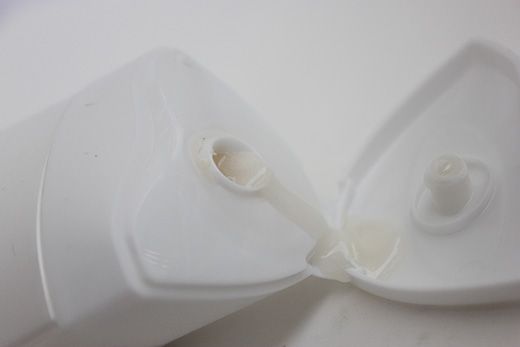 The ingredient list claims to contain truck full of chemicals, but as I am seeing good results on my hair I do not mind continuing this shampoo. Likewise, it also claims to protect hair from daily wear and tear. I have not seen any difference along those lines but yes definitely the way my hair used to behave has improved.
What I like about 'Dove Hair Therapy Daily Shine Shampoo'
– Very economical shampoo as just small quantity is required for one time usage.
– Creates abundant lather.
– Makes hair softer and smoother.
– It comes in a convenient flip open packaging.
– Long lasting fragrance.
What I do not like about 'Dove Hair Therapy Daily Shine Shampoo'
– It does not come in a travel friendly packaging but you can always transfer the product to smaller bottles.
– It weighs my hair down the very next day after shampooing.
Price of 'Dove Hair Therapy Daily Shine Shampoo': INR 259 for 340 ml
Ingredients of 'Dove Hair Therapy Daily Shine Shampoo':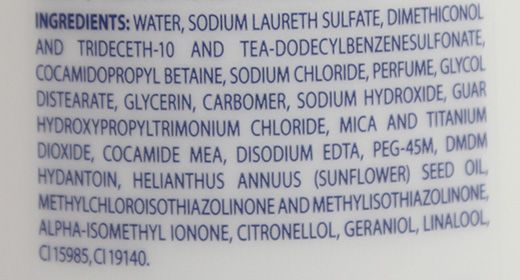 Shelf life of 'Dove Hair Therapy Daily Shine Shampoo': 24 months from packed
BABE rating: 4.5/5 for normal to dry scalp
4/5 for oily scalp
Final Word: Dove Hair Therapy Daily Shine Shampoo is an economical product that provides luster and good look to hair. The long lasting fragrance and the shiny effects are some of the significant positives, among others, that make it a preferable choice especially for normal to dry scalp people.
You may also like reading these related topics
Dove Damage Solutions Hair Fall Rescue Shampoo Review
Pantene Pro V Hair Fall Control Shampoo Review
Sunsilk Co-Creations Nourishing Soft and Smooth Shampoo Review
Loreal 6 Oil Nourishing Shampoo Review
Matrix Opti Care Smoothing Shampoo Review