Times have changed and so have the prominence of watches in a modern women's ensemble. A watch is no longer just a by-product of necessity but an extension of a woman's persona. With multiple brands and stylesvying to grab your attention, it is quite baffling to pick the ones that would complement most of all that your wardrobe holds, whether formal, casual or ethnic. The key is to create a unique collection that stands boldly regarding varying dial sizes, base materials, gorgeous straps, and embellishments.
Here's a look at the five most formidable time pieces that every woman must own.
Watches with a splash of colour
A hint of color adds a feminine charm to bold designs. Across all the major luxury watch brands in the likes of Longines, Seiko, Tag Heuer, you are definite to come across beautiful colored dials and straps. You can opt for watches in complete white, darker hues and gold tones. These watches add to the elegance quotient while being very versatile with different outfits. Many e-commerce sites from the domain of luxury watches are flooded with options that are simply irresistible. One brand that truly has the potential to stand out in this category is Longines. Longines watches from the signature collection La Grande Classique De Longines are a classic blend of sophistication and simplicity. The Longines L2.285.5.56.7 – Conquest model stands out in the crowd.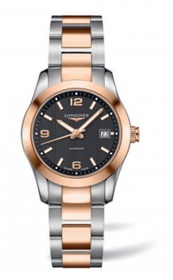 Watches with enchanting dials
A dial is the pulsating soul of the watch, and the modern watchmakers are incredibly creative when it comes to creating masterpiece dials. Luxury watch makers are not only obsessed with large or petite dials but are also experimenting a lot regarding their shape and overall look and feel. Dials now come in various shapes as well. These dials can be colored, embellished, skeletonised and geometric. If you are looking for a timepiece that's going to be your style statement, then it is only just that you opt for dials that are stunning works of art. The best luxury watch brands accessible online offer unending options to choose from. While geometric dials are quite playful, the skeleton-ised dials are much sophisticated, breathing in an air of superiority and class. You can mainly check out Michael Kors MK9025 – Jetmaster model, for its enigmatic dial and the color combination.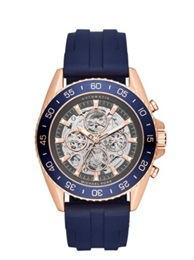 Watches with jazzy fashionable straps
The importance of straps cannot be undermined when it comes to watches. A fashionable watch belt can go miles to add a distinct character to the entire watch. From plane jane brown and black leather straps, a lot of movement has happened in strap designs. A double toned metal strap is a big rage in the line of luxury watches. Milanese bands and colored straps with different textures on the surface are also a huge hit. Here the key is to select a watch that has a balance between the dial and the strap. An overtly complex dial will be visually claustrophobic if teamed with a double tone metal strap. So, look for an exotic blend of class and innovation. Rolex, Seiko, Tag Heuer, Tissot and Longines watches offer a wide choice of straps. The meshed metal strap adds quite a swank to this glittering Longines watch, the model no-Longines L2.306.0.87.6 – Symphonette Medium.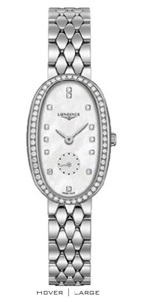 Watches with metallic and ceramic bodies
Stainless steel watches are back in style. With lot more design elements in place, these watches are a must-have in every woman's wardrobe. Stainless steel watches are extremely versatile when it comes the nature of dial or the strap. There are humongous options to choose from and they are indeed quite popular because of their durability and tenacity. Almost all the luxury watch brands across the globe have their signature timepieces rolled in the eternal stainless steel. Another interesting variant regarding metal is the ceramic watches. After Rado launched its ceramic watches in 1986, a lot of other brands followed in the footsteps. As a result, the online retail luxury watch stores are flooded with attractive watch options to choose from. If you are a Longines patron, then you can take a look at the Longines watches with ceramic casing to find that perfect balance of style and performance. You can check out the model no-Longines L3.257.4.57.7 – Conquest with confidence.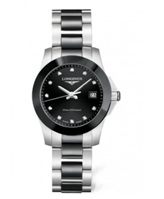 Watches with embellishments
Well, there is nothing wrong in adding some bling to your wrist. Most of the luxury watch brands offer an impressive line of embellished watches for women. There is a broad range of options to choose from, right from embellishments in diamonds to mother pearls. These watches add a sparkle to your persona and are the best accompaniment when it comes to weddings and parties. If you prefer golden hues, then this watch, model no Guess W0705L3 – Sassy, can prove to be a real bargain!